I recently got to try out my new Roam packable backpack. This daypack folds up and packs into one of its own pockets, making it super convenient for travel. I thought it held up great, and was well worth the purchase. Read on for a complete review of the Roam Packable Backpack.
*Disclosure: I purchased the Roam Packable Backpack for myself, however this post does contain affiliate links. I am a participant in the Amazon Associates Program as well as other affiliate programs and may earn a commission on qualifying purchases made after clicking links from this site. There is never any additional cost to you. For more information, please consult my Disclosure Policy.
Roam Backpack Overview – A Great Travel Day Pack
To be short about it, I love my Roam backpack after taking it on two trips. My wife and I went to the San Bernardo Islands and then my mom joined us on a trip to Colombia's Amazon and Bogotá. The Roam packable backpack was perfect for throwing into a bigger bag and using as a daypack.
For a fairly cheap price and the awesome convenience, the pack is also quite spacious and even comes with a few bells and whistles.
Specs of the Roam Packable Backpack
Capacity – 25 L
Water Resistant
Tear Resistant Nylon Weave
Lightweight – 10 ounces (0.63 pounds/0.3 kg)
Storage Compartments/Pockets:

Main pocket with laptop sleeve
Top front pocket
Mini front pocket easy access pocket
Bottom front large pocket
Mesh side water bottle pockets
Tiny mesh pockets on straps

Breathable Mesh Straps
Side Compression Straps
Colors Available: Black, Navy, Ocean Blue, Purple, Red
Lifetime Warranty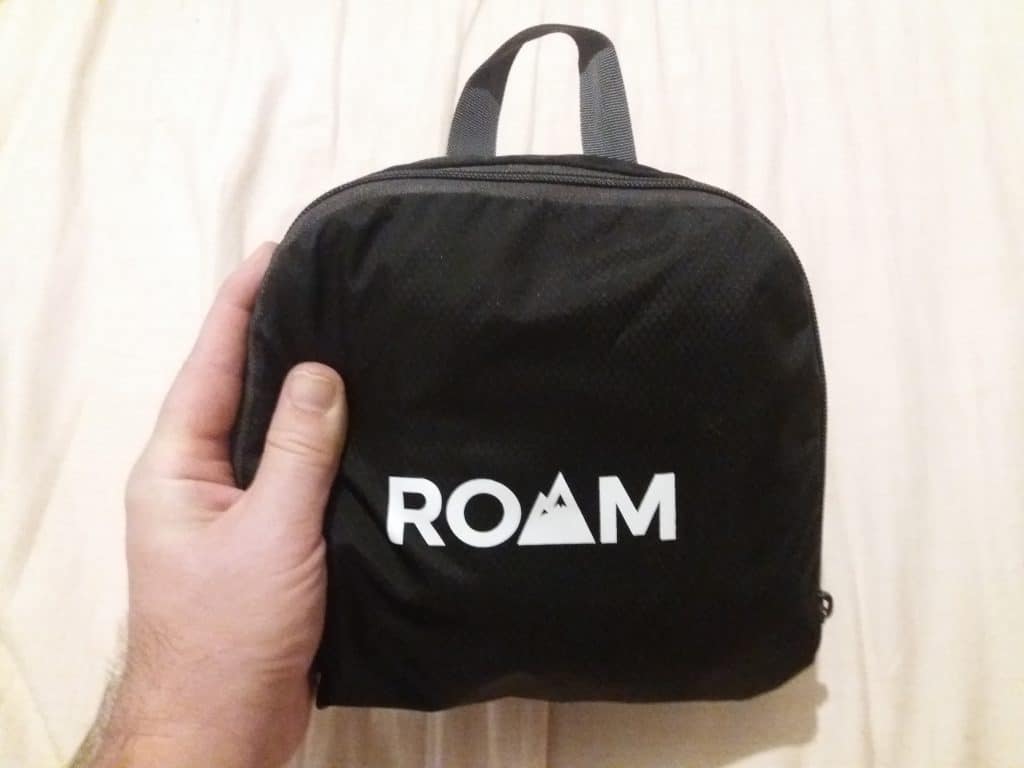 What I Like About the Roam Packable Backpack
Easy to Pack
It folds up into the reversible bottom front pocket in an 8 by 8 inch square. It takes up about the same space in a bag as a light sweater since it will compress a good bit.
It Feels Quality and Sturdy
I really feel like this bag is quality made. The zippers don't get stuck and feel like they will hold up to time. I also really appreciate the mesh straps. The mini pockets on them are also a nice touch and could hold a flashlight or perhaps your sunglasses. I honestly didn't even use them, but they just make the bag seem better made.
Also, while lightweight, the material isn't paper thin and is reinforced on the bottom and back. I feel like you'd have to really abuse it to get it to tear.
The lifetime guarantee offered is also nice, especially for a product under $20.
Pretty Spacious for Its Size
You're not going to pack a week's worth of clothes here, but that's not what it's intended for either.
I was able to pack a book, towel, small notebook, sunscreen, bug spray, and some snacks in the main compartment along with my camera in the top front pocket. I felt like I probably could have come close to doubling that.
While I wouldn't want to go too crazy since the straps are pretty thin, you should be able to pack all you need here for a day out sightseeing, hiking, or heading to the beach. You could also use it for an overnight or maybe, if you're a light packer, a weekend trip.
Any Negatives?
It would be nice if there was a slot or two in one of the smaller pockets to stash a pen or perhaps a hook or mesh pocket to put your keys. These are pretty small tradeoffs though.
The only other drawback is the pack doesn't have a "backbone" to it so to speak, so it doesn't always hold its shape perfectly. I found this solvable by sticking my book in the the laptop sleeve (I didn't try carrying a laptop as that's just now why I bought this bag, but I would feel comfortable using it in a pinch). I definitely wouldn't want to overpack it as I imagine it could get bulgy and uncomfortably on your back. Again, though, for the price and the purpose as a travel daypack, this is pretty minor.
Conclusion – Awesome Travel Day Pack
I'm quite happy with this purchase. I wanted something that I could have to carry around if I used a backpack for a short trip. My wife brought it back to me from the states and I had been hankering to try it out. It was exactly what I wanted.
It would be especially useful for those backpacking (hence not able to carry another smaller backpack) or those with only a carryon. Just slip this in and you've got another whole pack you can carry around with you.
In conclusion, I highly recommend the Roam Packable Backpack for those that like to have a small backpack to carry around their personal items while traveling but already are carrying a larger one or don't want to carry one while in transit.
Want to get your own Roam backpack?
Check it out on Amazon
There you have it, a complete review of the Roam Packable Backpack. If you're considering get one, I hope it helped you make your decision.
Cheers and Happy Exploring!
Did you like this post?
Share it with your friends!
Share on Facebook Share on Twitter
And don't forget to like and follow us!
Like us on Facebook Follow us on Instragram Follow us on Twitter
You may also be interested in the following posts:
Complete Packing List for Cartagena (spoiler: this pack is on it!)
Planning your trip to explore Cartagena?
Check out the following posts to help plan:
Insider's Guide to the Best Areas to Stay in Cartagena
Top Things to Do in Cartagena