After two years of being limited, the Cartagena November Independence Festival will return in full force for 2022. See the full schedule of events for the Cartagena Independence festival here.
*Disclosure: This post contains affiliate links. I am a member of Amazon Associates, LLC and other affiliate programs and earn from qualifying purchases made after clicking those links. There is never any additional cost to you. To learn more please consult our Disclosure Policy.
2022 Cartagena November Festivities Introduction
The Cartagena Independence Festival, also called the Cartagena November Festivities, or Fiestas Novembrinas is more or less the equivalence of a Cartagena Carnival 2022, just in November not around Fat Tuesday (if you want a more traditional Carnival, consider checking out Barranquilla's terrific one just up the coast),
What does Cartagena Independence Day 2022 Conmemorate?
So, first a quick history lesson.
The Cartagena Independence Fiestas celebrate, you guessed it, Cartagena's Independence. But, you might be asking yourself, why is this different from Colombia's Independence Day?
The day celebrated as Colombia's Independence Day is when the colonial government in Bogotá declared itself autonomous on July 20, 1810. It's a bit complicated. Napoleon had invaded Spain and made his brother king there, and around the Spanish colonies, many declared self-government while also pledging loyalty to the deposed Spanish King Fernando VII.
However, some people advocated for full independence. On November 11, 1811, Cartagena declared itself as such, breaking all ties with Spain and creating the independent Free State of Cartagena.
This pushed other areas in what came to be Colombia (at the time it was the colony of New Granada), to also head towards full independence. However, royalist resistance continued. For example, Santa Marta remained a royalist stronghold and fought Cartagena.There was also a lot of infighting over federalism vs centralism (conflicts that would continue long after independence).
All of this allowed Spain to reconquer the colony in 1815. As part of this reconquista, Cartagena endured a brutal siege of over 100 days. The population was reduced to eating rats and leather, and many starved. It's for this siege that the city earned its nickname La Heroica, or the Heroic City.
In 1819, most of Colombia became independent again with the defeat of the Spanish at the Battle of Boyacá. However, Cartagena's strong walls and fortifications is where the colonial authorities went to hold out.
Finally, in 1821, the city was re-liberated and joined the newly independent Colombia. If you're interested in learning more about the history, feel free to check out my articles on the causes of independence, the meaning of Cartagena's flag and seal, the links above about the declaration, siege, and re-liberation, or my detailed article on Cartagena's history.
If you're looking for a good book on this era, I highly recommend No Limits to their Sway, which focuses on the privateers Cartagena hired as its naval forces during the independence era. It's my favorite Cartagena history book and is a highly interesting and engaging read and provides a good background to the larger history of independence (read my review of it here).
As early as 1812 there is evidence November 11 was celebrated with festivities. After independence, that only continued.
The Cartagena November Carnivals also developed historically as one of the few spaces where the working classes could mingle with the elites and just generally let loose.
Of course, like most of the world events like this were shut down in Cartagena in 2020. There were some limited events in 2021, but the biggest events like the parades were not held.
This year, the Cartagena Independence Carnival is back to full strength.
What does all this have to do with beauty queens?
So, one big aspect of the Cartagena Independence Fiestas is the two beauty pageants that go on concurrently to the festivities.
There is the National Beauty Pageant that crowns Miss Colombia with candidates from all over the country as well as a local beauty pageant that crowns a Miss Independence (who sometimes goes on to participate in Miss Colombia the next year) with candidates from all the different barrios of Cartagena.
You can see the the candidates for Miss Independence here and the candidates for Miss Colombia here.
I'm not sure exactly how and when this started, and I have mixed feelings about it. On the one hand, I think the pageants, and the fact they are treated sort of as the "main event" detracts from the celebration of the history.
On the other hand, I realize Colombians do absolutely love beauty pageants, and well, since it brings more attention to the celebration of the history and brings more visitors to the city, I think it's fine.
Just a quick note, the two pageants are separate and technically the national one is its own event with its own planning committee etc. Usually, usually, the national beauty queens take part in at least the main parade and sometimes as other events, but they also have private events.
There are actually some interesting class/racial tensions between the two pageants that this New York Times article examines quite interestingly (although it is a bit dated and some of its characterizations are a bit off).
Some Quick Notes on What to Expect
Ok, a few more quick side notes concerning safety and what to expect before we get to the full schedule for the Cartagena Independence Parties for 2022.
I always really enjoyed these festivities, but the truth is they are not for everyone.
Beware that if you go to the parades and other events, you will definitely at least get sprayed with espuma (shaving cream like foam), you will most likely get doused with maizena (corn starch), you may get some blue, black, or orange paint thrown or smeared on your, and there's a pretty good chance you'll have some busacpies (firecrackers) thrown at your feet.
There is also going to be large crowds and Colombians definitely have a smaller personal bubble than most Americans and Europeans.
So, if you are not ok with any of that, it's best not to participate, and honestly, probably best to avoid Cartagena entirely the week of November 11.
However, for the most part this is all in good sport, even if you might get picked on a bit as a gringo.
My suggestion, make sure you get at least some espuma of your own and take it all in stride. Honestly, while I kind of hate the maizena, I think it's hilarious spraying people with the foam.
Do make sure you wear clothes you don't care about being ruined and closed shoes. Also, don't carry valuables or lots of cash. Pickpocketing does happen. It's not unheard of for people to get sprayed in the face and then have something taken from them, and I had a good friend visiting once who had her iPhone snatched while passing through the crowd.
Actually, thinking about that, a cheap pair of sunglasses can also be useful too to keep stuff out of your eyes. Also, something like a money belt, neck pouch, or bra pouch isn't a horrible idea to bring along. And, of course, you'll want to follow all common sense and standard Cartagena safety tips.
If you'd like more of an idea of what to expect check out my post here.
Also, if you're looking for sort of a middle ground where you might be able to see the parades from a hotel, check out this post where I list some good places to stay convenient to the parade. Apartment rentals in Cabrero and Marbella can also be a good way to be close to the action but also a bit above the fray.
Complete Schedule for the 2022 November Cartagena Carnival
First, if you just want a quick rundown of the main events, they are:
The Parade on Friday November 11th (this is the main parade)
The nights of November 5th, 6th, 9th, and 12th, there will be events on stages set up around or in close vicinity to the Clocktower. Expect live music and the participation of the local beauty queens in most of them.
There is a smaller parade that passes through Getsemaní the afternoon of November 13 and there will likely be a big crowd and partying around the Plaza de la Trinidad that night.
You should also expect the Cartagena nightlife to be pretty lively the whole week, but especially on Friday after the parade. There is usually a Club Colombia "beer festival" set up by the Convention Center too, where you pay an entrance fee that includes like 4 beers.
Do I Need Tickets for Events?
So, all the events that are part of the official Cartagena Independence festival should be free.
In years past they have had limited space at some of them, and you had to line up to get into sort of a barricaded area around the plazas, and if I remember correctly in 2021, you had to reserve tickets online.
It's not clear if that will be the case this year, but I will do my best to update as it gets closer and they do or don't announce about it.
Now, for the parade, it is possible to buy tickets to sit in bleachers that are set up along the road beside the wall. To be honest, I've never actually sat in those, and always enjoyed being in the street outside the Walled City. But, they definitely offer a better view, and may be more comfortable if you'd prefer to be out of the crowd a bit.
These bleachers are called palcos, and you should be able to get tickets for these in the days before the parade or even the morning of.
For the national beauty pageant, you do need tickets to go to the events. They have not announced the full schedule yet but have confirmed dates for a few events. The press release here mentions tickets being on sale and has some contact information if you wanted to try to get tickets.
Preludios
These are smaller events leading up to the week of November 11 and the Cartagena Independence Day festivities. Honestly, besides the ones on October 7 and 11, I would avoid these, but if you happen to be in Cartagena on those days, definitely check them out.
September 22
Friday October 7
Cartagena Independence Day Festivities Kickoff Party

Time: From 7 pm
Where: Plaza de la aduana (near the Clocktower)

What to expect: I assume there will be live music, probably some dance performances and speeches, and the presentation of the beauty queen candidates for Miss Independence.
Thursday October 13
Preludio cultural universitario

Time: From 4 pm
Where: Centro Histórico (Walled City)

What to expect: The preludes are smaller kick off parties in the barrios. This one says its for university students but it's also the only one in Centro, so I imagine it will have some live music and maybe the participation of the beauty queens from some neighborhoods in and around Centro. This is probably the only other event before the weekend of November 4 I'd encourage tourists and expats to check out on their own.
Friday October 14
Preludio localidad 1

Time: From 4 pm
Where: Plaza de Canapote

What to Expect: This is the prelude for Localidad 1, which is made up of a handful of barrios. I would discourage tourists or expats who are not going with a trusted local resident of these barrios to avoid this and the other local preludes.
Thursday October 20
Toma corregimental

Time: From 8 am
Where: Nearby Towns

What to Expect: The prelude for the surrounding towns. I would be aware of this and keep it in mind if you are traveling to or from the city by bus, going to Tierrabomba, Barú, or Turbaco.
Friday October 21
Preludio localidad 2

Time: From 4 pm
Where: Estadio las Gaviotas

What to Expect: The prelude for the barrios around Las Gaviotas. Again, I'd probably avoid if I was a tourist or not close friends with someone who lives here.
Thursday October 27
Festival Escolar Jorge García Usta

Time: tba
Where: Coliseo Norton Madrid
What to Expect: This will presentations by school children and probably not be of much interest to tourists or expats.
Friday October 28
Preludio localidad 3

Time: From 4 pm
Where: Estadio de softball en Blas de Lezo
What to Expect: Another prelude party for the neighborhoods in this area of Cartagena.
Sunday October 30
Fiestas de los lanceros y actores festivos

Time: From 7 pm
Where: tba
What to Expect: This is a private party for participants and planners of the parades and other events.
Tuesday November 1
Angeles Somos

When: Todo el día
Where: All over the city (but mostly in the barrios)

What to Expect: This is an old tradition where children go around in the morning asking people to give them ingredients for a sancocho (a traditional stew). Keep in mind this is the day after Halloween. It's a tradition they have been trying to promote and reemphasize the last few years. In the tourist areas of the city, it's not very likely you'll see kids asking for ingredients, but you might. If you have a trusted friend that invites you to a sancocho, it's good fun. Think a bbq with soup (and usually lots of beer and aguardiente).
Schedule for Festivities During the Week of November 11
Ok, starting with the weekend that begins November 4, the Independence of Cartagena Festival really kicks into high gear.
There are events most of the week, with the highlights being Saturday, Wednesday, and Thursday. See the schedule of events, where they are, and what to expect below.
Friday November 4
Fiestas de los periodistas y medios de comunicación

Time: 7 pm
Where: tba
What to Expect: This is a private event for the press.

National Beauty Pageant Participants Arrive

Time: tba
Where: tba
What to Expect: They've stated this is the day the candidates for Miss Colombia are set to arrive. It's not clear if there will be a special event or not.
Saturday November 5
Noche de Tradición Festiva

Time: 7 pm
Where: Plaza de la Aduana (near the Clocktower)
What to Expect: This is when the Cartagena Independence Festivities kick off in earnest. I would expect to see live music and a decent sized crowd. In years past, the beauty queens have dressed up in costumes that pay homage to different traditions related to the fiestas or Cartagena culture more generally. They may announce a specific theme at some point. This event should be free but sometimes they do put up barricades and limit entrants which could mean a line. There will almost certainly be beer and food stands set up.
Sunday November 6
Jolgorio de tambores y noche de candela

Time: 7 pm
Where: Plaza de la Proclamación (beside the Cathedral around the corner from Bolívar Park)
What to Expect: Live music and dance, especially showing off drums and Afro-Caribbean traditions. Like the night before, this should be free but there may be barricades set up and a line to get in.
****This event was cancelled due to heavy rains
Monday November 7
Noche de talento (Talent Show)

Time: 4 pm
Where: Teatro Adolfo Mejía (inside Walled City a couple blocks from Café del Mar along the edge of the wall; sometimes also called Teatro Pedro Heredía)
What to Expect: The beauty queens show off their talents. Expect lots of dancing, some singing, and possibly some other types of shows. This should be a free event but there will likely be a line and it could fill up.
Tuesday November 8
Ruta de la independencia

Time: 4 pm
Where: Avenida Perimetral
What to Expect: This is a event they only started doing a year or two before the pandemic. It had a series of booths and presentations set up along a stretch of road along the wall last time. The Avenida Perimetral is a bit notorious as a potential danger spot, so to be honest, I'd probably avoid this as it's not usually a big event.

Noche de Candela Parade

Time: 7 pm
Where: From Las Bovedas to Plaza de la Proclamación
What to Expect: Various musical and dance groups in a small parade that will also feature the Miss Independence beauty queens.
Wednesday November 9
Desfile traje de baño (Swimsuit Competition) Miss Independence Pageant

Time: From 6 pm
Where: Patio de banderas en el Centro de convenciones (big open area diagonal from the Clocktower on the way to Getsemaní)
What to Expect: The Miss Independence beauty queens will strut their stuff in bikinis on the runway/stage. There will most likely be live music. The event should most likely be free but the area does have a fence around it. It's a big space, but expect a line to get in. It's common for Club Colombia to set up a "Beer Festival" in this space during the week too, so this may or may not be merged with that (I suspect there will be beers for sale one way or another).

Desfile traje artesanal Miss Colombia Pageant

Time: tba
Where: tba
What to Expect: The Miss Colombia beauty queens will walk the runway in traditional dresses likely showing off/celebrating the culture of their home regions. You do need tickets to attend this event and it will most likely also be televised.
Thursday November 10
Desfile homenaje héroes de la independencia(Independence Heroes Parade)

Time: From 2 pm
Where: Between las Tenazas y Café del Mar (section of the wall between Café del Mar and the Cabrero neighborhood on the road to the airport)
What to Expect: I suspect this will be a fairly small and low key parade with the big one tomorrow. I would be aware that there could be people out and about spraying foam around Centro and possibly some road closures (but that's the case this whole week).
Friday November 11
Desfile de la independencia (The Main Event/Parade)

Time: from 2 pm
Where: La Avendia Santander between Hotel Ibis in Marbella and Café del Mar
What to Expect: This is the main parade. I would expect a big crowd after them not doing it for 2 years. All along the Avenida Santander in Cabrero and Marbella there is room to stand on the street for free. The largest crowds usually congregate in Cabrero, so if you'd prefer to see it with a bit less people around, head farther down into Marbella. Also, be aware that there is usually a massive crowd throwing buscapies on the street on the backside of Cabrero near where the street merges into the Avenida Santander. Along the wall, there are bleachers known as palcos that you can buy tickets for. Expect the parade to last anywhere from 5-7 pm. Afterwards there is usually an event at the Convention Center.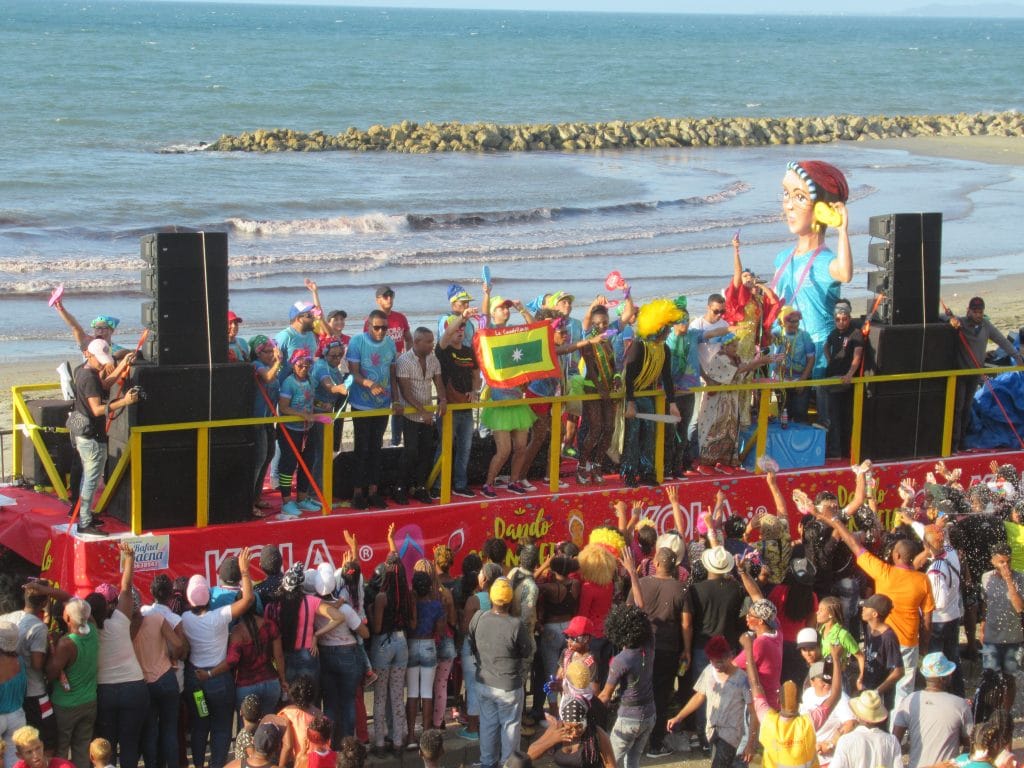 Saturday November 12
Desfile de la diversidad (Diversity/Pride Parade)

Time: from 8 pm
Where: Centro (Walled City)
What to Expect: LGBTQ Pride parade. The parade itself usually isn't particularly large, but there are usually a few funny costumes and a decent atmosphere around it.

Salsa a la plaza

Time: from 7 pm
Where: Plaza de la Proclamación (beside the Cathedral near Bolívar Park)
What to Expect: Salsa concert. Should be free but like the other events in the plazas mentioned above, there might be barricades and limited space.

Desfile traje de baño (Swimsuit Competition) Miss Colombia Pageant

Time: tba
Where: tba
What to Expect: The Miss Colombia beauty queens will walk the runway in bathing suits. You do need tickets to attend this event and it will most likely also be televised.
Sunday November 13
Cabildo de Getsemaní

Time: from 2 pm
Where: From the Plaza de Canapote to la Plaza de la Trinidad
What to Expect: This is a very traditional event that has a parade from the Plaza de Canapote to Getsemaní and the Plaza de la Trinidad. I would discourage tourists from going to Canapote, but there should be a lively atmosphere in Getsemaní in the late afternoon into the late night. Just be aware it will most likely be very crowded and have plenty of buscapie and espuma action.

Crowning of Miss Colombia

Time: tba
Where: Convention Center
What to Expect: The Miss Colombia beauty queens will be whittled down to a set of finalists and Miss Colombia will be chosen. You do need tickets to attend this event, and it will also definitely be televised.
Monday November 14
Noche de elección y coronación (Crowning of Miss Independence)

Time: from 7 pm
Where: Estadio Argemiro Bermúdez (by Jaime Morón and Plaza de Toros)
What to Expect: There will be a whole show, probably with live music and they will slowly whittle down the reinas to the finalists before crowning Miss Independence. Miss Colombia, crowned the night before will also participate. To be honest, I've never actually been to this event as I'm always much to worn out from the parades. I'd imagine it's fine to go if you get decent tickets, but the stadium is pretty far from the tourist areas and a in a bit of a rough area. I would probably say it's best avoided for tourists unless going with a trusted local. The event is usually on TV and will likely also be streamed by the IPCC's Facebook page.
2022 Cartagena November Festivities Conclusion
There you have a complete schedule for the 2022 Cartagena Independence Festival. If you happen to be in Cartagena during the festivities, it's a ton of fun just as long as you know what you're getting yourself in to.
Do bookmark this page and check back closer to the dates as I will be updating if there are additional events added or things change.
Cheers and Happy Partying!
Did you like this post?
Check out these others you might like:
Guide to Boat Party Spot Cholón Island
Full Guide to the Rosario Islands
Travel Guide to Hip Beach Town Palomino
Best Restaurants to Try in Cartagena
Best Cartagena Boutique Hotels
Planning your trip to Cartagena?
Be sure to check out the top resources on the site here:
Where to Stay
75+ Things to Do
Packing List