Nuquí, Colombia, a small town in Chocó province, is one of the top destinations to see whales in Colombia. Humpback whales come to breed and give birth every year along Colombia's Pacific coast. The nearly untouched beaches and beautiful surroundings make Nuquí not only a great place to see the whales in Colombia but to visit anytime. Read on for a complete travel guide to Nuquí, Colombia.
*Disclosure: This post contains affiliate links, which simply means if you click them and go on to make a purchase, I can receive a commission on qualifying purchases. I am a member of the Amazon Associates program in addition to others. There is never additional cost to you and its a great way to support the site. To learn more please consult out Disclosure Policy.
Why You Should Go to Nuquí
The main draw here is undoubtedly seeing the whales. Humpback whales, which are among the largest of all sea mammals, migrate from the colder waters of the Antarctic and southern Chile every year to Colombia's Pacific coast to breed. They then return to give birth a year later.
Nuquí and the nearby Playa Guachalito is one of the most popular and best places to go whale watching in Colombia. It is relatively easy to access, safe, and besides the whales, boasts a spectacular and nearly deserted beach. I made the trip to Nuquí in July 2016 and was not disappointed. It is one of the more unique and memorable travel experiences I have had in Colombia.
If you want some inspiration and a sneak peak of the beautiful scenery, check out ChocQuibTown's video for the song "Nuquí (Te Queiro Para Mi)" filmed on location in Nuquí.
This trip is a bit on the more adventurous side. Expect to be removed from civilization a bit, part of the allure of going anyways. The inland jungles in Chocó around Nuquí have also been havens for guerillas and drug traffickers at time, although the eco-tourist areas are quite safe. However, it is probably worth checking up on the security situation before you go, especially if you are traveling there via Buenaventura, which has a reputation for crime and unrest.
In sum, you should definitely consider going. It is one of the best places to see whales in Colombia. However, even if you can't make it during whale season, the beautiful, nearly deserted beaches still make it well worth the trip. Read on for a complete travel guide to Nuquí, Colombia, including how to get there, things to do, where to stay, practical tips, and what to pack.
Travel Guide to Nuquí, Colombia – Contents
When is the Best Time to See the Whales in Nuquí, Colombia?
The mating season technically runs from June to October, and whales will be around throughout that time. However, the best time to see the whales in Colombia's Pacific is in August. I did the trip in mid-July and was told a few weeks later would have been better as they were arriving a bit later than normal. So if at all possible, try to shoot for visiting around mid-August when the whales should be both plentiful and active.
How to Get to Nuquí
Flights to Nuquí
The easiest way into and out of Nuquí, Colombia is by air from Medellín.
(May 2019 Update) I flew on Satena, and ADA also used to offer flights to Nuquí. However, Satena doesn't offer the flight anymore and ADA went out of business in April 2019.
As of the moment, the only flights I've been able to confirm are on the airline SARPA, which can only be booked online through Grupo San German. They have two daily flights from Medellín to Nuquí. Buy tickets online here.
You'll fly in on a small prop plane. Nuquí's airport is hardly more than a concrete landing strip, all of which adds to the adventurous spirit of the trip. The flight actually was not nearly as bad as I expected, as you don't really ever get high enough to feel any turbulence, and they give you some handy ear plugs for the roaring of the engines.
Get to Nuquí by Boat
You can also travel by boat from Buenaventura or Bahía Solano.
From Buenaventura
You can get cargo boats from Buenaventura to Nuquí that take about 24 hours. Days of departure are inconsistent. Quicker speed boats do the trip in approximately 8 hours. You can reach Buenaventura by bus from Cali, Bogotá, and Medellín.
From Bahía Solano
You can also fly into Bahía Solano from Medellín with Satena and Grupo San German. From there, you can look for boat transportation to Nuquí either directly (likely for a high price) or by taking a series of pre-established routes and passing through Ultría National Park.
I'm not able to find very reliable information on the routes or costs. The best I have found is this article (in Spanish). I would say this is only for the adventurous and very comfortable speaking Spanish and navigating Colombia.
To be honest, I'd strongly suggest sticking to flying to get to Nuquí. Given the possible safety concerns in Buenaventura and the length of the trip it doesn't seem worth the savings, and the lack of clear information on getting there from Bahía Solano would make me uncertain about going that route.
What to Do in Nuquí
See the Humpback Whales
Whale watching in Colombia's Pacific is probably is probably what drew you to Nuquí. I know it was my reason for going. Anywhere you stay should either have the boat excursion to see the whales included or should be able to set it up for you.
I went out with the other person who got in the same day as me the first afternoon, shortly after arriving. We spent an hour or so out on the water and the pilot was great at tracking around and trying to put us in the best position to see the whales.
We didn't have the best luck in the world as we didn't any great views of whales breaching (jumping all the way out of the water), much less that epic photo to include in my blog. However, we got lots of views of them surfacing to breath and then flipping their tails up in the air as they dived to the depths below.
It was actually a school of dolphins who stole the show on our outing. A big group of them got behind our boat and had a blast jumping the waves thrown up by the wake of the boat. All in all, totally worth it, and getting that epic breach photo is just an excuse to go back one day!
Visit Utría National Park
My second day, a group of us staying at Piedra Piedra opted to do a trip to Utría National Park, about a 90 minute boat ride to the north. Again, wherever you're staying should be able to set this up for you and price will likely vary depending on how many people go.
The bay at the entrance to the park is actually called a natural cuna, or cradle, for its calm waters where the whales go to give birth. Unfortunately the increased boat traffic also scares them a bit, and again I was probably a couple weeks early, so we didn't see any whales in the bay.
Still, the visit to the park was definitely worth it. We got a great talk from a park ranger about the wildlife in the area and the importance of the mangroves for the coastal ecosystem. He also gave us a stern lecture about how litter, particularly plastic bags, wreck havoc on sea life, especially sea turtles who think the bags are tasty jellyfish.
Finally, there's a nice boardwalk through the mangroves, where you can see lots of birds and other wildlife on a quiet walk. That all makes a visit to Parque Utría one of the top things to do near Nuquí.
Learn more about the park at its website.
Chill on the Deserted Guachalito Beach
The Guachalito Beach to the south of Nuquí are is stunning! One of the advantages of staying at Piedra Piedra was it was just a short walk down off the rock to reach Playa Guachalito. I ranged down the beach one day, taking in the sound of the waves and birds and the gorgeous view.
I saw maybe 5 other people on the beach all day. Where I finally stopped to sit on a washed up tree trunk, I had the beach all to myself.
Well ok, I did have to share it with a bevy of little beach crabs peering out of their little dens at me, but I didn't mind sharing the view with them. I also ran into a pelican on my way back.
Enjoying a nearly deserted, but beautiful beach was really something special. I finished nearly an entire book between dips in the ocean and just being alone with my own thoughts and my new found crab friends. Finally, I reluctantly headed back to Piedra Piedra and thoughts of returning to civilization the next day.
One important thing to note is that the tide does come up quite a bit. There are stretches where the waves may crash against some rocks on the beach so be careful of that. There's also a little river that runs into the ocean that you will have to swim across at high tide.
I actually let my camera get wet during this swim! It ended up working again, but be careful.
Visit the Hot Springs and Waterfalls
There are some termales, or natural hot springs, about a 30 minute hike from Playa Guachalito. I didn't go, but pictures online look nice and I'm sure the walk through the jungle is also worthwhile.
There are also several waterfalls that can also be reached from the beach. These include a series of three along the same path known as Sendero Cascada (literally, the waterfall trail) Cascada del amor, and La Roñosa. I didn't make it to any of these either, but I'm sure they are worth seeing if you have the time to make it there.
Enjoy Being Away from it All
Honestly, although I came to see the whales, I think this may have been the real highlight for me. This was one of the few trips I've done the last several years alone, and while I would have loved to have had Susana with me, sitting on the beach without a soul in sight was also in its own way very nice.
The cell service is also spotty at best. I could get an intermittent signal at the very edge of the water. That meant I was more or less disconnected.
I did lots of reading, talked to some other people staying at the lodge, and got to do lots of thinking. And all of that while being surrounded by some amazing scenery.
Where to Stay in Nuquí, Colombia
There are a number of good options for places to stay in Nuquí. Most are eco-lodges or hostel style cabins, and most are located outside of the actual town of Nuquí near Guachalito Beach. Most places should also be willing to either pick you up or arrange for your transportation from Nuquí to their local.
5 Recommended Places to Stay in Nuquí
1. Piedra Piedra – Where I Stayed
I stayed at Piedra Piedra, and was very happy. Sitting on a rock overlooking the water, it has a stunning view from the little pool sitting at the edge of the rock. The photo above gives you an idea of its great location and the view you'll have from it.
The manager Victor, was very friendly and having traveled extensively in Colombia had some good stories. The hotel is all inclusive and the food was terrific and super fresh. A two minute walk down to the deserted and seemingly endless Guachalito Beach make it a great option for a place to stay in Nuquí.
Check Availability and Book Here
2. La Joviseña – Great Value in Nuquí, Colombia
Another great option for where to stay in Nuquí is La Joviseña. Locally owned and operated, their popularity blew up after they were featured in the music video for the song "Nuquí (Te Queiro Para Mi)." They have cabins located on a pretty little point with beaches on either side. The only downside is you will have to take a boat to Guachalito Beach.
I actually booked at La Joviseña when I went, but because they were overbooked, they worked out for me to stay at Piedra, Piedra. Sitting on a little point with beach on three sides, La Joviseña is definitely a great option for where to stay in Nuquí. It's also a good value as its not the cheapest place to stay in Nuquí but is more reasonable compared to many of the other places.
Check Availability and Book Here
3. Hotel La Kuka – Luxury Eco-Lodge
La Kuka is one of the newer places to stay in Nuquí, and it looks absolutely lovely. It offers a bungalow as well as several larger capacity rooms. That makes it a great place for families to stay in Nuquí. It also has its own private beach and is approximately a half hour walk from Guachalito Beach.
While a bit on the pricier end, La Kuka would make a wonderful place to stay for those looking for a hint of luxury away from it all while whale watching in Colombia.
Check Availability and Book Here
4. Cabañas Refugio Salomon – Budget Pick at Guachalito Beach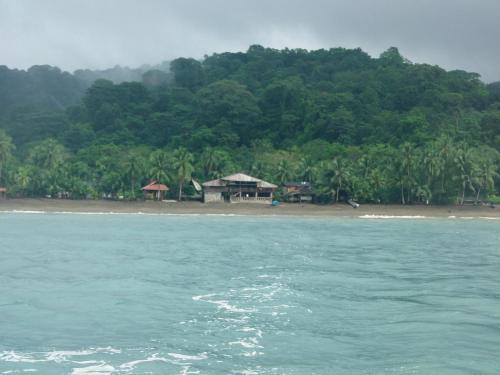 A small, family run establishment, Cabañas Refugio Salomon is probably the best deal in Nuquí. Located right on Guachalito Beach, the prices here are also a fraction of most of the other places. Despite the lower price, the property still looks very nice, and the reviews are wonderful. Stay here to for a budget place to stay in Nuquí.
Check Availability and Book Here
See Other Places to Stay in Nuquí
Practical Tips for a Visit to Nuquí, Colombia
There are no ATMs in Nuquí, so make sure you bring all the cash you will need.
There are some poisonous snakes in the area, so watch where you step in the forest and if you come across one, leave it alone.
Cell phone service is spotty at best, especially once you leave the town of Nuquí proper. Take it as a blessing and forced disconnect from the distractions from the beautiful surroundings.
What to Take to Nuquí – Packing List
Your Beach Gear – duh!
Bug Spray – You really need it!
I got eaten alive by mosquitos at night so pack some repellent to keep them at bay. If you bring it from abroad, I recommend OFF! Deep Woods (also available in towelettes) or check out OFF! Botanicals for an all natural option. If you pick it up in Colombia, I recommend Stay Off Amazonic.
If you want to try sunscreen/repellent combo, check out Avon's Skin So Soft Bug Guard.
Recommended Accessories
A good flashlight or lantern – I highly recommend this. I got caught hiking back from the beach at dusk just as it was getting dark and wish I had had a flashlight. The Maglite Mini is small and nearly indestructible, making it perfect for travel.
A good water bottle – The Pacific sun will leave you parched. Having a good water bottle that you can refill from larger jugs will save you money and is more friendly to the environment. I love my Takeya bottle that keeps water cold for hours (I use it everyday). If you're looking for something a little lighter and more travel friendly, check out this collapsable bottle from Nomader. It's a good idea to pick up a big jug of water in town to take with you to your hotel or lodge as well as it will likely save you some money.
A good book – On a deserted beach with no one to talk to but the crabs and no cell phone service, you will want a good book.
Waterproof pouch – Don't be like me and almost ruin your camera! Bring along at least a couple plastic bags to protect your valuables. You could also consider this JOTO Universal Waterproof Phone Pouch, or if you would rather have a purse/murse style one, this Waterproof Bag from Blue Sky BASICS will hold a camera or phone plus your cash. Finally, this 3 Pack of Waterproof Bags from Freegrace might come in handy throughout your travels.
A good backpack/daypack – I prefer having a small bag to throw my book, camera, sunscreen, phone, wallet, etc in while at the beach. I recently got one of Roam's backpacks that fold up and pack into a small carry pouch. That makes it super handy for travel, especially if you're already traveling with a larger pack.
Speaking of a travel pack – Roamm also has a great one that comes with a detachable day pack. For another option, check out this cool Topsky one with world map for decoration.
A good lock – Always comes in handy when traveling. This Master Lock allows you to set your own combination so you don't have to worry about losing a key, and is TSA approved for flying as well.
A good portable speaker – Ok, this one isn't really necessary, but if you like some tunes while chilling on the beach alone, a good waterproof speaker is handy. The JBL Clip has good sound in a small package, is water and shockproof, and clips on to a bag making it great for travel.
Money Belt – Since there are no nearby ATMS, you'll have to carry lots of cash. A good money belt is a nice precaution to be on the safe side.
There you have it. A complete travel guide to Nuquí, Colombia. While its certainly best to take advantage of the natural wonder of seeing the whales on Colombia's Pacific, even if you can't make it in the June-October whale watching season, Nuquí is a worthy destination off the beaten path in Colombia!
If you do decide to go, I hope you enjoy it and this guide was helpful in planning your trip.
Cheers and Happy Exploring!
---
Interested in learning more about visiting Nuqui and whale watching in Colombia?
---
Interested in learning more about destinations in Colombia?