Minca is a small town in the mountains above Santa Marta and has become a popular destination. Sporting picturesque scenery with a lush forest, stunning views of the surrounding mountains, and several waterfalls, Minca is well worth a stop during a visit to Colombia's Caribbean coast. Read on for a complete travel guide to Minca, Colombia, including why you should visit, how to get there, where to stay, what to do, and travel and packing tips for when you visit. *This post has been updated to reflect the reopening to tourism.
*Disclosure: This post contains affiliate links. I am a participant in the Amazon Associates Program as well as other affiliate programs and may earn a commission on qualifying purchases made after clicking links from this site. There is never any additional cost to you. For more information, please consult my Disclosure Policy.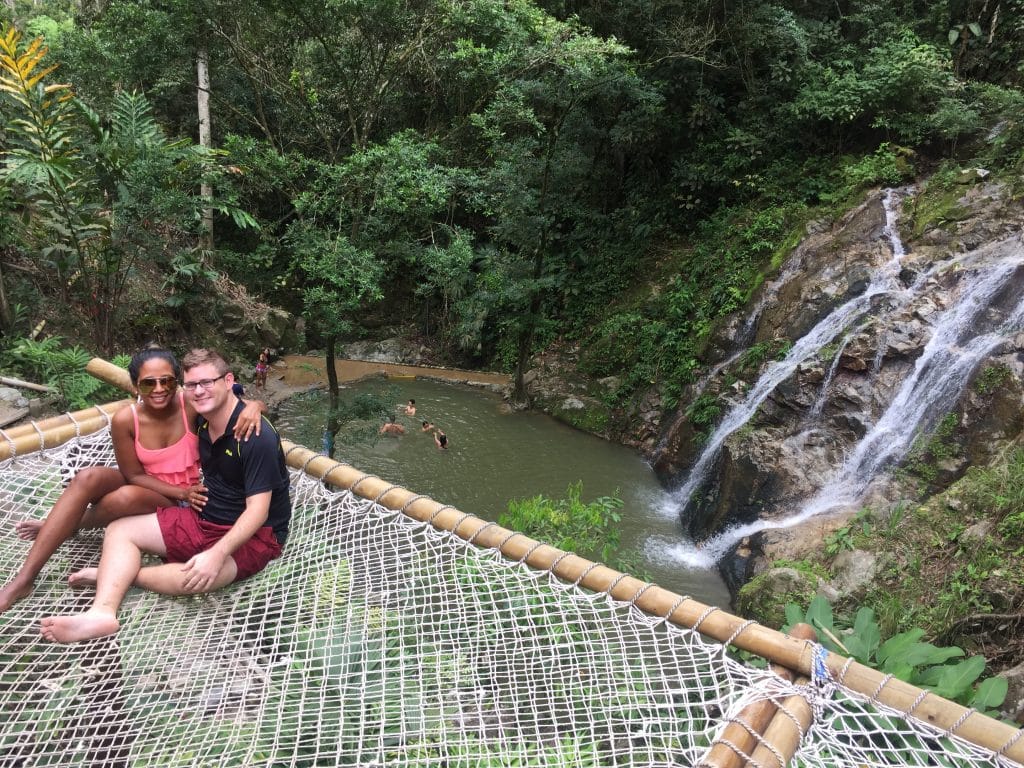 *Covid-19 update: Minca is currently reopen to tourism, and all places to stay in Minca and restaurants mentioned below have been confirmed as being open. Given it is a small indigenous town, it's worth pointing out you should be sure to be respectful of all local rules as it relates to health protocols. I will do my best to keep this up to date, although it's possible some information may be out of date or has become out of date due to changes. The last updated date is listed below. If you're reading this long after that date, it may be worth doing some verification on your own.
Date of last update: November 29, 2020
Travel Guide to Minca, Colombia – Contents
Why Visit Minca
Is Minca Safe?
How to Get to Minca (including how to get to Minca from Cartagena)
What to Do in Minca
Where to Eat in Minca
Where to Stay in Minca
Travel Tips for Minca
Packing List for Minca
Why You Should Visit Minca, Colombia
Waterfalls, hiking, birdwatching, great cafes, locally grown coffee, and even a local brewery, this little town has it all. Minca, Colombia sits about 650 km above sea level, nestled in the forest of the Sierra Nevada mountain range just above Santa Marta.
I first visited Minca during my first year in Colombia in 2011. I just went up for a day and explored while staying in Santa Marta. My wife and I returned to visit in May 2018, and the tourist scene has grown quite a bit, but is not overrun and still feels like a quiet little town in the mountains.
Minca has become a big eco-tourism destination, and there has been a proliferation of small hostels and eco-hotels around the town offering easy access to the surrounding nature. There are also some good little restaurants that have opened up in town catering to the tourist crowd, but at reasonable prices.
If you're looking to see a couple beautiful waterfalls, do some hiking, or just relax in the peace and quiet of nature, you should consider spending some time in Minca. It makes for a great chilled-out break from partying in Cartagena or roughing it in Tayrona or on the Lost City Trek. Not to mention, you will also get a break from the sweltering heat in the fresh, cooler mountain air.
Honestly, Minca is probably a nicer jumping off spot to Tayrona, the Lost City, Palomino, or the other nearby beaches and attractions than Santa Marta itself. So, if you were planning to spend a few nights in Santa Marta, consider opting for Minca instead.
*See also: Travel Guide to Tayrona and Travel Guide to Palomino
If you do decide to go, read on. In this travel guide to Minca, you will learn how to get to Minca, what to do in Minca, where to stay in Minca, and practical tips for Minca, including a packing list.
Is Minca Safe?
Yes. It is very much on the tourist map in Colombia, and not just for backpackers but for families and boutique travelers as well.
In the 1990s and early 2000s, Minca was a flashpoint in conflict between now demobilized guerilla group FARC and paramilitaries.
However since at least 2010, there has been no major conflict in the area and like much of small town Colombia, crime is uncommon.
Still, I would advise following general tips for safety in Minca, such as not being out on the roads and trails to the waterfall or the hotels out of town after dark and definitely not late, being aware of who is around you, and not flashing cash or jewelry.
If you follow those basic Minca safety tips, you should be just fine.
How to Get to Minca
You will need to get to Santa Marta first.
How to Get to Minca from Santa Marta
The cheapest option to get to Minca from Santa Marta is to catch colectivos from the market. The cost is $9,000 pesos (confirmed November 2020). It used to be you could catch them as well from the gas station in Mamatoco, near Dreamer Hostel, but that is no longer the case, as we learned the hard way when we could only find normal private taxis and moto taxis there.
You can also get private taxis from just about anywhere in Santa Marta to take you to Minca. Prices may vary depending on where in the city you are coming from. You can also get moto taxis up to Minca.
Finally, you can also prebook a private transfer to Minca from Santa Marta via Viator, which, while pricey, does offer convenience.
How to Get to Minca from Cartagena
You can travel between Cartagena and Santa Marta on buses from the main bus terminal, Berlinas, or Marsol. Usually, you will make a pit stop where you can use the bathroom and buy snacks just before or after Barranquilla.
Buses from the Terminal
Prices for buses to Santa Marta at the terminal may vary depending on company and time but should be between 30,000-50,000 depending on company and times. Do note that the terminal is far away from the main tourist areas of Cartagena and can be a costly taxi ride.
You can see some (although not exhaustive) options from the terminal for buses to Santa Marta from Cartagena at BusBud.
Berlinas (recommended)
Berlinas operates vans and buses with transportation from Cartagena to Santa Marta. Their office is located in Marbella, about a 25 minute walk or 5 minute, 8,000 peso taxi ride from Centro. This is my recommended way of travel.
They have buses leaving every 40 minutes beginning at 4:40 am (6 on Sundays and holidays) until 6 pm for *48,000 pesos (*These were the early 2020 prices, I have reached out to Berlinas to confirm the latest prices and will update once I hear back).
Marsol
Marsol operates vans like Berlinas but offers an optional pick up service (for an extra surcharge). They have buses between Santa Marta and Cartagena that leave Cartagena every 2 hours from 6 am to 4 pm. Their office is in Cabrero, about a 10-15 minute walk from Centro.
Return trips from Santa Marta to Cartagena at 5:30 am, 7:30 am, 9:00 am, 11 am, 1 pm, and 3 pm. The routes both way stop to drop off and pick up passengers in Barranquilla so expect a short delay there, but the duration of the trip should be approximately 5 hours.
Marsol currently charges *$90,000 pesos. (*This price was confirmed in November 2020). That's nearly double the previous $56,000 pesos. It's not clear if that is a temporary change due to limited capacity.
Note that if you're planning a trip in 2021, prices usually go up slightly year to year, so you may want to plan on more like 100,000, although perhaps that doesn't happen this year with the price already so elevated, who knows with this year?
It's also possible that as demand grows and the health risks associated with travel decline, direct buses to Santa Marta from Cartagena may start again and/or prices could go back down (fingers crossed at least!). If you're reading this much later than the date for the last update noted at the top, it is probably worth double checking times and prices.
You can make prebook reservations online through Viator or reach out and confirm prices and times via Marsol's Facebook Page (they are pretty good about responding, although you'll want to ask in Spanish).
How to Get to Minca from Elsewhere
You'll have to arrive to Santa Marta first.
How to Get to Minca from Tayrona
The easiest and cheapest option for how to get to Minca from Tayrona is to take the bus that goes by the main entrance of the park back to Santa Marta. This should cost around 7,000 pesos.
It's also possible to get a private transfer from Tayrona to Minca via Viator, although it is pricey but convenient.
How to Get to Minca from Palomino
The easiest and cheapest option for transportation from Palomino to Minca is the same bus that passes by Tayrona (it starts its route in Palomino). The price was 10,000 pesos in mid-2019.
It's also possible to get a private transfer from Palomino to Minca via Viator, although it is pricey but convenient.
How to Get to Minca from Barranquilla
Your best options here will be Marsol or on buses from the terminal from Barranquilla to Minca. Given it's not that long of a trip, I'd probably recommend taking advantage of the cheaper buses from the terminal. Check times and prices at BusBud or use Marsol's contacts above to find out schedules and prices with them.
How to Get to Minca from Medellín or Bogotá (or elsewhere)
If you are wondering how to get to Minca from Bogotá or Medellín, I would advise that you plan to fly into Cartagena or Santa Marta first or take advantage of stopping along the way in places like the San Bernardo Islands (on the way from Medellín) or Barichara (only a tad out of the way from Bogotá).
Regardless, you'll want to ultimately arrive to Santa Marta before heading up to Minca. For ideas for flying, see below, to get an idea of bus options for how to get to Minca from elsewhere, check BusBud (although keep in mind, it's far from an exhaustive list).
Can You Fly to Minca?
No.
Santa Marta is the closest airport to Minca While it's pretty easy to just use bus travel along the Caribbean Coast, if you're coming from the interior and aren't going to stop in Cartagena, it may save you some time to fly into Santa Marta.
Of course, I would encourage you to spend sometime here in Cartagena and see all there is to do here (this website's name is Cartagena Explorer after all!).
Regardless, if you're coming from the interior and you're not planning to stop anywhere else on the way to the coast, flying is a good option. It's often not all that much more expensive than taking buses, and it will save you a lot of time.
It's a good idea to compare your options to both Cartagena and Santa Marta which you can do on Colombia's flagship Avianca airline, looking for a package deal at Expedia.com or Trip.com, looking for a steal at CheapOair.com or Kiwi.com, or comparing prices at SkyScanner.com or Jet Radar.
What to Do in Minca
The main attraction in Minca is the gorgeous natural surroundings. Still, for such a small town, there is a lot to see and do. Below is a run down of some of the best things to do in Minca.
Visit the Marinka Waterfall
*Confirmed open
The falls at Marinka were by far the highlight of our visit to Minca, and are one of the must do activities in Minca. Sporting two falls and a small little watering hole, we found it much more impressive than Pozo Azul.
You can get to the Marinka Waterfall by following the main road to the right from the bridge at the center of town. The hike there is mostly pleasant along the little road out of town, with the last little leg being a bit taxing uphill and should take about 90 minutes depending on your pace.
Keep your eyes peeled for birds and butterflies along the way. Do also watch out for motos and trucks coming around the bends on the road. You could also opt to take a moto-taxi from town if you're pressed for time.
Once there, there is a small entrance fee (I want to say it was 5,000 pesos each). However, it is worth it as the owners have put in the time to make it a nice place to visit. There's a little cafe on site as well as bathrooms. Also, they have some of the big hammocks overlooking the falls, a great spot for a picture (the picture at the top of the post was taken here).
Be sure to hike up to the upper falls as well, as they are a bit taller. Although the water isn't deep enough to swim here, you can still stand under the falls and get a refreshing blast of icy cold water or be like Susana and do some supermodel poses for photos. After seeing them, head down to the lower falls, where the water is about waist deep and you can go for a little swim.
If you're looking for something extreme, you can even rappel down the waterfall (this wasn't there last time we were in town, but it looks like fun!)
I'd recommend heading to Marinka early in the day to beat the crowds and not feel rushed given the hike back to town. We went in the morning and then stopped in town for lunch before going to Pozo Azul in the afternoon.
Pozo Azul
*Confirmed open (it's public property)
Pozo Azul is another, smaller falls and watering hole just outside of Minca. It's about a 45 minute walk heading straight up the road from the bridge in the center of town. Again, you can also take moto-taxis. There's no entrance fee for Pozo Azul.
The "blue well" was not really all that blue when we went as it had been raining a lot. In fact, shortly after we got there, the water rose quickly as it was raining father up the mountain.
If you are short on time and can only do one of the falls, do Marinka, as it was more impressive. However, if you have the time Pozo Azul is still worth seeing and spending some time splashing around. And hopefully you have better luck than us and don't have to hightail it out of there a few minutes after arriving.
Do note that during tourist high seasons around Christmas and New Years, Pozo Azul can get quite crowded.
Tour La Victoria Coffee Plantation
*Currently closed due to work on the road (however if you figure a way to arrive, they will receive you).
I highly recommend making a visit to La Victoria. They still use machinery imported into Colombia in the early 1900s. Even more impressive is the whole process uses water, not only to hydraulically power the machinery, but to move the coffee beans from one step in the process to the next.
We were there during the offseason, but our tour guide still walked us through each step of the process, explaining how the machinery works. I imagine it would be a real treat to be there during the harvest and actually see it all in action.
I've done several coffee tours during my time in Colombia, so I had a handle on the plant to cup process, but I still learned a lot during the tour. In particular, I learned more about how the industry works and the different grades of coffee. Of course, the highest quality beans are reserved for export, but they do keep some on hand that you can buy at the end of the tour and take home to enjoy later (also highly recommended!).
The tour takes about 45 minutes, and you get a cup of coffee before and after. Even if like me, you've done the coffee plantation tour before, it's still worth it to see the machinery and gleam some nuggets of extra wisdom.
The craft brewery Cervecería Nevada is also on-site, and while they weren't offering tours of the brewery while we were there, you could sample the beers. For a coffee and beer lover like me, Marinka and La Victoria are the two can't miss things to do in Minca, Colombia.
If you'd like to do a tour that includes La Victoria and Marinka, you can check out this tour (via Viator), which is on the pricey side but does include all admission costs and private air conditioned transportation. You could also check out this one (via GetYourGuide) that is very similar but also includes lunch.
Visit the Memorial Center of the Sierra Nevada
As noted above, Minca is quite safe today, but was at one point a flashpoint of Colombia's internal conflict as the FARC long controlled the town and the area around it before paramilitaries started a campaign agains them in the mid-90s, one that saw many civilians caught in the cross fire.
The Memorial Center of the Sierra Nevada tells that story as well as the history of the 4 indigenous groups that are represented in Minca's local population. It was not open the last time we were in Minca, but it looks to be very well done, and we will definitely have to visit it when we return to Minca.
The museum is open Tuesday-Saturday from 9-11 am and 1-4 pm. It also offers language exchanges in the morning hours. Learn more at its website or you can book a tour ahead of time (via Viator).
Visit Casa Elemento (*currently closed)
*In December 2019, Casa Elemento was closed, apparently due to a dispute between the landowner and hostel manager. There's little information online. As of early 2020, word was it was a temporary closure and they would reopen, but then the rest of 2020 happened. To my knowledge they have not reopened, but I will leave this up for the time being.
Casa Elemento is a hostel located farther up in the mountains above Minca, and is one of the most popular places to stay in Minca. It is especially famous for its giant hammocks with views of the valley below.
We didn't stay there but wanted to check it out. It is about a 3 hour hike, but we arranged for a couple moto-taxis to take us up and wait for us before taking us on the La Victoria with a stop at Los Pinos, a lookout higher up in the mountains.
It cost 10,000 pesos for a day pass to enter and includes a beer, coffee, juice or other drink. We spent an hour or so exploring the property and chilling out on the giant hammocks while enjoying the view. It was a neat place to check out even if, like us, you don't want to stay there.
*As of December 2019, Casa Elemento has been closed, apparently due to a dispute between the landowner and hostel manager. There's little information online, but it will reportedly be only a temporary close, so I am leaving this info up for now, and will try to update when there is a more definitive update. Source (in Spanish) here.
Bird Watching
If you're willing to get up very early and can fit it into your schedule, there are bird watching tours in Minca. We didn't do one since we didn't have the time over our two days. However, everyone I've talked to who has done it has said it was worth it.
Enjoy the Peace and Quiet of Nature
If you're pressed for time and want to fit in as much as possible, you can do moto-taxis to just about all of the things to do in Minca. However, you came to Minca to enjoy the fresh mountain air, so make a point to at least hike to one of the activities. It's well worth it to enjoy the natural surroundings. And don't forget to be on the lookout for butterflies and toucans!
Can You Do a Day Trip to Minca?
You can certainly do a day trip to Minca from Santa Marta. Especially if you're willing to take moto taxis around, you can easily do the waterfalls and Victoria in a day on your own.
As I noted at the start, I simply went up the mountain from Santa Marta for a day trip to Minca the first time I went. And you can certainly do that, and it can be a cost effective way to see town if you already have a place to stay in Santa Marta.
If you'd prefer to do a day trip to Minca as part of an organized tour, you can check out this Minca day tour (via Viator) and this tour (via GetYourGuide and including lunch), mentioned above would also allow you to see La Victoria and Marinka in the same day
If you're looking for a creative way to do a day trip to Minca, you can do an E-Bike Tour of Minca out of Santa Marta (via Viator). The tour includes rental of an electronic bike to help with the climbs up the mountain and a guide. It will take you to Marinka, Pozo Azul, and Victoria, and it includes lunch.
Finally, if you're looking for a multi-day tour that includes Minca, check out this neat 3 day tour through the Sierra Nevada mountains organized by locals.
Although, really and truthfully, I'd really recommend staying a few nights in Minca. It will let you not have to feel like you're rushing through any of the things to see in Minca, and trust me, the cooler air in the evening is a nice break from the heat.
You'll also be able to enjoy the little cafes and happy hours in town mentioned below and feel like you're away from the hustle and bustle of the city for a bit. Plus, you can still easily go in to Santa Marta for the day and see the sights there. (*If you want a unique tour of Santa Marta, check out this audio tour with the voice of famous Colombian singer and Santa Marta native Carlos Vives).
Where to Eat in Minca
There are a number of nice little cafes and restaurants in Minca, including several of which offer good vegetarian options. If you've been traveling in Colombia for a while, Minca is also a great place to get some more international inspired fare or a good steak at much more reasonable prices than you'll find in Cartagena or elsewhere on the coast.
The Lazy Cat – Coolest Restaurant in Minca
Our favorite place to eat in Minca was the Lazy Cat. We both got burgers for lunch one day, and enjoyed a great quesadilla as a late afternoon snack the next. They also had a great looking Wok option that can be ordered with your choice of meat or vegetarian. With 2 for 1 cocktails during a late afternoon to early evening happy hour and a little deck outback, its a nice place to grab a drink as well.
Lazy Cat also has the locally brewed craft beers from Cervecería Nevada on tap. I recommend the Happy Tucan, a red ale or Happy Coca, a pale ale brewed with coca leaves, although the Happy Nebbi, a Pilsner, is a good option if you're looking for something lighter. If not on tap, most places in Minca should have them bottled, and you should definitely do yourself the favor of taking a break from Aguila and Club Colombia and enjoying one….or four.
Other Places to Eat in Minca
Casa Cristi – We wanted to check out Casa Cristi

, which is really more like

3 restaurants in one, sporting vegetarian, burger, and grilled fare

. Unfortunately, we missed lunch time our second day.

El Bistro at La Victoria – We did enjoy some great coffee cake at El Bistro at La Victoria

, while waiting to do the coffee tour.

Their sandwiches also looked delicious

, but they had run out by the late afternoon when we were there.

Santisabella –

They have rave reviews for their Italian food

Casa Antonio – friends recommended Casa Antonio

for their big, juicy, and reasonably priced steaks.
Needless to say, there's no shortage of good options for restaurants in Minca.
Where to Stay in Minca, Colombia
There are a ton of options for places to stay in Minca, ranging from hostels, small hotels in town, or eco-hotels in the surrounding area.
Minca Glamping – Where We Stayed and Highly Recommended
When Susana and I visited, we stayed at Minca Glamping. The property is fairly new, just opening in early 2018 and run by a lovely couple. About 20 minutes outside of town, it's aptly named as you feel like you are really in the forest, but you can still get to town easily.
There are only 2 small, lovely cabins, each sporting a little porch with a hammock, running water, and even a coffee maker. While we were on the go during most of the two days we stayed, it was super relaxing in the evening, and we saw lots of birds and butterflies.
The included breakfast was also great with a big bowl of fresh fruit, and choice of eggs and toast, pancakes, or cereal and yogurt. We had dinner both nights as well, which was also delicious.
The only real downside is with having to hike back, we didn't really want to stay out long after dark. It is probably a good idea to take a flashlight along with you. Overall, Minca Glamping is an awesome choice to spend a few (or more) relaxing nights in the peace and quiet of nature.
Other Recommended Places to Stay in Minca, Colombia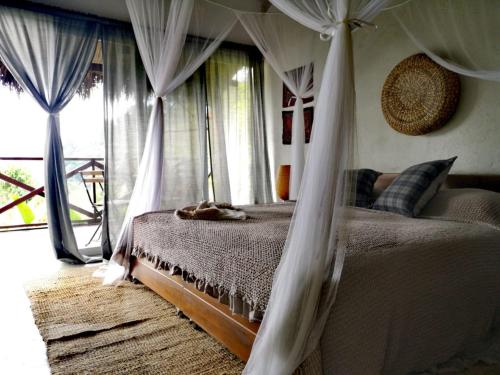 About an hour walk out of town, the exclusive mountain lodge at Reserva Natural Tierra Adentro offers stunning views of the green covered mountains around Minca. The rooms are also gorgeous and comfortable. This would be great for those looking to get away from it all in peace and quiet. It would also be an ideal place to stay in Minca for a romantic getaway.
Minca Ecohabs – Exclusivity Closer to Town
Just outside of town, Minca Ecohabs are luxurious but offer a natural feel. It's a great place to feel one with nature while not being far away from the cafes and restaurants in town. They have gorgeous cabins that almost have a tree house look to them. This would be a great place for families or couples to stay in Minca.
Check Availability and Book Here (via Booking.com)
Siembra Boutique Hotel is located not too far out of town on the way towards La Victoria and Pozo Azul. It's got pretty rooms and a pretty little pool. It even offers family rooms that can sleep up to 10. All at a very reasonable price compared to some of the other newer eco-lodges.
Check Availability and Book Here (via Booking.com)
Casa Elemento – Chill Out in the Coolest Mountain Hostel (*closed)
If you're looking to be even farther away from civilization, then head high up in the mountains to hostel Casa Elemento. It is about a 3 hour hike or half hour moto-taxi ride from town. Casa Elemento is famed for its giant hammocks.We didn't stay there, but took moto-taxis up to check it out. It's an impressive place, sporting a bar, pool tables, a restaurant, and, of course, the giant hammocks. The day we went it was pretty overcast, but I imagine with clear skies, the views of the mountains are stunning.Sporting a hipster-hippy-backpacker vibe, Casa Elemento is a great option if you're planning to stay for 3 or more nights and are going with friends or looking to meet fellow travelers. However, if you're only able to stay for a night or two, I'd say you'd be better off closer to town where it will be easier to see all the surrounding sites.
Check Availability and Book Here (via Booking.com)
*As noted above, Casa Elemento was closed temporarily in December 2019. I'm leaving it as one of the recommended places as they hope to reopen and will try to update when there is more definitive news. Alternatives to Casa Elemento that are located out of town a little ways include Loma Nevada Hostel, Hostel Casas Viejas, and Hostel Finca Carpe Diem.
Hostal Casa Loma – Great Views at this Hostel Upon a Hill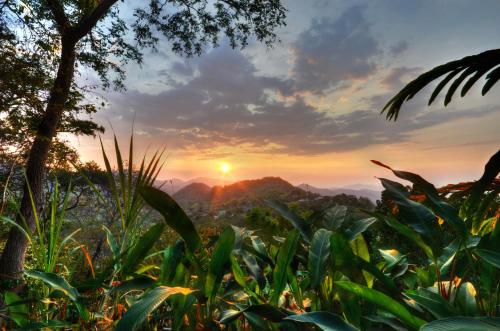 Perhaps the best of both worlds is Hostal Casa Loma. Located on the top of a hill above the center of town, it offers an incredible view overlooking the mountains and forest with Santa Marta and the Caribbean sea in the distance. I haven't stayed there, but did hike up there and had a coffee the first time I visited Minca and the people I know who have stayed there have had great things to say about it.
The view really is spectacular, and, though its a bit of a hike up, you're practically in the middle of town, just up on a hill. That means you can still enjoy dinner or a few drinks at one of the cafes without feeling like you have to trek far away.
Check Availability and Book Here (via Booking.com)
Check Availability and Book Here (via HostelWorld.com)
There are tons of other options in and around town for places to stay Minca for just about any price range, so feel free to check out other options as well before you go.
See Other Places to Stay in Minca on Booking.com
See More Hostels in Minca at HostelWorld.com
Practical Tips on a Visit to Minca, Colombia
There's no ATM in Minca, although there is a place that would do cash-back for a fee if you're desperate. It can be found in the tourist shops to the right by the bridge if you have your back to town. However, you're better off hitting an ATM in Cartagena or Santa Marta. Some of the restaurants in town may accept cards, but you should definitely bring cash.
You will beat the crowds if you get to the waterfalls (particularly Pozo Azul) early.
Minca is a quiet little mountain town, while some of the hostels outside of town may have a bit of a party atmosphere, don't expect to go out clubbing in town.
During the rainy seasons from October-December and April-May, the roads and trails may get a muddy, and the evenings could be a tad chilly.
Be sure to drink plenty of water.
*Covid-19 Travel Info
Minca is fully reopen to tourism. I reached out to Minca Glamping, and they told me the waterfalls are reopen and most restaurants in town are also operating again as well.
You should, of course, wear a mask in public. If you need some extra ones, you could pick up some simple reusable masks or these reusable, moisture wicking neck bands and face masks that come in a variety of colors and would be good for the hiking and humidity in Minca. If you prefer disposable ones, see these N95 disposable masks. You'll also want to make sure you pack lots of hand sanitizer.
If you're planning a trip to Colombia, be sure to check out my complete post on current Covid related travel requirements.
Packing List – What to Pack for Minca, Colombia
Recommendations for What to Wear in Minca
While it's cooler than at sea level in Minca, it's still a humid, tropical climate. You will also be doing lots of walking. Wear comfortable clothes that you don't mind getting a bit dirty and sweating in.
Recommendations for Her:
Travel Gear to Pack for Minca:
Other Things to Pack for Minca:
Ready to plan your trip to Minca, Colombia?
In conclusion, Minca is well worth a couple nights or more during a tour of Colombia's Caribbean coast. You should absolutely try to fit in at least a night here, and if you're really looking to escape it all, then stay for a few!
There you have it, a complete guide to a visit to beautiful Minca, Colombia. If you do decide to go, I hope you find this guide useful in planning your trip. I'd also love to hear about your trip in the comments below!
Cheers and Happy Exploring!
Interested in seeing more of Colombia's Caribbean coast?
Check out the following other destinations:

Did you like this post?
Share it with your friends!
Share on Facebook Share on Twitter
And don't forget to like and follow us!
Like us on Facebook Follow us on Instragram Follow us on Twitter
Planning your trip to explore Cartagena?
Check out the following posts to help plan:
Insider's Guide to the Best Areas to Stay in Cartagena
Complete Packing List for Cartagena
Top Things to Do in Cartagena