The Amazon isn't just in Brazil. The lesser known town of Leticia, Colombia lies along the Amazon river where the borders of Colombia, Brazil, and Peru meet. Easily accessible by flight from inside Colombia, Leticia makes for a great place to see the natural wonders of the Amazon river and rainforest, and you can easily access Brazil and Peru. Read on for a complete travel guide to Leticia, Colombia, including why you should visit, how to get there, what to do, and where to stay in Leticia, along with travel tips and a packing list.
*Disclosure: This post may contain affiliate links. I am a participant in the Amazon Associates Program as well as other affiliate programs and may earn a commission on qualifying purchases made after clicking links from this site. There is never any additional cost to you. For more information, please consult my Disclosure Policy.
Why You Should Visit Leticia
There's something special about the allure of visiting the Amazon. Truly one of mother Earth's natural wonders, the river and the rainforest call to our wild and adventurous side. A visit is something to be crossed off your travel goals, life goals, bucket, or whatever you want to call it list.
We have been to Leticia twice. Susana and I went in July 2016 and we returned recently in July 2019 with my mom, who wanted to go for all the reasons listed above. We really enjoyed it both times!
While your first thought of visiting the Amazon probably leads you to Brazil, Leticia is also a wonderful option. Sporting less crowds and a little less tourist development, it offers a bit more of an authentic experience than the more popular destinations in Brazil. Also, although Leticia itself is not deep in the forest, you can use it as a starting point to tour deeper, where deforestation has taken less of a toll than farther down the river in Brazil.
Even if you don't choose to rough it and go on a trek deep into the forest, Leticia makes for a great place to visit and offers the opportunity of experiencing the natural wonder of the Amazon River and rainforest. If you do decide to visit Leticia, read on. In this travel guide to Leticia, you will learn how to get there, what to do, where to stay, travel tips, and a packing list for Leticia, Colombia.
How to Get to Leticia
Leticia is isolated from the rest of Colombia, sitting at the very edge of the borders with Brazil and Peru. In fact, in the early 1930s, the area's populace, feeling disconnected from the rest of the country, actually defected to Peru, setting off a short conflict between the two countries. While it remains part of Colombia today, there is still no road through the jungle to Leticia. To reach it, you have to fly from Bogotá or take a boat from Peru or Brazil.
Flights to Leticia
The Colombian airlines LATAM and Avianca both offer daily flights to Leticia out of Bogotá. While you'll have to check your dates, flights are usually very reasonably priced.
You can also check flights to Leticia and book direct with Avianca here or LATAM here.
Boats to Leticia
We flew in and out of Leticia both times we have gone, so I don't have a lot of specific info on the boats, but it is possible to arrive via boat.
You can take a boat down the river from Iquitos in Peru to Santa Rosa, just across the river from Leticia, or up the river from Manaus in Brazil to Tabitinga, the town just across the land border from Leticia.
You could also do a flight one way and a boat one way if you're planning a longer trip that takes you through more than one country.
What to Do in Leticia, Colombia
The main attraction here, and the can't miss activity in Leticia is a cruise on the mighty Amazon River, but there are many other activities you can check out as well.
Amazon River Tour
Both times we've gone, we did an all day river tour. The tour makes several interesting stops along the way. Below, I'll give you a quick run down on what you can expect on the Leticia Amazon River tour.
Stop 1: Isla de los Micos (Monkey Island)
Isla de los Micos was the highlight of our Leticia Amazon River tour. It is a bit of a curious place. Basically, some monkeys got together and took over this island and now require that all humans that pass by on the river pay a toll of bananas.
Ok that's not what happened, but there are lots of little monkeys on this island. When you go in, they will give you some bananas. Then watch out! The little monkeys will swarm you trying to get to the bananas!
It really is a riot. The monkeys more or less consider people trees and will be climbing up your legs, over your shoulders, arms, head and even jumping from one person to the next. Do be careful holding the bananas too tight in your hand, as a monkey might even nibble on your fingers a bit trying to get at them.
Isla de los Micos will undoubtedly give you some laughs and let you get some great pictures with monkeys crawling all over you, making it one of the best things to do in Leticia, Colombia.
Stop 2: Indigenous Village Macedonia
The next stop a bit further upriver was the small indigenous village of Macedonia. There are a number of small communities along the river, all established within the last 50 years and containing a mix of the descendants of different ethnic groups. Macedonia is the largest.
The inhabitants will tell you a bit about their culture, perform a traditional dance, and you will have the opportunity to buy some cool artisan crafts.
It is a bit stereotypically touristy. However, it's worth keeping in mind that these small communities are extremely isolated and largely neglected by the national government. Therefore, your small tips for taking pictures with them and buying their crafts are helpful. We got a few beautiful wooden kitchen things as well as cool magnets made from fish scales. The crafts make great souvenirs and gifts for friends and family.
Stop 3: Puerto Nariño
Around midday, you will arrive to the town of Puerto Nariño, a small, but well developed and pretty little town on the Colombian side of the river. You'll be able to have lunch in the restaurant at the center of town (our lunch was included, but you should double check that with your tour).
After lunch, you will have a bit of time to explore. The town is really pretty and there are no motor vehicles aloud, so it's great to walk around.
It's a bit of a hike up the hill, but at the top of town, there's a great observation tower you can climb up and get a great view out over the river. The 5,000 pesos entry fee is well worth the incredible view. There was also a guide there who gave a short talk on the river, the wildlife, and the community.
Stop 4: Pink River Dolphin Watching
After the stop at Puerto Nariño, you will visit the Lagos de Tarapoto. The lakes are a protected wildlife sanctuary.
On the lake and on your way back down the river, keep an eye out for the Amazon pink river dolphins. We didn't have the best luck since the water level was down, and only got a few quick glances. Hopefully, you'll have better luck, as they are really pretty.
Stop 5: Reserva Victoria Regia
At this final stop on the tour, you will get to see giant water lilies. Originally named the Victoria Regia, for Queen Victoria, the Victoria Amazonica is the largest water lily in the world. At the Reserva Victoria Regia, there are boardwalks where you can see the giant floating leaves and some of the blooming lilies.
After that, you should head back to Leticia, arriving late in the afternoon.
Arranging the Leticia River Tour
Lots of these tours run out of Leticia everyday, and any hotel you stay in should be able to help you arrange it. Any tour operator will as well. We got Expeditions George of the Jungle to help us arrange it on our most recent trip.
Watch the Birds Feed and Explore the Central Plaza
Around sunset each day, flocks of birds fly into Leticia to feed. There are absolute swarms of them, and the sound of them all is crazy. It's a really neat sight, and one of the most interesting things to see in Leticia. Just avoid thinking about that short story.
Be sure to be there on time as well, as after about 45 minutes, they clear out as quickly as they arrive. If you get there early and are willing to pay a few pesos, you may even be able to get a birds eye view (see what I did there) from the church steeple. After you've watched the birds, you can explore the main plaza and the monuments there, then grab some dinner.
Go Canopying
About 15 minutes outside of Leticia you can go canopying at the Reserva Natural Tanimboca.
After the tough rope climb up, you get to walk across a few swinging bridges and take a few zip lines through the tree tops before finally repelling back down to the ground. It was a fun way to spend a couple hours, and one of the unique things to do in Leticia.
Cross the Border into Tabatinga, Brazil
Since the area is so isolated, the borders are open and you can walk right into Brazil.
If you head a few blocks from the main plaza in Leticia, you will find the border with Brazil. Just keep walking a bit further and pass the marker and you will be in Tabatinga, Brazil.
There's no checkpoint and it is not necessary to have your passport.
Tabatinga, well at least the part along the road just across the border, honestly wasn't nearly as pretty as Leticia. However, we stopped at the Casa do Chocolate and a little tourist shop and got some chocolate, a bottle of Brazilian cachaça cane liquor and some other trinkets to take home. On our most recent trip, there is another similar tourist and chocolate shop a bit closer to the border.
The Castel Brasíl is the site of an old fort from the 1700s that has a small little museum and a mini-zoo a bit further into Tabatinga.. Honestly the zoo is kind of sad with small cages and mostly sad looking animals.
And although we didn't get the passport stamp, we can say we've been to Brazil!
Cross the River to Santa Rosa, Peru
You can take a short boat ride across the river to Santa Rosa, Peru. You can get the boats by walking down the the docks. In July 2019 it cost 3,000 pesos a person.
We took the boat across and had lunch there one day. The restaurant Brisas de Amazonas is really good. Susana had a great chaufa, Peruvian fried rice, and I had some tasty fish. Plus, we got to sample some Peruvian beer, and again although no passport stamps, we can say we've been to Peru.
Trek into the Forest
We did not do this on either trip. Not in a million years do I think I could convince Susana or my mom to do it.
However, trekking into the forest will not only fully satisfy your adventurous side, but it is also the best way to see wildlife. Most jungle treks have a combination of camping and staying in indigenous villages. There are tours as short as a night or two up to over a week. You should not try to go without a guide.
If you'd like to do a trek into the forest, the aforementioned Expeditions George of the Jungle can arrange custom tours into the jungle for as many days as you'd like. You can also check with other tour operators in town as well as with the place you plan to stay when you arrive to set up a trek into the Amazon.
See the City's Annual International Festival
We actually got lucky and were there during the Festival de la Confraternidad Amazónica. Held every year in July, it's an international festival celebrating the cultures of Colombia, Brazil, and Peru. The festival is meant to promote ties between members of the three nearby communities.
In true Colombian fashion, each of the nearby communities nominates a beauty queen to represent their country. Each also gets a night devoted to them with performances of traditional dance and music, and the festival culminates in the crowning of the international beauty queen of the Amazon.
We had no idea the festival was going on, so only got to see the inaugural night and the Brazilian night. If you're already planning to go to Leticia round midyear, then try to arrange your visit to coincide with the festival.
Honestly, you really should always check these types of things when you travel, since we not only missed the rest of the festival but also missed the Olympic torch passing through Tabatinga before the 2016 Rio games several days later.
Where to Stay in Leticia
In Leticia proper, there are a range of options of places to stay. There are backpacker and traveler hostels. There are standard hotels with all the amenities you would expect elsewhere. There are even boutique hotels, luxury bungalows, and an all inclusive resort.
If you're looking to get a bit more of the adventurous experience, there are hostels, lodges, and cabins outside of town as well. While not really in the jungle, jungle, more like the beginning of the beginning of the jungle, it's still neat to stay out of civilization a bit.
During our first trip, we chose one of the options outside of town, and stayed at Omshanty Jungle Lodge. Located about 10 minutes outside of Leticia, Omshanty has 5 small cabins nestled into the forest, each sporting a tiny kitchenette, a porch with hammock, bathroom with running water, and several beds.
I loved Omshanty, although Susana wasn't crazy about sharing our cabin with a couple lizards and frogs who made themselves our houseguests over the 3 nights we were there. It is definitely closer to camping than being in a hotel, but for me the thought of being in a regular hotel in the Amazon would have been a letdown.
There are a few little stores and restaurants on the road around Omshanty where you can grab dinner or a couple beers. To get into town, you can catch a bus that runs routinely to and from Leticia.
The staff at Omshanty were also great, and very helpful. They set up our river tour and had number of tours of their own they offered, including treks into the jungle.
Check Availability and Book Here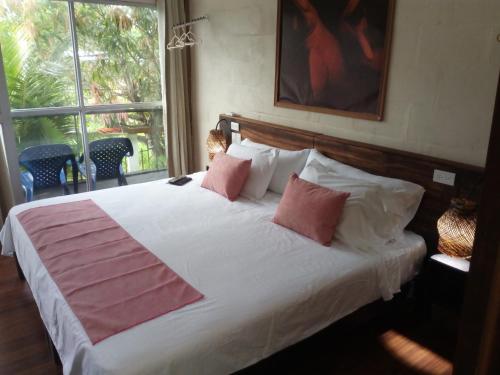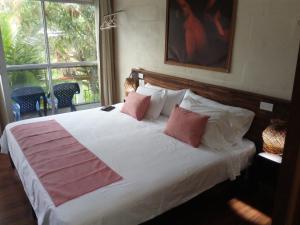 We stayed at Amazonas Explorer'S with my mom during our second trip. The property has several apartments. They are well furnished with comfortable beds, a small kitchenette (and complementary jug of water), and even cable television. It is also in a great location, about a 10 minute walk from the center of town.
Our apartment had a double bed in one room and several other beds in the other. I would highly recommend Amazonas Explorer'S as a place to stay in Leticia for families or groups.
Check Availability and Book Here
Other Recommended Places to Stay in Leticia
Reserva Natural Tanimboca – Stay in a Tree House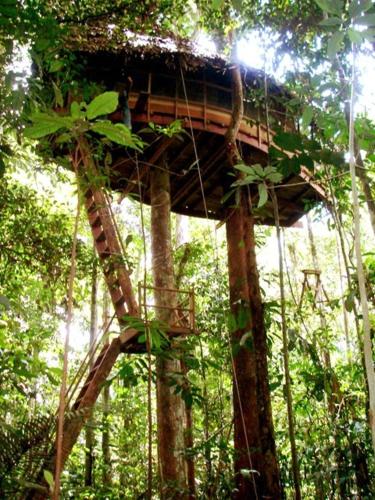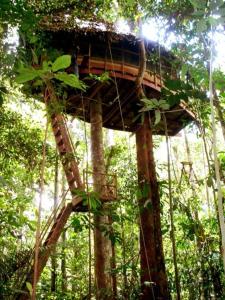 Where to stay in Leticia for a truly unique experience? Reserva Natural Tanimboca has tree houses to rent. This is actually where we did canopying, and the tree houses looked very cool. It is located about 15 minutes outside of town just down the road from Omshanty. Just be careful if you're a sleepwalker.
Check Availability and Book Here
Waira Suites – Boutique Hotel in Leticia
Waira Suites has all the trappings of a modern boutique hotel in Leticia. We actually had a drink and dinner at the hotel restaurant here one night. In addition to the sleekly decorated rooms, there is also a pool on site. This would make a great option for where to stay in Leticia for those looking to return to a room with all the modern luxury amenities after exploring nature during the day.
Check Availability and Book Here
Hotel Yurupary – Great Value in Leticia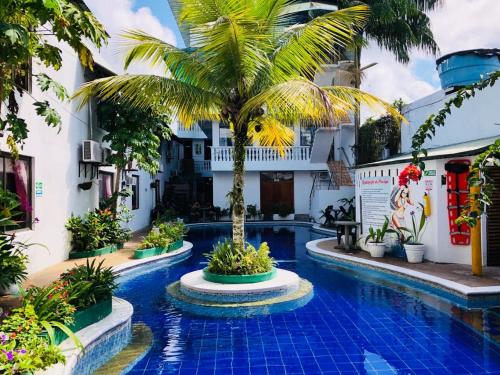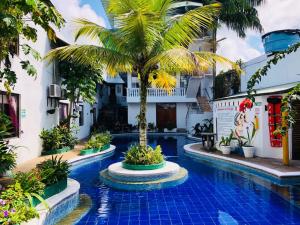 With a gorgeous pool and garden area, Hotel Yurupary also offers nice and comfortable rooms. It looks to be one of the best bangs for your buck in Leticia and would be another great option for where to stay in Leticia.
Check Availability and Book Here
Hipilandia – Best Hostel in Leticia
Relatively new, Hipilandia Eco Hostel is a great option for those looking for a hostel or budget place to stay in Leticia. It is located centrally and has both privates and dorms available. Maybe a cliche name for a hostel, but still a great option among the best places to stay in Leticia.
Check Availability and Book Here
Decameron Decalodge Ticuna – Luxury in the Amazon
Colombia's premier resort chain even has a location in the Amazon. The Decameron Decalodge Ticuna is pricey, but does include breakfast and dinner and truthfully is a gorgeous property. For those looking for a hotel that will make you feel like you're in the Bahamas, it is a good option for where to stay in Leticia.
Check Availability and Book Here
Cabaña Flotante Kurupira – Stay on the River Itself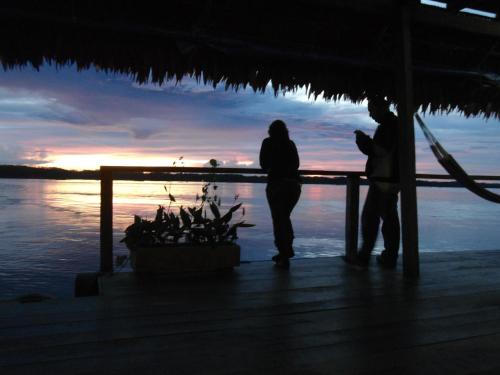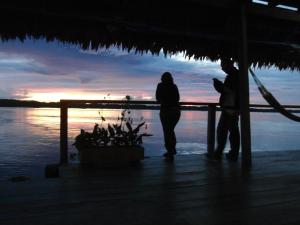 If staying in a tree house doesn't float your boat, then why not stay on a boat? The Cabaña Flotante Kurupira is a floating cabin. The rooms have balconies overlooking the river where you can see gorgeous sunsets. This is another truly unique place to stay in Leticia.
Check Availability and Book Here
See Other Places to Stay in Leticia
Practical Tips on a Visit to Leticia, Colombia
You have to pay a tourist tax upon arrival to the airport. I didn't note how much it was, but want to say it was 40-50,000 pesos.
There is also a 10,000 peso tax to enter Puerto Nariño if you enter without a tour which should include it.
Getting Around – There are some taxis in Leticia. You can also get motorized tuk tuks. Finally, there is a bus that goes out of town to where Omshanty and Tanimboca are.
There are ATMs in Leticia. There are several on the side streets around the main plaza.
Do I need the Yellow Fever Vaccine to enter Leticia? No, it is not required, and they do not check for it when you arrive. It is however suggested.
If you choose to go on from Leticia to further into Brazil or Peru than Tabatinga or Santa Rosa, look into if you will need visas and/or the exit stamp out of Colombia.
Packing List – What to Pack for Leticia, Colombia
Travel Gear to Pack for Leticia:

The Osprey Farpoint 40L backpack is a great travel option. It has comfortable straps to carry and can be used as a carry on on all airlines. Also see the Farview women's version.
The Osprey Porter 46L is also a great bag. It has a bit more space than the Farpoint, although the straps are not as cushioned. I have one of these and used it for the first time during our July 2019 trip. It's a great pack and should make the cut as a carry on for most airlines.
I also have a Roam packable backpack, and took it with me on this trip. I love it (see review here). It folds up and hardly takes up any space in your main pack or suitcase, is perfect for a day pack, and is nice and sturdy.
If you plan to trek into the jungle or stay in a place outside of town like Omshanty, definitely take along a small flashlight. This maglite mini would be perfect. You may also want to check out these solar powered, collapsable puff lanterns.
If you are staying in hostels or trekking into the jungle, a Pacsafe travel safe might also be a good idea, especially if you're traveling with valuables. A good travel lock like this TSA approved Masterlock is also a useful thing to have. Always better safe than sorry.
This set of waterproof dry bags would also be helpful if you plan to go into the jungle. It is the rainforest after all, and they will help keep your things dry.
What to Wear in Leticia? – Clothes to Pack:
Bring comfortable clothes. It gets quite warm during the day and it is humid. A jacket is a horrible idea to bring along as well as quick showers do of course happen.
Recommendations for Her:
Recommendations for Him:
Other Things to Pack for Leticia:
There you have it, a complete travel guide to Leticia, Colombia. If you do decide to go, I hope you find this guide useful and have an excellent trip!
Cheers and Happy Exploring!
Did you like this post about Leticia, Colombia?
Share it with your friends!
Share on Facebook Share on Twitter
And don't forget to like and follow us!
Like us on Facebook Follow us on Instragram Follow us on Twitter
You may also be interested in the following posts:
Travel Guide to Minca, Colombia's Lush Mountain Paradise
Travel Guide to Tayrona National Park
Travel Guide to Whale Watching in Nuquí
Travel Guide to Palomino, Colombia's Hippest Beach Town
Travel Guide to Punta Gallinas
Visitors Guide to Colombia's National Aviary
Planning your trip to explore Cartagena?
Check out the following posts to help plan:
Insider's Guide to the Best Areas to Stay in Cartagena
Complete Packing List for Cartagena
Top Things to Do in Cartagena