Located on the road between Tayrona National Park and Palomino, Playa Costeño, aka Costeño Beach, Colombia is a great place to spend some time chilling out by the beach on a tour of Colombia's Caribbean coast. Read on for a complete travel guide to Costeño Beach, including why you should visit, how to get there, what to do, and where to stay at Costeño Beach, Colombia.
*Disclosure: This post may contain affiliate links. I am a participant in the Amazon Associates Program as well as other affiliate programs and may earn a commission on qualifying purchases made after clicking links from this site. There is never any additional cost to you. For more information, please consult my Disclosure Policy.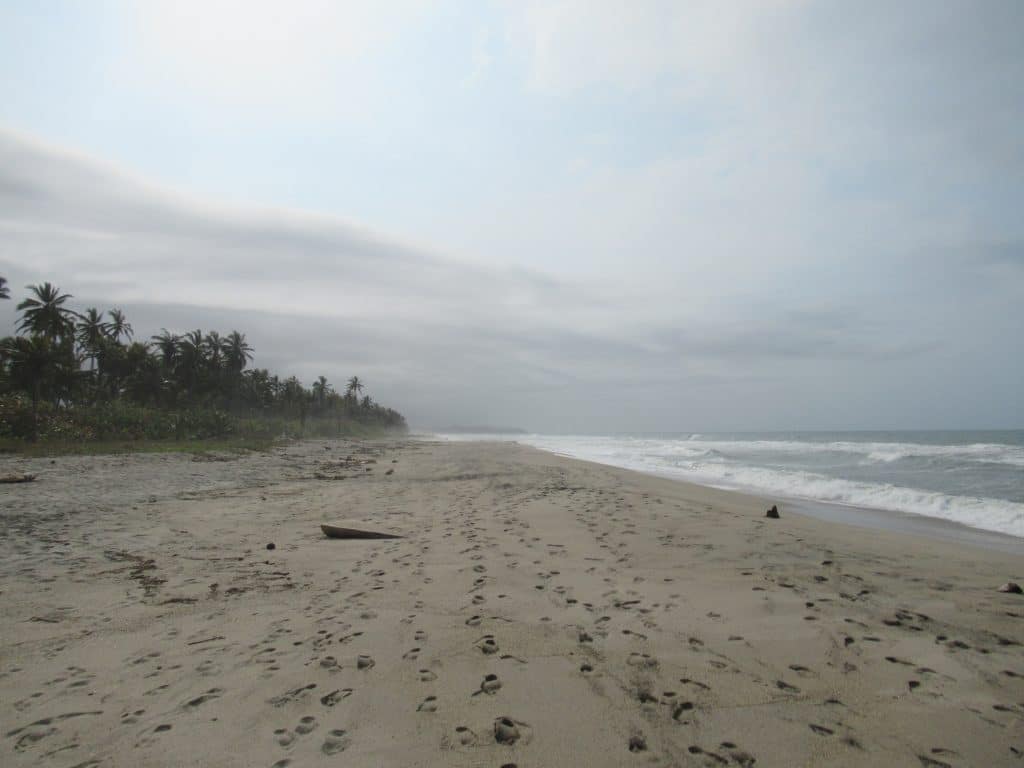 Travel Guide to Costeño Beach, Colombia – Contents
Why You Should Visit Costeño Beach
I spent a night at Costeño Beach in April 2019 while hitting up the area north of Santa Marta with a friend. While I only spent one night, it's a place I'd put near the top of my list of places to check out on a tour of Colombia's northern Caribbean coast.
What I liked about Costeño Beach was the vibe, small crowds, and get away from it all feeling I had. First off, there's a wide, uncrowded beach, and with only a handful of small hostels and hotels, you can properly enjoy it.
The beaches and scenery in Tayrona are prettier, and the currents outside Costeño Beach make it dangerous to swim. However, the infrastructure here is better with the hostels offering restaurants and bars, even pools. I found it to be the perfect mix of walking on the beach and feeling like you're really off the beaten track, but having a home base with good food, good drinks, and other travelers.
So, I'd recommend Tayrona for those that really want to enjoy a beautiful beach, Palomino for those that strictly want to party and enjoy a party/hipster/backpacker atmosphere, and Costeño Beach for those that want the perfect happy medium between the two. It's also a great stop if you're headed north to La Guajira and Cabo de la Vela or Punta Gallinas.
See also: Travel Guides to Tayrona National Park and Palomino, Colombia.
Read on for a complete rundown of my experience, including how to get there, what to do, and where to stay at Costeño Beach, Colombia.
How to Get to Costeño Beach
*Prices are updated as of April 2019 unless otherwise noted.
How to Get to Costeño Beach by Bus
While I imagine you could get a taxi or private car from Santa Marta to Costeño Beach (probably for high prices), the easiest and cheapest way to get to Costeño Beach is by bus. It should take approximately an hour and a half to get there.
How to get Costeño Beach from Santa Marta by Bus
Take the bus marked for Palomino from the market in Santa Marta (the same bus that goes to Tayrona).
The cost to get to Costeño Beach from Santa Marta should be 10,000 pesos.
If you're coming from Tayrona – hop the bus on the road outside the park exit (heading north away from Santa Marta), the cost should be 2,000 pesos.
Let them know you are heading for Playa Costeño. They will let you off on the highway at the road heading into Costeño Beach.
From the highway, you can take a mototaxi (price approx. 10,000 pesos) or a 30 minute walk to Costeño Beach from the main road. We walked and the walk was fine, hot but there's decent shade.
How to Get to Costeño Beach from Palomino by Bus
Hop the bus headed south towards Santa Marta on the main road outside of town. The cost should be approximately 2,000 pesos (We didn't do this, but that seems to be the fare for anywhere between Tayrona and Palomino).
Follow the same instructions above, get off on the highway and take a moto or walk in.
How to Get to Costeño Beach from Cartagena
The most cost effective way to go from Cartagena to Costeño Beach is by arriving in Santa Marta first and then taking the bus there. If you do that, follow the instructions above from Santa Marta. Take the bus from the market to the road in.
I recommend taking Berlinas to Santa Marta. They are slightly cheaper than the other charter bus service, Marsol, and in my experience have better service. There are buses from Cartagena to Santa Marta every 40 minutes starting at from 4:40 am-6 pm (starting at 6 am on Sundays and holidays). As of April 2019, the price was 44,000 pesos.
You can also check out Marsol, which offers transportation from Cartagena to Palomino (you could ask them to leave you on the road on the way). You'll pay more that way but may save in some convenience. Marsol also has buses to Santa Marta.
There are also buses from Cartagena to Santa Marta from the main bus terminal, but it is far from the main tourist areas of Cartagena. Therefore, I don't recommend it as taking a taxi there will take you time and wipe out much of your savings on the fare. It still could be a good option if you are in a group and not worried about time.
*You can double check times and prices by writing the Facebook pages of Berlinas and Marsol (they both usually respond within a day) or by seeing the buses at the terminal at Redbus.co.
Can You Fly to Costeño Beach?
No. You will have to fly into Santa Marta (or Cartagena). You can check out flights into both cities on Colombia's flagship Avianca airline or compare flight prices across airlines at Jetradar. Follow the instructions above to get to Costeño Beach from either city.
What to Do in Costeño Beach
Honestly, there's not a whole lot to do at Playa Costeño. But that's kind of the point!
Costeño Beach is the perfect place to chill out for a couple days with a cool beach at easy access. I appreciated that there were a number of volleyball nets set up along the beach. So it's a perfect place to get your beach volleyball on with some fellow travelers.
There are also surf lessons offered by several of the hostels in Costeño Beach. Given the uncrowded nature of the beach and some decent waves, that sounds like a great plan for the surfers.
I also picked up a card from our hostel about motorcycle and ATV rentals. We didn't look into that, but it might be a fun way to spend a day.
Likewise, this wouldn't be a bad place to start a tour to Ciudad Perdida, aka the Lost City, an abandoned ancient indigenous settlement in the hills of the Sierra Nevada.
For Brian and I, we explored the beach a bit but mostly stuck around where we were staying, Los Hermanos Beach Hostel, and took advantage of the bar serving up Gin and Tonics at reasonable prices (10,000 with 2 happy hours where they were 2×1).
So, I'd say chilling out by the beach with some good drinks and company is the number 1 thing to do in Costeño Beach. There's not many stretches of beach left in Colombia's Caribbean, or the world for that matter, where you can enjoy a big, long, wide beach with few people and not being overrun with shade tents and vendors.
Where to Eat
There's nothing at Costeño Beach but the hostels and hotels, so there's not a lot of options. It looks like all the places to stay in the area serve up solid food and there's nothing stopping you from taking a walk down the beach to check out the food at the other places. We were pretty pleased overall with the food at Los Hermanos, which had a daily plate option for lunch and dinner and also pizzas.
Where to Stay in Costeño Beach
One of the things I think I liked the most about Playa Costeño was that there isn't much there. It is basically a stretch of beach with a small handful of hostels and hotels with one road in, and that's it. That helps keep it from getting too crowded.
Here is a quick rundown of your options of where to stay. There are some cheaper and some nicer options for places to stay in Costeño Beach, but none are likely to be overcrowded.
Los Hermanos Beach Hostel – Where We Stayed
Los Hermanos was the cheapest place I looked at when booking where to stay in Costeño Beach, but I was super happy with the choice! We paid 35,000 pesos each for beds in the dorm, but there are also private bungalows on offer that would be perfect for couples (by the way those looked really cool, but not for Brian and I).
The dorm was exceptionally nice, with comfortable beds and mosquito nets. But what really struck me was the big lockers that had their own light plus an outlet to charge your phone, camera, etc. I have to be honest, I don't say in hostels much anymore, so maybe that's common, but I had never seen it before. A very nice perk in my opinion!
The bar did a great happy hour. In fact, they had 2 happy hours (4-5 and 8-10), each with drinks for 2 for 1. Drink prices were also reasonably with your standard cocktails for 10,000 pesos and nicer ones for 14,000. Brian and I quite enjoyed gin and tonics for 10,000, especially when they were 2 for 1.
We also enjoyed a tasty pizza, and curry chicken dinner (there are daily lunch and dinner specials, including vegetarian options in addition to the pizzas.). There were also several options for breakfast, all coming with fresh fruit. And like too many hostels don't do anymore, there's free coffee available all the time.
This is the only place I've stayed, but I was quite satisfied, and while there were a few nicer looking places up the beach, if you're looking for a cheaper place to stay in Costeño Beach without sacrificing quality then check out Los Hermanos Beach Hostel. I'd highly recommend it!
Check it Out and Book Here via Booking.com
Other Places to Stay in Costeño Beach
There are a handful of other places to stay in Playa Costeño. I'll be honest, we made a late night trek to check them out and there were several that looked a tad nicer, and at least one that kept their bar open later than Los Hermanos. While Los Hermanos seems like the best value, here are some of the other places to stay in Costeño Beach.
Blue Mango Beach Hotel – Perfect Place to Stay for Couples at Coste˜õ Beach
Blue Mano Beach Hotel is probably where I'd take my wife as a place to stay in Playa Costeño. They have great looking rooms! The hotel is located at the very end of the road along Playa Costeño, which means it is extra exclusive. There is likely to be practically no one on the beach, and well, look at that pool as a bonus! The rooms also come with a desk which would make this a great place to stay in Costeño Beach for digital nomads.
Check it Out and Book Here on Booking.com
Bohemia Beach – Exclusivity at a Value in Playa Costeño
Bohemia Beach also looks like a great option for where to stay in Costeño Beach for couples. Not quite as exclusive as Blue Mango, it is almost at the end of the road. In addition to a beautiful property, i offers some very nice rooms. It would make a great place to stay in Costeño Beach for those looking for a quieter, relaxed stay.
Check it Out and Book Here via Booking.com
Tayrona Tented Lodge – Sweet Beach Front Bungalows at Costeño Beach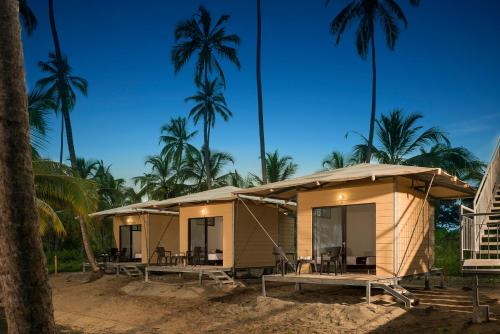 Despite the name, Tayrona Tented Lodge is actually located just outside the park along Playa Costeño. They offer some sweet looking little bungalows facing the beach. While I feel like it's cheating just a bit to include Tayrona in the name, those "tents" still look like a very nice place to stay for couples at Playa Costeño.
Check it Out and Book Here via Booking.com
La Brisa Tranquila – Alternative Chill Out Spot
In addition to the great view of the sunset, La Brisa Tranquilla offers both privates and dorms. It is a pretty property right in the heart of Costeño Beach (in fact it's one of the first hostels you come to when arriving). It also has coffee available for guests all the time. I was pretty happy with Los Hermanos, but I'd say this is the next best comparable property in terms of price.
Check it Out and Book Here via Booking.com
Playa Pikua Ecolodge – Get Away from it All Environmentally-Friendly Style
Playa Pikua Ecolodge, is pricey, but it's a sweet property. Even better, it's fully solar powered. That makes it a great option for the environmentally conscious (and given how we are going, probably all of us). They offer standard double rooms as well as family rooms, making it the perfect place for a family to stay in Costeño Beach.
Check it Out and Book Here via Booking.com
Travel Tips
Take plenty of cash. The closest ATMs are in Santa Marta. Our hostel, Los Hermanos, did take credit or debit cards to pay for our stay and bar tab, but you should still make sure you have cash on hand to pay for transportation and any other expenses.
Budget for Costeño Beach – I'd recommend budgeting for 75-100,000 pesos a day for food and drinks (more if you plan to have as many drinks as Brian and I did). For accommodation, beds in the dorm at Los Hermanos were 35,000 pesos, however privates at the nicer places can go up to several hundred a night. Remember to budget for the 10,000 peso bus to and from Santa Marta as well.
Packing List – What to Take to Costeño Beach
Your Beach Gear – duh!
Bug Spray – You really need it!
My feet were covered with bites from no see-ums (what we call the smaller than mosquito biting bugs where I'm from). In the evening they come out in force, so pack some repellent to keep them at bay.
If you bring it from abroad, I recommend OFF! Deep Woods (also available in towelettes) or check out OFF! Botanicals for an all natural option. If you pick it up in Colombia, I recommend Stay Off Amazonic.
If you want to try sunscreen/repellent combo, check out Avon's Skin so Soft Bug Guard.
Necessary Accessories
A good water bottle – That Caribbean sun will leave you parched. Having a good water bottle that you can refill from larger jugs will both and is more friendly to the environment than buying smaller water bottles. I love my Takeya bottle that keeps water cold for hours (I use it everyday). If you're looking for something a little lighter and more travel friendly, check out this collapsable bottle from Nomader.
A good book – Whether lounging on the beach, rocking in a hammock, or by the bar, a good book to read is another one of the things you should take to Costeño Beach.
A good backpack/daypack – I prefer having a small bag to throw my book, camera, sunscreen, phone, wallet, etc in while at the beach. I recently got one of Roam's backpacks that fold up and pack into a small carry pouch. That makes it super handy for travel, especially if you're already traveling with a larger pack.
A good lock – Always comes in handy when traveling, especially if you plan to stay in hostels. This Master Lock allows you to set your own combination so you don't have to worry about losing a key, and is TSA approved for flying as well.
A good portable speaker – Ok, this one isn't really necessary, but if you like some tunes while chilling on the beach, a good waterproof speaker is handy. The JBL Clip has good sound in a small package, is water and shockproof, and clips on to a bag making it great for travel.
A good flashlight or lantern – Maybe not totally necessary either, but if you'd like to hang out on or explore the beach in the evening it may come in handy. Honestly it's never a bad idea to have one when backpacking or traveling. The Maglite Mini is small and nearly indestructible, making it perfect for travel. These solar powered inflatable lanterns from Solight would also be perfect for hanging out on the beach at night.
There you have it, a complete travel guide to Playa Costeño, Colombia. If you do go, I hope you found this guide useful in planning your trip, and more importantly that you enjoy it!
Cheers and Happy Exploring!
Did you like this post?
Share it with your friends!
Share on Facebook Share on Twitter
And don't forget to like and follow us!
Like us on Facebook Follow us on Instragram Follow us on Twitter
Interested in seeing more of Colombia's Caribbean coast?
Check out the our travel guides to the following other destinations:
Palomino, a hip beach town a bit further north than Costeño Beach
Tayrona, the beautiful national park next to Costeño Beach
Minca, a mall mountain town just outside of Santa Marta and a great place to escape the heat.
Cabo de la Vela, a small town in the desert of the La Guajira Peninsula.
Punta Gallinas, the farthest point north in all of South America.
Planning your trip to explore Cartagena?
Check out the following posts to help plan:
Insider's Guide to the Best Areas to Stay in Cartagena
Complete Packing List for Cartagena
Top Things to Do in Cartagena