Are you planning a trip and wondering what to do in Cartagena, Colombia? There are ton of things to do in Cartagena. If you want some recommendations for the things to see in Cartagena, look no further. Here' I'm going to go over 50 fun things to do in Cartagena, so read on to help you decide what to do in Cartagena on your visit!
*Disclosure: This post contains affiliate links. I am a participant in the Amazon Associates Program as well as other affiliate programs and may earn a commission on qualifying purchases made after clicking links from this site. There is never any additional cost to you. For more information, please consult my Disclosure Policy.
What to Do in Cartagena, Colombia?
If you've decided to come visit Cartagena, Colombia, congratulations! This slice of Caribbean paradise offers colonial charm and history, beautiful nearby beaches, and lots of things to do. In this guide to the top things to do in Cartagena, I'm going to give you a rundown of 50 great things to do in Cartagena.
*Got a place to stay? If not, check out my Insider's Guide to Where to Stay in Cartagena to help you find the best place to stay for you.
Now, let's get to this list of 50 fun things to do in Cartagena, Colombia!
Best Things to Do in Cartagena, Colombia
1. Walk the Colonial Walled City
Hands down, this has to be at the top of any list of things to do in Cartagena. Walking around Cartagena's historic walled city, often times referred to as Old Town, Centro Histórico, or just Centro, is a must during your visit to Cartagena. Therefore, it has to be first on your list of things to do when planning a trip to Cartagena.
There is a wealth of charming colonial architecture to enjoy. As you walk around, be sure to admire the brightly colored houses, flower covered balconies, and massive wooden doors. As you marvel at those doors, be on the lookout for the elaborate brass animal door knockers.
While you'll get plenty out of just wandering, if you'd like a guided experience of Old Town, check out the following tours:
*The Walled City is also my number one area to stay in Cartagena.  Learn more about it as well as other areas along with recommendations for places to stay in my Insider's Guide to Where to Stay.
By the way, you will get so much more out of visiting Cartagena if you can speak at least some basic Spanish. If you want a chance to learn online while you wait to plan your trip to Cartagena, check out the online classes at Whee Institute.
2. Take a Stroll Along the Wall
Cartagena's is one of the few places left in the Americas that still boasts nearly its entire city wall. Most of it was built in the 1600s. Today, you can walk along much of the wall, another one of the can't miss things to do in Cartagena.
You can head up the ramp of the Baluarte Santodomingo, the first section of the wall built, where the popular Café del Mar sits today (more on it below). From there head to the right to take in views of the Caribbean sea on one side and the architecture of Old Town on the other.
Eventually you'll come to Las Bovedas, where what were once sleeping quarters for the city's defenders, house tourist souvenir shops today. Just past them you can walk along the Baluartes de Santa Catalina and San Lucas, the largest sections of the wall.
*See also: 10 Little Known Facts About Cartagena's Walls
3. Visit the San Pedro Claver Church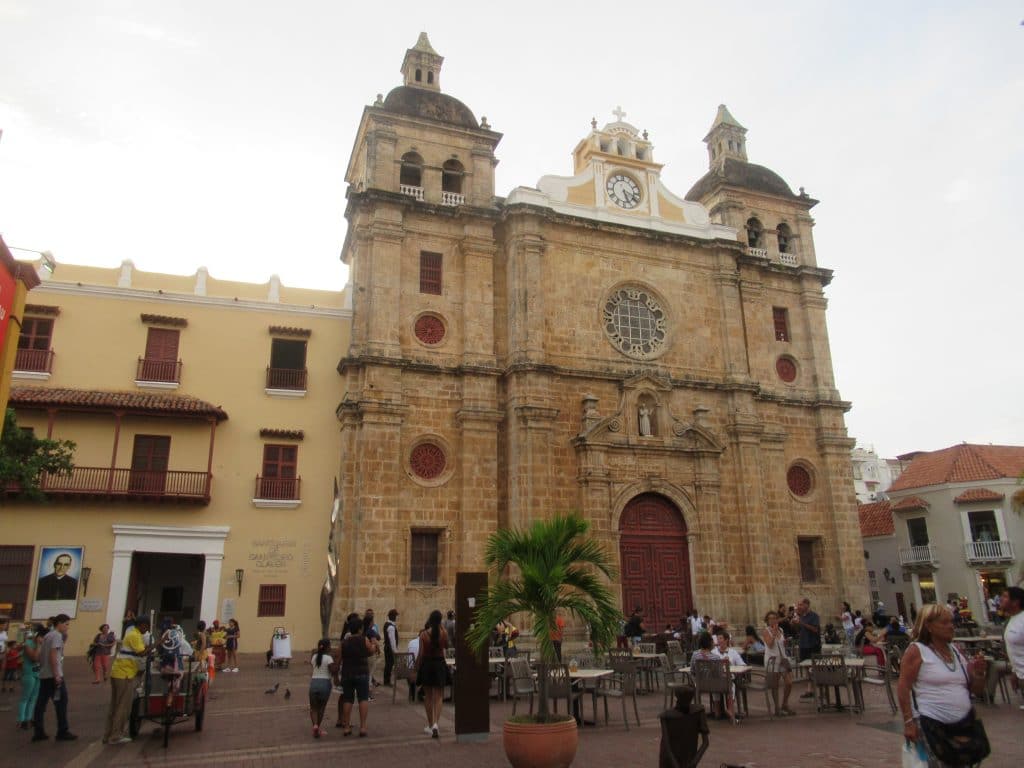 Follow in Pope Francis's steps on a visit to the next place on our list of things to do in Cartagena. Named for Saint Peter Claver, the Iglesia San Pedro Claver is Cartagena's neatest church.
Claver was known as the "slave to the slaves" and dedicated his life to ministering to the many slaves brought to and sold in Cartagena and advocating for their humane treatment. He was later made a Catholic saint and is considered the patron saint of human rights, and the church where he spent much of his life was renamed in his honor.
Today, the church and its accompanying museum can be toured by visitors. There you can see the neat 1600s Jesuit architecture, galleries of indigenous, African, and religious art as well as exhibits dedicated to San Pedro Claver, including his humble living quarters.
You can also marvel at the inside of the church itself, including a 19th century organ, its impressive stained glass window, and its massive marble altar. At the base of the altar you can see San Pedro Claver's remains.
Check out my visitor's guide to the church to learn more about planning your visit.
*For a guided experience, check out this tour of Old Town and the church (via Viator)
4. Learn More About the City's History at the Naval Museum
The Museo Naval del Caribe is hands down the best museum in Cartagena. That means I have to include it on this list of what to do in Cartagena. You will get a much better appreciation of the city's historical importance and why the Spanish invested so much in defending it.
Cartagena was attacked numerous times during the colonial era. It was sacked by Francis Drake, and sacked again by the French privateer Baron de Pointis. In the last major attack, it defeated a massive invasion force led by Edward Vernon in the Battle of Cartagena de Indias.
The museum has some excellent exhibits with dioramas showing the day by day accounts of the major battles. There are also models of the different forts and fortifications around the city.
Upstairs, you will learn about Cartagena's vital role in Colombian independence and the history of Colombia's Navy. There are some cool interactive models of a submarine and warship that would be great fun for kids.
*See also: Fun Activities for Children in Cartagena
Check out my full visitor's guide to the Naval Museum to learn more about planning your visit.
*For a guided experience, check out this private walking tour of Old Town that includes a stop at the Naval Museum, a must tour for history buffs (via Viator)
5. Visit South America's Largest Colonial Fort
It wasn't only the wall that the Spanish invested in for the defense of Cartagena. Given the constant threat of attack, there were numerous forts built around the city's bay to fend off any invaders. This threat of attack led to the construction of the Castillo San Felipe Fortress, next on this list of the most important things to see in Cartagena.
The original fort was built at the top of the hill in 1657, and it played a decisive role in the defense of the city from Vernon's invasion force. Beginning in 1761, the fort was expanded to the massive structure it is today. The entire hill was covered in stone, and an elaborate network of tunnels was built, designed to be blown up to collapse the land around the fort if an attacker seriously threatened its walls.
It's an impressive structure and was the largest fort constructed by the Spanish on mainland South America. It is also a unique example of colonial fort design as its construction over top of the hill meant it did not follow the the standard perpendicular model of other forts from the time.
*See also: History of the Castillo San Felipe
See my visitor's guide to the fort to learn more about planning your visit. I highly recommend going early in the morning to beat both the heat and the crowds.
*For a guided experience, check out the following tours that include visits to the fort:
If you'd like to learn more about the Castillo San Felipe and Cartagena's fortifications, I highly recommend Rodolfo Segovia's book The Fortifications of Cartagena de Indias. You can see my review of the book here or check it out on Amazon here.
6. Explore Colombia's Coolest Neighborhood, Getsemaní
Located just outside the Walled City, Getsemaní is the second oldest part of Cartagena. During the colonial era, it was home to the free black and mulatto artisan working class. For that reason, it is often considered the cradle of Cartagena's culture.
The support from the people of Getsemaní and popular artisan leader Pedro Romero for Cartagena's Declaration of Independence in 1811 was crucial to the bills passage. Today, this historic neighborhood has become a hip hangout spot, sporting many of the city's trendiest cafes, restaurants, bars, and clubs. There is also some sweet street art. That makes strolling through Getsemaní another of the can't miss things to do in Cartagena.
Particularly neat spots to check out are Calle San Andres and Callejón Angosto. Each have become famous as great spots for a photo. Calle San Andres has colorful pennant flags hanging over its many cafes, and Callejon Angosto is covered by hanging umbrellas. Be sure to get some good shots on both to get your Instagram validation fix.
*See also: Best Photos to Take in Cartagena
You can book a walking tour through Getsemaní that includes seeing the street art and meeting locals here.
*Getsemaní also makes for a great area to stay in Cartagena. Learn more about it and the other options for areas to stay in Cartagena, along with recommendations in my Insider's Guide to Where to Stay.
7. Have a Street Beer at Plaza de la Trinidad
You'll want to come back to Getsemaní in the evening. The neighborhood houses some of the best nightlife in the city. However, a must stop is the Plaza de la Trinidad. This historic church and plaza has long been a local gathering spot, and the growth of tourism has only amplified that.
Grab a cheap beer from the store on the corner and hang out here for a bit. The area attracts a motley crowd of locals and visitors alike, and there are often street performers. It's also a great place to people watch.
Around the plaza you can also pop into Demente (great brick oven pizzas), Café Trinidad (a bit of everything), Di Silvio (great pasta and thin crust pizza), or Taquitos (cheap burritos). There are also street food stalls at the plaza (try a patacón con todo for the complete Cartagena street food experience).
*See also: 15 Street Foods to Try in Cartagena
From the plaza, head to the Calle Media Luna or Calle Arsenal for some of the best nightlife in the city.
As you wander and/or stumble through Getsemaní, do keep in mind the importance of the neighborhood's history and the reality that it has been subject to extreme gentrification with the growth of tourism. In other words, enjoy, but also respect the local residents.
8. Learn to Dance Champeta at Bazurto Social Club
Champeta is a genre of dance and music that was born in Cartagena's barrios. The music was developed in the neighborhood sound systems known as picós (Spanglish version of pick ups). You may notice the posters with brightly colored lettering around town advertising the picós. If you want to have a listen to Champeta, check out this song (old school) or this one (new school).
To get an up close and personal taste of this uniquely Cartagenero cultural phenomenon, head to Bazurto Social Club, located across from the Parque Centenario off of Calle Media Luna in Getsemaní.
Bazurto Social Club is open Wednesday to Saturday (and Sundays when Monday is a holiday) from 8 pm – 3 am. It always has a live band and features champeta dancing lessons throughout the night. You can even organize private lessons during the day for groups of 6 or more (more info here).
Check out Bazurto Social Club's website or their page on Tripadvisor to learn more.
9. And Don't Forget to Do Some Salsa Dancing
If learning Champeta wasn't enough for you, then put on your dancing shoes to dance some salsa too! While Cali might be Colombia's salsa capital, Cartagena certainly holds its own.
While most of Cartagena's most popular nightclubs will play a fair share of salsa, you may want to check out the following salsa clubs:
Crazy Salsa – Located just around the corner from the Clocktower, Crazy Salsa feels a bit like a dive bar and attracts a mix of locals and tourists. Reserve a table and skip the line with complimentary cocktails here (groups up to 5, via Viator).
Havana Club – Cartagena's most famous salsa bar, this is where Hillary Clinton got her groove on in Cartagena. There's always a house band, but be ready to pay a cover and drinks are on the pricier side.
Donde Fidel – I mentioned this up above for the outside seats, but the inside always has the salsa cranked up. The only challenge is finding room to actually dance!
El Rincon de Getsemaní – Located at the end of Calle Arsenal, this spot attracts almost exclusively a local crowd, making it a neat spot to do some salsa dancing off the tourist beaten path.
*If you're like me and need salsa lessons, check out the following options:
10. Sample Some Tasty Seafood
It shouldn't be surprising that a Caribbean destination has great seafood, and Cartagena doesn't disappoint. The city's rich cultural tradition lends itself to a great culinary tradition as well, and the seafood is where it really shines.
You absolutely have to try the traditional fried fish plate, served with coconut rice and patacones (mashed fried plantain patties). It is best enjoyed by the sea.
Other seafood dishes to try:
Cazuela de Mariscos (seafood stew with coconut milk)
Camarones al Ajillo (shrimp in a buttery garlic sauce)
Ceviche
Arroz de Mariscos (seafood rice)
Filete a la Marinera (fish filet smothered in a sauce with shrimp, clams, and calamari)
Here are a few good seafood restaurants to try:
*See also: Local Dishes to Try in Cartagena, Best Places for a Romantic Dinner in Cartagena
11. Go Island Hopping in the Beautiful Rosario Islands
An approximate 90 minute boat ride outside of Cartagena, a day trip to the Rosario Islands is another one of the can't miss things to do in Cartagena!
The islands boast crystal clear water and year round pleasant temperatures for swimming. While you can visit the beaches in the city, they don't compare to the islands, and spending a day there is really worth it.
You can visit the islands in one of a number of ways. You can:
Do a tour that takes you around the islands
Do a day pass at a resort
Do a private boat excursion
You can hop on a standard day tour by heading down to the tourist docks by Centro (Muelle de Bodeguita), pre-booking one here (via GetYourGuide), or from street salesman or tour agencies in the city. These tours are cheaper than the other options but do include a lot of waiting around and time packed onto a small boat.
I would actually discourage you from doing these standard tours and opt for a day pass at a resort or a private boat tour. It's just a better experience. However, this island tour sailing on a Catamaran (via GetYourGuide) does look pretty sweet and would be a good way to see all the islands outside of the standard tour options.
For Rosario Islands Resort Day Passes, see the following options:
The best way to see the islands though is on a private boat tour. First of all, you'll be on a more comfortable boat. You'll also get to see more of the islands and stop and swim or snorkel. This is, of course, much more expensive than the other options, but if you are traveling with a group or can put together a group of fellow travelers, this is the way to do it.
If you want to do a private tour, I recommend Botes de la Bahía, a company we have done it with several times. They have a range of sizes of boats for groups of all sizes. You get 3 stops in the islands depending on what you'd like to do. You can book a boat with Botes de la Bahía here (through Viator).
For other private boat tours, see the following other options:
12. Pretend Your in a Music Video on a Booze Cruise to Cholón
If you're looking to combine a visit to the Rosario Islands with a booze cruise, then consider heading to the popular party spot Cholón. Cholón is a little beach on one of the islands that has a shallow, covered areas where boats can tie up. It is definitely one of the most fun things to do in Cartagena, especially for younger travelers and for groups.
Basically, everyone pulls up their boats and has a dance party on their boat while taking breaks to wade in the water and mingle with other revelers. There is also fresh seafood for lunch. It is definitely the premier place to have a booze cruise in Cartagena.
Most private boat rentals to the islands will give you the option to stop at a few places, including Cholón, and the most common route is to go swimming and snorkeling in the islands, then head to Cholón for the rest of the day with an optional lunch trip to Playa Blanca.
*All of the private rentals mentioned above should be able to set up a stop or full day at Chol´ón or you can check out the options below for Chol´ón specific tours.
13. Watch the Sunset at Café del Mar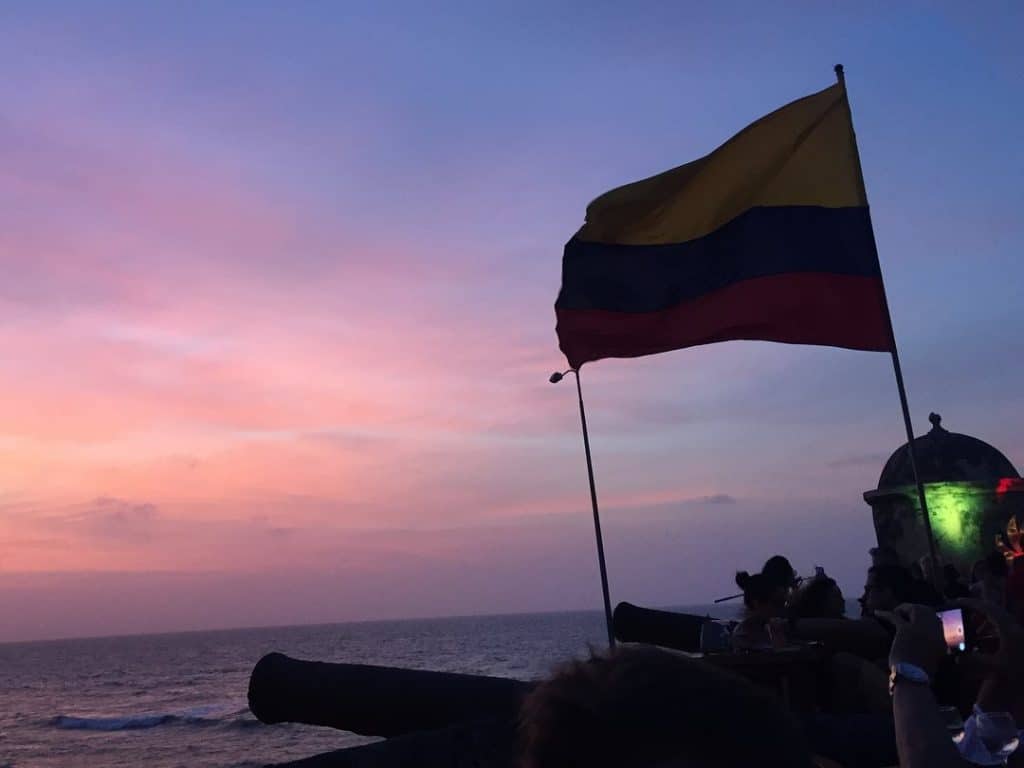 Atop a central section of the city's wall overlooking the sea, Café del Mar is one of Cartagena's most iconic spots to enjoy a drink. And the best time to do that is at sunset.
The sun goes down almost directly out to sea, and the feeling of watching it from atop the wall with Cartagena's and Colombia's flags flying overhead is really neat. Not to mention, the Piña Coladas,Coco Locos, and Limonadas de Coco are among the best in the city.
Café del Mar also has good picada platters to munch on if you'd like to stick around for a snack or dinner after sunset. I do recommend getting there a bit early, especially on weekends, as the spots with the best views often fill up quick.
Check out Café del Mar's Tripadvisor page.
*See also: Top 10 Spots for Sunset Drinks in Cartagena (spoiler: Café del Mar is on the list)
14. Have a Fancy Cocktail at Alquimico
Alquimico has established itself as one of Cartagena's trendiest bars. They are known for their unique concoctions with flavor infused rums.
The bar also has a neat, upscale hipster atmosphere and a sweet rooftop bar. There are good sandwiches to munch on as well. And of course there are a variety of neat cocktail mixes.
See Alquimico on Tripadvisor here.
15. Or Sample the Rums at El Arsenal Rum Box
El Arsenal: The Rum Box is another great bar to wet your whistle in Cartagena. You can try all of the best Colombian rums here. There are also other tasty cocktails on offer (my favorite is the one with rum and cinnamon).
Whle I've never actually had dinner here, the reviews of the food are great. I have munched on the sautéed peppers, and they are a great and different bar snack.
The bar is located just across from the Convention Center at the start of Calle Arsenal. Some of the city's best clubs are just down the street, so this is a great place for dinner and pregame drinks.
See El Arsenal on Tripadvisor here.
*You can also book a rum and chocolate tasting at El Arsenal (via Viator)
16. Enjoy the View from atop Hotel Movich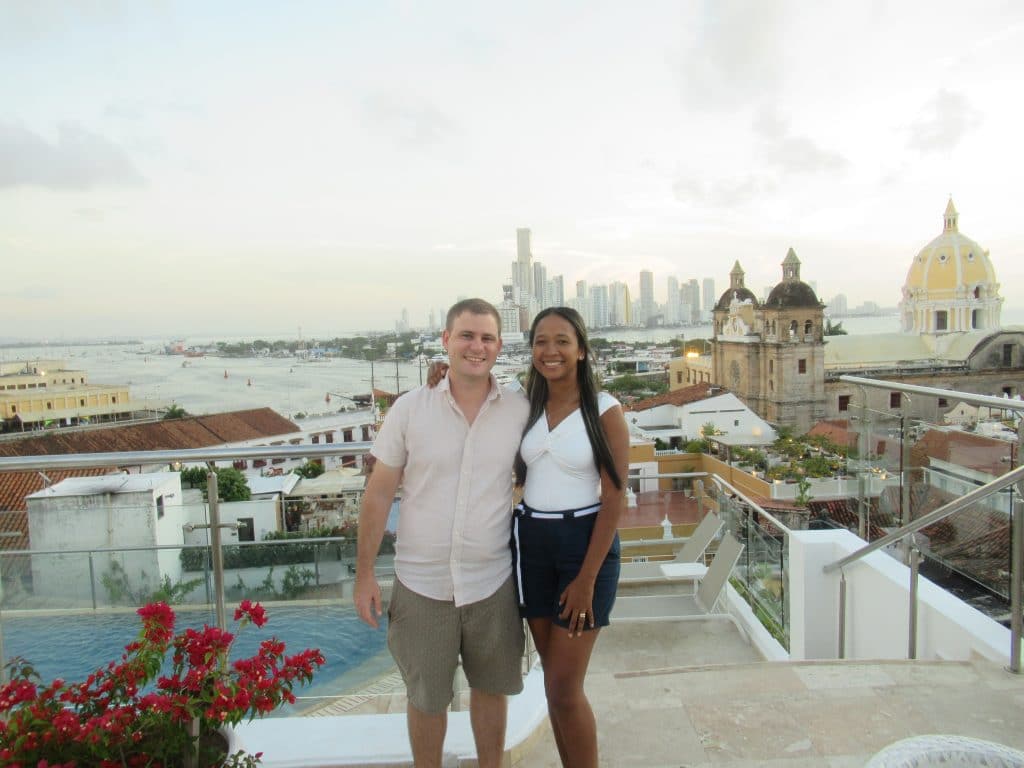 Hotel Movich has the rooftop bar with the best view in the city. That view can be enjoyed in the afternoon or evening, and it gives Café del Mar a run for its money as the best sunset spot in Cartagena. Enjoying this spectacular view has to be on your list of what to do in Cartagena!
They serve great cocktails and you don't have to be a guest to enjoy the bar. It is, however, a very nice hotel and if you stay there, you can take advantage of the bar side pool overlooking the city as well.
*Check out Hotel Movich on Booking.com
You can also enjoy a spectacular view of the sunset from atop Movich, making it the more modern answer to the Café del Mar experience atop the wall. You'll get some of the very best pictures of the city here to go along with your drinks, and there are tasty appetizers on offer if you fancy a snack.
17. Sample an Arepa de Huevo
The Arepa de Huevo is Cartagena's premier street food and snack. It is also unique to Colombia's Caribbean coast. With an entire annual festival devoted to it, it is practically an institution!
Made with sweet, yellow corn meal, the arepa de huevo is stuffed with an egg and ground beef when it is fried. What comes out is a greasy disc of tastiness that can be enjoyed for breakfast or a snack any time of day.
You can find arepas de huevo at street fry stalls and vendors all over the city (they are much better fresh, so try to get them from an actual fry stand if you can). If you want to try some really special ones, check out Donde Magola, located by the Exitó Supermarket in San Diego in Centro (See on Tripadvisor). They serve up the traditional egg and ground beef but also a variety of stuffings. My favorite is the one with chicharrón.
Donde Magola also serves up some of the best of other Cartagena fried snacks. See a full list of the ones you should try at this post on the best street food in Cartagena.
You can also do one of the following street food tours:
18. Try a Cocada at the Portal de los Dulces
While we are on the topic of street food, there are some great sweets you can find from street vendors in Cartagena as well.
Located under the archways of the buildings across from Cartagena's Clocktower, Portal de los Dulces features a number of stalls vending traditional sweets and candies typical of Cartagena and is next on this list of the top things to see in Cartagena.
You absolutely have to try one of the cocadas or coconut patties. They come in a a number of varieties. My favorites are just the plain coconut and panela (unrefined brown sugarcane) ones, but you can also get them with milk, arequipe (caramel), pineapple, strawberry, and other flavors.
There are a number of booths, but they all more or less sell the same things. In addition to cocadas, you can also try the little babies made from sweetened milk, balls made from the bitter tamarindo, or my other personal favorite the little bars made from sesame seeds.
All of the sweets should cost you no more than the equivalence of about a dollar, making this one of the cheaper things to do in Cartagena. Gift packs also make an excellent gift to take to friends and family back home!
19. Have a Beer at Donde Fidel
Possibly Cartagena's most iconic bar, Donde Fidel has (for Centro) reasonably priced beers. A salsa joint, the inside gets packed and blares old school salsa songs.
However, I prefer the outside seats. The tables, located beside the Clocktower are a great place for a beer (or 3). The location outside on the plaza is also sweet and offers some great people watching opportunities as well. A great place to meet friends and have some brews, it is popular with both tourists and locals alike!
See Donde Fidel on Tripadvisor here.
20. Or Enjoy a Craft Beer at Beer Lovers
Craft beer has become increasingly popular in Colombia, and there are a number of good Colombian craft beers worth trying, especially if you're a beer nerd like me.
Beer Lovers, located in Centro has the best selection of national and international craft beers as well as decent food. Two I'd suggest trying are any of the beers from the brewery Chelarte and the Happy Colibrí Coffee Stout brewed just up the coast in Minca (the Happy Tucan from the Sierra Nevada Cervecería is also good).
*See also: 5 Places to Get Craft Beer in Cartagena
21. Sample a Limonada de Coco
Because not every drink you sample has to have alcohol in it! The limonada de coco is a local favorite. A coconut limeade, this drink is sweet, refreshing, and hydrating. It goes great in the heat of the midday or with a seafood dinner.
The best are served up nice and creamy. Most restaurants will have it on the menu, and both Café del Mar and La Mulata do great ones.
22. Sample Some Great Colombian Coffee
If you're looking for a warmer drink, you can't visit Colombia and not sample some of its world famous coffee! Fortunately, there are a number of great places to sample coffee in Cartagena, and doing so has to be on this list of things to do in Cartagena.
With two locations in Centro, Café Epoca is one of Cartagena's coolest coffee shops. They offer awesome quality coffee and a variety of different preparations. I'm a fan of the French press, but you can also get a drip as well as some truly interesting preparations, like the syphon method, which looks like something out of a chemistry lab. They also do a great brunch, good lunch sandwiches, and even have a full service bar. That means you can stop in at any time for a coffee or anything else you might want. Check out Café Epoca on Tripadvisor or see the menu here.
Other great places to try Colombian coffee in Cartagena include:
La Brioche – French pastry shop with great single origin coffee as well. Another good brunch spot, and they have terrific burgers to boot! They have locations in Centro and Bocagrande. (See on Tripadvisor)
Cafe Prispri – Good coffee and gourmet shop located in the heart of Centro near Plaza Bolivar. Their empanadas are also money. (See on Tripadvisor)
Isabella's Coffee – This upscale coffee and sandwich shop has a location in Bocagrande and in Mall Plaza. (See on Tripadvisor)
Juan Valdez – Colombia's Starbucks (seriously don't go to a Starbucks in Colombia), Juan Valdez has good coffee in a variety of drinks. There are locations in Centro, Getsemaní and Bocagrande.
*Book a coffee tasting tour here (via Viator)
23. Try the Deserts at Mila
Pastelería Mila is Cartagena's best dessert shop. They also have a small gourmet shop type food menu. My favorite sweet they serve are the brownies, but their chocolate cake and lime pies are also highly regarded, and they are one of the only places that serve cheesecake in Cartagena.
So if you have a sweet tooth, then be sure to include it on your list of what to do in Cartagena.
See Mila on Tripadvisor here.
24. Sample Some of the Delicious Fruits
Colombia is well known for its huge variety of delicious, fresh, exotic fruits. Therefore, trying some has to be on your list of things to do in Cartagena!
You will see the women in brightly colored dresses known as Palenqueras selling fruit salads all over Centro. Watermelon, pineapple, or mango with salt and lime all make for a refreshing and healthy snack in the heat. A selfie with the ladies and their dresses is also a popular keepsake from Cartagena.
You can also opt to get your fruit fix in a juice. La Esquina de Pan de Bono (see on Tripadvisor) has a great selection of juices plus great pastries.
25. Cool off with a Raspao Snowcone
You'll see street vendors pushing around the old antique shaved ice machines in Centro. A simple, but classic sweet snack in the sun, you can get your raspao with a number of different flavored syrups. You can also get it with evaporated milk drizzled on. I, for one think that's weird, but locals swear by it. You'll have to try it and decide for yourself.
26. Go on a Sunset Harbor Cruise
Enjoying the sunset is undoubtedly one of the top things to do in Cartagena. If you want to really go all out, you can do a sunset cruise on the bay.
Sibarita del Mar offers both a shorter cruise with just drinks as well as several dinner options. We had been talking about doing one of these for a while before finally doing it a few months ago when my mom visited. We did the Sibarita Express Sunset Cruise. It was great, and totally worth it! You go out on the bay and watch the sunset over the ocean while enjoying an open bar of rum and cokes and rum punch.
You can see my review of our experience here or book the sunset cruise though Viator or through GetYourGuide. Sibarita Express also offers a dinner cruise you can book here or check out the bigger Sibarita Master boat here (both via Viator). You can also book all of Sibarita's harbor cruise options through GetYourGuide here.
*Check out these other Cartagena bay cruises:
27. Party on a Chiva Bus
You'll surely see these brightly colored party buses driving around, and going on a chiva can be a great way to spend an evening.
There's a small band and you'll get rum and soda aboard, and the bus will take you around the city, usually with a stop or two at popular spots. Do not the rum should be all you can drink, but you might have to be insistent to get a new bottle when the first (or third) are empty.
I'd recommend doing this in a group as how fun it is really depends on how fun the people on the Chiva are. You can usually set up a Chiva through most hotels, hostels, or tour agencies the day of.
*Check out these options to prebook:
28. Visit Playa Blanca
Located about 90 minutes outside of the city, Playa Blanca is Cartagena's most well known beach. It used to be a bit of a hidden paradise requiring a boat or combination of bus, ferry, and mototaxi to get there. However, a bridge and paved road has made it more accessible.
It still boasts beautiful, clear blue water. There are also a lot of little cabins and hostels on the beach, and spending the night will allow you to enjoy the gorgeous sunset and the beach after many of the day's visitors have left.
Better accessibility also has the downside of the beach being more crowded than ever. Expect especially large crowds on weekends and national holidays. To beat the crowds, head down to the far end of the beach where they are usually thinner.
You can reach Playa Blanca in a number of ways. You can head to the town of Pasacaballos and then getting a collective taxi or mototaxi to the beach. You can get boat transportation. You can hire a private taxi. The shuttle bus from Hostel Mamallena is also a great option, especially since you can come back the next day if you do decide to spend a night. (Book the shuttle ahead here via Viator).
*See the following tour options to visit Playa Blanca as well:
29. Visit the Colombian National Aviary
Colombia's National Aviary is located just up the road from Playa Blanca. I haven't been to many aviaries around the world, but I would find it hard to believe Cartagen4 a's isn't among the best. Stretching over 7 hectares, depicting several habitats, and with over 135 species and 2,000 birds, the aviary is extremely well done!
The highlights are the condors, the harpy eagle, the flamingo pond, and the twice daily "Birds in Flight" presentation. If you have to time to spend half a day at the aviary, it is absolutely worth doing.
The aviary is located in Barú just up the road from Playa Blanca. It can be reached by taking a taxi, by bus and collective taxi from the town of Pasacaballos, or by going with a tour. For bird and nature lovers, it should absolutely be on the list of what to do in Cartagena. You can check out my complete visitors guide to the Aviary to help plan your trip.
*You can also check out the following tours to the Aviary:
30. Bum it at the Beaches of Tierra Bomba
If you don't want to make the trip all the way to Playa Blanca or the Rosario Islands, the beaches of Tierra Bomba are closer to the city (a 10 minute boat ride). They are much better (and less crowded) than the beaches in the city proper.
Tierra Bomba is an island at the entrance to Cartagena's bay, and there are a few nice beaches located on the island. The easiest to reach is Punta Arena. There you can get a good fish lunch, lounge chairs, and drinks. You can get boats there from the behind the hospital in Bocagrande.
*You can also visit Tierra Bomba with the following tours:
Day at Bomba Beach Club – includes beach bed, or hut with hammocks and 25,000 pesos for food and drinks (via Viator)
Day at Fenix Beach – includes lunch and access to the pool at the hotel (via Viator)
Kayaking to Punta Arena – not so much bumming it, but a unique way to get out on the water while stopping at the beach (half day experience, via Viator)
31. Enjoy a Coco Loco or Piña Colada out of the Coconut
Regardless of which of the beach options you choose on this list of what to do in Cartagena, you have to get a drink in a coconut while there! While Piña Coladas are the more popular option, I prefer a Coco Loco.
A Coco Loco is basically a Piña Colada minus the piña made with rum, coconut milk, and cream. Some places will also throw in some whiskey to make it extra loco. You should be able to get either at the beach, and many restaurants will also serve it in a glass, which isn't quite as good but works too.
32. Visit the Lesser Known Forts of Bocachica
At the far end of Tierra Bomba is a narrow channel that is the entrance to Cartagena's bay known as Bocachica (literally little mouth). Defending that entrance was key to the city's defenses during colonial times.
There are 3 forts in Bocachica, 2 on the island itself, and one on the other side of the channel. They are all open to the public with free admission. They are also very well preserved and are great examples of late 18th century fortifications. Lightly visited, they really are one of the can't miss things to do in Cartagena for history buffs.
You can easily get water taxis out to Bocachica from the docks by Centro (go in through gate 3 to get the cheaper boats locals take). After visiting the forts, you can hang out at the beach for a bit and enjoy lunch or a beer.
Learn more about visiting these forts at my full visitors guide.
*You can also book a guided tour that includes lunch here (via Viator).
33. Get a Photo with the Famous Mujer Reclinada
Located on the Plaza Santo Domingo, this famous Fernando Botero statue is one of Cartagena's best known landmarks. Also known as La Gordita it's also one of the best photo ops in the city.
*See also: Best Photo Ops in Cartagena
So put on your best pose and take a glamour shot with her. If you'll be making it to Bogotá as well, be sure to check out the Botero Museum there.
34. Visit the Inquisition Museum
A beautiful colonial building that was the seat of the Spanish Inquisition during the colonial era, the Palacio de la Inquisici´ón doubles as a historical museum and museum of the Inquisition. It makes for another one of the best things to do in Cartagena for history buffs.
Upstairs, you'll learn about the history of Cartagena. Downstairs, about the Spanish Inquisition and see some freaky torture devices and a model of a guillotine and gallows.
More well known than the Naval Museum, I think there's less to be learned here, but it's still a neat way to spend an hour or two. Note that admission is free the last Sunday of every month. It is located on Plaza Bolívar.
See my visitors guide to learn more about planning a visit.
35. Visit the Gold Museum
Cartagena's Museo del Oro displays some neat examples of the expert gold work of the Zenú indigenous people. Looting of their gold helped build Cartagena's early colonial prosperity. Luckily, some of it still survives today so we can see it on display at the museum.
There are also exhibits on the Zenú's culture and history at the museum. While it isn't as impressive as the larger Gold Museum in Bogotá, Cartagena's is a nice way to spend an hour or so. Best of all, it's always free!
See my complete visitors guide to the museum to plan your visit.
36. Visit the Modern Art Museum
While we are on museums, the Cartagena Modern Art Museum is also a good way to spend a bit of time. The museum is located in a neat old colonial building just across from the San Pedro Claver Church.
In the museum, visitors can works by artists from Cartagena, Colombia, and the world. There are some neat pieces on display here and for those who enjoy art, it should absolutely be included on their list of things to do in Cartagena.
See my complete visitors guide to the museum to plan your visit.
37. Visit the Casa Rafael Nuñez Museum
One last museum for this list of things to see in Cartagena. Rafael Nuñez is the only Cartagena native to have served as Colombia's president. He helped to write a new constitution for the country and his presidency brought much needed infrastructure investments to Cartagena.
His wife's family also invented local soda Kola Roman and the local favorite boli popsicles. His home just outside the wall in Cabrero is a museum today. It also has free admission, and visitors can enjoy the neat architecture and furniture on display in the home.
Visitors guide to the museum coming soon.
38. Make Your Own Chocolates in a Chocolate Workshop
Colombia might be more well known for its coffee, but its chocolate ain't bad either. A visit to the ChocoMuseo is one of the more unique things to do in Cartagena. I honestly had no idea what a cacao tree or pod looked like before going here. There's also a wicked gift shop with tons of tasty treats and unique products made with chocolate like chapstick and even pasta. A great place to get something for yourself or take home to friends and family.
But the real neat attractions are the make your own chocolate workshops. They offer a shorter one as well as a complete bean to bar explanation. You can read about when we took our niece to do it here. It's definitely a neat activity for all ages (Plus you get to take some chocolate home!).
*Book the bean to bar workshop ahead of time here (via Viator)
39. Visit the Bazurto City Market
The Mercado Bazurto is Cartagena's hustling, bustling, crowded, and umm interestingly smelling city market. It is the place to go to get fresh seafood and produce. Particularly for fresh lobster and shrimp, you can't beat the prices, and it's a neat way to get a slice of local life.
The market is a tad dodgy though, so I would only recommend going here if you have a good handle on Spanish, and even then preferably you should go with a local. Another option is to go with one of the following tours.
*Tours that go to the Mercado Bazurto:
40. Visit the Abaco Book Store
This bookstore is seriously cool! Unfortunately, neat book stores are becoming rarer and rarer. Abaco, located on Calle La Moneda not far from Plaza Santo Domingo is one of the few left. The store has a nice selection of books in both Spanish and English. Even better, they also offer coffee, beers, and cocktails. They also have a collection of cool art, magnets, and historical maps on sale.
Stopping in for a relaxed drink or just to browse the books definitely qualifies as one of the neater things to do in Cartagena. (See on Tripadvisor).
41. Rent Bicycles and Cycle the Walled City
This is a great way to spend a morning or afternoon.
There are a number of places that rent bikes inside the Walled City, usually for fairly cheap prices. There's even a free bike tour of the Old City. Check it out here. Only word of advice I'd give is cars are not always the most accommodating to bikes so it's best to stick to inside the wall and make sure you watch out for any passing cars.
And definitely do cycle up on top of the wall itself!
42. Or Ride Around on the Hop on Hop Off Tourist Bus
I know, I know, a big red double decker bus, what could be more touristy? Actually, the Hop on Hop Off Red Bus is a great value. That means I had to include it on this list of things to do in Cartagena.
The bus makes a big loop around the main tourist areas of Cartagena, including Bocagrande, Centro, and Manga. It makes 14 stops in total, and the bus runs every 45 minutes between 9 am and 7:30 pm.
Several of the previously mentioned spots on this list are stops on the bus, including the Castillo San Felipe, Rafael Nuñez Museum, and Fort of San Sebastián del Pastelito where Club de Pesca is located. The bus also stops at several entrances and exits to Centro as well as at the Hilton, and Hotel Caribe.
Just on taxis alone, you can save some pesos taking the bus around town, especially since the ticket is good for 2 days.
*You can get tickets to the bus at McDonalds in Bocagrande or prebook at these links:
*As an alternative, you can also do a trolley tour, although it doesn't have the hop on hop off ticket. Book the day tour via Viator or GetYourGuide or the night tour via Viator.
43. Pretend You're Jay Gatsby or Nucky Thompson at Members Only
Members Only might be Cartagena's most unique bar. Going for a 1920s vibe, there are snazzy couches and a house jazz band. There is also a nightly burlesque show. All of that certainly gives it an atmosphere you won't find anywhere else in Cartagena.
The bar is located on the first floor of Townhouse Hotel Boutique. There are several nice cocktail mixes (I recommend the Therapist espresso and rum martini) on offer as well as tasty tapas. See it on Tripadvisor here.
44. Or Head Upstairs and Have a Drink at Townhouse's Rooftop Bar
If Members Only doesn't sound like the vibe you are looking for, then head to the top of Townhouse for it's trendier rooftop bar. Located in the heart of Centro, the bar has cool views of the city. There is also frequently a live DJ, and the drinks aren't too shabby here either (my favorite is the power couple mix of rum and bourbon).
Townhouse also does a daily sunset party and has an all you can eat and drink Bottomless Brunch on Saturdays and Sundays.
45. Explore the Mangroves Outside the City
The mangroves (manglares in Spanish) that grow around the inlet known as the Ciénaga de la Virgen just north of Cartagena are a vital part of the ecosystem. Not only do they help prevent erosion but their dense root systems serve as nurseries for fish, making them incredibly important for local fisherman.
One of the cool things about these tours is they are organized by residents of the nearby communities, so not only do you get to see the mangroves, but you also get to support local, sustainable tourism.
*Book a tour to see the mangroves through the following options:
46. Go Hiking in the Montes de María
If you want to get out even further into nature, then consider including this hike on your list of things to do in Cartagena. Located about 3 hours south of Cartagena, the Montes de María was an area where run away slaves settled and created walled communities. There, their African culture blended with that of the indigenous peoples there. That rich cultural tradition has led to the area being a center for music, folklore, and artisan goods.
A neat way to experience this area is by going on a hike with Taroa Adventures on their "Jaguar's Footprint" tour. You'll spend the morning hiking through the forest along a creek bed before reaching some ancient indigenous petroglyphs. In the afternoon, you'll enjoy lunch and a presentation of Gaita music in the nearby town of San Jacinto. This music is unique to the region and combines indigenous and Aftrican influences. You'll even get a mini lesson in playing the instruments yourself!
We recently did this tour and enjoyed it (full review coming soon). You should expect to get wet, and if you go in the rainy months of October-December you will probably get muddy as well.
*Check out Taroa Adventure's website to learn more about the tour.
47. Visit San Basilo de Palenque
The Montes de Maria is also where runaway slaves from Cartagena settled. The walled communities that run away slaves founded were known as Palenques. The largest and most significant one was San Basilo, commonly referred to as solely Palenque today. The town today maintains many of its African cultural traditions, and the language spoken by many is the only surviving Spanish-African Creole language in the world.
The town has had a marked impact on Cartagena's culture, with a number of Champeta artists, boxers, and, perhaps most famously, the multicolored dresses of the Palenquera fruit sellers in Cartagena. Visitng Palenque is one of the best day trips you can do in Cartagena and will give you a unique look into the region's history and culture.
*Book a guided tour to Palenque here (via Viator)
48. Take a Dip in a Mud Volcano
The Vulcán de Totumo has to count as one of the more out there things to do in Cartagena. One of the few active mud volcanoes in the world, it looks like something otherworldly.
When you get there, you'll climb the stairs and climb into the mud crater. The consistency of the mud keeps you floating about shoulder deep, and there are guys who will take your picture. You can also opt for a massage, and the mud is reportedly great for your skin.
Afterwards, wash off in the nearby lagoon. There are women there who will wash you for a small tip. This is one of those things to do in Cartagena that is honestly not for everyone, but for those interested it makes for an interesting experience and story.
*Book a half day tour to the Mud Volcano here (via Viator)
49. See the Pink Sea of Galerazamba
Located near the Mud Volcano is the pink sea outside the salt mines in the town of Galerazamba, about 45 minutes north of Cartagena. This is a relatively recent attraction, and it's quickly become popular.
One thing to keep in mind is that the phenomenon of the pink sea is due to a species of micro-algae that interacts with the high salt content of the sea. The natural cycle of the algae dying off along with the onset of rains causes the sea to return to its normal color.
These are the times of year you should be able to see the pink sea:
December-April
August-September
It's a great place to see a neat natural phenomenon, definitely qualifying it as one of the neat things to do in Cartagena if you will be here during those periods.
*Book a tour to the Pink Sea through the following options:
50. Party it Up During the November Independence Festival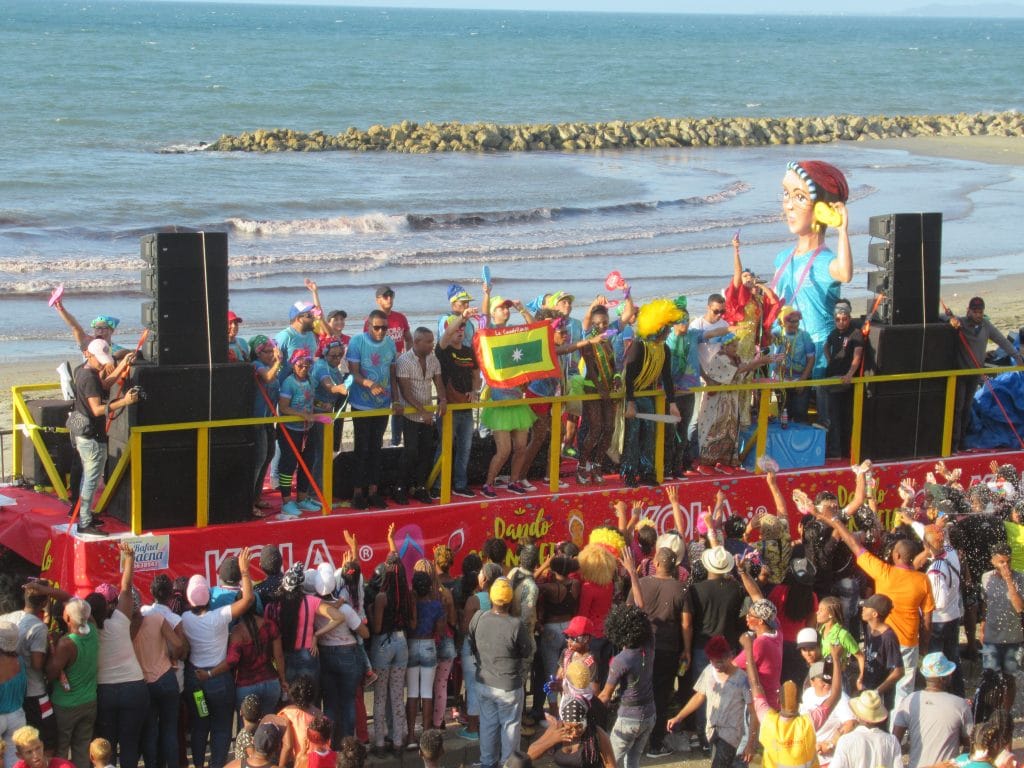 If you're even considering visiting Cartagena later during the year, then try to plan your trip around the week long fiestas preceding November 11, the anniversary of Cartagena's Declaration of Independence.
With a massive parade, and lots of free concerts and dancing in the streets, the November festival is a lot of fun in my opinion. However, they are not for everyone, and if you don't like big crowds, then you may want to avoid them. See this guide to the parties to have an idea of what to expect.
If you do want to party with the locals, and can swing timing your trip to coincide, then add this to your list of things to do in Cartagena!
What are the things to do in Cartagena you plan on doing?
There you have it, 50 things to do in Cartagena! I hope they helped you plan your visit to Cartagena and that you absolutely enjoy any and all of them you do!
Let me know your favorites or any other fun activities in Cartagena you did in the comments below.
Cheers and Happy Exploring!
Did you like this post?
Share it with your friends!
Share on Facebook Share on Twitter
And don't forget to like and follow us!
Like us on Facebook Follow us on Instragram Follow us on Twitter
Planning your trip to explore Cartagena?
Check out the following posts to help plan:
Insider's Guide to the Best Areas to Stay in Cartagena
Complete Packing List for Cartagena