Planning a trip to and wondering what the best things to do in Cartagena, Colombia are? Read on here for a complete guide to the top 11 things to do in Cartagena.
*Disclosure: This post contains affiliate links. I am a member of the Amazon Associates program among others. That means I can earn commission on qualifying purchases made after a user clicks those links. There is never any additional cost to you, and it's a great way to show some love to the site. To learn more please consult my Disclosure Policy.
What to do in Cartagena?
If you've decided to come visit Cartagena, Colombia, congratulations! This slice of Caribbean paradise offers colonial charm and history, beautiful nearby beaches, and lots of things to do. In this guide to the top things to see in Cartagena, I'm going to give you a rundown of the 11 best things to do in Cartagena, Colombia.
Why 11? Because everybody does top 10s and 11 holds a special place in Cartagena's history with the city declaring independence on November, 11, 1811 (11/11/11). So in honor of that, I'm going to give you 11 things you should do in Cartagena, along with a handful of honorable mentions of other things to do in Cartagena.
But before we begin, if you're still debating coming to visit Cartagena, check out these 19 reasons you should visit in 2019.
Already convinced? Then make sure you have your flights booked. Compare prices across different airlines at Jetradar.com or at Kayak.com.
Finally, be sure you have booked a place to stay. Particularly during peak season, the best places to stay get booked up quick. Check out my Insider's Guide to Where to Stay in Cartagena to help you find the best place to stay for you.
Flights? check. Place to stay? Check. Now, let's get to the 11 top things to do in Cartagena, Colombia!
The 11 Top, Can't Miss Things to Do in Cartagena, Colombia
1. Walk the Colonial Walled City
Hands down, this has to be at the top of any list of things to do in Cartagena. Cartagena's historic city center is one of the few left in the Americas that still boasts nearly its entire wall, built in the 1600s. Today, you can walk along much of the wall, a must during your visit.
In addition to the wall, there is a wealth of charming colonial architecture to enjoy. As you walk around, be sure to admire the brightly colored houses, flower covered balconies, and massive wooden doors. As you marvel at those doors, be on the lookout for the elaborate brass animal door knockers.
The knockers were important colonial status symbols, and the different animals were used to distinguish social class and/or profession. How many can you spot as you stroll through Cartagena's Old Town?
While walking through the walled city, you can also sample some fresh fruit and snap a photo with the Palenqueras and their brightly colored dresses. There's a wealth of other street food, great cafes, and restaurants to sample inside the Walled City too.
Guided Tours of the Walled City – This can be a great way to learn more about the city and its history and make sure you don't miss any of the best things to see.
*The Walled City, aka Centro, is my number one area to stay in Cartagena. Learn more about it as well as other areas along with recommendations for places to stay in my Insider's Guide to Where to Stay.
*See also: Best Pictures to Take in Cartagena and Best Street Food to Try in Cartagena


2. Visit South America's Largest Colonial Fort
There's a reason Cartagena had a colonial wall. It faced a constant threat of attack from pirates and Spain's colonial rivals. In fact, the walls were built after the city was burned by Sir Francis Drake in 1586.
The threat of attack led to the construction of the Castillo San Felipe Fortress, next on this list of the most important things to see in Cartagena. Built atop a hill in 1657, the fort was originally only a small square at the top of the hill.
It played a decisive role in the 1741 Battle of Cartagena de Indias. Despite being outnumbered more than 3 to 1, Cartagena's defenders successfully repelled a frontal assault on the fort from Edward Vernon's forces.
Beginning in 1761, the fort was expanded to the massive structure it is today. The entire hill was covered in stone, and an elaborate network of tunnels was built, including one back into the walled city.
It's an impressive structure and was the largest fort constructed by the Spanish on mainland South America. It is also a unique example of colonial fort design as it did not follow the the perpendicular model other forts built at the time did.
*See also: History of the Castillo San Felipe
The fort is open 8 am to 6 pm every day. See my visitor's guide to the fort to learn more about planning your visit. I highly recommend going early in the morning to beat both the heat and the crowds.
*You can also prebook half day tours that include admission to the Castillo San Felipe in addition to walking tours of the Walled City through Get Your Guide or Viator, or opt for a private tour.
Planning your trip to Cartagena?
Check out the best areas to stay

3. Learn More About the City's History at the Naval Museum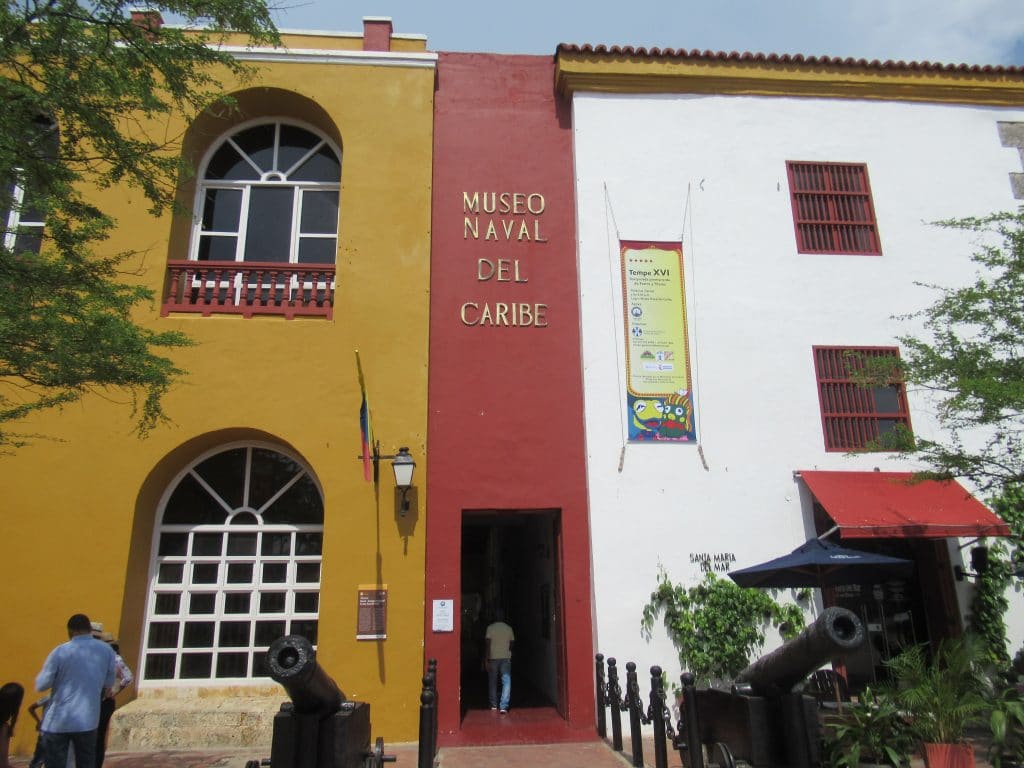 The Museo Naval del Caribe is hands down the best museum in Cartagena, which qualifies it for my list of what to do in Cartagena. You will get a much better appreciation of the importance of the Castillo San Felipe and the role it played in the city's defenses here.
Downstairs there are exhibits on Cartagena's founding, and some excellent exhibits showing day by day accounts of the attacks on the city and dioramas of all its defenses.
Upstairs, you will learn about Cartagena's vital role in Colombian independence and the history of Colombia's Navy. There are some cool interactive models of a submarine and warship that would be great fun for kids.
*See also: Fun Activities for Children in Cartagena
Overall, a visit to the Naval Museum is another one of the best activities in Cartagena where you can learn a ton about the city's history. The only downside here is most of the exhibits are only in Spanish.
Check out my full visitor's guide to the Naval Museum to learn more about planning your visit.


4. Sample Some Tasty Seafood
It shouldn't be surprising that a Caribbean destination has great seafood, and Cartagena doesn't disappoint. The city's rich cultural tradition lends itself to a great culinary tradition as well, and the seafood is where it really shines.
You absolutely have to try the traditional fried fish plate, served with coconut rice and patacones (mashed fried plantain patties). It is best enjoyed by the sea (check out the next activity on the list).
Other seafood dishes you can try include the cazuela de mariscos (seafood stew), camarones al ajillo (shrimp in a buttery garlic sauce), ceviche, and arroz de mariscos (seafood rice).
Here are my recommendations for restaurants to try:
If you're looking for the perfect drink to wash that seafood down, then be sure to try a limonada de coco (coconut limeade) too!
*See also: Local Dishes to Try in Cartagena, Best Places for a Romantic Dinner in Cartagena
5. Bum it at the Beach
Duh! When traveling the Caribbean, you'd be remiss to not include some time on a beach! Therefore visiting the beach is an easy inclusion on this list of the top 11 things to do in Cartagena, Colombia.
Ok, so the beaches in Cartagena proper are decent but not spectacular. I'd highly encourage you to get out to Playa Blanca, Barú, and/or the Rosario Islands, as those are the beaches with the real beautiful crystal clear blue Caribbean water you are looking for.
Playa Blanca – Long a popular destination, Playa Blanca is a beautiful stretch of beach on the island of Barú about an hour south of Cartagena with white sand and crystal clear water.
However, the last few years have seen steadily increasing crowds, so I'd recommend avoiding it on weekends or during peak tourist season. Spending a night in one of the many cabins is also nice since most of the crowds disappear after about 4 o'clock.
*You can book day trips to Playa Blanca that include transportation and lunch through Get Your Guide or Viator ahead of time. Most hotels and hostels should also be able to set you up with ground or boat transportation as well.
Rosario Islands – Located off the coast, the picturesque Rosario Islands chain is gorgeous. The easiest way to see them is through a boat day trip. You can book day trips to the Rosario Islands at Get Your Guide or Viator. Do it in style sailing aboard a catamaran.
If you'd like to spend a night or two in the islands, check out Hotel Isla del Pirata.
Another popular spot is Cholón, a little beach on one of the islands that has become a popular party spot. People pull up and tie their boats around a central area and have massive boat dance parties.
Through Viator, you can book day trips that go to the Rosario Islands and Chol´ón or Rosario Islands, Cholón, and Playa Blanca. If you are a group or have the cash to shell out, the best way to do it though is on a private boat.


Beaches in the City
Bocagrande – Probably the most well known, Bocagrande's beach is ok but tends to both get crowded and be crawling with vendors. Make sure you confirm all prices for anything you buy as there are some who will try to overcharge you. The beach farther down around the Hotel Hilton tends to be less crowded.
*You can consult the official prices for chairs, drinks, etc, on the beach here. Don't be afraid to haggle either.
Tierra Bomba – The island known as Tierra Bomba is located just across the bay from Cartagena. You can get boats across from behind the hospital in Bocagrande. The most popular spot is Punta Arena, where you'll find a nice little beach that tends to be much less crowded than the beaches in the city proper, especially on weekdays. You could also check out Playa Paraiso, which is a little less well known.
You can book a day pass at Bomba Beach on Punta Arena though Viator here.
6. Explore the Neighborhood of Getsemaní
Located just outside the Walled City, Getsemaní is the second oldest part of Cartagena. During the colonial era, it was home to the free black and mulatto artisan working class. For that reason, it is often considered the cradle of Cartagena's culture.
The support from the people of Getsemaní and popular artisan leader Pedro Romero for Cartagena's Declaration of Independence in 1811 was crucial to the bills passage. Today, this historic neighborhood has become a hip hangout spot, sporting many of the city's trendiest cafes, restaurants, bars, and clubs. That makes strolling through Getsemaní another of the can't miss things to do in Cartagena.
Particularly neat spots to check out are Calle San Andres and Callejon Angosto. Each have become famous as great spots for a photo. Calle San Andres has colorful pennant flags hanging over its many cafes, and Callejon Angosto is covered by hanging umbrellas. Be sure to get some good shots on both to get your Instagram validation fix.
There is also a vibrant nightlife in Getsemaní. The Plaza de la Trinidad is a popular hangout spot with cheap beers from the the tienda on the corner. There are also several cool bars and restaurants right around the plaza, including bomb brick oven pizzas at Demente (see their Tripadvisor page).
Meanwhile, Calle Media Luna and Calle El Arsenal house some of the city's finest nightclubs.
As you stumble wander through Getsemaní, do keep in mind the importance of the neighborhood's history and the reality that it has been subject to extreme gentrification with the growth of tourism. In other words, enjoy, but try to respect the local residents and not act a complete fool while you do.
*Getsemaní also makes for a great area to stay in Cartagena. Learn more about it and the other options for areas to stay in Cartagena, along with recommendations in my Insider's Guide to Where to Stay.
7. Visit the San Pedro Claver Church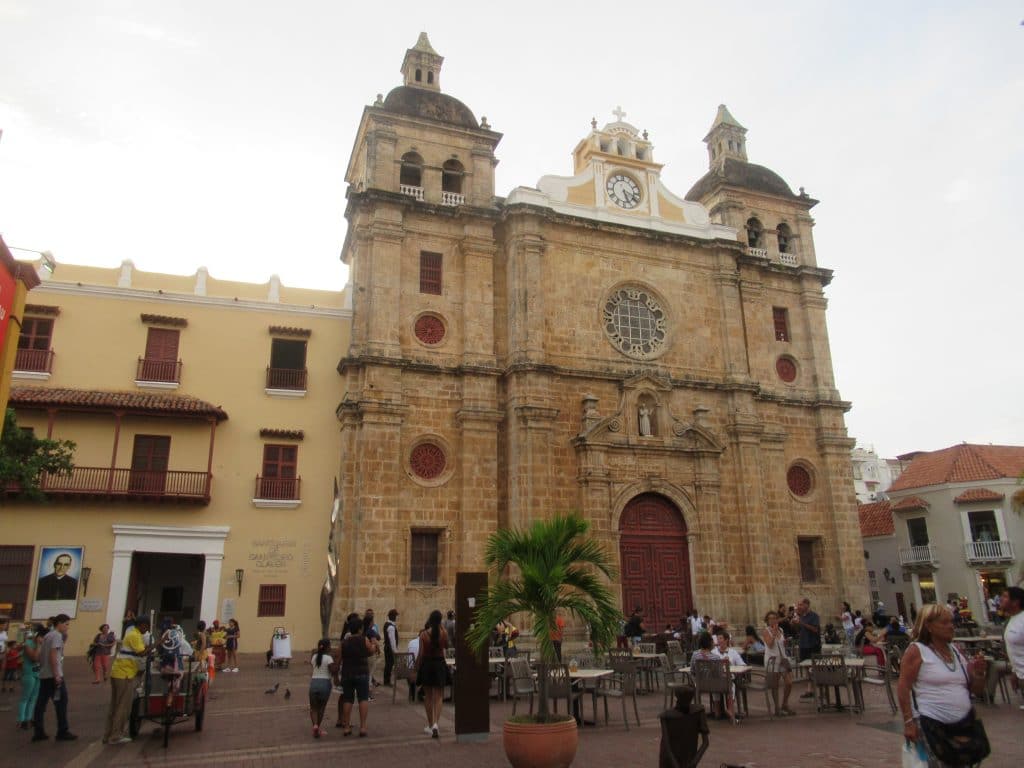 Follow in Pope Francis's steps on a visit to the next place on our list of things to do in Cartagena. Named for Saint Peter Claver, the Iglesia San Pedro Claver is Cartagena's neatest church.
Claver was known as the "slave to the slaves" and dedicated his life to ministering to the many slaves brought to and sold in Cartagena and advocating for their humane treatment.
He was later made a Catholic saint and is considered the patron saint of human rights, and the church where he spent much of his life was renamed in his honor.
Today, the church and its accompanying museum can be toured by visitors. There you can see the neat 1600s Jesuit architecture, galleries of indigenous, African, and religious art as well as exhibits dedicated to San Pedro Claver, including his humble living quarters.
You can also marvel at the inside of the church itself, including a 19th century organ, its impressive stained glass window, and its massive marble altar. At the base of the altar you can see San Pedro Claver's remains.
The church is open to visitors daily from 8 am to 5:30 pm. Check out my visitor's guide to the church to learn more about planning your visit.
You can also book this tour through Viator that includes a walking tour of the Walled City in addition to admission to the San Pedro Claver Church.


8. Watch the Sunset at Café del Mar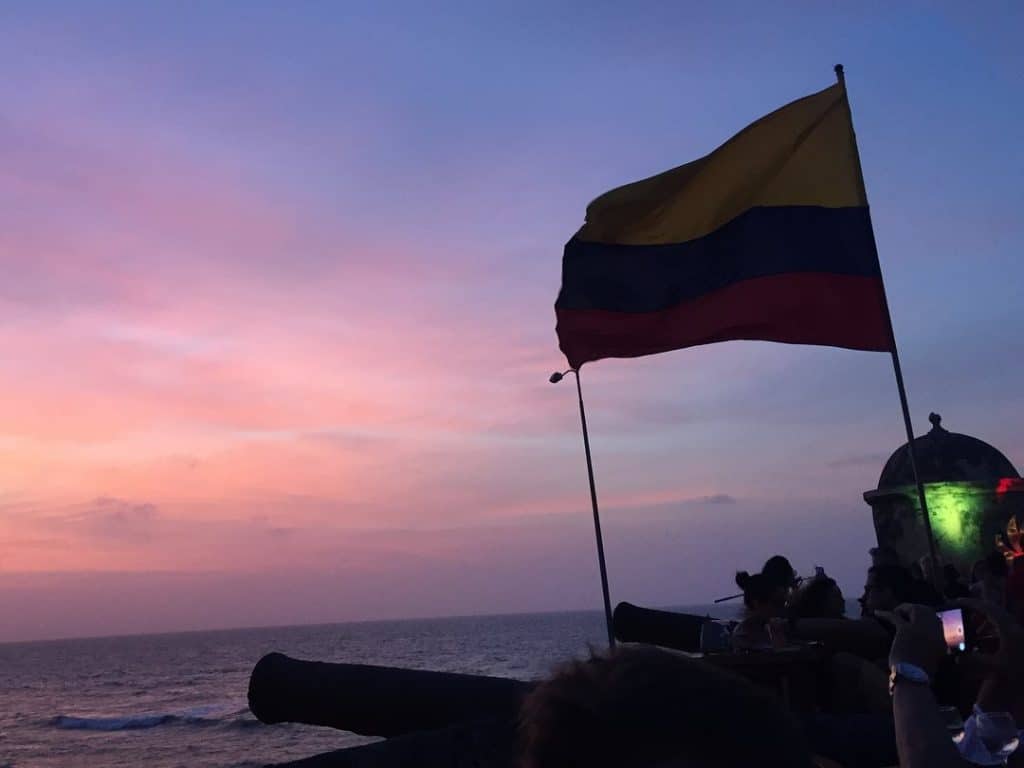 Atop a central section of the city's wall overlooking the sea, Café del Mar is one of Cartagena's most iconic spots to enjoy a drink. And the best time to do that is at sunset.
The sun goes down almost directly out to sea, and the feeling of watching it from atop the wall with Cartagena's and Colombia's flags flying overhead is really neat. Not to mention, the Piña Coladas,Coco Locos, and Limonadas de Coco are among the best in the city.
Café del Mar also has good picada platters to munch on if you'd like to stick around for a snack or dinner after sunset. I do recommend getting there a bit early, especially on weekends, as the spots with the best views often fill up quick.
Check out Café del Mar's Tripadvisor page.
*See also: Top 10 Spots for Sunset Drinks in Cartagena (spoiler: Café del Mar is on the list)
9. Learn to Dance Champeta at Bazurto Social Club
Champeta is a genre of dance and music that was born in Cartagena's barrios. Influenced by the import of African music in the 1970s, artists began mixing those rhythms with their own Latino and Afro-Latino musical traditions to create an entirely new one.
The term champeta itself actually came from a derogatory term that was turned around to describe this proud expression of Cartagena's majority black culture. More recently it has also incorporated elements of rap and reggae music.
The music was developed in the neighborhood sound systems known as picós (Spanglish version of pick ups). You may notice the posters with brightly colored lettering around town advertising the picós. Over the last decade or so, the music has become more mainstream, even getting play in high class discos in Medellín and Bogotá, but it remains most popular in the place of its birth.
If you want to have a listen to Champeta, check out this song (old school) or this one (new school).
To get an up close and personal taste of this uniquely Cartagenero cultural phenomenon, head to Bazurto Social Club, located across from the Parque Centenario off of Calle Media Luna in Getsemaní.
Bazurto Social Club is open Wednesday to Saturday (and Sundays when Monday is a holiday) from 8 pm – 3 am. It always has a live band and features champeta dancing lessons throughout the night. You can even organize private lessons during the day for groups of 6 or more (more info here).
There's also good food on hand. Overall, a visit to Bazurto Social Club is a highlight on the list of what to do in Cartagena and lets you get a slice of local culture.
Check out Bazurto Social Club's website or their page on Tripadvisor to learn more.
Other Places to Dance:
Champeta may be Cartagena's own, but that doesn't mean there isn't great dancing of other music.
For Salsa: Check out Havana Club in Getsemaní (where Hillary Clinton went dancing) or Crazy Salsa in Centro.
For a mix: Mr. Babilla on Calle Arsenal and Babar in Centro are among the most famous nightclubs in the city.
Planning your trip to Cartagena?
Check out the best areas to stay

10. Try the Sweets at the Portal de los Dulces
Located under the archways of the buildings across from Cartagena's Clocktower, Portal de los Dulces features a number of stalls vending traditional sweets and candies typical of Cartagena and is next on this list of the top things to see in Cartagena.
You absolutely have to try one of the cocadas or coconut patties. They come in a a number of varieties. My favorites are just the plain coconut and milk ones, but you can also get them with arequipe (caramel), pineapple, strawberry, and other flavors.
There are a number of booths, but they all more or less sell the same things. In addition to cocadas, you can also try the little babies made from sweetened milk, balls made from the bitter tamarindo, or my other personal favorite the little bars made from sesame seeds.
All of the sweets should cost you no more than the equivalence of about a dollar, making this one of the cheaper things to do in Cartagena. Gift packs also make an excellent gift to take to friends and family back home!
11. Enjoy the View from atop Hotel Movich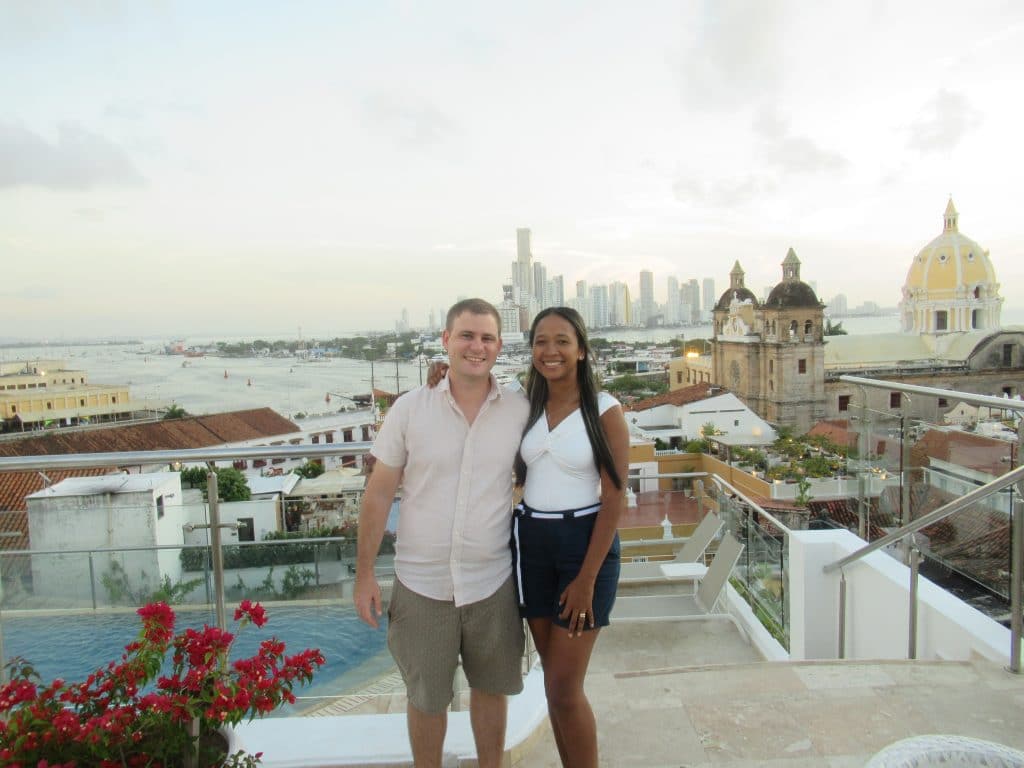 Hotel Movich has the rooftop bar with the best view in the city. It overlooks the San Pedro Claver Church, the Clocktower, and the bay beyond. Enjoying this spectacular view wraps up my list of what to do in Cartagena.
They serve great cocktails and you don't have to be a guest to enjoy the bar. It is, however, a very nice hotel and if you stay there, you can take advantage of the bar side pool overlooking the city as well.
You can also enjoy a spectacular view of the sunset from atop Movich, making it the more modern answer to the Café del Mar experience atop the wall. You'll get some of the very best pictures of the city here to go along with your drinks, and there are tasty appetizers on offer if you fancy a snack.
Honorable Mentions – Some Other Things to Do in Cartagena
While these may not be can't miss things to do in Cartagena, if you have the time they are some other fun things you can do during your visit.
Party on a Chiva Bus
You'll surely see these brightly colored party buses driving around. Going on a chiva can be a great way to spend an evening. There's a small band and all you can drink rum aboard. I'd recommend doing this in a group as how fun it is really depends on how fun the people on the chiva are. Most hotels and hostels should be able to set it up for you, or you can book ahead through Viator.
Enjoy Bottomless Brunch at Townhouse's Rooftop Bar
If you have a Saturday to lounge around, Townhouse Boutique Hotel does an all you can drink and eat brunch every Saturday from 11-3. They have a cool rooftop bar (visiting in the evening is also worth it by the way, and their downstairs speakeasy bar is also a unique atmosphere in Cartagena).
While enjoying brunch, you can make use of their little pool. It is also one of Cartagena's trendiest hotels if you are looking for a neat place to stay.
*See my review of the brunch or check out the rooms at Townhouse
Try Some Great Coffee at Café Época
With two locations in the Walled City, a visit to Café Época is another one of the great additional things to do in Cartagena. They serve up great coffee in a variety of preparations. You surely can't visit Colombia and not try its famous coffee, and this is one of the best places in Cartagena to do so. They also do a brunch and serve up some tasty sandwiches and salads for lunch. Check out their Tripadvisor page.
Rent Bicycles and Cycle the Walled City
This is a great way to spend an afternoon. There are a number of places that rent bikes inside the Walled City, usually for fairly cheap prices. There's even a free bike tour of the Old City. Check it out here. Only word of advice I'd give is cars are not always the most accommodating to bikes so it's best to stick to inside the wall.
Planning your trip to Cartagena?
Check out the best areas to stay

Visit the Inquisition Museum
A beautiful colonial building that was the seat of the Spanish Inquisition during the colonial era, the Palacio de la Inquisici´ón doubles as a historical museum and museum of the Inquisition.
Upstairs, you'll learn about the history of Cartagena. Downstairs, about the Spanish Inquisition and see some freaky torture devices and a model of a guillotine and gallows.
More well known than the Naval Museum, I think there's less to be learned here, but it's still a neat way to spend an hour or two. Note that admission is free the last Sunday of every month. It is located on Plaza Bolívar. See my visitor's guide to learn more about planning a visit.
Do a Sunset Dinner Cruise
If you haven't picked up on it, enjoying the sunset is undoubtedly one of the top things to do in Cartagena. If you want to really go all out, you can do a sunset cruise on the bay. Sibarita del Mar offers both a shorter cruise with just drinks as well as several dinner options. You can book ahead through Get Your Guide or Viator (smaller boat or bigger boat with sushi option).
Tour the Mangrove Swamp
The mangroves (manglares in Spanish) that grow around the inlet known as the Ciénaga de la Virgen just north of Cartagena are a vital part of the ecosystem. Not only do they help prevent erosion but their dense root systems serve as nurseries for fish, making them incredibly important for local fisherman. Book a tour of the mangroves throuh Get Your Guide where you will be guided by a local from the nearby community of La Boquilla to see them up close and personal as well as help conservation efforts and the community.
What are the things to do in Cartagena you plan on doing?
There you have it, my top 11 recommendations for the can't miss things to do in Cartagena along with some honorable mentions. I hope they helped you plan your visit to Cartagena and that you absolutely enjoy any and all of them you do!
Let me know your favorites in the comments below.
Cheers and Happy Exploring!
Ready to plan your trip to Cartagena?
Check out the best areas to stay

Or check out the latest deals below:
And get the best deal on your flights:
Want more things to do in Cartagena or to learn more about the city?