Palomino, Colombia, a small beach town on the country's northern Caribbean coast, is a popular destination, especially among backpackers. Sporting a laid back and hipster vibe, it is a great stop on a tour of Colombia's northern coast. In this travel guide to Palomino, Colombia, you will learn how to get there, what to do, and where to stay in Palomino along with practical travel tips and a suggested packing list.
*Disclosure: This post may contain affiliate links. I am a participant in the Amazon Associates Program as well as other affiliate programs and may earn a commission on qualifying purchases made after clicking links from this site. There is never any additional cost to you. For more information, please consult my Disclosure Policy.
Travel Guide to Palomino, Colombia – Contents
Why You Should Visit Palomino, Colombia
Located about 90 minutes north of Santa Marta, Palomino is a cool place to hang out for a few days by the beach, meet some fellow travelers, enjoy some chilled out nightlife, and eat some good grub. It is also a gateway to explore more of Colombia's La Guajira Peninsula.
My wife and I stopped at Palomino for two nights in July 2018 on our way back from Punta Gallinas. It was a nice respite from the more roughing it style of travel we did there and in Cabo de la Vela. I also spent a night in Palomino with a friend in April 2019 (sneak peak: the vibe and food drew me back more than anything).
Palomino has in many ways replaced Taganga as a cool stop off point for backpackers, and it reminded me quite a bit of the vibes in Taganga a 5 or so years back, basically a quiet beach town that has been turned into a destination with a proliferation of trendy hostels and restaurants/cafes/bars.
In my opinion, there are prettier beaches on Colombia's Caribbean coast, like those in Tayrona National Park or at Costeño Beach. Still, Palomino's laid-back vibe and cool restaurants and bars make for a nice happy medium between the city and nature and a cool way to spend a couple days.
It is the perfect place to stop, chill out, and enjoy some drinks and good food if you are touring Colombia's north coast between Santa Marta and La Guajira.
Here, I will give you a run down of my experiences in Palomino. In this ultimate travel guide to Palomino, you will learn how to get there, what to do, where to eat, and where to stay in Palomino, Colombia along with some useful tips and a suggested packing list.
*See also: Travel Guides to Tayrona, Cabo de la Vela, Punta Gallinas, and Taganga
How to Get to Palomino
*Prices are updated as of April 2019 unless otherwise noted.
How to Get to Palomino by Bus
You can reach Palomino by bus from Santa Marta or Riohacha. Bus from Santa Marta to Palomino:
From the market in Santa Marta, there are buses that leave every 15 minutes (they are the same buses that go to Tayrona). The cost to Palomino is 10,000 pesos. *Pro tip: get a window spot on the coast side as you can get some great views of the ocean as you approach Palomino.
How to Get the Bus from Tayrona to Palomino or Costeño Beach to Palomino:
Catch them on the main road, the cost should be 2,000 pesos.
How to Get the Bus from Riohacha to Palomino
Get them at the terminal in Riohacha, the cost should be approximately 10,000 pesos (July 2018).
Marsol also offers charter van service to Palomino and can be taken from Cartagena, Barranquilla, or Santa Marta. Cost will depend on where you get the van. I prefer Berlinas for the service, but the convenience of Marsol having direct buses to Palomino is nice as well.
From elsewhere, I'm not sure if there are buses directly to Palomino from other cities in Colombia, so you will most likely have to bus into Santa Marta, then hop the bus to Palomino.
*You can check bus routes, times, prices and even book many buses in Colombia at www.redbus.co. Both Marsol and Berlinas are pretty responsive on their facebook pages which you can find here: Marsol and Berlinas.
How to Get to Palomino from Cartagena
You have a couple options to get from Cartagena to Palomino.
You can get a bus from the terminal, on Marsol, or on Berlinas to Santa Marta, then catch a bus from the market to Palomino. On my last trip in April 2019, Berlinas charged 44,000 pesos from Cartagena to Santa Marta (from Santa Marta, follow the instructions above).
We returned from Palomino to Cartagena directly on Marsol. The cost was 79,000 pesos and there were departure times of 9, 12, and 3.
If you are planning to travel to Palomino from Cartagena, I highly recommend that you also check out the gorgeous mountain town of Minca and Tayrona National Park before or after Palomino. Santa Marta is also worth checking out for a day or two.
*See also: Travel Guides to Minca and Tayrona
Can You Fly to Palomino?
No. There's no airport in Palomino. If you want to arrive to Palomino by air, you will have to fly into Cartagena or Santa Marta. You can check out flights into both cities on Colombia's flagship Avianca airline or compare flight prices across airlines at Jetradar. Follow the instructions above to get to Palomino from either city.
What to Do in Palomino – Top Things to Do in Palomino, Colombia
There are a number of interesting things to do in Palomino. Here are the top activities in Palomino, Colombia.
Go Tubing on the Palomino River
This is probably the most popular of the things to do in Palomino. Honestly, I haven't done it either time I've been to Palomino. I know, I know, just what kind of travel blogger am I?
The truth is, the first time I was there, we were worn out and by the time we got moving on our full day, we didn't want to brave the sun after several days in the desert of La Guajira. The second time, I was only in Palomino for a day. My friend Brian and I preferred to enjoy the food and drinks in Palomino rather than do the tubing.
That being said, tubing on the Palomino River seems like a great way to spend a few hours , and I am going to have to make a point of doing it next time I visit. I've head from several friends that it is totally worth it. The river is calm and shallow throughout the float down, and the guides make sure you don't get hung up anywhere.
Tubing down the river seems like a great way to spend a few hours while getting some great views of the nature and scenery of the lush forest of the Sierra Nevada.
I did ask around, and the price for tubing in Palomino was 40,000 pesos a person and includes the tube and a guide to make sure you don't get lost and guide you along the river. The trip should take 3 hours: about an hour hike and 2 hours down the river. I'd recommend going early before it gets too hot and sunny.
I've read elsewhere that you can solely rent the tube and do the tubing in Palomino independently, but we were told that wasn't allowed. Rather that is something that had changed or good salesman gamesmanship, I'm not sure.
It is probably worth asking around. By the same token, it's worth keeping in mind there aren't many opportunities for people in the town, and 40,000 pesos is the price of 2-4 cocktails at most places in Palomino or Colombia. For 3 hours it seems like a fair price.
Visit the Quebrada Valencia Waterfalls Near Palomino
The Quebrada Valencia are the waterfalls near Palomino. When I was there, it was reportedly dried up due to lack of rain, so we didn't go, but pictures online makes it seem worth it if the falls are flowing.
You can take a mototaxi from the main road there and hike up to the falls. It is worth asking around before you go to make sure they aren't dried up. I haven't made it to the Quebrada Valencia in my two visits, but it seems like a cool way to spend half a day if you can and one of the best things to do in Palomino.
Chill on the Beach
As I said earlier, the beach in Palomino is nice but not spectacular (then again, maybe I've been spoiled).
The waves and currents are strong (swimming is not advised) and the beach isn't as wide as in other nearby places. Note that there are surf lessons on the beach in Palomino, so check those out if you want to learn to surf. Given the how popular a destination the town has become, it also can get crowded around the main exit, but a short walk either direction sees the crowds thin out considerably.
That being said, you can't go to Palomino and not at least check the beach out. It's about a 15 minute walk from "downtown" Palomino, and if you walk down a ways it is nice once the crowds dissipate.
So, check out the beach, have a piña colada there, and go for a wade. However, in my opinion at least, it's better to spend more time hanging around town and if you're up for it, head to the beach for the afterparty.
If you want to really beach it, I'd recommend checking out Tayrona or Costeño Beach.
Enjoy Some Great Food – Where to Eat in Palomino, Colombia
As noted above, grubbing out is my favorite of the things to do in Palomino. Here's a rundown of my favorite restaurants in Palomino, Colombia.
Suá – Best Restaurant in Palomino
I've had lunch in Suá both times I've been in Palomino. It is delicious, has a cool vibe, has good drinks, and is well worth checking out!
The cool outdoor wooden tables, and frequent daytime live music sums up the entire allure of Palomino for me. But what really makes it special is the excellent fare on offer at Suá.
The food, in addition to being super tasty, just has that fresh taste to it. Especially good is the make your own plate option, that allows you to make your own combo from several protein, sauce, and side options in addition to a salad.
While there are beef and chicken on offer in the make your own plate, its pretty hard to resist the shrimp or prawn options. I absolutely loved the coconut, orange, and ginger sauce on prawns, and I can't complain about the tastes I had of the curry and garlic and butter sauces (there are also a blue cheese sauce and another one I can't recall).
The first time we were there, I also had a bomb chicken sandwich, and the last time I went, my friend Brian also got the Cazuela de Langostinos of prawns in a delicious tomato sauce.
There are also good drinks on offer, including great limonadas de coco and the delicious craft beer from the Sierra Nevada Brewery in nearby Minca.
*Check Su´á's Reviews on Trip Advisor
Turcolandia – Best Pizza Restaurant in Palomino
This is possibly the best pizza I've had in all of Colombia! Seriously, this was one of the main reasons I wanted to go back to Palomino.
Thin, but with a good rolled up, end crust and loaded with toppings, the pizza at Turcolandia is awesome!
But even better is watching the owner and cook at work. A bald guy (is he a Turk, an Italian, I don't even know or care), you can see him shoveling pizzas in and out of the ovens like a madman. He does a fair bit of yelling as well, but there's something neat about seeing him at work, and the pizza reflects his energy.
The tree stump seats and trunk tables just adds to the great vibe. You can even get some homemade whiskey (it's ok, not great, but cheap) here. Be sure to try the homemade sauces as well to top off the tastiest pizza in Palomino, Colombia. A cool place, that I made a point to get back to when I returned the second time (and hopefully will again).
*Check out Turcolandia's Reviews on Trip Advisor
JUntos – Best Burgers in Palomino
JUntos is one of the coolest bars in Palomino. The first time we visited, they had a Noche Azul (Blue Night). They periodically have them (about once a month) during the year. There was a DJ visiting from Trinidad and Tobago, and it made for a great place to spend the night having some drinks and dancing.
But even if you can't enjoy a Noche Azul, JUntos would be a great place to have dinner and drinks. The burgers were absolutely delicious, and there's a good happy hour with reasonable beer and cocktail prices.
My second time in Palomino, we just happened to be there the day of the week they were closed, unfortunately. However, I'd highly recommend Juntos as a place to get some tasty burgers and have a few drinks in the evening. Bonus if you get lucky like we did and are there during a Noche Azul.
*Check JUntos's Reviews on Trip Advisor
Frontera – Second Best Pizza Restaurant in Palomino
The first time my wife and I stopped in at Palomino, we had lunch at Frontera fresh off the trip back from Punta Gallinas just at the beginning of "downtown" Palomino. It was one of the first places we came to and we had quite the appetite.
Ok, my wife loves super thin crust pizza and liked this pizza better than Turcolandía. I like a good, solid crust and liked Turcolandía better (in case you didn't get that from above).
So our endless pizza disputes aside, Frontera is another great option for where to eat in Palomino. The pizza is really good, if in my opinion, not quite as tasty as those at Turcolandia. It also has a cool vibe with wine bottle candleholders and a neat courtyard outback.
If you're looking for a good thin crust pizza, then Frontera is another one of the good options among the best places to eat in Palomino, Colombia.
*Check Frontera's Reviews on Trip Advisor
Other Places to Eat in Palomino
Those are the places I've been tried in my two trips to Palomino, but there are a number of other good looking places. There's a shawarma and falafel place, and several vegetarian friendly places. There's a place coming in to town that says they have wings and have a great tag line telling you to impregnate yourself with flavor. There are also places serving up traditional Colombian fare.
All in all, there are lots of good options for places to eat in Palomino, and enjoying all the good fare on offer is one of the best things to do in Palomino.
*See the top restaurants in Palomino on Trip Advisor
Enjoy the Nightlife
Part of the reason Palomino has become popular backpacker and hipster traveler town is the vibrant and hippy/hipster scene. While not exactly nightclubbing, many of the bars and restaurants in Palomino have frequent live music and/or DJs.
As I said, we got lucky and the first night we were there, Juntos Bar and Restaurant had their Noche Azul. They do it every few weeks (*check for dates at their facebook page). The place got hopping and both the band and DJ were good.
On my second visit, Suá also had a cool little band in the evening, and there were a couple other places that had live music. Maria Mulata, seems like a hopping place that also has good food and frequent live music. It is a place I'd like to check out next time I'm in town.
So, you will undoubtedly have the opportunity to get your groove on in Palomino. One note: since Palomino is still a small town at heart, by law the bars in Palomino have to close down at 11 pm. The beach seems to the place for the afterparty if you want to continue your partying afterwards.
Where to Stay in Palomino, Colombia
There are a number of options for places to stay in Palomino. There are a number of hostels in town as well as hostels, hotels, and lodges along the beach or in the forest outside of town. I'd recommend staying in town so you have easy access to the restaurants and bars but can still walk to the beach.
Top Places to Stay in Palomino
The Dreamer – Most Popular Hostel in Palomino
The Dreamer (sister property of the hostel in Santa Marta), has a beautiful property with a pool, bar, and restaurant. There are dorms and private rooms available, and it has the perfect location on the main road in town just off the beach. That makes it the perfect happy medium between town and the beach. It is among the most popular places to stay in Palomino, so you will definitely want to make reservations here before hand.
Check Your Dates and Book Here
Primaluna Hostel – Nicest Hostel in Palomino
Primaluna also has a terrific pool and cool vibe. Located on the main road, it is about a 3 minute walk to the beach. There are dorms, family/group rooms, privates, and even a small private bungalow available. There are also a bar and restaurant on site. A great place for solo or group travelers and for couples.
Check Your Dates and Book Here
Aite Hotel Beachfront Bungalows – Luxury Pick for Where to Stay in Palomino
Aite Hotel does offer nice standard rooms, but if you opt to stay here you have to go for one of the bungalows! There are larger bungalows for groups up to 4 or or standards for couples. Aite has to be one of the very nicest hotels in Palomino. With two pools and a fabulously rated restaurant on site, you may never want to leave. This would be the perfect place for a romantic get away in Palomino with your special someone. If you do decide to stay on the beach itself, treat yourself to staying here!
Check Your Dates and Book Here
Reserva One Love – Best Place to Get Away from it All Near Palomino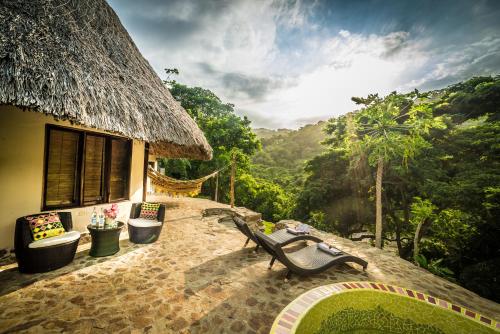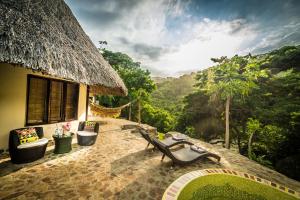 Located in the mountains above Palomino, Reserva One Love, in addition to having an awesome name, has a beautiful property with a stunning view. It is all inclusive and offers that special type of natural, escape it all luxury. While on the higher end of prices, Reserva One Love is an absolute excellent place to spend a few days taking in the beauty of the area and disconnecting from the world at large.
Check Your Dates and Book Here
Makao – Beachfront Value
If you want to stay on the beach for a friendlier price, then check out Makao. The rooms are gorgeous and there's a great private beach front sitting area and bar. There is also a restaurant and even surf board and bike rental available for guests. This would be another great place for couples.
Check Your Dates and Book Here
Tiki Hut Hostel – Best Value
Tiki Hut Hostel is a great value. It too sports a nice pool in addition to the restaurant on site, garden lounge, and game room with a pool table. There are dorms as well as privates, and the prices here, especially for dorms, are among the most budget friendly in town. That makes it a great value place to stay in Palomino.
Check Your Dates and Book Here
Palomino Hostel – Cheapest Place to Stay in Palomino (allows camping)
I spent a night in Palomino Hostel the first time I visited. We stayed in a group private room. Nothing spectacular here but it was clean, and it was cheap, being close per person to dorms in the nicer hostels. There are also standard privates, dorms, and tents available. It is centrally located in town near lots of restaurants. A great option for visiting Palomino on a budget!
Check Your Dates and Book Here
Bikini Hostel and Pool – Decent Place, Bad Owner (where we stayed)
Ok, so I spent a night at Bikini Hostel back in 2018 when I visited Palomino the first time, liked it, and decided to return when I visited again in April 2019. It is a pretty little property, has a nice little pool, and good prices. Two things will most likely lead me to look elsewhere next time. First, the dorm was an oven at night and the fan didn't work. Second the owner was quite rude to us on our second visit when we didn't immediately chug drinks they had just sold us happily at full price with no warning at closing time. Still, the private and group rooms are decent and the property is pretty, but I would definitely avoid the dorms and not buy drinks near closing time.
Check Your Dates and Book Here

Check Out Other Places to Stay in Palomino
Travel Tips for Palomino
There is no ATM in Palomino. While most hostels and hotels in Palomino should take cards for payment, you should make sure you take plenty of cash. If you do run out, you may be able to visit an ATM in a nearby town, but best just to hit one in Santa Marta at the latest.
Keep in mind this is a small town that became a tourist destination. Hence why the bars close at 11. Have fun but try not to make a fool of yourself.
Crime doesn't appear to be an issue and Palomino is very safe, but I would still avoid wondering around off the main strip at night.
Budget: I would budget for 100-150,000 pesos a day in addition to what you pay for accommodation. You could do it cheaper, but that will give you plenty for food and drinks.
You can get the bags, or mochilas, made by the Kogi indigenous people in Palomino for much cheaper than in Santa Marta or Cartagena.
Speaking of the Kogi, they consider the entire Sierra Nevada coastal mountain range to be sacred, so don't litter!
Packing List For Palomino – What Should I Pack for Palomino?
Wondering what to wear in Palomino?
You'll want to dress comfortably as it is hot and humid. Palomino has a relaxed, beach town vibe so there's no need to bring anything formal, even for going out. A pair of jeans and possibly a long sleeve shirt or light jacket would be good to have in the off chance it gets chilly in the evening, but you could probably get by without it.
Recommendations For Her:
Recommendations for Him:
Travel Gear to Pack for Palomino:
Other Things to Pack for Palomino:
Are You Ready to Visit Palomino, Colombia?
In conclusion, Palomino is definitely worth taking a night or two there to chill out during a visit to Colombia's Caribbean coast. It's especially a good place to relax if you have been roughing it in Tayrona or La Guajira. More power to you if you can enjoy the tubing and see some of the surrounding scenery.
You can enjoy some luxuries like hanging by the pool at the hostel, getting some tasty grub, and going out dancing while still having easy access to the surrounding nature of the river, waterfalls, and mountains.
There you have it, a complete travel guide to Palomino, Colombia. If you do decide to go to Palomino, I hope you find this guide useful in planning your trip.
Cheers and Happy Exploring!
Check out the following other destinations:

Did you like this post?
Share it with your friends!
Share on Facebook Share on Twitter
And don't forget to like and follow us!
Like us on Facebook Follow us on Instragram Follow us on Twitter
Planning your trip to explore Cartagena?
Check out the following posts to help plan:
Insider's Guide to the Best Areas to Stay in Cartagena
Complete Packing List for Cartagena
Top Things to Do in Cartagena