San Andres is known for its pretty beaches and gorgeous, turquoise, clear waters. Located just a couple hundred yards off the coast is Rocky Cay, a tiny coral island that makes for a great spot to chill out and do some snorkeling. The beach in front is also a good spot to hang out. Read on to learn all about Rocky Cay in San Andres.
*Disclosure: This post contains affiliate links. I am a participant in the Amazon Associates Program as well as other affiliate programs and may earn a commission on qualifying purchases made after clicking links from this site. There is never any additional cost to you. For more information, please consult my Disclosure Policy.
Practical Guide to Rocky Cay – Contents
Where is Rocky Cay in San Andres?
How to Get to Rocky Cay
What to Do and See at Rocky Cay
Places to Stay Near Rocky Cay
Practical Tips
Where is Rocky Cay in San Andres?
Rocky Cay is located about 150 yards off the eastern coast of San Andres. It is located in a little bay just north of the half way point down the east coast of the island. Just off the island, you'll see a wrecked and rusted out ship that ran into the reef and got stuck years ago.
How to Get to Rocky Cay in San Andres
So before talking about how to get out to the island itself, let's talk about how to get to Rocky Cay Beach. To get to Rocky Cay from the North End (or downtown San Andres), you can get a taxi or take a bus. Taxis are quite pricey everywhere on the island, and you should expect to pay $20-25,000 pesos to and from downtown San Andres to Rocky Cay. When we were there last in January 2021, the bus fare was $3,000 pesos.
To get to Rocky Cay from farther south at San Luis Beach or Hoyo Soplador or from the West Side of the island, you can also take a taxi if you manage to flag one down or take another bus. The Cove bus cuts across the island between the West Side and San Luis and won't take you all the way around the southern tip where Hoyo Soplador is located. You may also be able to get a mototaxi.
If you do take the bus, just let them know you would like to get off at Rocky Cay, although there will likely be other people getting off there as well. Look for the little parking lot and the Decameron Beach Club to make sure you get off at the right place.
Another great way to get to Rocky Cay is to make it a stop on a trek around the island with a golf cart rental (you can also opt for a scooter bike). This is a must do in San Andres, and Rocky Cay makes for a great afternoon stop on the way back to town. If you buy something at the little restaurant, you can park for free, or pay a small fee (I didn't write it down, but want to say it was $2-5,000 pesos).
How to Get Out to the Island Itself
It used to be you could walk and wade out to Rocky Cay. However, when we were there last in December 2020/January 2021, you could no longer do that. I got the impression that was permanent whether it be a result of the sea level rising or just the erosion of the sand bar that used to be there since the old ropes that marked the path aren't there anymore. However, it may just have been a seasonal thing or an after effect of Hurricane Iota.
Either way, you could probably still swim out to the island without too much trouble. However, we just opted to hitch a boat. You'll find boats pulled up on the beach. It costs us $10,000 a person round trip to take a boat Rocky Cay. They took us out and came back at the time we told them. I recommend 1-2 hours, depending on how much you want to swim and snorkel out at the island.
What to Do at Rocky Cay
Go Snorkeling and Swimming
Just off the right hand side of the island is great for snorkeling. The water is mostly shallow, about waist high, and there are some corals where you can see a fair amount of fish. You will need your own snorkel set to do this. We saw some people who went out snorkeling by the old wrecked ship, although the bartender told us that was risky as there are still some sharp surfaces, so do that at your own risk.
While you won't see as many fish, the sandy bottom off the front of the island is nice for swimming as well.
Chill Out and Enjoy the Scenery
There isn't much really on Rocky Cay. It is a handful of palm trees, a little bar, and some benches and chairs. The views you get of the mainland are pretty, and it is kind of nice to just hang out a bit.
Enjoy a Piña Colada
The bartender boasted his was the best piña colada in all of San Andres when we arrived. We decided to take him up on that and were not the least bit disappointed. I think he puts in some kind of malt powder or something that gives it a milkshakey consistency. He also takes his time crafting it, so expect to wait 5-10 minutes. Delicious! In fact, we went back out to the island a second time during our visit mostly just to get more piña coladas.
Enjoy the Beach in Front
While the beach in front of Rocky Cay isn't the best on San Andres for swimming since a bit of seaweed and sand gets turned up in the waves, it isn't bad either (see more about the best beaches in San Andres here). It is a great place to just chill out or to have lunch and/or drinks.
There is a little restaurant that has some seating areas just off the beach. You can also get chairs and order food on the beach itself. The prices here are a tad higher than you'll find elsewhere, as you'll pay $30-50,000 for chairs and an umbrella. A fish plate cost around $30-35,000 pesos. You may be able to get better prices a bit further down from the main area.
Like I said before, this makes for a good stop on the way back to town on a golf cart circuit of the island. You can grab lunch, go out the Rocky Cay, do some snorkeling, enjoy a piña colada, and then enjoy some relax time on the beach, maybe with another piña colada or coco loco.
You can't see the actual complete sunset here (it sets on the other side of the island), but there are pretty colors around sunset time and you can start to see its descent.
Places to Stay Near Rocky Cay
You obviously can't say on Rocky Cay itself, but there are some decent places to stay nearby that would be quieter than staying in town itself (if you're looking for a happy medium halfway between town and Rocky Cay, check out Sweet Island Apartments, our favorite place we stayed and a great value, or if you want a nice place in town itself, check out Hotel Casablanca).
Here are two nice options within walking distance to Rocky Cay:
Cocoplum Beach is one of the more upper scale hotels on the island. It has a neat, colorful vibe, and a nice pool. It also has a beach front with chairs on the beach overlooking Rocky Cay. While on the higher end for the island as a whole, it's a good value compared to other larger, beachfront properties, and the beach here is pretty quiet compared to the ones in town.
Haynes Cay View – Apartments with Amazing View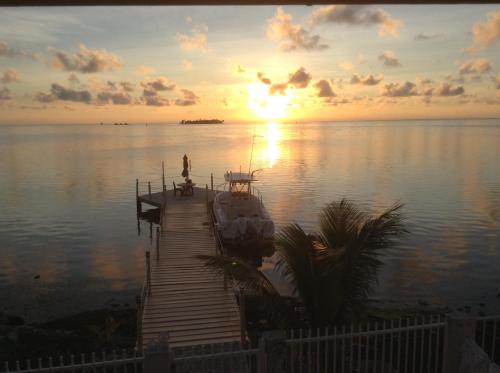 Haynes Cay View is located just a bit north of Rocky Cay, but still within a short walking distance. There isn't a beach proper here, but you can't beat that amazing view. I wanted to book a couple nights here, but they were full. They offer one and two bedroom apartments, making this a good choice for families.
Practical Tips for Enjoying Rocky Cay
You will definitely want to have some good water shoes here. Goofy looking or not, the coral rock of the island is rough and you won't want to walk on it barefoot or risk your sandals tearing up. These water shoes at least look like sneakers and aren't too goofy and should hold up well.
If you want to snorkel, you will need your own snorkel set as there aren't any for rent or sale here. I've never used one, but my dad loves these full face snorkels. That one even has an attachment for a GoPro (or a budget knockoff Eken like we got) so you can get some pictures of the fish you see.
While the boat ride is only about two minutes wrong, a good dry bag isn't a horrible idea here or elsewhere in San Andres. That would be even better to have if you want to swim across.
Make sure you have cash, as you won't be able to use cards to buy your piña coladas on the island or get chairs and lunch on the beach (the restaurant might take a card, we didn't eat there, but expect to pay more).
Ready to Enjoy Rocky Cay Beach?
In conclusion, Rocky Cay is a must see during a visit to San Andres. If you are planning a trip to San Andres, please take a look at my posts on Johnny Cay, a bigger island that is also well worth the visit, and the Aquarium, and my complete Practical Guide to San Andres. I hope you found this useful, and even more importantly that you enjoy Rocky Cay when you go! Let me know in the comments below if you thought the piña coladas were in fact the best ones in San Andres.
Cheers and Happy Exploring!
Did you like this post?
You may also like the following posts:
Practical Guide to the Rosario Islands from Cartagena
Practical Guide to the Hip Beach Town of Palomino
Practical Guide to the San Bernardo Islands
Practical Guide to Playa Blanca, Barú in Cartagena
Planning a trip to Cartagena too?
Check out my top resources for planning your trip:
Guide to the Best Areas to Stay
Top Things to Do in Cartagena
Complete Cartagena Packing List