Located in the western Caribbean, the Island of San Andres is a paradisiacal Caribbean island with great beaches and a surprisingly lot to do for a tiny island. San Andres Isla is a great addition to a Colombia itinerary or even to visit on its own. Read on to learn more about Isla San Andres, Colombia, including what to do, where to stay, a packing list, and tips for planning your own trip to San Andres Island in Colombia.
*Disclosure: This post contains affiliate links. I am a participant in the Amazon Associates Program as well as other affiliate programs and may earn a commission on qualifying purchases made after clicking links from this site. There is never any additional cost to you. For more information, please consult my Disclosure Policy.
San Andres Travel Guide – Contents
Why Visit San Andres, Colombia
Where is Isla San Andres in Colombia?
How to Get to San Andres Island (including how to get to San Andres from Cartagena)
What to Do in San Andres, Colombia
Where to Stay in San Andres
Where to Eat in San Andres
Packing List for San Andres Isla
Practical Tips for Planning Your Trip to San Andres Island
Why Visit San Andres Isla in Colombia?
Susana and I have been to San Andres twice. We went once all the way back during Easter Week of 2015 after attending the wedding of a friend in Cuba. That time we only stayed for a few days and saw the very basic highlights of San Andres.
However, during the Christmas and New Years holidays of 2020-21, we returned. We actually had planned to also include the nearby island of Providencia on this trip, but the devastation of Hurricane Iota left it unvisitable. So we ended up with nearly 2 weeks on San Andres itself. So, we got to basically see everything, even the lesser known things to do in San Andres Island.
So you can be sure this is probably the most comprehensive guide to San Andres, Colombia on the net. Honestly, the first time we went to San Andres, I liked it, but wasn't blown away. I left this second trip more impressed. There's a surprisingly lot of things to see in San Andres.
The main reason to go to San Andres is well, enjoying some good R&R at the beach. The beach in town proper is surprisingly good and there are several other nice beaches you can enjoy. The island of San Andres itself is also just gorgeous.
Covered in palm trees, the water around it is known as the "Mar de 7 colores" (literally the Sea of 7 colors) as the combination of sun, sea, reefs, and horizon gives the sea off the island a variety of different shades of blue and turquoise. It's absolutely stunning to see (try to get a window seat on the plane if you can!).
San Andres Island also offers a number of other neat attractions given its small size, and it's a great place for snorkeling and to get your feet wet with some scuba diving. There is a neat creole culture somewhat like Jamaica's as well.
Lots of things are considerably cheaper than on the Colombian mainland since it is a duty free zone. People coming from the mainland often stock up on liquor, perfume, and chocolate here. You can also get much better deals on electronics than in mainland Colombia.
In short, I really encourage those coming to Colombia's Caribbean or just beach bums looking for a slightly lesser known destination compared to the Bahamas or Cancún, to consider including San Andres in their travels.
If you're convinced to go visit the island of San Andres, Colombia yourself, read on for a complete and practical travel guide to San Andres Island, with everything you need to know to properly plan your trip, including what to do in San Andres, where to stay in San Andres, and tips for best enjoying San Andres.
Where is San Andres Island in Colombia?
The Isla de San Andres is actually the archipelago of San Andres and includes the islands of San Andres, Providencia, and Santa Catalina, with the two smaller islands being located to the north east of San Andres.
They are coral islands, and they are actually much closer to central America and Nicaragua than to Colombia. In the 1600s, it was settled by English Puritans while pirates also reportedly frequented the island, notably Henry Morgan.
The islands came under official Spanish control after 1787, and colonial authority was passed from the Central American colonial entity of Guatemala to the colony of New Granada (present day Colombia) in 1802.
They became part of the the independent republic of Colombia, and rejected US control in favor of remaining part of Colombia around the time that Teddy Roosevelt instigated Panamanian independence and the building of the Panama control. In 1928, Nicaragua recognized Colombian ownership, although it was later disputed with Colombia's control reaffirmed by the international court of the Hague in 2021. On another interesting historical note, Colombia actually entered World War II after a German submarine sank a boat transporting British troops to San Andres in 1943.
The island and its surrounding area was declared a UNESCO World Biosphere Reserve in 2000, and the third largest barrier reef in the world lies off the coast of the island. Besides being beautiful, it is also incredibly biodiverse, like much of the rest of Colombia.
How to Get to San Andres?
Well, it's a small island in the middle of the Caribbean, so no cheap backpacker bus to San Andres, Colombia!
Can you sail to San Andres?
It may be possible to sail to San Andres from Colombia although it would surely be a multi-day trip and I am unaware of any cruises or frequent sailing trips. Perhaps from the much closer Nicaragua it's a shorter trip, but I am unaware of any commercial sailing trips.
Are there cruises to San Andres?
There were previously cruises that stopped at San Andres. At least that was the case before the times of Covid. Once cruises begin operating again, I will try to update this with information on any that go to San Andres.
*Check the current Colombian Entry Requirements related to Covid-19 here.
I'd still recommend flying anyways, cruises never stop long enough to really let you see all there is somewhere. You can get direct flights to San Andres from Bogotá, Medellín, Cali, and Cartagena in Colombia as well as from Panama and Costa Rica.
So, if you're heading to San Andres from Cartagena, your best bet is to get a flight from Cartagena to San Andres. Keep in mind that budget airlines like Viva Air, Wingo, and LATAM tend to be cheaper but offer fewer bells and whistles so it's worth double checking things like whether carry on and checked baggage is included in your ticket or not.
Finding Flights to San Andres
See the below options to compare flights to San Andres from Cartagena or eslwehere in Colombia:
Check Prices on Colombia's Flagship Airline Avianca
Check Package Deals at Expedia.com
Try to Score a Deal at CheapOair.com
Compare Prices Across Airlines at Skyscanner.com
*If you're a frequent flyer, check out Points.com to manage all your frequent flyer points across airlines.
What to Do in San Andres, Colombia
For such a small island, there's actually a remarkable amount of things to see in San Andres, Colombia. Obviously, it's not surprising the beaches of San Andres Island are great, but there are also several neat other things to see in San Andres, and, of course, lots of water activities, like snorkeling and scuba diving that can be done easily and relatively cheaply.
So, given we ended up spending so much time in San Andres, this post got quite long winded (like almost 10,000 words long winded). For that reason, I decided to split it out into a few more. Here I will do a brief rundown of the top things to see in San Adnres, but you can find more detail on them in other articles linked below.
Enjoy the Beaches
Well duh! You are on a Caribbean island after all. The beaches are excellent and there are a number of them, each with their charms. Below, I'll give you a quick run down of the beaches of San Andres in Colombia, but if you would like more details, check out my larger post Practical Guide to the Beaches in San Andres.
Here's a quick summary of the beaches:
Spratt Bight – The downtown beach on the northern shore aka North End. Pretty darn good for a downtown beach, and much nicer than the downtown beaches of Cartagena. Vendors aren't too bad (also unlike the beaches of Cartagena), it's a long stretch of beach (fewer crowds the farther you get from the central area), and you can easily get drinks from the shops along the waterfront.
Johnny Cay – This palm tree covered island is located just off the North End of the island, just a short boat ride away. It's a very popular half day trip. You can easily get this tour on the island or reserve in advance here and many larger tours like this one that also includes the aquarium (see more on it below) include it. Covered in palm trees, it's very pretty, and all but an obligatory thing to do in San Andres Island. It can get crowded though and sometimes high winds or waves stop boats, so I recommend not saving it until your last day and trying to go on a weekday if possible. See a complete guide to Johnny Cay here.
Rocky Cay Beach – The second best beach on the island itself in my opinion, located about half way down the eastern coast of the island of San Andres. It's a good spot to hang out and have lunch. You can also head out to the tiny island itself, where you can do some snorkeling and enjoy the best Piña Colada in all of San Andres. See a complete guide to Rocky Cay here.
San Luis Beach – Located a bit further to the south of Rocky Cay, it's got a bit more of a local vibe. Waves are a bit higher here, there's more open beach, and it can be a good place to chill out.
Beaches…Check. Any Other Things to Do in San Andres?
Yes! There are a number of other things to do in San Andres, including some other water activities that aren't exactly beaches, as well as some neat things to see in San Andres on dry land. Here are some of the other things to do in San Andres we did that I recommend as must do activities in San Andres:
Rent a Golf Cart and Tour the Island
This has to be at the top of the list of things to do in San Andres! Given the small size of the island, it is easy to see the main sites and beaches in a day. And the funnest way to do that is by renting a golf cart and driving around yourself. It will also allow you to see some of the harder to reach things to see in San Andres in the interior part of the island.
You can find lots of places renting the golf carts (most are the newer Mule type) all over downtown San Andres. Rates should be similar but you can always compare and try to negotiate. There are 2 seaters and larger ones that can seat 4-6. We paid $120,000 pesos for a two seater to rent from about 8:30 am to 6 pm. While you will get a better price on the island most likely, you can book ahead here for a 2 seater, here for a 5 seater, and here for a 6 seater.
It is worth getting your cart early to take full advantage of the day and the rental time, and so you make sure you get a good one. When driving, traffic is only heavy around the north end and around San Luis. Do watch out for motorcycles as they will pass you on both sides.
There are also moped rentals. We were quoted $70,000 a day for those, although we didn't end up doing it. Again, you'll get better prices on the island, but you can book a scooter bike ahead here.
Here's my list of stops on a golf cart or scooter circuit of the island:
First Baptist Church in La Loma – atop the hill in the north central part of the island, the church steeple is the highest point in San Andres and has great views. The first Baptist Church in Latin America and built in 1896, it has an interesting history as well.
Big Pond aka La Laguna – A pond in the interior of the island, it once was an important fresh water source. Today, you can see the semi-domesticated caimans that were placed there after the Colombian navy confiscated them from animal traffickers. The little tour is also cheap ($5,000 pesos) and is run by locals and gives some insight into the history of the island.
Morgan's Cave – Supposedly where Henry Morgan hid treasures, there is a little cave here and some kind of neat exhibits on pirates. I felt it was a bit pricey ($20,000 pesos) for what it was but it is kind of neat, and some of the old pirate pistols and artifacts are neat. This isn't an obligatory stop in my opinion, but if it interests you including it on your golf cart tour is the best way to do it.
Casa Museo Isleño – This is an old house on the West Side of the island that has been turned into a museum. Stopping here gives some more insight into the history of the island and there's a mini-dance lesson as part of the tour. Like Morgan's Cave, I wouldn't consider this a must see activity in San Andres, but it's interesting and best included during a golf cart circuit of the island.
La Piscinita – On the West Side of the island, this is a little natural swimming pool carved into the rocky coast. On our last visit, all the walkways and buildings had been destroyed by Iota, but hopefully it will all be rebuilt and it is definitely easiest to reach while doing a circle of the island.
Hoyo Soplador – This is a blowhole located on the very southern tip of the island. It is one of the definite can't miss activities in San Andres. Given its location far away from town, it is best included as part of a golf cart tour of the island (more on it below or at this complete guide).
San Luis and Rocky Cay Beach – Both of these I discussed above, and they both make for great stops while circling the island. In fact being able to see all the beaches while circling the island and then coming back to your favorite if you want and have time is the best way to make sure you see them all.
The San Andres Botanical Gardens – These are located between Rocky Cay and San Luis. They are ok. Not one of the obligatory things to do in San Andres, but if you have the time and want to see them, you can include them. We saw some crabs and iguanas, and pretty flowers. There is also a nice view from a 5 story observation tower here.
Mangroves at Old Point – Located just north of Rocky Cay, there is a long boardwalk through the mangrove forest here with some lookout points over the water. I would again say it's not obligatory but for nature or bird lovers, it can be a nice stop. There is a tour company just across the street that does see through kayak tours in the mangroves that look interesting (this is one of the few things to do in San Andres we did not do).
Learn more about all of these things at my complete guide to doing a golf court tour of San Andres. Remember you can also book ahead a 2 seater here, a 5 seater here, a 6 seater here, or scooters here.
Get Sprayed by the Geyser of Hoyo Soplador
I know I included this on the list of things to see on San Andres during a golf cart circuit, but if you don't do it that way, definitely make sure you do it! Located on the very southern tip of the island, Hoyo Soplador is definitely one of the must do activities in San Andres. Waves crash into a cave below the rocky shore, and when they come in hard enough, water comes spraying up through a hole in the rocks. It's hilarious.
After being sprayed and getting the funny picture, you can hang out for a bit. It is generally expected you buy something or give a small tip to the person who took your picture. We enjoyed a couple Coco Locos and had a good time watching some other people get spayed. See a complete guide to the Hoyo Soplador here.
Go Snorkeling at the San Andres Aquarium
Ok, here's an all but obligatory inclusion on the list of best things to do in San Andres that you can't include on a golf cart tour. The San Andres Aquarium is located on a sand bar just off the island. On the far side, a combination of rocks and coral is a popular fish hangout and a great snorkeling sport. We didn't do this the first time we went to San Andres, but I'm glad we did the second, because it's definitely worth it. You can see lots of fish in the shallow water off the aquarium.
You'll definitely want to have a good pair of goggles and snorkel, and I'd also recommend some water shoes as it will keep you from having to worry about stepping on any rough corals. We saw the most fish by heading out past the first 2 little ridges of stone in the water and farther up to the right if you're facing the water with the buildings behind you. We saw quite a few fish, and you can see some of the photos we got with our Eken action camera, a much cheaper GoPro knock off we picked up in town. We were pretty pleased with it.
See a complete guide to the aquarium here.
In addition to the snorkeling, there is a long narrow sand bar in front of the aquarium you can walk out on and enjoy as a little beach and snap some neat photos with the mainland of San Andres or the aquarium and nearby Haynes Cay in the background.
Speaking of Haynes Cay it is yet another little island about 200 yards away from the sand bar where the aquarium is. You can easily wade across. We actually ran across a couple who had spotted a manta ray under the water and marveled at it through our goggles and snapped a few neat photos and a short video of it. On Haynes Cay itself, you can hang out and enjoy a drink or just take in the views.
We went to the aquarium as part of a tour that included a stop there for about 90 minutes as well as a tour of the bay. On the way, we went out to just inside the barrier reef, where you can see another ship that ran aground and remains in the water today. After our stop at the aquarium, we then got a stop not far away where we could hold and see a Manta Ray up close before hopping back on the boat and heading up into the mangroves. We even stopped at one point and got to see a star fish.
We booked this tour through EcoDivers and it was called Acuario+Mantaraya+Tour Bahía. I definitely thought it was worth it, and while I think we got a good captain that was not only knowledgeable but enthusiastic and funny, I would definitely recommend doing this tour rather than just the aquarium alone, and I'd imagine you can book it in most agencies. You can also book this one ahead of time that also includes Johnny Cay.
Go Diving
Scuba diving is one of those things that had always sort of intrigued me but seemed kind of intimidating and also very expensive. San Andres is a very good place to do it however. We booked a mini-course through EcoDivers. On these mini-courses, you get a crash course in equipment and safety and then get to go on a 30-45 minute dive just off the coast, accompanied with instructors. It was only $100,000 pesos a person to do this.
The truth is Susana was a bit uncomfortable, so we ended up not doing the complete dive. I was really impressed with the instructors though. They were very encouraging, and one stayed behind with the two of us to help make her more comfortable.
So, this definitely isn't for everybody, but it is considerably cheaper than I've heard of doing it elsewhere, and the people who did do it said they saw lots of fish. If you're a bit nervous as well, you won't be disparaged by the instructors. For those looking for more, you can also do PADI certification on the island (again a lot cheaper than elsewhere by my understanding).
You can book ahead of time here. If you are looking for something a bit less intensive, these underwater breathing helmet tours might also be an option. We didn't do this, but it looks popular and easier than diving.
Go on the Portofino Party Cruise
The Portofino is a hotel that also runs a tour boat. That boat does offer day tours around the island as well I believe, but more fun is to go on their White Party (Noche Blanca) boat in the evening. We actually did this for New Years Eve, and while pricey, it was a lot of fun. It sails out off the coast, and there is an open bar and dinner (at least I'm pretty sure there is dinner regularly, or that may have just been a New Years thing, open bar I'm sure is normal).
It's one of those things, you know the liquor being served is bottom shelf, and it's probably overpriced a bit, but it's fun. Do make sure you pack a good white dress for the ladies and for the guys, a guayabera and linen pants.
Relax Some More on the Beach
Seriously, you are in a Caribbean paradise after all! If you've done everything on your list of things to do in San Andres, then don't feel bad about repeating the beaches. We enjoyed a second day on Spratt Bight with a bottle of rum and also went back to Rocky Cay another afternoon for those piña coladas!

Go Parasailing
We talked about this but ultimately didn't do it. It's a bit on the pricey side, but does look like fun. You can likely get it cheaper on the island itself and just about any tour agency or hotel should be able to set it up, but you can book ahead online here.
Rent a Boat
If you are in a group or have the money to swing it, you can also do a private boat rental in San Andres. This can be another good way to see the islands like Johnny Cay and the Aquarium. Outside the Aquarium, pontoon boats gather for boat parties somewhat similar to the popular boat party spot of Cholón outside of Cartagena.
You can also hire boats for deep sea fishing or diving farther off the island in open water.
Where to Stay in San Andres
Since we ended up spending so much time in San Andres, we moved around a bit. Below I will run down the places to stay in San Andres that we stayed at and my thoughts as well as give a few more recommendations for the best places to stay in San Andres.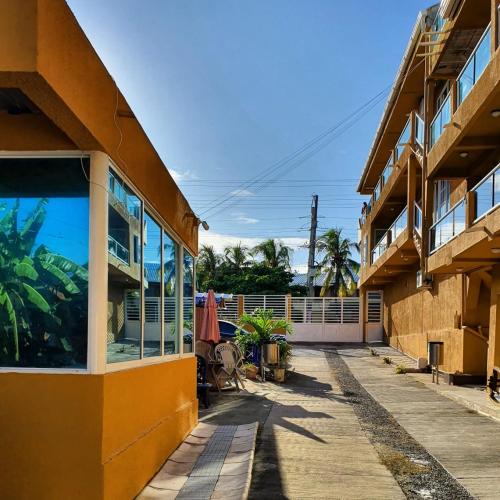 Located a bit to the south of the North End, we thought Sweet Island was a great value. While not as convenient as being in town proper, there are buses that pass right by here and taxis aren't insanely expensive in and out of town as compared to other places farther down the island. The little studio apartment stayed in had a nice bed, a little table, cable TV, and a little, basically equipped kitchenette. There is a little supermarket around the corner, meaning you can easily make breakfast and even dinner here and save some pesos. We thought it was a good balance between being cheaper than being in town but not too far away.
Other Places We Stayed in San Andres
Hotel Las Lunas – Decent Budget Hotel Downtown
Located in downtown on the North End, we stayed at Las Lunas our first 2 nights. It's just a short walk to Spratt Bight. Accommodations are basic and the rooms are tiny, but there's not much cheaper downtown this close to the waterfront. The owner/manager was also very nice and helpful.
República Hostel – Probably the Best Hostel in San Andres but Far from Town
Located on the West Side of the island, República has a pretty property and a very nice pool. However, it is a decent ways from the North End, and there are fewer buses that go down the West Side than the East Side, and a taxi here was very pricey. The private room's bed was hard as a rock. Considering it was more expensive than some hotel rooms, I was disappointed by that. I also think it's a bit lame there's not a communal kitchen or even fridge. We ended up cutting our stay here short and going back in town to the next place on this list. República is part of the newer boutique style hostel trend, and the common areas and pool were nice, and the dorms also looked very nice. So, if you have plenty of time to stay closer in town a few days and want a few days to bum around a pool and are staying in a dorm, it might make for a good option. And honestly, the other hostel options on the island didn't look impressive. If you're looking for a private, I'd look elsewhere though.
Check Prices at Booking.com Check Prices at HostelWorld.com
Golden Beach is located on the North End close to the airport. It is about a 10-15 minute walk to the beach front at Spratt Bight. This is where we went after República, and the apartment with a little kitchenette was considerably cheaper than República. It wasn't as nice or as well equipped as Sweet Island, but the owners were nice and there was a nice little patio area out front and you can walk anywhere downtown pretty easily, so you can't really beat the price for an apartment downtown.
Zippy's is where we stayed the first time we went to San Andres. It is located on the beach in San Luis. I remember thinking it was pretty decent, with a little living room and sofa and kitchen. You can also go out the back door and be on the beach. However, the location is a good ways out of town on the North End. Still it's a pretty decent spot to enjoy a few days out of town.
Other Recommendations for Where to Stay in San Andres
Decameron Marazul – Luxury All Inclusive Option for Where to Stay in San Andres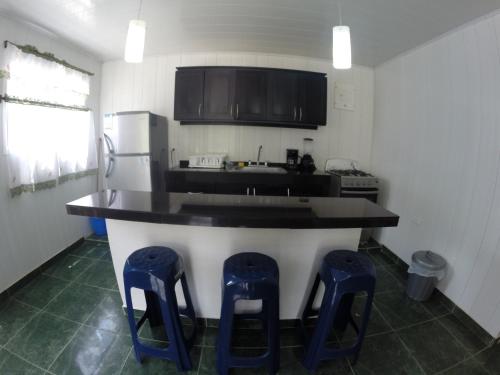 There are like 6 Decameron properties on San Andres. One of the things that I think is neat is if you stay at one, you can access the facilities at all of them. I considered booking a couple nights at one, and the Marazul was the one that looked the nicest. If you're looking for a more luxury all inclusive hotel in San Andres, I'd put this at the top of the list.
Hotel Casablanca – Best Downtown Beachfront Hotel in San Andres
Hotel Casablanca is a great choice for accommodations in San Andres downtown on Spratt Bight. It is one of the nicest hotels on the island, has a great location on the less crowded end of the beach, and has several nice restaurants in addition to the nice rooms and pool. The pool front townhouse style bungalow also make a good choice for families.
Haynes Cay View – Nice Apartments Outside of Town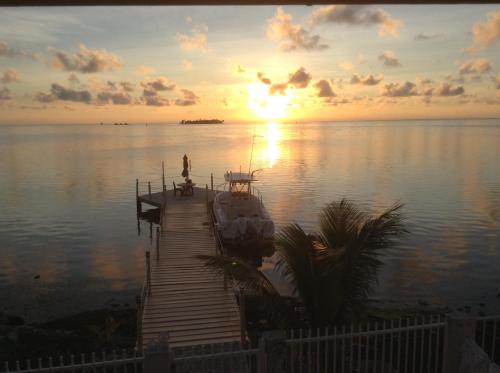 If you're looking for nicer apartments than the ones we stayed at listed above, this place has a gorgeous view overlooking the water and has a good location near Rocky Cay. The apartments are well furnished and that gazebo on the water looks like the perfect place to chill out. I actually wanted to book a couple nights here but they were all booked up.
See Other Places to Stay in San Andres on Booking.com
What and Where to Eat in San Andres
For what to eat, well, it's a Caribbean island, so there is great seafood. Of course the fried fish plate is the most common lunch at the beaches or at restaurants. It is usually served along with coconut rice, breadfruit (technically a fruit, but usually served in fried wedges kind of like a mix between yucca and french fries), and a small salad.
In addition to the fresh fish, you have to try the crab empanadas. Oh man, they were good. You can also get shrimp and lobster empanadas, but the crab empanadas, seasoned to be a bit spicy were my favorite by far. There is also a traditional crab soup (sopa de cangrejo) that I tried and liked. There is another traditional stew known as Rundown or Rondón that we didn't get a chance to try.
Some Recommended Places to Eat in San Andres
La Regatta
Located near the Marina in town, this place has a neat vibe and nice waterfront deck seating. This is certainly the place to go for a romantic dinner but truly makes a good spot for any occasion. We got the lobster plate that came with 3 lobster tails in sauces of your choice. It was the perfect thing to share along with an appetizer. There is plenty of other great seafood on the menu as well. Do make sure you make a reservation as it is a popular spot.
Homestyle Food Stand in Front of Hotel Casablanca
Along the beach front downtown on the corner in front of the Hotel Casablanca, you'll see a table serving up homemade food (it was the second one when we were there if you are walking from where the Beer Station and Corral is along the beach). The man and his mother have been setting up there for over 40 years.
They had fried fish, fish albondigas (fish meatballs? fish balls?), tuna, and chicken served up with sides like white rice, coconut rice, yuca, and salad. It's basically San Andres comfort food. I tried the albondigas and thought they were really good and they come in a tasty sauce, and of course the fried fish is great. Next to them, at the same table, there is also a lady who sells great shrimp cocktails and some of the best crab empanadas I found (seriously, you have to try those crab empanadas).
Lydia's Restaurant
This spot near the beach in San Luis serves up traditional San Andres comfort food. I tried the crab soup here, and they also serve up fried fish plates as well as beans and oxtail and other seafood dishes. It is really popular so make sure you get here early as they do run out of things from the menu.
At the Beach
The beach in front of Rocky Cay is an especially good spot to enjoy a beach front lunch. You'll mostly find barracuda, pargo (red snapper), and sometimes mojarra (tilapia, although I've seen different translations) served at the beaches in San Andres. We paid $30,000 and $35,000 pesos for a portion of barracuda and a full pargo, respectively.
Kingston Jerk Spot
Ever since we spent our honeymoon in Jamaica, Jamaican Jerk has to be one of my favorite foods. The local culture in San Andres feels very Jamaicanesque, and fortunately for me there is a jerk spot. It is located in San Luis and is just a little place offering takeout with a couple tables. They serve up more of a barbecue sauce jerk that doesn't have quite the spicy kick of what you get in Jamaica, but it was good and decently priced with big portions.
El Rincón de la Langosta
A good seafood spot in town. We shared a picada and some wine here for lunch one day.
Sea Watch Cafe
Located in front of the Hotel Casablanca, we for whatever reason kept coming in here. They had terrific milkshakes and decent burgers and pizzas. I think it was just one of the spots that was along the walk from downtown to our apartments, was convenient and good so we stopped here several times.
Cafe Cafe
Besides having an awesome name, this place serves up pizza and usually has a crowd. I stopped in and tried the pizza one night and though it was pretty solid.
Beer Station
It's a bit touristy trappy here, but they have a good waterfront spot and deck, good beer, and bar food.
Packing List for San Andres
Beach clothes, beach gear, and casual warm weather clothes is basically what you need for San Andres. A light jacket or windbreaker isn't the worse idea to bring along if you sometimes get chilly on windy evenings, but most will get by with summer clothes and a pair of jeans or two as well as 1 or 2 nicer outfits for eating out at La Regatta or doing the White Party on Portofino.
General Items to Pack for San Andres
Susana and I both have Osprey Porter 46L bags. We like that you can carry it like a suitcase/duffel or a backpack and it has the right blend of capacity while it can be carried on as well. If you're looking for something a tad more compact but more comfortable as a backpack, check out the Farpoint 40L (or Fairview 40L for the ladies). For something bigger consider the Farpoint 70L. A set of packing cubes can come in handy for packing as well.
I also love my Roam daypack. It packs up into a little rectangle and is perfect for using as a daypack or going to the beach. See my review of it here.
If you're coming from Europe, you will want a plug adapter as San Andres uses the standard 2 pronged outlets you see in the rest of Colombia and the USA.
It's never a bad idea to have some basic first aid stuff with you just in case you cut your foot on a rock or a piece of coral at the beach or have a scrape climbing in and out of a boat, this mini first aid kit is easy to pack and will come in handy if you do need it.
Having a good water bottle comes in so handy. You can buy the big bags or jugs of water and just refill as needed. It will save you pesos and it's better for the environment. I love my Takeya bottle, and it keeps stuff cold all day. For something even easier to pack, consider this collapsible bottle.
You never want limited time somewhere to be ruined by an upset stomach, so it's always a good idea to have some PeptoBismol with you just in case.
You'll want some bug spray too as the mosquitos can come out when it's not windy.
Beach Gear
A good beach towel is a must. These microfibers from Dock and Bay have a funky retro design and are quick drying, perfect for travel.
You'll need some good shades as well. I love my bamboo RawWood sunglasses (see my review) and the green lenses fit in perfect with the reggae vibes of San Andres.
You will also definitely need sunscreen!
A good snorkel set is also well worth it for the trip to San Andres. You will get so much more out of a visit to the aquarium and swimming around Rocky Cay with them. While I've never tried one of these, my Dad swears by these full face snorkels.
Water shoes also are all but necessary for San Andres. I know they look goofy and get full of sand, but you will appreciate having them walking on the rocks at Rocky Cay and Johnny Cay. Those look decent enough like normal tennis shoes.
You'll be taking lots of boats around to different spots around San Andres, so a good set of dry bags is a handy thing to have to protect things like phones and cameras.
A good action camera like a GoPro is also nice for snorkeling. We picked up a cheaper Eken H9R on the island but it's still cheaper if you get it online before going.
Finally, some good tunes goes perfect with the beach. The JBL clip speaker is waterproof and easy to pack and take along.
Clothes to Pack for San Andres for Her
Clothes to Pack for San Andres for Him
Colombia's polos are comfortable in warm weather and work for both casual and beach wear or going out on the town in the evening. Their button ups also are good in the sun for a slightly more mature look.
A good linen casual shirt is also perfect for any occasion with the beach vibes of San Andres.
For a more formal version, see this Cubavera linen shirt. A long sleeve version is also a classy look.
A good pair of linen pants to go with those is also an easy and comfortable way to get a more formal look.
Of course, you'll also want some comfortable shorts for walking around town.
And of course, you'll want some swimming trunks, and these palm tree print trunks are perfect for the Caribbean vibes of San Andres Isla.
A good Panama hat also pairs well with the Caribbean vibes, and will keep the sun out of your eyes. This one is packable and foldable. For something cheaper, pick up a generic ball cap.
While you will of course want a good pair of flip flops for the beach, a pair of pair of Birkenstocks also works well for beach, around town, and can be used with more formal wear.
Travel Tips for San Andres
You do have to purchase a tourist card (or tarjeta de turisumo) while visiting San Andres, even if you're arriving from the Colombian mainland (only natives to the islands do not need to purchase it). It's common for airlines to sell them before boarding but you can also get it upon landing if yours does not, and you will be asked to show it when arriving to the island, and when departing. Be sure to keep it on you just in case you are asked to show it as well. The cost of the tourist card is $116,800 pesos and due to the decline in tourism from Covid, the cost has been frozen until after 2025, after that it will likely increase a bit year to year.
It's easy to find ATMs in town on the North End but not elsewhere on the island. So if you're staying away from downtown, make sure you have plenty of cash. You'll also want to make sure you have cash for going to Johnny Cay, the Aquarium, Rocky Cay, and Hoyo Soplador.
You should not drink the tap water on the island. It is relatively cheap to buy bottled water, including big jugs and refilling a smaller bottle.
Most natives of the islands speak both Spanish as well as a creole English, although downtown you should expect most people to communicate in Spanish and some workers from the mainland may not speak English.
Ready to plan your trip to San Andres Island?
In conclusion, San Andres is well worth the visit. It's gorgeous and there's a surprisingly lot to see for a small island. If you have the time to include it on a trip to Colombia, you won't be disappointed with the beautiful beaches and relaxed vibes.
There you have it, a complete travel guide to San Andres Island, Colombia. If you do decide to visit yourself, I hope you found it useful and, even more importantly, you have a terrific time!
Cheers and Happy Exploring!
Did you like this post?
Be sure to check out my other content on San Andres:
Best Beaches
Johnny Cay
Rocky Cay
Aquarium
Recommended Route for a Golf Cart Circuit
Hoyo Soplador

You may also like the following posts:
Practical Guide to the Rosario Islands in Cartagena
Practical Guide to the Hip Beach Town of Palomino
Practical Guide to the San Bernardo Islands
Practical Guide to Whale Watching in Nuquí
Planning a trip to Cartagena too?
Check out these top resources for planning your trip:
Insider's Guide to the Best Areas to Stay
Best Things to Do in Cartagena
Complete Cartagena Packing List