No visit is complete without some time at the beaches of Cartagena! You are in the Caribbean after all. However, what is the best Cartagena beach? To help you decide what is the best beach in Cartagena for you, read on for this comprehensive guide to the best beaches in Cartagena!
*Disclosure: This post contains affiliate links. I am a participant in the Amazon Associates Program as well as other affiliate programs and may earn a commission on qualifying purchases made after clicking links from this site. There is never any additional cost to you. For more information, please consult my Disclosure Policy.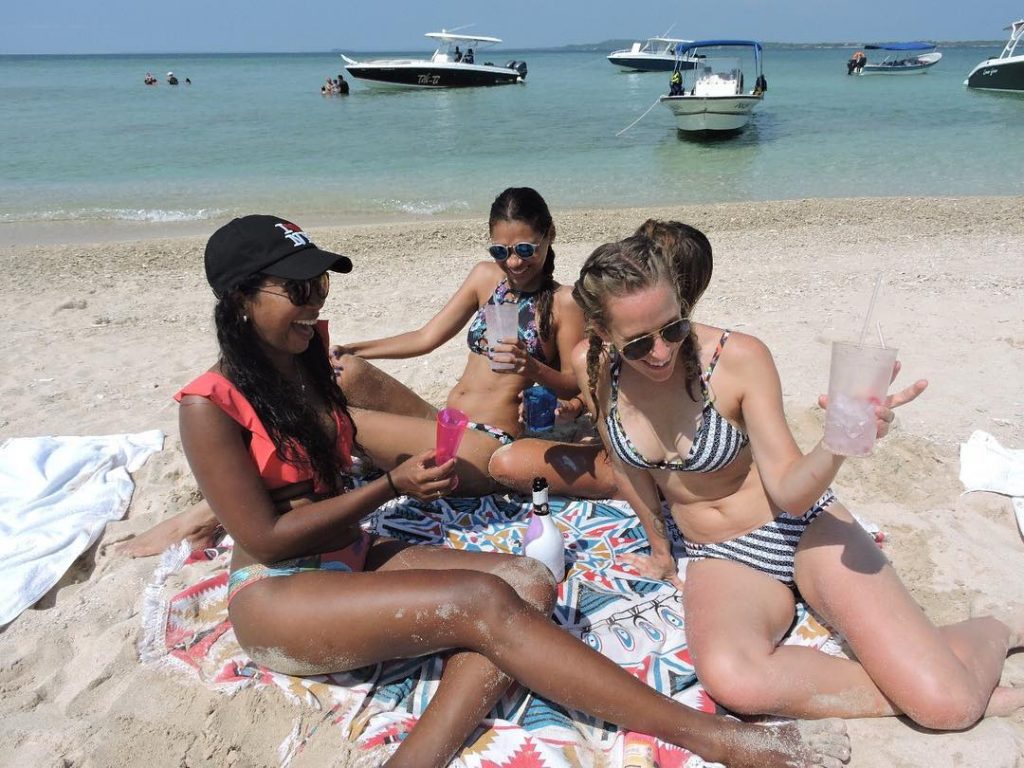 *Note: Due to the Covid-19 pandemic, Cartagena's beaches were closed. As of early October 2020, the beaches in the city are being reopened in phases with special biosecurity protocols, while some hotels and beach clubs are being allowed to open once receiving an inspection and a license. Find out more about the beaches that are open at this Guide to Cartagena's Reopened Beaches.
Beaches in Cartagena vs Beaches Around Cartagena?
So, the truth is, the best Cartagena beaches are actually not located in the city itself, but are located outside the city. Still, this is a comprehensive Cartagena beaches guide, and for some staying at the beaches in the city will be more convenient.
First, I'm going to discuss the 5 best beaches in Cartagena itself. These make great options for those that may be limited on time and would rather spend a few hours or half a day at the beach. They may be a good option for those on a tighter budget or those that don't want to spend time traveling to the beaches around Cartagena.
Second, I'll be covering the 5 best beaches near Cartagena. They generally require a full day trip though and some require going on a boat. These really are the best beaches to see in Cartagena though. So be sure to read through so you can decide which of the Cartagena beach options is best for you.
Finally, I'll give my ranking of the 10 best beaches in Cartagena overall.
Tips for Cartagena's Beaches
But first, a few quick tips for enjoying all of the below mentioned Cartagena beaches.
Negotiate and Agree on Prices
This goes for everything, food, chairs, shade tents, drinks, any other services. While it probably does not represent the majority, there are some who will try to drive up the prices or do things like tack on an exorbitant fee for "service." Don't be afraid to ask around and compare prices.
Therefore, just like with taxis, it's best to agree on prices. When being offered shade and chairs, ask how much they are for the day. It's also a good idea to go ahead and ask if they offer lunch service and how much as you can sometimes negotiate a package deal.
Technically, there are official prices for chairs and drinks, but they are not always adhered to, and in some cases if it's later in the day or crowds are smaller, you may even be able to negotiate down. If you're buying drinks, it's a good idea to keep at least a close running count.
In short, just don't let the bill surprise you.
Dealing with Vendors
You're pretty much guaranteed to have vendors approach you while on the beaches in Cartagena. These range from people selling fruits, sweets, snacks, sunglasses, sarongs, other artisan goods, and even floats. You may even get a few rappers.
However, the three most notorious are oyster mongers, guys selling bracelets, and massage ladies. All three of these can sometimes be very insistent and pushy. Sometimes I wonder if their strategy isn't to just get you to buy something so they leave you alone. The oyster sellers and massage ladies are especially bad about offering a "free sample" and feeding you or starting to massage you.
Let's be clear, there's no such thing as a free sample. They will end up wanting money, so if you're going to indulge, make sure you follow the above and agree on a price. If you're not interested, be insistent yourself and give them your firmest "No, gracias" and finger wag.
There's no way around it, the vendors can be very frustrating. It is worth keeping in mind though that unemployment in Cartagena is chronically high, and the reality is there are worse ways to earn a living (some of which you might see offered on the beaches in Cartagena too).
If you want a fruit salad, why not get it from a vendor rather than a restaurant? If you want a neat, handmade bracelet, why not buy it from a vendor than a tourist shop? And if you don't just make clear you're not interested and try to take it in stride.
Things to Bring to the Beach in Cartagena
Great Cartagena Beach Bathing Suits
Best Cartagena Beaches in Town:
Solid if Unspectacular Options
Here are the top beaches in Cartagena itself. They are decent enough beaches. I'd put them on par with beaches back home in South Carolina. You won't find they idyllic crystal clear water here you'll find at some of the beaches around Cartagena listed below, but if you want convenience or you just to spend a half day or so at the beach, they do make decent options.
I'm ranking them in the order that I would prefer and recommend them based on a combination of quality of the beach, crowds, and number of vendors (well lack thereof to the extent possible in the latter two).
1. Playa Azul:
My Top Cartagena Beach in Town
Playa Azul is the name given to the recently redone beach just past the airport, also commonly referred to as Playa Las Americas for the beach resort nearby and just a bit before the town named La Boquilla.
The redone beach area here has a nice, wide stretch of beach, and new palm thatched shade spots. How much space this beach has is my favorite part and after being redone, they've done a really good job keeping it clean.
It also tends to have much smaller crowds than the other beaches in Cartagena proper listed below, and a lot fewer vendors. You can get food brought out to you or eat at the nearby Blas de Teso restaurant.
There's also a lot of beach down towards La Boquilla, past the apartment buildings where you can walk. There are a number of little beach front spots there as well to eat and spend the day. There's an argument to be made I should include it as a separate beach, but I'm going to count this as one stretch of beach in Cartagena.
Maybe this is because this is closest to where I live in Crespo, but the quality of the beach is as good as those in Bocagrande, with fewer crowds, fewer vendors, and better prices. This is really the only beach in town we go to anymore.
*While it's a bit removed from downtown, this can be a nice, quiet area to stay for those looking to have a quieter, beach vacation in Cartagena. In addition to the aforementioned Las Americas Casa de Playa, the Radisson Ocean Pavilion and the Holiday Inn Morros are good beach resort options here. You may be able to find some great AirBnBs in the Morros apartment buildings here as well (if you haven't used AirBnB before, get a discount when you sign up using my referral link).
2. Castillo Grande
Next up on this list of the best beaches in Cartagena is the beach of Castillo Grande. Located on backside of the peninsula of Bocagrande, it tends to not be as crowded as the better known beaches on the main Bocagrande strip, closer to downtown.
You can get to this Cartagena beach by walking behind the Hospital of Bocagrande, just beyond Laguito. This is where the boats to the beaches of Tierra Bomba (more on that below) depart from, but there are some shade spots a bit further down.
There's not a whole lot here, and the area is mostly residential, but fewer crowds and vendors makes it preferable to the better known beaches on the other side of the peninsula, at least in my opinion.
*There aren't really any hotels in Castillo Grande. It is one of the most exclusive residential areas in Cartagena, but you may be able to find some AirBnBs in the luxury apartment buildings (if you haven't used AirBnB before, get a discount when you sign up using my referral link).
3. Laguito
The Laguito is a small inland lake cut off from the sea by a small sandbar. It is located at the the tip of Bocagrande, and there is a small beach here that is pretty decent.
I recommend the area around the restaurant El Muelle. The restaurant has their own chairs and umbrella, which you can use if you eat or buy drinks (they do a great coco loco!). This, of course, makes it a very convenient Cartagena beach option, basically a one stop shop.
They also have a great deck area. In fact, they are on our list of the best places to see the sunset in Cartagena, and the sun goes down over the Caribbean almost directly in front. The food is good too, so this is a great place to come even if just for a couple hours for some frolicking, sunset drinks, and possibly even lunch or dinner.
*If you'd like to stay in this area, check out the Hotel Hilton, which sits on a beautiful point at the end of this beach and has a nice, private beach area. There are also some AirBnBs in some of the apartment buildings nearby (if you haven't used AirBnB before, get a discount when you sign up using my referral link).
4. Beaches of Bocagrande
These are the most well known Cartagena beaches. Being the most well known, they are also the most crowded beaches in Cartagena. They are also usually crawling with vendors.
That is why I generally avoid these beaches like the plague to be honest. That being said, they are decent enough beaches, long and wide. There are also lots of restaurants close by, and of course, there are lots of hotels in Bocagrande, so they are easily accessible. If you do take advantage of the convenience, just be ready for the vendors.
I'd suggest trying to set up near the Kiosco El Bony, near the largest section of the beach, close to the Hotel Caribe. Alternatively, you could try just before the Hotel Decameron, where the beach is smaller, but there tends to be fewer people and vendors.
*If you'd like to stay in one of the beach front hotels in Bocagrande, check out the Hotel Caribe, Capilla del Mar, or the Decameron. If you can do without having the beach directly in front, the Hotel Estelar and Hyatt Regency are two of the newest and nicest hotels in the city, with incredible pools and rooftops and are only a short walk away from the beach. There are also lots of AirBnBs in Bocagrande (if you haven't used AirBnB before, get a discount when you sign up using my referral link).
5. Beaches of El Cabrero and Marbella
Wrapping up this list of beaches in Cartagena proper are the beaches of El Cabrero and Marbella, along the waterfront between the Walled City and the airport. They are last on this list but these beaches are decent enough. However, there's not much in the way of restaurants or chairs and shade tents.
As a Cartagena resident, I like that, and would probably prefer coming here to the beaches of Bocagrande, but visitors will probably like Bocagrande better due to so much being nearby.
However, this is one of my higher recommended areas to stay in Cartagena, and if you do stay here, then walking across the street to the beach is pretty convenient, and I'd rather do that than pay for transportation to any of the beaches in town listed above. Those staying inside the Walled City could also walk here pretty easily for some beach time.
During the week, the beaches here usually have very few people on them, but locals flock to these beaches on Sundays and Monday holidays. I have heard of people having their bags carried off here, so it's best to leave someone behind with your things when you get in the water. That's truthfully not a horrible idea at all of the beaches in town.
*Cabrero and Marbella also make a good option for where to stay with easier walking access to the Walled City and generally good prices. If you might want to stay here, check out Casa Bustamante Boutique, Castillo Ines Maria Boutique, or Aixo Suites. It's also a great area for AirBnB (if you haven't used AirBnB before, get a discount when you sign up using my referral link).
Beaches in Cartagena Conclusion:
Go Outside the City for Better Beaches
All of these beaches are solid enough, but the prettiest beaches to visit are outside the city itself. Read on to learn about the best beaches close to Cartagena.
Best Beaches Near Cartagena
Now on to the very best Cartagena beaches. These can be a little more difficult to get to, but they are so much prettier than the beaches in the city. All can be reached within 2 hours and can be visited as a day trip, although staying overnight is also an option at some of them.
Again, I'm ranking these beaches outside Cartagena in order of my preference, but your preference may vary, so read carefully to learn about the best beaches close to Cartagena and decide which is best for you.
1. Rosario Islands
My #1 Cartagena Beach Recommendation
Spending a day out in the Rosario Islands is one of my top recommendations for things to do in Cartagena, period. Therefore, I also have it as my top choice for which beach to visit in Cartagena.
The islands have the stereotypical crystal clear Caribbean water, and the little coral islands are gorgeous. There is also some decent snorkeling in the area and there is an aquarium with a dolphin show.
There are a few different options for visiting the islands:
Option 1: Day Pass at a Resort
First, you can book a day pass at one of the resorts. These generally include transportation there and back, lunch, and access to all the beach and pool areas. It's a good and simple option that lets you enjoy a relaxing day.
Island Day Pass Options You Can Book Ahead Online:
Want to Spend the Night?
Check These Resorts (it's best to book ahead!):
Option 2: Private Boat (best way to do it!)
If you want to really do the islands in style, consider doing them via a private rental. This is a ton of fun, and if you have enough people to put together a group and can afford it, it's one of the best ways to spend a day in Cartagena. While I guess, this isn't technically a Cartagena beach, well, it's on a boat, so even better, and I highly recommend it if you can make it work.
These private rentals usually head out to the islands for some swimming for a bit and then to the popular boat party spot Cholón, but you can arrange a day that best suits you. The boat captains often know of hidden, lesser known beaches where you can have a more exclusive experience if the party of Cholón is less interesting for you.
Private Boat Tour Options You Can Book Ahead Online:
*If you want to do the party at Cholón but don't have a group, check out this shared, group tour that includes an open bar and lunch (via GetYourGuide).
Option 3: Standard Group Tours
Finally, there is the standard shared, group tours. The standard tour goes to the aquarium, where you can choose to pay the entrance fee, rent gear for snorkeling, or just hang out at the beach. Then it goes to Playa Blanca for lunch and an afternoon there.
Those tours are ok, and they are the most cost effective and convenient way to see the islands, but they give you little time in the islands themselves and have a bit of a tourist trap vibe.
If you want to do a bit of a more unique group day trip, check out this great Catamaran Day Tour that is among the highest rated tours in Cartagena. This 4 Island Tour also makes more stops than the standard tours and includes snorkeling gear (both of these tours are via GetYourGuide). You could also opt for this tour that goes to the islands, Cholón, and Playa Blanca and also includes snorkeling gear (via Viator).
For the normal tour, you'll probably get the best deal by arranging it with your hotel, with a tour agency in town, or from a vendor in the street, but if you want to book ahead online, you can do so with one of the three options mentioned above, all of which are better than the standard tours but slightly more expensive than you'll find in town.
If you want to learn more about each of these options for visiting the islands, check out our complete guide to the Rosario Islands.
2. Playa Blanca
Can Get Crowded, but Beautiful
Playa Blanca on the Isla de Barú has long been one of the most famous beaches in all of Colombia. It used to be a bit harder to get there, and was mostly visited by backpackers. However, a paved road and bridge built several years ago has made it easier than ever.
That has also led to more development and larger crowds. I would generally advise against going on Sundays, Monday holidays, or during peak tourist seasons. However, other times are still nice to visit, especially if you're willing to walk a bit to the lesser crowded end to the right from the main entrance.
The water here is crystal clear and the sand white. The beach shacks and cabins also give it a rustic vibe. After the islands, it would be my number 2 recommendation for the best beach in Cartagena. The Colombian National Aviary is nearby and is very well done as well.
You'll find lots of little beach front shacks offering chairs, shade, and lunch. You can also choose to spend the night if you like, which can be nice as after the Rosario Islands tours and people who just came for the day leave, you have the beach, and its beautiful sunset to yourself. It is important to keep in mind that there is not running water and only limited generator powered electricity.
There are day tours to Playa Blanca, and you can also reach it by public transportation, but the best mix of convenience and price is by taking the Cartagena Shuttle Bus. Read more about it here. Or learn more about the beach in general at our complete guide to Playa Blanca.
Playa Blanca Day Pass Options You Can Book Ahead Online:
3. Tierra Bomba / Punta Arena
Very Convenient and a Very Close 3rd
While the water isn't crystal clear here, and the beach isn't quite as nice as Playa Blanca and the islands, it ain't shabby either. It is definitely nicer than the beaches in town and is very easy to reach. This would be my 3rd recommendation for the top beach in Cartagena.
The island of Tierra Bomba lies at the entrance to Cartagena's bay, and the beaches on Punta Arena lie just on the other side of the bay looking back at the city. It's a neat view, and the boat ride across the bay takes less than 10 minutes. In fact, it's questionable if this should be included in the first list of beaches in Cartagena itself.
If taking the longer trip to the islands or Playa Blanca doesn't sound enticing to you, then Tierra Bomba makes for a great compromise.
You can get the boats behind the hospital in Bocagrande. Once you cross over, there are a handful of small restaurants, hostels, and hotels, where you can spend the day and have lunch. It is possible to just get a boat there and back. However, a super convenient way of doing it is to get a day pass that includes transportation as well as lunch.
Tierra Bomba Day Pass Options You can Book Ahead Online:
Want to Spend the Night?
Check These Properties (it's best to book ahead!):
4. Manzanillo del Mar
Nice but Difficult to Reach
Manzanillo del Mar is located about 20 minutes outside of Cartagena, beyond of La Boquilla. It's a decent and big, wide beach. While it doesn't have that beautiful clear water like the islands or Playa Blanca, it is definitely nicer than the beaches in the city.
The only downside is getting there. If you have your own car or are renting a car, then you can drive and park at the beach easy enough.
However, there's not great public transportation. There are buses that go down the road, and then you can get out at the gas station known as Las Ramblas and then take mototaxis or possibly a taxi or collective taxi to the beach. Or likewise, you can get to La Boquilla and then take a mototaxi. Finally, you could get a taxi from town, but it is likely to be pricey.
All in all, I wouldn't recommend going here if you're visiting Cartagena unless you have rented a car. It's a nice beach, and a less touristy experience, but the difficulty getting out there for a beach that's comparable to what you'll find in Tierra Bomba or even at Playa Azul in town isn't worth it.
That being said, if you're looking to get out of town for a few days, there are several nice resorts out here. The nicest is the Conrad Cartagena, which is actually a bit further out, super exclusive, has a golf course, and is one of the newest resorts in Cartagena. In Manzanillo itself, you can also check out the Estelar Playa Manzanillo and the Melia Karmairi Adults Only resorts.
5. Bocachica
Undeveloped Budget Option
Located on the far side of the island of Tierra Bomba, overlooking the entrance to the bay itself, Bocachica doesn't have a whole lot of development, nor are you likely to see many visitors.
That means it can be a quieter beach day, and it can be done fairly cheaply. For the history buffs, you can also visit some neat and well-preserved forts nearby. Learn more about those at this guide to the fortifications of Bocachica.
You can get here by taking the same boats locals do at gate number 3 at the docks just outside of Centro. Get off at the last stop Sometimes, they may go all the way to a little dock just outside one of the forts. If not, you can walk or take a mototaxi through the little town to reach the beach.
The beach itself is ok, but unspectacular, more or less similar to what you see at Cabrero and Marbella. But you'll likely see more locals than tourists, and you can get a decently priced fish lunch from one of the handful of little places.
I would probably only recommend this Cartagena beach for those that want to also see the forts and to those that can speak at least some basic Spanish to make sure you can get around.
*For those looking for a more tourist experience out here, look into staying a night or two at classy Blue Apple Beach House or Hotel Isla Real. Blue Apple also offers a Day Pass that can be booked online via Viator.
Beaches Near Cartagena Conclusion
Several Great Options
The islands are well worth visiting, and if you're able to avoid peak days, Playa Blanca is gorgeous as well. Tierra Bomba makes for a compromise beach closer to town. Meanwhile, Bocachica and Manzanillo are both nice, but don't offer a lot more than the beaches in Cartagena except for being a bit less touristy.
Verdict:
Beaches in Cartagena Final Ranking
Ok, here's my final ranking combining the beaches in Cartagena and the beaches near Cartagena.
Rosario Islands
Playa Blanca
Tierra Bomba
Playa Azul/La Boquilla
Castillo Grande
Laguito
Manzanillo
Bocachica
Bocagrande
Cabrero and Marbella
I'm sure there's some who will feel I have Bocagrande too far down on this list, given the two above it are tougher to reach for beaches that probably aren't as nice. But as I said above, I just can't stand all the vendors and crowds in Bocagrande. For those just visiting, the convenience might outweigh those negatives.
Even still, I'd suggest those who don't want to make the trip out to the islands or Playa Blanca to check out the beaches at Tierra Bomba, or if you don't have a full day Playa Azul, or at least in Laguito over Bocagrande.
There you have it, a complete guide to what are in my opinion the 10 best beaches in Cartagena. What's your favorite beach in Cartagena? Disagree with my ranking? Let me know in the comments below!
Cheers and Happy Exploring (or just chilling on the beach)!