To do tours or not to do tours?
That's a question I know I find myself asking a lot when visiting a new place.
On the one hand, I really like going at my own pace and feeling like I'm not just seeing the "tourist trap" sites.
On the other hand, I've done some awesome tours that I got a lot out of in terms of learning more about a destination and seeing places or things I might not have otherwise. Usually, I can also get a lot more into a day than if I am just exploring on my own.
In Cartagena, there is a lot you can do on your own, but there is also a lot to be gained by doing some Cartagena tours or guided experiences.
I've got a whole list of more than 75 things to do in Cartagena, a lot of them geared towards exploring on your own. However, there are a lot of great tours in Cartagena de Indias too.
Here, I'll run down 11 great Cartagena tours and Cartagena excursions that you could opt to do if you do want a guided experience.
They are especially great choices for those with limited time, those who like to learn a bit more, and those who want access to some places outside the city that are hard to do on your own.
So read on to learn about my picks for the 11 best tours in Cartagena, Colombia, ranging from Cartagena boat tours, to walking tours of Cartagena, to Cartagena food tours to decide which ones would be good fits for your visit!
*Want to take the hassle of out planning your trip ? Let the experts at our partner BnB Colombia Tours help you! Check out their predesigned packages or fill out this form and they will work with you to design a truly unforgettable, custom made trip. Especially nice, nearly all their tours are private with great, bilingual guides. Packages start at $250 USD a day per person.
11 Best Cartagena Tours Details
Ok, let's dive into each of these top tours in Cartagena de Indias in more detail. For each, I'll run down what to expect, why you should consider doing it as a guided experience, and some options for booking it.
1. Rosario Islands – You Can't Miss a Cartagena Island Tour!
A visit to the Rosario Islands is an absolute must in Cartagena!
Yes, there are beaches in Cartagena proper, but they tend to be crowded and have lots of vendors. They also aren't nearly as pretty as the islands!
Playa Blanca is another popular choice, but in my opinion, it's become way too crowded in recent years too.
So, it's well worth spending the little bit extra to go out to the islands!
Since they are roughly an hour boat ride away, even if you are a DIYer and don't like doing organized tours, you will need to do something organized to the islands, whether it be a day pass at a resort or a ticket for a Cartagena boat tour.
Undoubtedly the coolest way to do a Cartagena island tour is via private boat.
While more affordable than you might think, it is most cost effective if you traveling with or can put together a group. Having dance parties at party spot Cholón, stopping for snorkeling at the reef or site of a submerged plane, and checking out secluded beaches are the advantages of doing a private Cartagena boat tour.
If you can't manage to swing the private boat, there are some other great options for Cartagena tours to the islands.
However, a word of warning.
Be wary of cheap tours to the Cartagena islands sold by street vendors. They are notorious for packing lots of people on tiny boats and having lots of upsells along the way like paying for chairs at the beach or paying extra to enter the oceanarium. Be sure you have clear what your tour will and will not include. Unless you really want to see the oceanarium, I'd avoid booking one that stops there.
My second choice for a Cartagena islands tour is to do the day trip on the Bonavida Catamaran. It's a great boat and it includes lunch and snorkeling.
It's without a doubt the best choice for a shared boat tour in Cartagena.
For those who want a proper beach, a day trip to IslaBela is also great (if you book at that link use the code ExploreColombia10 for a discount!).
This is Susana and my favorite spot in the islands. If you have the time, say more than 4 nights total in Cartagena, I'd also encourage spending the night here or at one of the other resorts in the Rosario Islands.
Some other possible fun ways to do the islands is with a multi-island boat tour, a shared party boat with open bar to Cholón, or doing a day trip aboard a pirate boat.
You can see even more options at my guide to the best Rosario Islands day trips. You can also compare different options for doing the islands in my complete guide to the Rosario Islands.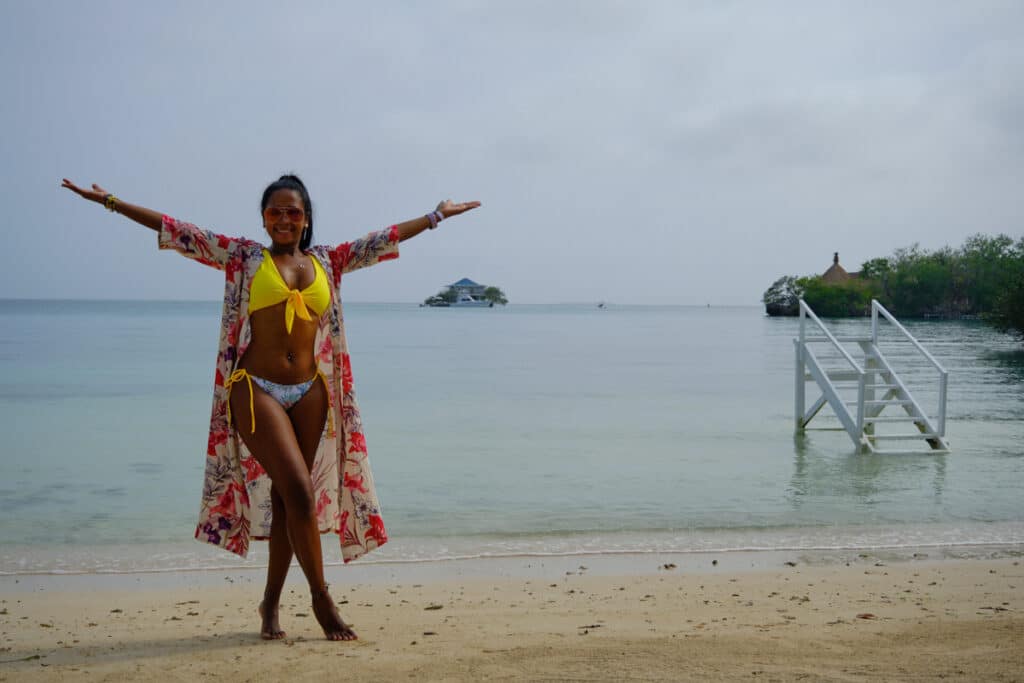 2. City Tour of Cartagena
Well, what would a list of the best tours in Cartagena be without your classic city tour!
There are of course different variations of this tour, so be sure to find out what is and is not included.
Typically, they will include a visit to the Castillo San Felipe Fort, the convent atop the hill known as La Popa, and a walking portion of the Walled City.
This is a great way to see the highlights and main historic sites of the city and learn a lot about Cartagena's history in a day to half day, depending on which of the tours of Cartagena, Colombia you pick.
While it's plenty fun to just explore on your own, you can really get a lot out of a guided experience.
You can book a private city tour with our partners BnB Colombia Tours (be sure to use the discount code ExploreColombia10!) or book one via GetYourGuide. There is also this shared tour that includes some street food tastings!
3. Walking Tours of the Walled City
Perhaps you'd like to get the benefit of a guided tour in the historic city but explore the fort and other sites on your own?
If so, you might want to just opt for a historic walking tour (once again use that discount code ExploreColombia10!). This tour not only includes the Walled City but also the adjacent district of Getsemaní, home of the colonial era artisan class and considered to be the birthplace of Cartagena's culture (and the next place on this list, so you can't beat the value!).
You can also book a walking tour via GetYourGuide.
There are also some free walking tours of Cartagena where you pay what you feel like is fair at the end.
4. Tour of Getsemaní
As mentioned above, Getsemaní was the home of the colonial artisan class, many of them freed slaves. In fact, the area remained a largely working class neighborhood until only about a decade or so ago.
Now it's home to lots of trendy bars, cafes, restaurants, hotels, and hostels but keeps a local vibe that isn't quite as evident in the Walled City.
It's a great place to learn more about the history of the city, especially Cartagena's independence, as the support of the artisan class for independence was crucial.
There is also some terrific graffiti and street art.
Not to mention, there are lots of neat photo ops with colorful umbrellas and flags over several streets. In short, whether you decide to explore here on a tour or on your own, it's a can't miss area of Cartagena.
You can book a private walking tour of Getsemaní (don't forget that ExploreColombia10 discount code), or do this unique tour that focuses on the graffiti.
There is also this neat tour that includes rum tastings. Drinking rum and talking history, what could be more fun!
5. Bike Tour of Cartagena
If you'd like to do a guided experience to Cartagena's historic highlights that isn't quite your typical Cartagena walking tour, consider doing a bike tour!
While it's worth keeping in mind Cartagena gets hot (you'll definitely want to do a bike tour in Cartagena early morning or late afternoon), it's a neat way to do a Cartagena tour while also being active. This would especially be fun for families.
You can book a private bike tour with our partners at BnB Colombia (use the ExploreColombia10 discount code) or a shared one via GetYourGuide.
6. Sunset on the Bay
Outside the more traditional Cartagena city tours and Cartagena walking tours noted above and doing a trip to the islands, this would be my top choice for a fun tour in Cartagena you should absolutely consider doing.
There's nothing quite like a beautiful sunset over the Caribbean.
While Cartagena has some great sunset spots (my two favorite are definitely Hotel Movich's rooftop bar and Café del Mar atop the wall), doing a sunset cruise on the bay is also a lot of fun.
In addition to getting a great view of the sun setting over the ocean, you also get a unique perspective of the city, which is particularly pretty lit up once it gets dark on the return trip.
My top choice for a sunset cruise is on the Bona Vida Catamaran.
Susana and I have done this and agree it's the coolest boat (see our review here). It includes a couple drinks and snacks.
For those looking to do a bit more imbibing, there is also an open bar sunset cruise on the Sibarita. We've also done that one on the smaller Sibarita Express boat and enjoyed it a lot (see our review here). Sibarita also has a dinner cruise that looks like it would be a lot of fun.
Finally, the pirate boat also offers a sunset cruise with an open bar that looks like it would be good fun!
Or for something unique and active, you could do a kayak tour at sunset.
7. Tour to the Bazurto Market
If you've seen the Anthony Bourdain episode where he visits Cartagena, you got to see him head to the hectic Bazurto Market of Cartagena to get fresh ingredients with one of the chefs he visits.
After that visit, a place that does not look like your typical tourist attraction became one.
Tours to the market are quite common now, and given its location and the fact that parts can be a bit dodgy, I would not recommend going here except with a tour.
There are a few variations of the Cartagena Bazurto Market tour, but usually they include fruit tasting and a fresh lunch prepared with fish caught that morning.
It's a unique tour in Cartagena and a chance to see a bit of the other side of the city away from the hotels and attractions of the historic districts.
You can book a private a tour to the market with out partners BnB, or for a better value book a half day experience that includes a walking tour of Getsemaní and the tour to the market (use discount code ExploreColombia10 on either!). You can also book a tour to just the market on GetYourGuide.
8. Do a Cooking Class
If the Cartagena market tour interested you, you might also enjoy a cooking class.
I guess this isn't a tour per se, but it's a neat experience that is a bit different and allows for some hands on fun and learning. Plus, you get to eat what you make!
The best cooking class is at Cafe Lunático.
It includes preparation of several dishes, which vary according to the day of the week. It's a fun way to combine a bit of learning about culture and tradition with one of everyone's favorite activities on vacation, eating!
If you want to do a Cartagena food tour that doesn't require you to do any work or head to the hectic market, you could also consider doing a street food tasting tour. Or for dessert, consider a rum and chocolate tasting (use discount code ExploreColombia10).
And, be sure to check out my guide to the best restaurants to try in Cartagena too!
9. Tour to the Mud Volcano (and Pink Sea depending on season)
The Totumo Mud Volcano is probably Cartagena's oddest and most unique attraction!
My experience is usually this is a love it or hate it kind of experience.
I remember going here during my first year in Cartagena. It was, well unique. Not something I'd repeat to be honest, but it was kind of neat, and is certainly a good story.
Supposedly, the mud is great for your skin too.
While it is possible to do this on your own by hiring a taxi or doing a combination of bus and motorcycle taxi, there are plenty of tours to the Cartagena mud volcano that are reasonably priced, so I'd recommend just doing it that way.
Depending on season, some tours here also include a visit to the Pink Sea of Galerazamba, which is itself a unique attraction. The only thing is the pink effect can be a bit unpredictable, so treat it more as an added bonus.
Our partners BnB Colombia offer both shared and private tours to the mud volcano as well as shared and private tours to the mud volcano and to the mangrove forests north of Cartagena (use that discount code ExploreColombia10 for a discount on any of them). You can also book this Cartagena tour via GetYourGuide.
Read more about this unique Cartagena attraction at my complete guide to the mud volcano.
10. Day Trip to Palenque
The town of San Basilo del Palenque, often just called Palenque, was a colony of runaway slaves.
They were so successful at repelling Spanish attempts to destroy them and at carrying out raids to free other slaves in Cartagena, that the Spanish crown actually negotiated a peace treaty that granted them recognition as a free town.
This designation is why it is often called the first free black town in the Americas (it almost assuredly was not the first colony of runaway slaves, which were collectively known as palenques, due to the fact they were usually fortified with wooden walls).
Many of the town's colonial era residents kept alive their West African traditions, including traditional belief systems and language. In fact, the language that is still spoken by many of the town's elders is the only known Spanish-African blended creole language, sort of akin to a Spanish patois.
The town in addition to being a site of cultural preservation has also produced several successful boxers, and more recently, musicians, especially of the African inspired Champeta music that was cultivated here and in Cartagena's barrios.
While it used to be quite off the beaten path, it's really grown as a tourist destination in recent years, and is a common Cartagena tour today.
Located in the Montes de María region that was site to some of the worst violence of Colombia's internal conflict, it's a neat largely community driven type of tourism that highlights Colombia's under-recognized Afro-Colombian cultural traditions.
It also offers a glimpse of the neglected state of much of rural Colombia.
You can book a private tour with BnB Colombia (one final time, use that discount code ExploreColombia10!).
11. See Lots at Your Own Pace on the Hop On Hop Off Bus
I know, I know, your first reaction here is probably similar to mine: this looks and sounds kind of cheesy.
However, the Cartagena Hop On Hop Off Bus is actually a pretty good value, especially because the ticket is good for 2 days.
It has stops at a lot of Cartagena's top attractions, including the fort and can be a much cheaper way to get to these sites than doing individual taxis.
If you want to see the main sites in Cartagena without necessarily doing a full guided experience but just get easy transportation there, it's a really good option.
For that reason, I'm ending this list of the best Cartagena tours with it.
Some More Honorable Mentions for Tours in Cartagena
Here are handful more Cartagena tours I considered for this list that may make for some more fun ways to explore the city:
Which of these Cartagena tours will you do?
There you have it, my picks for the best tours in Cartagena, Colombia! All of these are good ways to see different attractions in the city while learning more about its fascinating history and culture.
Whichever of these Cartagena tours you do, I hope this guide was useful and, most importantly, you enjoy them and your entire time in Cartagena!
Cheers and Happy Exploring!
Did you like this post?
Check out these others you might like:
Guide to Tayrona National Park
Guide to the San Bernardo Islands
Getting Around Cartagena
Cartagena Safety Tips
Cartagena Nightlife Guide including the Best Bars and Clubs