A visit to the Rosario Islands, rather it be spending a few nights or just going for the day, is all but obligatory during a trip to Cartagena. Eco Hotel IslaBela makes for a terrific choice for both. We loved IslaBela beach resort and would recommend it as one of the top choices in the islands. Read on for a complete review of IslaBela Eco Hotel.
*Disclosure: This post contains affiliate links. I am a participant in the Amazon Associates Program as well as other affiliate programs and may earn a commission on qualifying purchases made after clicking links from this site. There is never any additional cost to you. For more information, please consult my Disclosure Policy.
Eco Hotel IslaBela Cartagena Review – Contents
Where is Eco Hotel IslaBela in Cartagena?
When Did We Go?
How to Get There
What We Liked
Practical Tips for Enjoying IslaBela Beach Resort
Want some help planning your trip to Colombia? Take the hassle out of planning and let the experts at our partner BnB Colombia Tours help you! Check out their predesigned packages or fill out this form and they will work with you to design a custom made trip. Packages start at $200 USD a day.
Where is Hotel IslaBela in Cartagena?
IslaBela Eco Hotel is located in the Rosario Islands, about a 45 minute boat ride off the coast of Cartagena.
The islands make up part of a national park and are known for their crystal clear waters. IslaBela sits in a bay on the island of Isleta aka Isla Marina next to the larger Isla Grande.
It's a privileged location, and IslaBela is one of the few hotels in the Rosario Islands that has a proper natural beach area. The location in the bay gives it a great view as well, with the private house on the mini-island in front.
In a neat touch, they leave out some stairs that I imagine were used for getting on and off boats before they built the dock and make for a neat photo.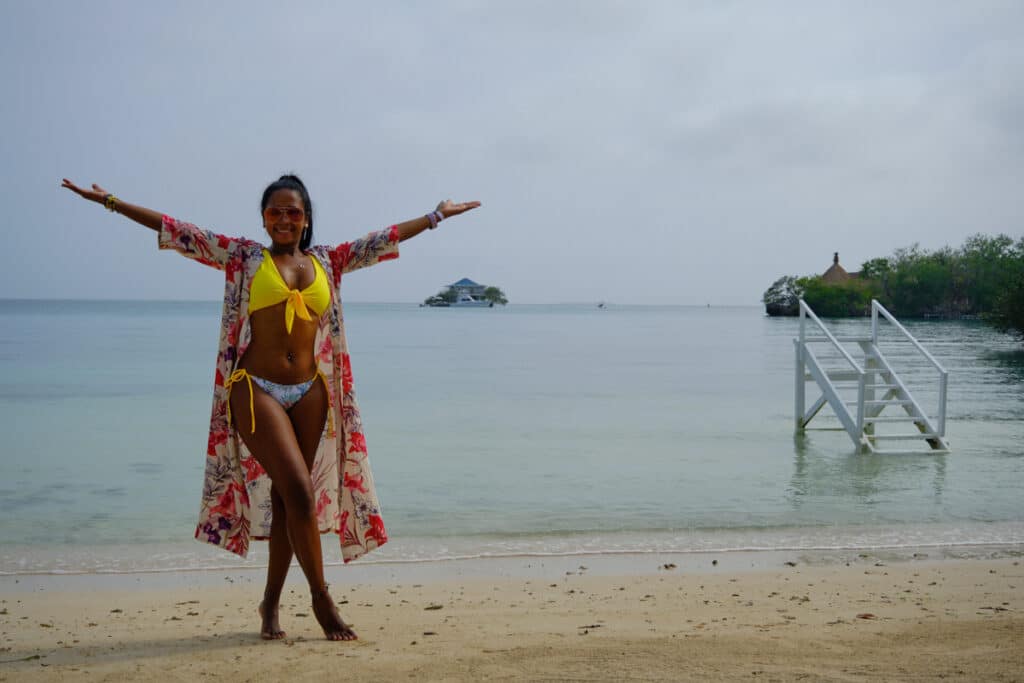 This island also usually has much fewer visitors than the larger places on Isla Grande next door, and gives it a more relaxed, escape it all vibe.
While those looking for a more party atmosphere might like a day pass at Bora Bora Beach Club or opt for their own private boat rental or shared boat to party spot Cholón, IslaBela is perfect for those looking for some rest and relaxation!
Planning a trip to IslaBela, Cartagena, or anywhere else? Recent events have shown it's always a good idea to have medical travel insurance. World Nomads is a leader in international travel insurance. You can get a quote here.
When Did We Go?
We spent 2 nights at IslaBela in mid-May 2021.
(Full Disclosure: we paid full price and did not receive anything complimentary for this review)
Can You Do Day Passes at IslaBela Beach Resort?
Yes, you can.
If your time is limited in Cartagena (say 4 nights or less), I would not advise spending the night, as you'll miss all the stuff to do in Cartagena. I would probably say renting a private boat or doing the catamaran day tour is a better way to enjoy the islands in a day because you see more (see more day tour options here).
That being said, for a more relaxed beach day, a day pass here is still a good option. You can book a day pass at IslaBela via our partners BnB Colombia. Use the discount code ExploreColombia10 for 10% off.
However, we really enjoyed staying the night.
You get to enjoy the beach after most people have left, you can see the gorgeous sunset, and you can just be away from it all.
So if you can swing it, spend a night or two. Two felt about right, although we didn't want to leave (then again we live here). I think more than 3 nights might get a bit boring though.
Convinced? Check out current availability and prices at IslaBela.
How to Get to Eco Hotel IslaBela from Cartagena
Since it is in the islands, you have to take a boat to get to IslaBela from Cartagena.
The hotel has a boat. At least when we went, you had to reserve and pay for the boat apart from the cost of the reservation for spending the night (do keep that in mind when considering costs).
It was $60,000 a person each way. (keep in mind that was May 2021 so it's possible it's gone up). The cost of boat transportation is included in day passes. I found it a bit frustrating that it isn't included, but it's the same at most of the other hotels and resorts in the islands.
It is also possible to come and hangout and/or have lunch at IslaBela if you are on your own boat or doing a private rental. I guess this is why they don't include the cost of transportation in the reservation cost, since some (lucky) people have their own boats to arrive in.
IslaBela – What We Liked
Here are the things we liked the most about our stay at the Eco Hotel IslaBela near Cartagena.
The Beach Area
As I mentioned above, IslaBela is one of the few places out in the Rosario Islands that has a true beach area.
The islands are coral islands, meaning that most of the coasts are rocky. We previously had done a day pass at Isla del Sol (see my review of it here), which also has a nice little beach area, but is really rocky. Also, the sand and leaves that get turned up in the water don't make it that great for swimming.
IslaBela was different, the water was super calm and perfect for swimming.
The only downside is there are some rocks and coral and eventually the seafloor turns to seaweed on the bottom. It's not nearly as bad as at other places, but a good pair of water shoes isn't a bad idea. We had forgotten ours and made due fine though. (Hint: to the left side of the beach facing the water there are less rocks).
What I really liked about IslaBela though was that there is a lot of beach.
It isn't quite as large as that at Isla del Encanto in Barú (review of it here), but is a good size one, and the sand is nice. They also have lots of beach chairs and umbrellas as well as beach beds.
There are also two kayaks available for both guests and day pass visitors, and the bay makes for a good little kayak circuit.
Over by the old dock where there is some concrete in the water, you can see quite a bit of fish, so taking along a good snorkel set if you have one is a good idea (my dad swears by these full face snorkels)
Overall, we really enjoyed the beach area at IslaBela!
Convinced? Check out current availability and prices at IslaBela.
Our Bungalow
It's a neat set up they have at IslaBela, and one that seems to actually benefit the local natives of the island.
There are 5 bungalows they rent out for overnight stays. They are all located a short walk from the beach area, and each has its own view of the sea.
Each of the pieces of land the bungalows sit on are owned by an islander and the hotel shares the profits with them. This is almost for sure a better deal for them in the long run than the hotel just buying up the land.
The bungalows are also very nice!
While the water pressure in the shower is a little on the lower side as would be expected since there is not running water on the island, really and truthfully, this was about as nice as any 3 star quality hotel in town.
It has a perfect blend between the rustic, island vibes and comfort.
The bed was nice and comfortable. There was not A/C, but there was a fan, and we didn't miss the A/C in the breezy evenings or want to spend much time in the room during the day.
But the best part was undoubtedly the view outside the bungalow.
There was a little sitting area and hammock and a little ladder down to the water. You can't really swim there but it's nice and feels very exclusive.
All of the bungalows have a slightly different view and outside set up, with one even having a private beach. We walked around and looked at all of them, and you wouldn't be disappointed with any of them.
Convinced? Check out current availability and prices at IslaBela.
The Food and Service
We thought the food was all around really good.
We did the plan that included all our meals, and there were a few choices for lunch and dinner everyday with choice of eggs or pancakes along with fruit for breakfast. This may have just been because the boats were leaving super early as there was a noon curfew in town, but they also gave day pass visitors breakfast as well as to us on the day we arrived.
It is homestyle, fresh food with seafood and non-seafood dishes.
It is also possible to reserve without food included and order from the menu daily. There's not much else on the island, so you will probably want to eat here regardless, but if you want to have more options, you can just plan to order from the menu.
Drinks were also good.
We especially enjoyed the margaritas with spicy pepper and salt on the glass. Prices for drinks were fairly reasonable ranging from $20-30,000 pesos, about what you would pay in town, and they ran 2 for $30,000 on Mojitos, Cuba Libres, Caipirihnas, and Caipiroscas.
All the staff were also very nice, and nearly all of them are also local islanders.
Value
Look, there is nothing cheap out in the islands.
IslaBela was I thought a very good value though.
For the private bungalow, we paid similar to rooms in other resorts in the islands or even a little less. There are more luxury options like Las Islas and Encanto and a few cheaper hostels like Secreto Hostel.
I think IslaBela is a great bang for your peso, even with the extra additional cost of the boat, especially since it includes as nice of a beach as you'll find in the Rosarios. In fact, the value I think we got here is why it tops my list of the best hotels in the Rosario Islands (check that list out if you want 10 more places to compare).
A Few Tips
Don't forget your sunscreen! Some insect repellent isn't a horrible idea if you are spending the night too.
They do give you a beach towel if you are spending the night (it's not included in day passes but is pretty cheap to rent).
If you spend the night, you can walk about 10 minutes to Los Erizos to see the sunset from their dock. Buy a beer or something else to drink in exchange for the view, which is totally worth it.
The boat ride is not too bad, but can get bouncy in the afternoon, so if you are skittish on boats, consider the beaches in town or a place closer to the city like Fenix Beach.
Speaking of the boat ride, there is a compartment where you can store luggage, although a dry bag for any electronics or valuables will give you extra security from any splashing.
IslaBela Cartagena Review – Conclusion
In conclusion, IslaBela makes for a great place to spend the day or spend a couple nights in the Rosario Islands outside of Cartagena.
It has a great beach, the bungalows are terrific, and the service is excellent, all for a pretty good price. Especially for those looking for a relaxing day in the islands, I highly recommend it.
Cheers and Happy Relaxing!
Ready to visit IslaBela yourself?
Did you like this post?
Check out these:
Travel Guide to the San Bernardo Islands
Travel Guide to Palomino, Hip Beach Town
Top 11 Beach Hotels in Cartagena
Top 11 Luxury Hotels in Cartagena
Top 11 Most Charming Boutique Hotels in Cartagena