With beautiful, windswept and unspoiled beaches, Tayrona is a must visit for nature lovers along Colombia's Caribbean coast. The national park gets its name from the Tairona indigenous culture, and the area is sacred to the indigenous tribes still living in the area. It is open to visitors most of the year and offers several good hikes along with the beautiful beaches. Read on for a complete travel guide to Tayrona National Park in Colombia.
*Disclosure: This post contains affiliate links. I am a participant in the Amazon Associates Program as well as other affiliate programs and may earn a commission on qualifying purchases made after clicking links from this site. There is never any additional cost to you. For more information, please consult my Disclosure Policy.
*Covid-19 Update: Tayrona Natural National Park officially reopened on Wednesday November 25, 2020.
There are a number of biosecurity rules and protocols in place in Tayrona Parque. See below in the section on Visitor Info below the park fees to see what safety protocols for Tayrona Park have been put in place. I will do my best to keep this as up to date as possible, but it may be worth double checking if you're reading this page long after the last update (date below).
*Last update: February 24, 2021
*Please note: Tayrona Park alway closes for several short periods a year to allow the park's nature a rest from visitors
When will Tayrona Park be closed in 2021:
February 1-15
June 1-15
October 19-November 2
Is Tayrona National Park Open?
Yes. Tayrona Park reopened on November 25, 2021. (press release here).
There are a number of biosafety rules that will be implemented when the Tayrona Parque Nacional reopens. You can find more about the biosafety rules and regulations that have been announced relating to Tayrona's reopening below in the section on Visitor Info.
Why You Should Visit Tayrona
If you're a nature and hiking fan or a beach fan or both, you have to visit Tayrona National Park during your time in Colombia. Even if you're not the biggest hiking or camping fan, the hike to the most popular place to stay is about 2 hours of mostly easy going. You can also ride horses or take a boat in and out of the park.
While you can technically do a day trip using the boats or horses, or hiking if you really hoof it, you really should stay a couple nights. That way you can have some time to explore, enjoy some hiking, and see some of the different beaches.
The beautiful and mostly unspoiled beaches inside the park are the main attraction. There are a number of different beaches you can visit, and the backdrop of the mountains running into the sea is breathtaking!
Tayrona is a great chance to get away from it all for a few days, enjoy some great beaches, and do some hiking. It especially makes for a great stop sandwiched in between visits to Minca and Palomino.
Ready to go? Read on for a complete travel guide to Tayrona, Colombia including how to get there, what to do, where to stay, travel tips, and a packing list for Parque Tayrona.
Ultimate Travel Guide to Tayrona Park – Contents
How to Get to Tayrona National Park

By Bus
By Boat
How to Get to Tayrona from Cartagena

Visitor Info

Admission Fees
Mandatory Insurance
*Biosecurity Protocols (Covid Restrictions for Tayrona)

What to Do in Tayrona Park
Where to Stay in Tayrona Park
Travel Tips for Tayrona Park
Packing List for Tayrona Park
How to Get to Tayrona National Park
*Note: Some information here may no longer be accurate especially as it relates to bus schedules and prices. I've confirmed and updated the prices of the private charter van companies, but am not sure about public bus prices, and the charter companies are subject to change.
There are a few different options to get to Tayrona. The easiest is to take a bus from Santa Marta. You can also get taxis or private cars, although prices are usually quite high. Additionally, you can take a speed boat to Tayrona from Taganga.
Can You Do a Day Trip to Tayrona?
Yes, although personally I feel it's best to spend the night as hiking in and back out isn't worth it. That being said, if you do want to do a day trip to Tayrona, it's best to do it with a tour. You could for example do this private tour that includes transportation and the entrance fee.
If you want a really unique experience, you could do a sailing day trip to Tayrona, giving you a unique view of the park from the sea. Doing a day trip to one of the the beaches inside the park but a bit closer to Santa Marta like a tour to Playa Cristal or a tour to Bahía Concha is also a good way to do a day trip to Tayrona.
For another easy beach day trip from Santa Marta, you can also check out this tour to Playa Blanca (not to be confused with the better known Playa Blanca of Barú, closer to Cartagena).
How to Get to Tayrona by Bus
The most popular entrance to the park, El Zaino, is located approximately an hour north of Santa Marta. You can get the bus from the market in downtown Santa Marta. Look for the buses that say Tayrona and Palomino.
How to Get to Tayrona from Santa Marta
The bus from Santa Marta costs 7,000 pesos (price last confirmed April 2019). There are different fares for how far you are going along the route, so be sure to tell the guy collecting the money you are going to Tayrona.
Do expect the bus to get crowded, probably with some people carrying food or other goods. Our bus had bags of concrete and sacks of rice loaded on it. One guy even had a box of baby chicks.
If you'd like a more convenient and comfortable but pricier transportation from Santa Marta to Tayrona, you can book a private van to Tayrona from Santa Marta.
Flying into Santa Marta
Santa Marta is the closest airport to Tayrona Park. While the ease, cost, and relatively short length of bus travel along the Caribbean Coast may make it not worth flying, if you're coming from the interior and want to bypass Cartagena, it could save you some time to fly into Santa Marta.
Of course, I would encourage you to fly into Cartagena and enjoy all there is to do there (this website's name is Cartagena Explorer after all!). Regardless, it's a good idea to compare your options which you can do on Colombia's flagship Avianca airline, looking for a package deal at Expedia.com or Trip.com, looking for a steal at CheapOair.com or Kiwi.com, or comparing prices at SkyScanner.com or Jet Radar.
How to Get to Tayrona from Palomino
If you're coming from Palomino or Riohacha, just hop on the bus headed towards Santa Marta and get out at the park entrance. The price for the bus from Palomino to Tayrona should be 3,000 pesos and from Riohacha to Tayrona 10,000 pesos.
*Be sure to check out this Practical Travel Guide to Palomino
How to Get to Tayrona from Minca
If you're coming from our heading to the mountain town of Minca outside Santa Marta, to travel by bus, you'll have to pass through Santa Marta (follow the instructions above). Or you could also opt for a private van transfer between Minca and Tayrona.
*Be sure to check out this Practical Travel Guide to Minca
How to Get to Tayrona by Boat
You can also take small speed boats to Tayrona. The boats leave from the town of Taganga to Cabo San Juan, the most popular place for staying inside the park. Taganga is just over a hill from Santa Marta. Check out our guide to Taganga if you want to spend a night there before or after your visit to Tayrona.
The boats leave at approximately 9 a.m.. The return trip leaves between 3 and 4 in the afternoon from Cabo San Juan.
One word of warning: I normally enjoy boats, but I did not enjoy the boat from Tayrona to Taganga. Maybe it was just a particularly rough day, but we were bouncing around and I took lots of waves to the face. Soaking wet and with a sore butt (I'm pretty sure I was bouncing a foot in the air off my seat), I was happy when it was over.
These operations are also questionably organized at best. While usually, I'm a fan of the less restrictive liability rules, in this case the safety risk seems not worth it. And it sounds like some have had even worse experiences. By the same token, lots of people take the boat every day, so presumably most of the time the trip is smoother.
Still, I would strongly recommend avoiding the boat entirely, but if you're on a tight schedule and the seas don't look choppy, then it I guess it can save you quite a bit of time. Just be prepared for a bouncy ride. Also please note, that the cost of the boat does not include the park entry fee or mandatory insurance. You will have to pay for those things when you arrive.
How to Get to Tayrona from Cartagena
If you want to do a day trip to Tayrona from Cartagena, you can do this day tour to Cristal Beach that includes transportation to and from Tayrona as well as the park entrance fee and lunch (via Viator). Note that that is a separate beach area than the beaches you'll see hiking in, but if you have to do it in a day from Cartagena, it's an option.
You can book a private car to take you from Cartagena to Tayrona although it is expensive.
Otherwise you will have to reach Santa Marta. You can take a private car from Cartagena to Santa Marta but it's also quite pricey, so a bus will be the best option for most.
You can get buses to Santa Marta at the main Cartagena bus terminal. These will be the cheapest way to get from Santa Marta to Cartagena. You can find times and even book ahead at BusBud (note you can likely find more departure times on other companies at the terminal, but those have the added convenience of being able to book ahead).
Berlinas and Marsol offer chartered van service for reasonable prices as well and are the recommended options. A taxi to the terminal will more than wipe out the savings on the cheaper bus ticket unless you're a group of 3 or 4.
Berlinas
Berlinas charges 80,000 for buses from Cartagena to Santa Marta and vice versa (price last confirmed November 2020). Buses leave from 6 am to around 3 pm. Departure times depend on passenger demand, so it may be worth going the day before and reserving. Their office is in Marbella, and they arrive to their office in Santa Marta, with a stop to drop off and pick up passengers in Barranquilla.
The bus stops at the office in Rodadero outside of Santa Marta and in Mamatoco. From Mamatoco, you can catch the bus to Tayrona along the road heading north.
If you return via Berlinas, buses leave Rodadero at 6 am and pass the office in Mamatoco around 7 am until approximately 4 and 5 pm respectively, although also depending on passenger demand.
Marsol
From Cartagena to Santa Marta they have regular departures every 2 hours from 6 am to 4:40 pm. The price is 90,000 pesos. (Marsol prices last confirmed November 2020).
This is nearly double the price it was in February 2020 (56,000 pesos). It's unclear if that is due to capacity restrictions that will be a temporary increase until things are back to normal or if it is in fact the "new normal." Prices tend to increase slightly in January every year as well, so if you're planning a trip in 2021, I would plan to pay around 100,000, but again, hard to know.
You can book Marsol buses from Cartagena online ahead of time via Viator here.
Marsol used to have buses that go directly from Cartagena to Tayrona and arrive to the park entrance, but only twice a day. However, at this time I have confirmed that they do not. It's unclear if they will reinstate them once travel picks up and things return to more normal. I would lean towards yes, since they also have their service to Palomino suspended, but it's hard to say for sure, and even harder to say when.
So, if you're planning a trip to Tayrona in late 2020 or early 2021, definitely plan on arriving to Santa Marta first.
Once in Santa Marta, follow the instructions above. One note, we thought it would be easier to get the bus to the park from Mamatoco, on the outskirts of the city. When I went several years back that was the main jumping off point to the park.
We were able to get the bus there, but it was already very crowded. Therefore, I recommend getting the bus in the city center.
The trip to Santa Marta takes about 4 hours from Cartagena. You will need at least 3 hours for transportation to the park and the hike in to the camp site. Therefore, make sure you start your trip to Tayrona from Cartagena early in the morning.
*You can check bus routes, times, prices and even book many buses in Colombia at BusBud. Both Marsol and Berlinas are pretty responsive on their facebook pages which you can find here: Marsol and Berlinas.
Visitor Information for Tayrona
You do have to pay an admissions fee for Tayrona Park. The fee varies slightly depending on your nationality as well as the time of year you visit:
Entrance Fees for Tayrona National Park:
*The prices below are the prices listed on the national park service's website for 2020. Presumably the fees should be the same when Tayrona reopens, but it may be worth double checking that link (it is down as I update this in late February 2021), and the prices may go up slightly in 2021 (I will try to update once there has been an announcement).
Normal Entrance Fees to Tayrona National Park:
Foreigners: 53,500 pesos
Colombian Nationals over 25: 24,000 pesos
Children Under 5: free
Colombian Nationals aged 5-25: 18,000 pesos
People Born in Santa Marta aged 5-25: 9,000 pesos
People born in Santa Marta over 25: 12,000 pesos
*Note if you are a foreign resident of Colombia and have your Cédula (ID Card) or a citizen of one of the members of the Andean Community of Nations (CAN), you pay the price of Colombian nationals.
Peak Season Entrance Fees for Tayrona National Park:
Foreigners: 63,500 pesos
Colombian Nationals Over 25: 28,500 pesos
Children Under 5: Free
Colombian Nationals aged 5-25: 20,000 pesos
People Born in Santa Marta aged 5-25: 20,000 pesos
People born in Santa Marta over 25: 28,500 pesos
Note that peak season is:

June 15 to July 15
December 15 to the end of January
The 10 days beginning on the Friday before the week of Easter
The higher rates also apply to weekends with Monday holidays (at this site you can see a list of Colombian holidays)
It usually isn't necessary to buy tickets for Tayrona ahead of time, but if you're going during peak season, it probably isn't a bad idea. The park does have a limited capacity and even if it doesn't fill up, the lines can get long. (For the time being, you cannot buy tickets online any longer).
Insurance Requirement for Entrance to Tayrona Park
*Note: It's not clear if the insurance is still bought separately. The site linked below and all the info on it below was through the old concessionaire. I can't find any information on prices at the National Park Service's website other than the requirement and 3 suggested companies here. I would assume if you still buy it separately, you can do so at the entrance and that the prices are comparable if not the same.
You must also buy mandatory medical emergency and evacuation insurance for each day you plan to be in the park. The insurance costs 2,500 pesos per day and offers coverage for up to 30 million pesos (about 10,000 USD). Find out more about the insurance at this link.
If you have organized your trip through an agency or as part of a tour, be sure to clarify if the insurance is (or isn't) included. If it is, be sure to get a receipt or certificate.
Be wary of tour operators outside the entrance selling the insurance. They are probably legit, but why risk it when you can just buy it at the park ticket booth?
Once in the park, if you decide to stay for more days, you can buy more days of coverage at Cabo San Juan. (That is also where you will buy it if you come on the boat).
After you enter, you can take a bus for 3,000 pesos to the parking lot and trail head. It'll save you about half an hour.
*Speaking of insurance. It's a good idea to get it for your entire trip to Colombia, not just the mandatory insurance to enter the park. World Nomads is well known as one of the top travel insurance providers. Click here to get a quote or use the tool below. You can also see the insurance options tailored for travel in Colombia from Expatsgroup.co. You can also compare offerings from Visitors Coverage.
Covid-19 Biosafety Protocols for Tayrona National Park
With Tayrona was set to reopen, the National Park Service has adopted a number of biosafety protocols to ensure the safety of visitors, employees, and the indigenous peoples who live inside the park. As we I think all have learned in 2020, things change, often quickly and unexpectedly, but I will try to keep these up to date to the best of my ability.
The announcement of the park's reopening can be found at Parque Nacionales's website and this second press release discusses the actual Tayrona Park Covid protocols. Finally, this third press release has the new reopening date of November 25 and reiterates the measures.
There's an interesting note at the end there about how the park rangers have seen lots of animals that were rare to see before around the park with 9 months of no people. So, if you are visiting Tayrona in late 2020 or early 2021 it may be worth paying extra special attention to what's around you while hiking!
Here are the Tayrona Covid Requirements:
Complete a questionnaire about your health and your contact with tour guides/companies upon entry (by the way, all tour guides and companies should have their own biosecurity protocols and license from the Santa Marta mayor's office).
Upon entry, your temperature will be taken and you will need to disinfect your hands and shoes. There are other points around the park where you may be asked to have your temperature taken and/or disinfect your hands and shoes.
Wear a mask at all times while in public areas.
Maintain a 2 meter distance from others.
Wash your hands frequently.
Follow any other instructions from park rangers and personnel.
There will be a limit 3,535 people allowed in the park each day.
There are set times for entering and leaving the park (see below as they differ by entrance).
*Need some masks for your visit to Tayrona? Check out these simple reusable masks or these reusable, moisture wicking neck bands and face masks that come in a variety of colors and would be good for the hiking and humid climate of Tayrona. If you prefer single use, these N95 disposable masks. You'll also want to make sure you bring along plenty of hand sanitizer.
Do I need to make a reservation for Tayrona?
It doesn't appear that you need to, or that you even can. The press release linked above says that visitors should pay their entry fee directly at the park entrances where they will receive the wristbands that allow them to be in the park.
It may be interesting to see if that changes in any way around the holiday travel season. If they are reaching capacity, they may institute some kind of reservation requirement. I will update if I hear of any changes.
Which parts of Tayrona Park are open?
There are 3 sectors of the park that will be reopened. They are:
1. Bahía Concha
This is an area closer to Santa Marta with a decent beach that is a good day trip from Santa Marta, although it isn't quite as pretty as the beaches inside the main areas of the park listed below.
2. Palagana
This area is also closer to Santa Marta and includes the popular day trip beach of Playa Cristal.
3. Eastern Sector/Calabazo and Zaino (the main area of the park)
This is the main area of the park and what most people think of when they think of Tayrona. It is the large eastern area of the park that has the prettiest beaches and the campsites and lodges to spend the night.
Both the main, Zaino entrance, and the secondary Calabazo entrance to this sector will be open. Note that the rules do establish you should enter in the sector you plan to be in to make sure the limits are not exceeded.
It's unclear though if that just means between these 3 sectors (the truth is there is no good path connecting them), or if it also means you should stick to the beaches closest to the entrance you come in at in this eastern sector. Zaino remains the best entrance for access to the beaches and where I'd recommend you enter.
What are the hours of Tayrona due to Covid?
Each sector has a slightly different schedule for entry and exit times. Here they are below:
Zaino
Entry times: 7 am to 12 pm
Exit times: 2 pm to 5 pm
Calabazo
Entry times: 7 am to 11 am
Exit times: 1 pm to 3 pm
Palaganga
Entry times: 7 am to 2 pm
Exit times: 4 pm to 5 pm
Bahía Concha
Entry times: 7 am to 2 pm
Exit times: 3 pm to 4 pm
Arrival by Boat
Entry times: 7 am to 12 pm
Exit times: 1 pm to 4 pm
(as long as the weather and coast guard are permitting)
Can I spend the night in Tayrona now?
Yes. I reached out the the main camp site/hammock area at Cabo San Juan del Guía and they confirmed for me that they will be open (more on that below in the section on where to stay). The very helpful people over at @guidetotayronapark also told me other camp sites near Arrecifes Beach would be open as well.
It's unclear what other areas/properties are open, but it appears that campsites and lodges are allowed to open but with reduced capacity, so yes, you should plan to be able to spend the night in the park if you want to do so.
What to Do in Tayrona
Note this covers the areas accessible from the main Zaino entrance, not the areas closer to Santa Marta on the western end of the park. Those areas are best visited via the day trips from Santa Marta mentioned above.
These areas can also be reached from the Calabazo entrance, but with the closure of the Pueblito trail, require quite a long hike via Playa Brava. Do note that Playa Brava can be reached by a much shorter hike from Cabo San Juan de la Guía once you hike in via the Zaino entrance.
In other words, unless, you're planning to stay at Playa Brava and want to reach it first, I would suggest just going in at Zaino. The hike in from Calabazo is more in the hills and offers less sea views as well.
Enjoy the Beaches
There are a number of nice beaches in Tayrona. As you hike in, the first one you come to is Arrecifes. You cannot swim there. You'll then pass several others, including La Piscina. You can swim there. Offshore rocks make for a natural swimming pool. It's also a popular spot for snorkeling.
However, I think the beaches around Cabo San Juan are prettier. At Cabo, there's a little bay with calm waters good for wading. On the other side of the rock, there's a a nice stretch of beach as well.
If you continue beyond that beach and take a short walk through the forest, you'll arrive to Playa Brava. Playa Brava is technically a nude beach, although most people were not actually in the nude when we were there.
The beach at Playa Brava is long and very pretty. The waves are strong though, and the currents can be dangerous, so it's advised not to swim there. I was physically knocked over by the waves. Therefore, it's probably best to stick to the beaches marked for swimming.
Hike to Pueblito
*Update: As of early 2019 Pueblito has been closed to visitors, reportedly permanently, at the request of the indigenous residents. So unfortunately, this no longer is one of the things to see in Tayrona at least for the time being. I will try to keep my eyes open and update if it reopens one day. In the meantime, you'll just have to enjoy the beach (I know, it's a tough life out there).
Located in the hills above Cabo is a tiny indigenous village. There you can see a few huts where some Kogi people live today. There are also remains of a larger settlement dating to before the Spanish conquest. The Tairona indigenous civilization was the most advanced in Colombia and the only to have built stone urban centers.
However, the ruins at Pueblito are not really that impressive. The real attraction is the hike up. Note we were told it was of moderate difficulty. For avid hikers that is probably the case, but we found it a bit closer to hard.
There are a few tough inclines and you spend a fair amount of time climbing over boulders. I'd recommend not doing the hike alone as having someone to boost you up was definitely necessary in a few spots.
While the ruins themselves weren't that cool, the hike was fun and enough of a challenge to feel like we had accomplished something. It takes about 2 and a half hours to get to Pueblito from Cabo.
We actually chose to send our bags out on horses and hiked out from Pueblito to the entrance at Calabazo. That took about 2 and a half more hours.
There's another longer hike called 9 Piedras that I have not done, but it is supposed to give some great views of the park.
Unplug and Get Away From It All
A couple days in Tayrona is a great way to disconnect. With no wi-fi and little to no cell service, you'll have no choice but to stay off facebook and instagram or work email and just relax.
So spend some time enjoying the scenery on the hikes. Once you've worn yourself out, relax with a good book, get your tan on, and take a nap on the beach. In the evening, you can contemplate your existence and take advantage of the excellent star gazing.
Where to Stay in Tayrona Park
There are a number of fancy lodges and cabins available both inside and just outside the park. However, they tend to be very pricey!
Therefore, the most popular option, and my recommendation, for where to stay in Tayrona is Cabo San Juan del Guía.
Cabo San Juan – Most Popular Place to Stay
At Cabo San Juan, you can rent a tent, the space for your own tent, or a hammock. The hammocks are in a covered area, and there are a limited number of additional hammocks on top of a big rock overlooking the bay. There are also a limited number of small cabins.
The on-site restaurant serves breakfast, lunch, and dinner for fairly reasonable prices. The restaurant serves the typical fish plate as well as rice, chicken, and pasta dishes. There are a few vegetarian options. Expect to spend 20-40,000 pesos per meal.
There were also some fresh breads and sandwiches on sale that were really good for 5-7,000 pesos. You also have to try the bread at the Panaderia Bere on the hike in. The tomato, cheese, and basil ones are awesome, especially fresh out of the oven.
You can bring in food, but there is no kitchen and no fires at the camp site. There is also a little tienda that sells snacks and drinks. An Aguila ran 5,000 pesos when we were last there in late 2018.
Cell service was spotty at best and there was no wi-fi. There is a small cell charging station by the restaurant. Do be aware that there are no electrical hookups in the camping area.
Prices for Accommodations at Cabo San Juan del Guía:
(*Note, these prices were confirmed for the November 2020 Tayrona reopening)
Hammock in the main area: $50,000 pesos per person (includes a locker and mosquito net).
Hammock on top of the rock overlooking the bay: *This area is closed for the time being
Tent Rental: $100,000 pesos a person (single and double tents available and rental includes a mattress pad and pillow).
With Your Own Tent: 30,000 per person
Cabin Rentals: *Currently closed for the time being
$8,000 peso reservation fee with 50% due at time of reservation (how to make the reservation explained below).

*Note I'm pleased to announce Cabo San Juan is offering readers of Cartagena Explorer a discounted reservation fee of $5,000 pesos. Just tell them you were referred by Cartagena Explorer.
Use of the bathrooms and showers are included. They are pretty decent for communal campsite showers, but you will definitely want a good set of flip flops.
How to Make a Reservation at Cabo San Juan del Guía
You need to make your reservation at least 1 day in advance to ensure there is enough capacity.
You can make your reservation by reaching out to Cabo San Juan via their Instagram or by writing them via Whatsapp at +57 311-258-9907. There you'll need to verify availability, confirm your arrival and departure dates, and choice of accommodations.
After confirming your reservation, you'll have to pay the reservation fee+50% of the price of your accommodations. You can pay it via a Bancolombia bank transfer or via Western Union. Don't forget to get the discounted reservation fee by telling them Cartagena Explorer sent you! (Full disclosure, I am not receiving any commissions from this, when I reached out to ask about the new prices, they offered the discount to my readers).
You can find more information on the accommodations and prices at Cabo San Juan in this .pdf: Camping CABO SAN JUAN.
Other Places to Stay inside Tayrona National Park
There are a handful of other small lodges and camp sites in Tayrona, although there's not a ton of info on them online. Staying at Cabo San Juan is definitely the most common backpacker/camping option.
Those with families or looking for a romantic escape might be interested in one of the more exclusive lodges inside or just outside the park below.
Located not far from both the Calabazo and Zaino entrance, Ecohotel Yachay Tayrona is nestled amongst the forest and has a gorgeous little property that includes a small pool. It is still a good hike to the main beaches in the park, but for those looking to be in the park but want something nicer than camp sites or hammocks, it makes for a good choice.
Check Availability and Book Here via Booking.com
Other Places to Stay Outside Tayrona Park
If you're looking for nicer accommodations, there are a number of good options located just outside the park that offer easy day time access while having more modern amenities than the places to stay in Tayrona itself.
Senda Koguiwa – Amazing Lodge Just Outside the Entrance
Located practically across the street from the Zaino entrance to the park, Senda Koguiwa is one of the newest places to stay near Tayrona. It is a gorgeous property and features a big onsite pool and is next to a lake and surrounded by nature.
Check Availability and Book Here via Booking.com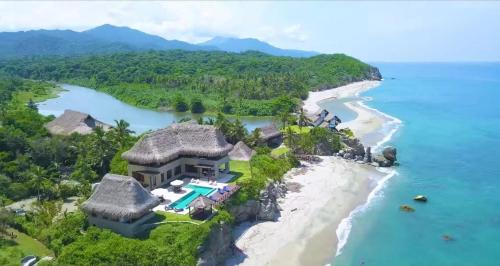 Featuring a gorgeous terrace and pool, the accommodations at Senda Casa Los Naranjos here include a family sized bungalow and private rooms. It is located just on the northern edge of the park, offering access to the beaches nearby. A great option for where to stay in Tayrona for a romantic getaway.
Check Availability and Book Here via Booking.com
Located a bit further outside the park, Quetzal Dorado is an eco-lodge with pretty rooms as well as a small pool and sitting area with an amazing view of the forest and hills. There are family rooms as well as double rooms available, making this a good choice for families for where to stay near Tayrona.
Check Availability and Book Here via Booking.com
Practical Travel Tips
There are no ATMs in the park and cards are not accepted at Cabo san Juan, so be sure to bring cash.
If you're going during the rainy season from October-December, be aware that the trail could be muddy. Also, be sure to stay off the horse path as it will be worse! (We made that mistake).
You can get large jugs of water just outside the entrance of the park considerably cheaper than in the park (although you do have to carry them in).
Bringing alcohol into the park is prohibited. Police sometimes search bags, sometimes don't. We saw people with bottles of wine and whiskey. So it's possible you could sneak it in, but be prepared to lose any you take.
Don't litter, remember the park is a sacred site for the indigenous communities!
One use plastic bags have also been prohibited in Colombian National Parks, a law that will go into effect starting in April 2020.
Did you like this post?
Share it with your friends!
Share on Facebook Share on Twitter
And don't forget to like and follow us!
Like us on Facebook Follow us on Instragram Follow us on Twitter
Be sure to check out these guides to other destinations near Tayrona:
Travel Guide to Costeño Beach, a chilled out beach just past Tayrona
Travel Guide to Palomino, a backpacker haunt about an hour north
Travel Guide to Minca, a beautiful mountain town outside Santa Marta
Travel Guide to Cabo de la Vela, in the Guajira Peninsula
Travel Guide to Punta Gallinas, the farthest point north on the continent across the desert
Planning a trip to explore Cartagena?
Check out the following posts to help plan:
Insider's Guide to the Best Areas to Stay in Cartagena
Complete Packing List for Cartagena
Top Things to Do in Cartagena