Top Cartagena Luxury Hotels
There's nothing quite like being able to enjoy the finer things while on vacation!
What better way to do that than staying at fine, luxury hotel?
And if you happen to be wanting to treat yourself to some luxury in Cartagena, you're definitely in luck! A testament to its former colonial riches and status as Colombia's premier travel destination, there are plenty of terrific luxury hotels in Cartagena.
From beautiful former mansions and convents to modern high rises overlooking the Caribbean, you're sure to find one of the Cartagena luxury hotels to be perfect for treating yourself to a luxurious and charming time.
So, ff you want a truly luxurious experience while visiting the colonial charm and Caribbean beauty of Cartagena, read on to learn about the best luxury hotels in Cartagena, Colombia.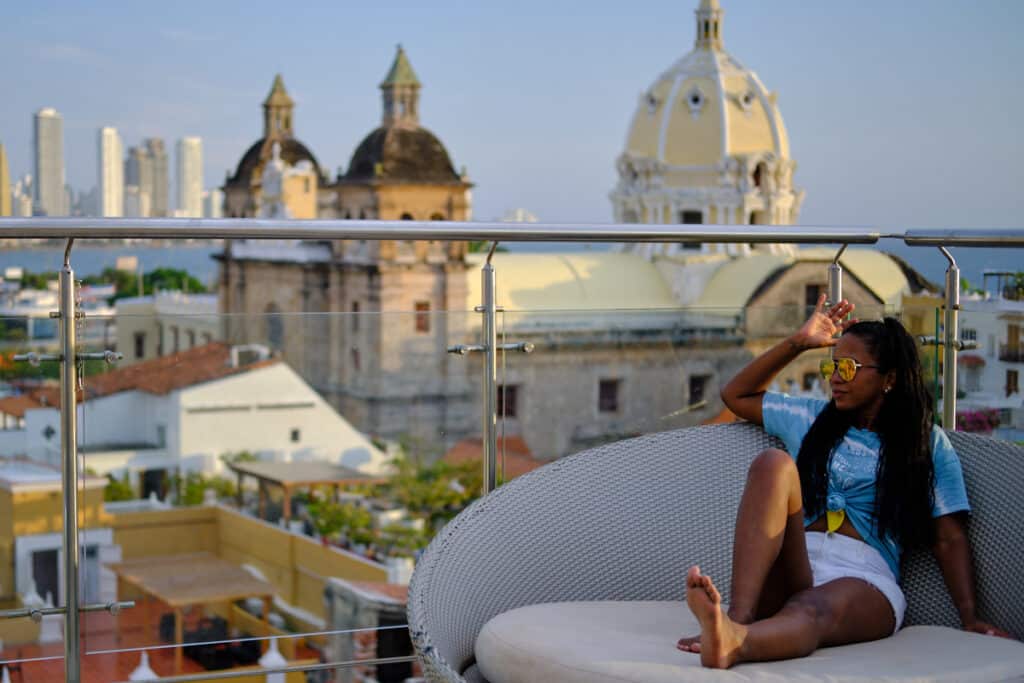 *Disclosure: This post contains affiliate links. I am a member of Amazon Associates, LLC and other affiliate programs and earn from qualifying purchases made after clicking those links. There is never any additional cost to you. To learn more please consult our Disclosure Policy.
11 Best Luxury Hotels in Cartagena, Colombia – Introduction
Cartagena is well known for its beaches, islands, charming colonial architecture, vibrant culture, and fascinating history.
Walking the streets, you can see the flower covered balconies and ornate wooden doors of the mansions that stand as testaments to the wealth and excess the merchants and colonial officials of yesteryear enjoyed in this colonial era hub of trade and commerce.
If you want to get a slice of that luxurious life yourself, consider staying in one of the best 5 star hotels in Cartagena, Colombia.
There may be only a small handful of true 5 star hotels in Cartagena but there are lots more great 4 star hotels in Cartagena that offer a luxury experience and would make a great choice if you are looking for a luxury Cartagena hotel too.
Too long; can't read it all quick overview
*Want to take the hassle out of planning your trip to Cartagena? Let the experts at our partner BnB Colombia Tours help you! Fill out this form and they will get back to you with a free, initial personalized itinerary based on your interests, then work with you to design a truly unforgettable trip.
While certainly not cheap, prices for the best Cartagena 5 star hotels and other luxury hotels in Cartagena are not nearly as exaggerated as in many other major destinations.
If you do want to splurge and enjoy a classy stay in Cartagena, you can find my picks for the best luxury hotels in Cartagena, Colombia here.
A quick note on how I decided which Cartagena luxury hotels I included on this list.
This list has larger Cartagena luxury hotels.
There are also some great boutique hotels located in former mansions that are smaller and more intimate. Many are also plenty luxurious, and might make good alternatives if you are looking for a smaller style Cartagena luxury hotel.
If you do want something of that nature, check out my list of the top boutique hotels in Cartagena (some places below are also on that list).
That's not to say these Cartagena, Colombia luxury hotels aren't elegant and charming as well. Many are also located in larger colonial era buildings. Two are even located in former convents.
However, I also included some more modern high rises on this list of the best luxury Cartagena hotels.
I kept those to a minimum, just because I think it adds so much to the experience to stay in one of the more colonial style Cartagena luxury hotels in the historic districts.
Still, if you want something more akin to modern luxury hotel chains, check out options 4, 9, and 10 on the list of 5 star hotels in Cartagena below.
You'll find more hotels of that style in the Bocagrande district and in the area known as La Boquilla or La Zona Norte (see my guide to the best areas to stay for more on the pros and cons of the different areas and more recommendations for where to stay in each).
All of the places on this list of best Cartagena 5 star hotels offer luxuriously furnished rooms and impeccable service. All of these Cartagena luxury hotels also have a terrific pool, all but a must in the heat of Cartagena.
That means you really can't go wrong at any of these best luxury hotels in Cartagena, Colombia.
I also included one 5 star Cartagena hotel that is on the beach in the nearby islands on the list (# 11), but if you want some more beach front Cartagena luxury resorts, you may want to check out this list of the best Cartagena hotels on the beach.
I actually recommend that most travelers combine 4 or more nights in the city at a place like options 1-9 on this list of Cartagena luxury hotels with 1-3 nights at one of the best hotels in the Rosario Islands, the islands off the coast that have the prettiest beaches (read more about them here).
If you have less than 5 nights total in Cartagena, you're better off sticking to staying at one of these luxury hotels in Cartagena proper and doing one of the best day trips to the Rosario Islands.
My Picks for the 11 Best Luxury Hotels in Cartagena
Now, let's get to this list of the best luxury hotels in Cartagena, Colombia!
This is a top 11 because, well, everyone does top 10s, 11 has a special significance for Cartagena since it declared its independence on November 11, 1811 (11/11/11), and I think you deserve just a bit more.
This list of the best luxury hotels in Cartagena is definitely in the order that I would choose a Cartagena luxury hotel.
The first three are pretty much hands down the very best hotels in Cartagena, and the picks that follow offer a combination of luxury, value, and their own special touches that some travelers may like even more than the top ones.
1. Casa San Agustín – The Best 5 Star Hotel in Cartagena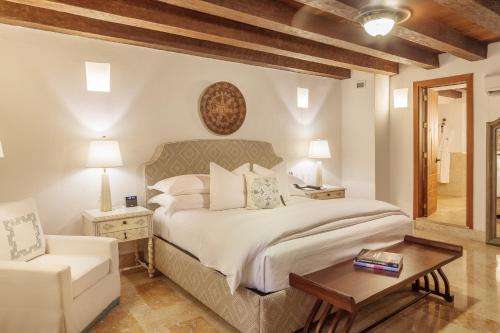 The Casa San Agustín is undoubtedly the very best of the 5 star hotels in Cartagena, Colombia. It is considered to be the overall best hotel in Cartagena without a doubt.
Located in the space of what used to be 3 large former colonial mansions, it has amazing rooms, a pretty pool, and its restaurant Alma is one of the best in the city (see it on this list of the best restaurants in Cartagena).
The hotel is recognized and widely regarded for outstanding service. It has even won a number of rewards and is regularly featured at places like Forbes and Conde Nast Traveler.
If your budget permits it, this should definitely be your choice for the best Cartagena 5 star hotel and lands a deserved first place on this list of Cartagena, Colombia luxury hotels.
Really and truly, if you can get a room at this Cartagena luxury hotel, just stop reading, book it, and check out everything else on the site to plan what will without a doubt be one of the best vacations you've every had!
2. Santa Clara – Former Convent Turned Cartagena Luxury Hotel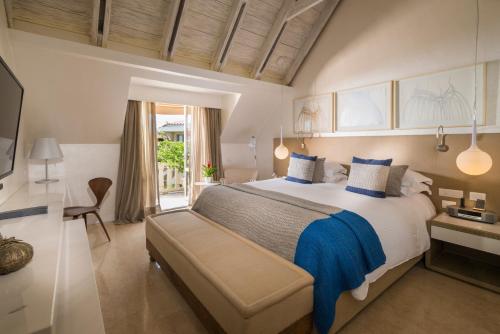 The Sofitel Legend Santa Clara takes a worthy second place among the best 5 star hotels in Cartagena, Colombia.
This gorgeous Cartagena luxury hotel is located in a former convent on the San Diego Plaza in a bit quieter part of the historic center of Cartagena.
You'll feel more like a prince or princess than a nun staying in this Cartagena luxury hotel though.
The rooms are luxuriously furnished with high, vaulted ceilings. They blend classy colonial elegance and charm with modern comfort perfectly. Some have views of the lovely gardens, and some even have views of the Caribbean.
It's really the perfect atmosphere for a 5 star hotel in Cartagena, capturing the magic of the Walled City perfectly.
Just steps from the hotel you'll find some of the best restaurants in town, including the famous La Cevicheria. That is if you want to leave at all as the restaurant here is terrific, not to mention located in the gorgeous colonial courtyard and garden. I actually proposed to Susana at the restaurant here!
While we've never actually stayed in the hotel, we have been back many a time to the restaurant and terrific bar that serves some great cocktails.
Plus, the courtyard pool is stunning!
Oh yea, and there is a great rooftop bar at this Cartagena 5 star hotel too!
The charm, beauty, and amenities at this Cartagena luxury hotel combine to make it a truly special place to stay and a worthy second choice for the best hotel in Cartagena to the San Agustín. It would be a fine choice for just about any age or type of traveler and is a particularly good fit for a romantic getaway or family vacation.
*If you'd like to get access to the great pool at Santa Clara and enjoy a luxurious experience at a slightly more friendly price, check out Las Bovedas de Santa Clara, located next door and with access to the pool at the Sofitel Legend.
3. Santa Teresa – Another Convent Turned Cartagena 5 Star Hotel
Next up on this list is another one of the best 5 star hotels in Cartagena, and another one located in a former convent with all its colonial magestry.
The Charleston Santa Teresa has a lovely central courtyard with its own terrific restaurant (make sure you try the crab nachos whether you stay here or not!). The courtyard bar out front is also a great spot for a drink.
There is also an amazing rooftop pool and terrace with an amazing view overlooking the city wall and Caribbean.
Rooms are elegantly furnished with the right blend of colonial charm and modern comfort that you'd expect at one of the best luxury hotels in Cartagena. It's a bit larger than either the San Agustín or Santa Clara and offers something closer to a luxury hotel chain experience, but the location ensures it keeps that intimate charm.
In sum, it is another great option among the best Cartagena, Colombia luxury hotels.
Really these first three options are the top of the top best hotels in Cartagena. They all are great options for romantic stays, and I'd give a slight edge to the Santa Teresa over the Santa Clara if you are traveling with kids due to the larger pool and slightly more laid back restaurant.
4. Movich – Luxury Hotel in Cartagena with the Best Rooftop Views
Hotel Movich is probably best known for their amazing rooftop bar and pool.
It is, in my opinion the best view in the city. Rather you stay here or not, it is definitely one of the top places to see the sunset in Cartagena.
Set in a more modern era building, it still has a classy and elegant decor to its rooms.
They have a nice blend of the historic feel of Cartagena with modern comfort and class. I think it makes for a really good medium between the more colonial feeling places above and more modern high rise Cartagena luxury hotels.
Plus, that rooftop bar and hotel is just amazing!
The pool itself isn't as large as the ones at the Santa Clara and Santa Teresa, but it's not too shabby either. It probably does make this a slightly better option for couples, solo travelers, and younger travelers than families though.
All that is not to mention the location, which is also great.
This Cartagena luxury hotel is just off the Parque Bolívar in the heart of the Walled City and within a short walk from the Clocktower and San Pedro Claver Church.
All of that combines to land this luxury hotel in Cartagena Cartagena high up this list and just barely behind the best 5 star hotels in Cartagena in the tier above.
5. Casona del Colegio – Luxury Boutique and a Great Value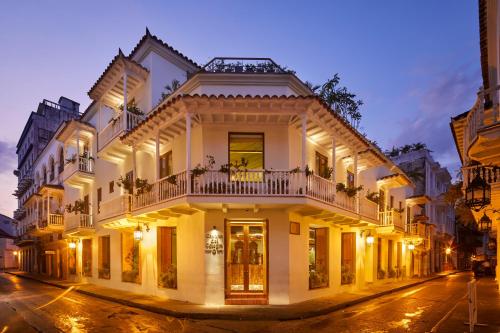 If you can "settle" for a luxury 4 star hotel in Cartagena, consider La Casona del Colegio.
One of the newer Cartagena luxury hotels, it is in a great location within just a stone's throw of the Clocktower. Susana and I actually treated ourselves to a staycation here and thought it was terrific (see a full writeup on the experience here).
While not cheap, I think it offers a great value for a Cartagena luxury hotel, practically as nice as the the best 5 star hotels in Cartagena above here but at much better prices. We also thought the service was terrific, and the food and drinks from the restaurant were top notch.
The included breakfast was amazing, and everything we tried off the lunch and dinner menus was as well. I appreciated that they had some creative dishes, and they also had some really tasty craft cocktails.
Pro tip: I wish we had gotten one of the suites on the corner that have balconies with private mini pools.
In all honesty, I can't think of a better spot for a romantic getaway than having a private balcony jacuzzi overlooking the colonial streets and skyline while staying at a luxury hotel in Cartagena. Plus, these rooms are similarly priced to the standard ones at the top places on this list.
In other words, if you want the best bang for your peso at a Cartagena luxury hotel, while also having a really romantic and relaxing place to stay, book one of the corner suites here and thank me later.
All the rooms at this Cartagena 4 star hotel have certain themes to their decoration that embody different aspects of Colombia. All are gorgeous and blend the elegance and charm of the colonial and modern.
There's also a great pool overlooking the Cathedral here if you don't manage to snag one of those suites (of course, even if you do, be sure to enjoy those views at the rooftop pool too!).
In short, it's another easy addition to the list of the best luxury hotels in Cartagena, Colombia.
6. Bastión Luxury Hotel – Classy and Elegant Cartagena 4 Star Hotel
Bastion Luxury Hotel Cartagena has a gorgeous rooftop pool located in the heart of the Walled City. While it doesn't quite have the view of Movich or Casona del Colegio, it ain't shabby either. The pool is also a bit larger, so not the worst tradeoff.
It is also located in a pretty and charming building.
The rooms here have a Victorian era decor. There is a nice restaurant on site and it offers easy access to the main attractions downtown.
It's also on the smaller side compared to some of the other places on this list of top luxury hotels in Cartagena, so if you're looking for something more intimate, closer to the feel of a boutique, this might just be the best luxury hotel in Cartagena for you.
7. Hotel Capellán – Newer 4 Star Hotel in Cartagena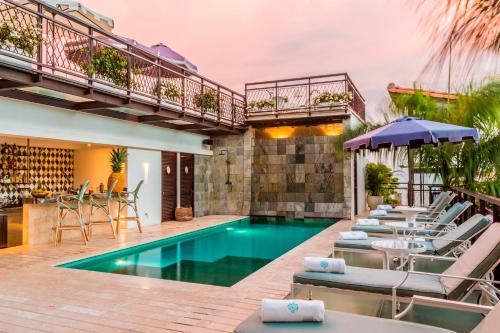 Located a block outside the Walled City in the equally historic neighborhood of Getsemaní, the Hotel Capellán is one of the newest luxury hotels in Cartagena.
Its location still offers easy access to the attractions inside the wall as well as being close to some of the best nightlife in Cartagena on the Calle Media Luna.
There's a rooftop pool and a well regarded spa here too. We have eaten and had drinks at the restaurant and enjoyed it a lot as well.
Its rooms are very nice with a blend between a classy, historical style, and modern comfort. They also offer a few larger multi-bedroom suites that would be a good place for small families and groups.
Really, though, I think this would make a good choice for couples and solo travelers too. It manages to really hit that perfect balance of being a great place for any kind of traveler.
So, it's an easy inclusion on this list of luxury Cartagena hotels!
8. Hyatt Regency – Best Modern Luxury Resort in Cartagena
Located in Cartagena's more modern Bocagrande neighborhood, the Hyatt Regency is one of the newest high rise Cartagena luxury hotels.
It's also one of the very tallest buildings in Cartagena.
At the very top there are several terrific lovely pools that look out directly over the Caribbean. In fact, I'd hazard to say these are the best pools at any Cartagena luxury resort.
The rest of the rooftop has a great sitting area that has a terrific view of the bay too.
The rooms here are also terrific, exactly what you would expect for a high end luxury hotel in Cartagena with the name Hyatt. They are modernly, yet elegantly furnished and many have amazing views out to sea.
The location is close to the beaches of Bocagrande, lots of great shopping, a slew of restaurants, as well as being just a short taxi ride away from the historic Walled City.
If you are looking for all the amenities that a larger chain hotel like the Hyatt can offer or just want a more modernly styled room than the more colonial, boutique places higher on the list, this may just be the very best luxury resort in Cartagena for you!
9. Estelar – Another Great High Rise Cartagena Luxury Resort
Located right across the street from the Hyatt Regency is the Estelar.
It is basically the same height, meaning it is also one of the tallest buildings in Cartagena and also looks out directly over the Caribbean.
You'll find an infinity pool here overlooking the Caribbean from on high. Although, unlike the Hyatt, the pool here is not on the roof but on a deck about half way up.
Instead of a pool on the roof, here you'll find 51 Sky Bar, the highest rooftop bar in Cartagena. It has a fun vibe and some terrific views of its own out to sea and of the bay. And the pool, though not rooftop, is pretty awesome, and slightly larger than any of the pools at the Hyatt.
Rooms are are also gorgeous, comfortable, and modernly furnished.
For a more modern luxury Cartagena hotel experience, these two options really belong at the top of your list. They both work well for any kind of traveler, from couples to families, and I'd say the Estelar is a bit more casual, while the Hyatt is a bit more top of the line.
*Estelar's sister property in Manzanillo is located about half an hour outside of town on the beach if you want a get away from it all, all inclusive, by the beach Cartagena luxury resort experience.
The Radisson Ocean Pavilion is located about 15 minutes outside of town along the beach known as La Boquilla, or sometimes also called Zona Norte.
It is nestled in among beachfront condos and a few other high rise Cartagena luxury resorts. These include the Holiday Inn Morros and Hotel Las Americas (both of which also make other good options, especially Las Americas for families with younger kids).
There are also some great rental apartments in the condos here like this one (if you're looking for more options, look for ones in the buildings named Morros, of which there are several that are all really nice).
I honestly tend to encourage people to stay in the city proper, as there just isn't much to do here within walking distance. Some similar places on the beach in the Bocagrande district include the Cartagena Hilton, Hotel Caribe, and Intercontinental and offer good alternatives with easier access to stuff in town.
However, this area is best for those who want a lot of beach time and are less concerned with being able to walk around at night. The beach here gets much less crowded than the ones in Bocagrande.
In my opinion, the Radisson is the best option in this area and makes for a great option for a Cartagena luxury hotel for those looking to spend lots of time on the beach.
Rooms are also modernly and stylishly furnished. So, if you don't mind sacrificing being right in the heart of the main attractions downtown, this makes another good option amongst the best Cartagena luxury hotels.
You could also opt to split your time between staying at another Cartagena luxury hotel and here to get some relaxing beach time. Although, I actually recommend you do that beach relax time at the next and last place on this list of luxury resorts in Cartagena.
11. Hotel Las Islas – Best Cartagena Luxury Hotel in the Islands
Don't let its place on this list fool you, Hotel Las Islas is arguably the finest hotel in all of Cartagena.
Ok, that is kind of cheating since it is not in Cartagena proper but in the nearby Rosario Islands. However, really and truthfully, no trip to Cartagena is complete without some time in the islands!
The crystal clear water and white sand beaches here are just so much prettier than the beaches in town.
For that reason, I recommend that anyone with 5+ nights in Cartagena split their stay into time staying at one of the Cartagena luxury hotels in the Walled City and one in the islands, giving you the best of both worlds.
And Las Islas is without a doubt the finest island luxury resort in Cartagena, although the newly opened and a bit more modernly styled Sofitel Calablanca might give it a run for its money, and the Hotel Isla del Encanto is also terrific, and probably the better choice for families with children.
Las Islas has private bungalows, some built amongst the mangrove forest, and some oceanfront. Some even have their own little pools, beach access, or private lagoons.
It is stunning and perfectly marries the luxurious with the rustic, really letting the natural beauty of the islands stand out without sacrificing comfort. I couldn't imagine a better place for a romantic getaway from it all escape for a few days.
Be aware, you will not want to plan your entire stay here since it is isolated, but a few nights here to complement your stay at one of the other places on this list of Cartagena hotels for luxury travelers is perfect.
In fact, this is exactly what I recommend!
Rather than staying at a place like the Radisson, stay at one of options 1-9 for most of your stay, and then stay a few nights here or somewhere else in the islands for your beach fix.
Ready to plan your stay at a Cartagena Luxury Hotel?
There you have it a complete guide to the top 11 best Cartagena hotels for luxury stays.
You can choose from Cartagena 5 star hotels set in former convents, former colonial mansions, modern high rises, or bungalows in the mangrove forest overlooking the crystal clear waters of the Caribbean (or, better yet, some combination!).
Really you can't go wrong though!
Whichever of the Cartagena, Colombia luxury hotels you choose, you're sure to have an excellent stay. Be sure to check out all the other resources on the site to help make your visit to Cartagena unforgettable!
Cheers and Luxurious Exploring!
Did you like this post?
You might also like the following posts:
Best Luxury Hotels in Bogotá
Cartagena Safety Tips
Best Foods to Try in Cartagena
Practical Guide to the Boat Party Spot Cholón
Practical Guide to the Pretty Colonial Town of Villa de Leyva
Planning your trip to Cartagena?
Be sure to check out these top resources:
Best Things to Do in Cartagena
Complete Cartagena Packing List
Best Areas to Stay