Set in the mountains of Colombia's coffee growing region, Salento has long been a mainstay on the Colombia travel map. It's a quaint, quiet, little mountain town with beautiful surrounding scenery and, of course, great coffee! If you want to see it yourself, read on in this practical travel guide to Salento, Colombia, where you'll learn why you should visit, how to get to Salento, what to do in Salento, where to stay in Salento, practical travel tips, and a suggested packing list to plan your trip to Salento, Colombia.
*Disclosure: This post contains affiliate links. I am a participant in the Amazon Associates Program as well as other affiliate programs and may earn a commission on qualifying purchases made after clicking links from this site. There is never any additional cost to you. For more information, please consult my Disclosure Policy.
Why You Should Visit Salento, Quindio
I've been to Salento twice. The first time was all the way back in 2011, my very first year in Colombia. In 2014, Susana and I returned along with my mom and sister.
Both times I was struck by the pretty scenery in this quiet little town nestled in the mountains of the coffee region aka the Eje Cafetero of Colombia. The surrounding hills are very pretty, and the town itself has a neat little mountain Colombian cowboy/campesino style.
The nearby Valle de Cocora is also beautiful, and I did the most unique coffee tour I've done anywhere in Colombia in Salento (more on both of those below). There are some other neat small towns nearby as well, including the hidden gem of Filandia.
Pretty firmly on the backpacker and Colombian traveler map, Salento is still a nice quiet escape from the cities and a great spot to enjoy some nature. I'd personally consider it to be the premier destination of the coffee region.
If you're ready to plan your own trip there, read on to learn how to get to Salento, what to do in Salento, where to stay in Salento, as well as some practical travel tips and a packing list in this practical travel guide to Salento, Colombia!
Travel Guide to Salento, Quindio, Colombia
Contents
How to Get to Salento, Colombia
What to Do in Salento, Colombia
Where to Stay in Salento, Colombia
Practical Tips for Salento, Colombia
Packing List for Salento, Colombia
How to Get to Salento
With it having become such a popular destination, you can get to Salento fairly easily from any of the other major destinations in Colombia's interior.
Can You Fly to Salento?
Are there flights to Salento? No. There is no airport in Salento, so there are no flights to Salento.
The closest airports are in Armenia and Pereira. You can check flights on Colombia's flagship airline Avianca (Avianca Europe here) or compare prices on flights across airlines at SkyScanner.com, Expedia.com, or CheapAir.com.
Buses to Salento
As noted above, the two closest cities to Salento are also Armenia and Pereira, and you can get buses to Salento from either. I know you can also get buses to Salento from Manizales as well since that's what I did back in 2011.
*Note all prices here were last checked in February 2020.
How to Get the Bus From Armenia to Salento
There are mini buses that run from Armenia to Salento (and Salento to Armenia) every 20 minutes from about 5:30 am to 8 pm.
The bus from Armenia to Salento can be boarded at the terminal in Armenia. The trip takes around 45 minutes and should cost approximately 4,500 pesos.
To return from Salento to Armenia, get the bus at the Transportation Office in Salento, a few blocks from the main plaza.
You can also hire a private taxi from Armenia to Salento, which should cost 80-100,000 pesos and take around half an hour.
How to Get the Bus from Pereira to Salento
You can get buses from Pereira to Salento at the Pereira terminal. On weekdays the Pereira Salento buses run at 6:50am, 1:30pm and 4:30pm, and on weekends at 6:50am, 7:30am, and hourly until 5:30pm.
The price of the bus from Pereira to Salento should be 6,500 pesos and the trip should take about 90 minutes.
Like the Salento to Armenia buses, get your return bus from Salento to Pereira at the main transportation office in Salento.
You may also be able hire a private taxi to take you from Pereira to Salento although I can't tell you confidently the price (I would expect 100-150,000 given the travel time).
If the times of the buses direct to Salento aren't any good for you, you can also hop a bus from Pereira to Armenia and get one of the more frequent buses to Salento from there mentioned above.
How to Get the Bus from Medellín to Salento
If you are coming from Medellín to Salento, you have a few options. You can catch a bus from the terminal to either Armenia or Pereira and get to Salento from Medellín via that route.
Or you can get a direct bus from Medellín to Salento with Flota Occidental. Their direct Medellín to Salento buses depart from the Terminal del Sur in Medelllín at 9 am, 11 am and 2 pm, and 10 pm daily. The trip from Medellín to Salento takes around 7 hours. The price should be 51,000 pesos.
If those times suit you, that's probably the best way to get to Salento from Medellín.
There is another charter van service from Medellín to Salento you can book online ahead of time via Viator (book the return Salento to Medellín trip here). Note you do pay a bit of a premium that way, but it includes a stop at the Santa Rosa hot springs, so actually it's a pretty decent value.
You can of course also fly into Armenia or Pereira to get to Salento from Medellín. You can check flights on Colombia's flagship airline Avianca (Avianca Europe here) or compare prices on flights across airlines at SkyScanner.com, Expedia.com, or CheapAir.com.
How to Get the Bus from Bogotá to Salento
There are not to my knowledge any direct buses from Bogotá to Salento. You will have to opt for a bus to Armenia or Pereira to get from Bogotá to Salento.
Total travel time by bus from Bogotá to Salento should run around 9 hours.
Again, you can also fly into Armenia or Pereira to get to Salento from Bogotá. You can check flights on Colombia's flagship airline Avianca (Avianca Europe here) or compare prices on flights across airlines at SkyScanner.com, Expedia.com, or CheapAir.com.
How to Get to Salento from Cartagena
If you want to get from Cartagena to Salento, your best option is to either fly into Armenia or Pereira or do it by bus via Medellín.
If you want to fly, you can again check flights on Colombia's flagship airline Avianca (Avianca Europe here) or compare prices on flights across airlines at SkyScanner.com, Expedia.com, or CheapAir.com.
If you want to get from Cartagena to Salento by bus, look for buses that go to Medellín. I would, however, highly recommend that you make a stop off in Rincón del Mar and/or the San Bernardo Islands on your way from Cartagena to Medellín (and of course spending some time in Medellín is also worth it).
Once in Medellín, follow the instructions above.
What to Do in Salento, Quindio
Visit the Cocora Valley
No visit to the coffee region is complete without a visit to the Valle del Cocora aka the Cocora Valley. It is considered one of Colombia's finest natural areas and definitely first on the list of things to do in Salento.
The Cocora Vally is most famous for its giant wax palms, the national tree of Colombia. The trees are the largest species of palms in the world, and many grow to be over 100 feet tall.
Unfortunately, they are considered threatened as many of the younger trees were cleared for cattle ranching in the 80s and 90s. Fortunately, there are better conservation efforts underway, although it will take time for the forests to grow dense again, as the trees take a long time to grow.
Luckily, there are still many left in the Valle de Cocora, and they make for a beautiful sight. The green covered hills with the tall palms adorning them are majestic and not to be missed.
Hike into the Forest in the Valle del Cocora
There is a neat hike up into the forest of the hills in the Cocora Valley. You'll go from the more plain like areas in the valley up into the denser, wetter forest. It is very pretty.
I'm going to be honest, when I did this back in 2011, I actually did not have a very good time. The forest was very pretty, but we accidentally hiked the horse path in. And it was the rainy season.
And it was pretty awful, like a 3-5 foot deep trench of mud. I had rented boots a size too big and got one stuck the mud pretty early on. Out came my foot with no boot on it, and I had to fish the boot out. So for the rest of the day I had a wet, muddy sock.
Once we got into the cooler air higher up, it was very chilly and unpleasant. It also rained later in the day.
So, I would say you should do this hike if you're into hiking, but I can't tell you strongly enough to make sure you avoid the horse path. I'm pretty sure I remember correctly, we headed to the right from the entrance.
But, ask, and ask again to double check, because that hike was miserable both going in and going out.
And, if it has been raining, dress warmly. Shorts were a mistake on my part, although I guess on the bright side, they didn't get too muddy. Seeing the forest is worth it, however.
Horseback Riding in the Cocora Valley
Honestly, this is what I should have done the first time!
Presumably, you can take a horse up that muddy path I waded through and get up in the forest that way much more comfortably. When we went back with my mom and sister, Susana and I did a shorter little trail where we rode horses in the Valle del Cocora.
We got the horses right around the entrance, and I want to say the little trail we did took around half an hour or so. A guide comes along and the horses basically just follow him, although Susana refuses to ever ride horses again after heres trotted a bit more than she wanted.
For what it's worth, I used to ride horses when I was like in the 5th grade, and these were definitely trained differently. We actually saw a girl who supposedly knew what she was doing get thrown.
I don't know, these are horses bred for the Andes, so they are smaller and skinnier anyways but they didn't look to be the happiest or healthiest. Not sure we'd do it again (well we definitely won't because Susana would have none of it, but you know what I mean).
Still, it was a quicker way to see a bit of the forest around (and it definitely beat hiking through mud!)
How to Get to the Cocora Valley from Salento
The best way to get from Salento to the Cocora Valley is to get one of the Willy's Jeeps from the plaza. From the morning to the early afternoon, you should see them waiting to fill up and be able to get the jeep from Salento to the Valle del Cocora pretty easily.
The cost of the jeep from Salento to the Valle del Cocora should be 4,000 pesos (last confirmed price check February 2020).
It should take about half an hour to get to the Valle del Cocora from Salento. If you are going during the rainy season, do ask at your hostel or in town if you can rent boots (hopefully that aren't a size too big).
Do the Most Unique Coffee Tour in Colombia at the Reserva Sacha Mama
This is undoubtedly the most unique and coolest coffee tour I've done in Colombia! I can't encourage you enough to include it on your list of things to do in Salento.
Reserva Natural Sacha Mama is actually not really a coffee farm. Years ago, it was, but after the crash in coffee prices in the late 80s, it along with many other coffee farms in the area were converted to cattle ranches.
This of course led to lots of deforestation (including the chopping down of many of the young wax palms) in the area.
The property was later bought by Pedro, the current owner and manager of Reserva Sacha Mama. His goal was to replant the forest and turn the area into a nature reserve.
Somehow though, there were several coffee plants that were never cut down. Pedro uses them to do a bean to cup tour and sells the coffee as well as a way of funding his project of reforestation.
I had actually met Pedro back in 2011 in town. My friend Zach and I had a long chat with him. He has to be one of the nicest people I've ever met.
We unfortunately didn't have time to visit then, but I made a point to make sure I would go if I ever made it back to Salento. Especially since the bag of coffee I took home was excellent!
When Susana, my mom, my sister, and I returned to Salento in 2014, we did in fact go and see Pedro.
Reserva Sacha Macha is located about an hours hike outside of Salento. Pedro actually came and picked us up in exchange for some gas money since my mom had a hurt ankle at the time, but there's some great scenery on the hike (the photo at the top of the post as well as this one below is from a lookout on the way).
Once we got to Reserva Sacha Mama, we sat on Pedro's little deck and did some bird watching. We got to see a toucan up close munching on a banana and then washing himself off in the bird bath. Of course, we also enjoyed some terrific coffee.
For the tour itself, we went into the forest where the old coffee trees are. I had been to traditional coffee farms before and the plants are always around 4 feet or so tall, but these were big tall vines.
We picked a few beans while Pedro also told us about the other trees in the forest and the importance of each of them and how they contribute to the ecosystem. It was neat that we not only learned about the coffee but basically got a nature tour as well.
Pedro then explained to us the drying and fermentation process that he completes naturally and organically.
Finally, we roasted some coffee. In fact, we roasted the very coffee that we purchased to take home, even sealing the bag and putting the label on it.
The tour concluded with a lunch of pasta and vegetables straight from Pedro and his family's garden. And of course, more coffee!
Honestly, I can't recommend the tour at Reserva Sacha Mama enough. Not only do you get both a unique (but still very informative) bean to cup coffee tour, but you also get to do some bird watching get to learn a bit more about nature and the forest too.
Plus, you'll be supporting a worthwhile and sustainable project and family run business by a very nice and gracious guy!
Learn more about Reserva Sacha Mama at its Facebook page or its website. They also welcome guests to stay there, which would be great for a place to get away from it and get in touch with nature.
Or You Could Do a More Traditional Coffee Tour
While I again can't tell you how much cooler Sacha Mama was than your standard coffee tour, they are neat as well.
There are a number of coffee farms that have tours around Salento, so if you ask your hotel or hostel in Salento or just ask around town, I'm sure you'll find a good one.
If you'd like to book one online in advance, you can do so at the well known Finca Ocaso via Viator.
Also, for a more unique experience in the vein of Sacha Mama, you can do a day tour to the Momota coffee farm (also via Viator) that is a 3 hour experience that includes a complete bean to cup workshop along with an in depth explanation of the traditional methods they use.
There are some other coffee tours listed online, but for prices that seem inflated at best. However, both of those seem pretty reasonable, so if you want to book ahead of time do it with one of them. Otherwise, just ask around once in town to make sure you get fair prices.
Hike Up the Hill in Town to Enjoy the View
You also have to include this in your plans for what to do in Salento. Near the end of town above the central plaza, there is a tall hill.
You can hike up the hill, where there are stairs along with the 14 Stations of the Cross. Once atop the hill, there are a few vendors selling drinks and snacks along with some games for kids.
But the real highlight, and why this has to be on your list of things to do in Salento, is the incredible view you get of town and the surrounding hills and mountains!
So make sure you hike up and then sit and enjoy the great view while you recover from the walk up.
Get Some Neat Handicrafts
Salento is well known for its artisan goods.
Be sure to pop into some of the shops around town to find some neat souvenirs. In particular, you'll find some great Colombian ponchos (kind of like a fleece pull over, great for the cooler weather in the mountains).
I also got a great straw hat last time we were there. I loved that hat until it got ruined on a boat ride back from Tayrona National Park a couple years later.
There are also some neat little shops selling art and handicrafts, all of it hand made and at good prices.
You'll find lots of little shops on the road heading from the main plaza up the hill towards the back of town near where the lookout point is.
Eat Some Trucha and/or Some Beef
Trucha or trout is the main fish eaten in Salento and much of Colombia's interior. It's good and tasty, but it is also bony, so watch out for all the little bones. I'll be honest, I prefer a good Mojarra in Cartagena as it's easier to eat, but the trucha is also pretty tasty.
Given all the cattle ranching in the nearby area, you can also get some good beef in Salento. While a lot of the best is reserved for sending to the cities or export, you can get a decent steak at an even more decent price in Salento.
Given how long it has been since we have been there last, I'm not going to try to recommend any specific restaurant in Salento, but there are lots around the main plaza, all of which should be just fine.
Have Some Good Coffee
Duh! Given you are in the Eje Cafetero, sampling some coffee has to be on any list of the things to do in Salento!
We stopped in to a cool little café named Café Jesus Martin just around the corner off the main plaza (I'm pretty sure on the far left hand side if you have the church to your back) that was great. My mom had a fancy latte and I had a good Irish coffee.
That being said, you can get good coffee all over in Salento, so make sure you sample some. You'll also surely want to take some home. You can find it for sell all over in shops, and of course, if you do a coffee tour, you can get some direct from the farm too.
While I would say, definitely try to pick up some Sacha Mama, Cafe Salento is also one of my favorite coffees I buy in the supermarket here in Cartagena, so you won't go wrong with that either.
Enjoy the Pretty Little Town and Surrounding Scenery
Honestly, maybe this should be at the top of this list of things to do in Salento, Colombia!
While maybe not as picturesque as the uniformly white adobe houses of Barichara or all the colonial era churches of Mompox, Salento is still a pretty little town. People are friendly, and it has that little country town feeling.
So make some time just for strolling and taking the town in. You of course also have beautiful mountains all around as well.
Where to Stay in Salento
La Serrana – Where We Stayed Both Times (Now Lalola B&B)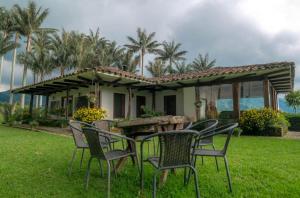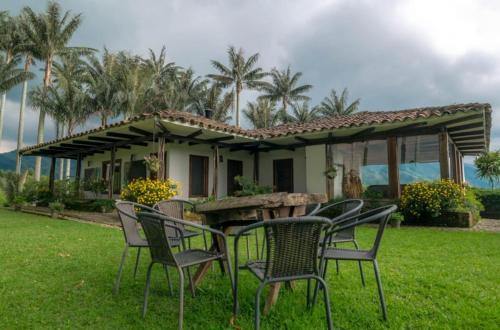 Both in 2011 and when I returned with my family in 2014, we stayed at La Serrana, a small former farm about a 15 minute walk outside of Salento. Unfortunately, La Serrana has closed, but what used to be the back house now operates as a Salento B&B named Lalola. The area around I'm sure is still gorgeous with nice views of the valleys below. It would still top my list of places to stay in Salento.
Check Availability and Book Here via Booking.com
Montana Guesthouse – An Alternative Option on the Outskirts
Just a tad further from where La Serrana was located and Lalola is today, is the newer Montana Guesthouse. It is a little slice of luxury in the quiet mountains of Salento. Featuring pretty, modern rooms and even a hot tub, it is among the finest Salento hotels. For those looking to fully enjoy the exclusivity of being in the mountains, it makes a great option, especially as a place to stay in Salento for couples and families. If you're looking to be even more in touch with nature, they also have a glamping site nearby.
Check Availability and Book Here via Booking.com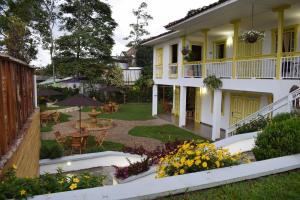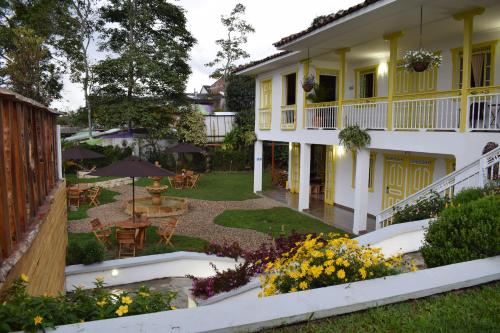 If you're looking for a hotel in Salento proper, check out Hotel Salento Plaza, located just off the main plaza. It is a pretty, little property with a nice garden. In addition to standard rooms, it also has family rooms that sleep up to 5 and includes breakfast. It would be a great option for those looking for couple or family friendly hotels in Salento.
Check Availability and Book Here via Booking.com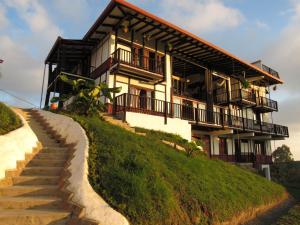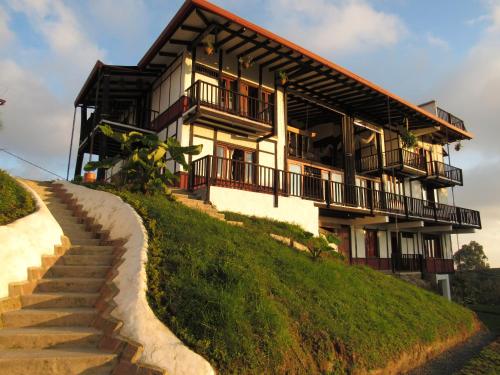 Coffee Tree Boutique Hostel is located in a big, pretty house on a hill about a 10 minute walk out of town. In addition to the pretty property, you'll also get to enjoy the surrounding scenery here. Breakfast is included and there are privates as well as dorms available at this hostel in Salento.
Check Availability and Book Here via Booking.com
Viajero Hostel Salento – An Even Better View from this Salento Hostel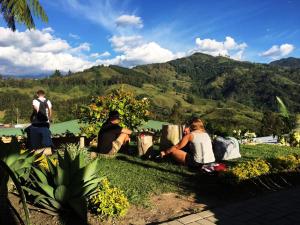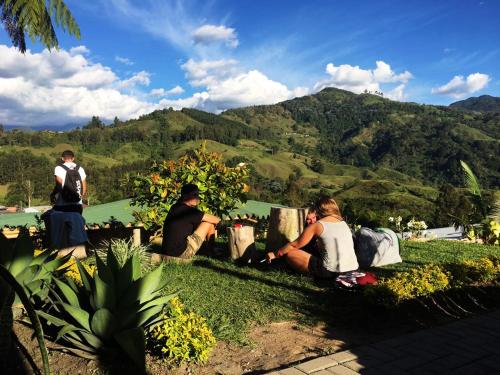 Also located just out of town, Viajero Hostel Salento has a big grounds with gorgeous views of the surrounding hills. There are privates as well as dorms on offer here and breakfast is also included. There are also yoga, dancing lessons, and other activities. That makes it one of the nicest hostels in Salento, especially for those looking to meet other travelers.
Check Availability and Book Here via Booking.com
Located on the edge of town near the look out atop the hill, Hotel El Mirador del Cocora, is a sleek and modern but rustic boutique hotel. It also has incredible views of the valley below. This would make for an especially good place for couples to stay in Salento.
Practical Tips for a Trip to Salento, Colombia
There are ATMs in Salento.
Salento is a quiet mountain town, so don't expect much of a night life. There are a few little bars in town, and at some of the hostels there may be more of a social vibe, but don't expect a party.
You can get Willys jeeps from the main plaza in town to many of the sites outside of town, and perhaps to many of the hostels out of town. There may also be mototaxis available.
A Packing List for Salento, Colombia
If you're wondering what to pack for Salento, keep in mind the following general guidelines about the weather in Salento: it tends to be chilly in the evening but can get warm during the day when the sun is out. When it is rainy, it will be chilly all day.
When is rainy season in Salento? One of the reasons Colombia is such a large producer of coffee is there are two rainy seasons in the coffee region. Rain peaks in April, May, and October, however there's a good chance of rains from March-June and September to December. It's best to make sure you pack a nice rain jacket.
The best weather in Salento tends to be in July. You can see more about the average rainfall at this link.
Considering, it's up in the cool air of the mountains, you'll also want to pack some warm clothes. You'll want a decent jacket or hoodie for the evenings (nothing too heavy similar to what you'll need for Bogotá).
Packing List for Salento, Colombia
Useful Travel Gear:
Gear for the Weather in Salento: