Colombia has a ton of neat colonial towns to visit, each with their own quaint charms. One of the neatest is undoubtedly Villa de Leyva. Most well known for its cobblestoned plaza and colonial architecture, it definitely looks like a place stuck in time. There are some great other attractions nearby as well. Read on to learn all about Villa de Leyva, Colombia, including where to stay and what to do in Villa de Leyva.
*Disclosure: This post contains affiliate links. I am a member of Amazon Associates, LLC and other affiliate programs and earn from qualifying purchases made after clicking those links. There is never any additional cost to you. To learn more please consult our Disclosure Policy.
Villa de Leyva, Colombia Travel Guide – Contents
Why Visit Villa de Leyva
How Long to Stay in Villa de Leyva
Where to Stay in Villa de Leyva
What to Do in Villa de Leyva
Packing List for Villa de Leyva
How to Get to Villa de Leyva
Is Villa de Leyva Safe?
Practical Tips for Villa de Leyva
Too long; can't read it all quick guide:
Best Place to Stay in Villa de Leyva: Hotel Antonio Nariño
Best Hostel: Selina
5 Best Things to Do in Villa de Leyva:

See the fossils at El Fosíl and the Centro de Investigaciones Paleontologicas
See the Terracotta House
Hike to the Top of the Mirador El Santo
Visit a Vineyard
Visit the Pozos
Want some help planning your trip to Colombia? Take the hassle out of planning and let the experts at our partner BnB Colombia Tours help you! Check out their predesigned packages or fill out this form and they will work with you to design a custom made trip. Their packages start at $200 USD per day.
It's more recommendable than ever to get travel health insurance. World Nomads is a leading provider of international travel insurance. Learn more and get a quote here.
Why Visit Villa de Leyva, Colombia
Villa de Leyva aka Villa de Leiva, Colombia, is most well known for its lovely colonial architecture and stuck in time feeling.
Much like in Barichara, Salento, or Mompox, wandering the streets feels like being transported back in time. It was named one of the most beautiful towns in Colombia by CNN.
Enjoying the charming atmosphere is probably the main reason to visit Villa de Leyva, Colombia. However, there is more than just the town itself to see, and there is actually quite a bit of things to do near Villa de Leyva.
A shallow, coastal sea millions of years ago, there have been a number of important paleontological discoveries made near Villa de Leyva, and there are several sites where you can see fossils, including some truly impressive marine dinosaur bones.
The area was also an important part of indigenous Muisca territory, and there are several archeological sites nearby as well. In short, Villa de Leyva is rich in natural and human history.
Finally, there are some neat natural attractions in the immediate vicinity as well. You can see everything from waterfalls, to a blue lagoon, to a a desert. There are also several vineyards (the only ones in Colombia) nearby.
In short, while you might come for the colonial quaintness, you may find you want to stay for all the things to see near Villa de Leyva, and this enchanting town is a great inclusion on any Colombia itinerary or South America bucket list!
How Long to Stay in Villa de Leyva?
This is tough, because it is a small town, and you can walk the town and take in the colonial vibes in a day, but there is so much more to do outside of town.
I would recommend 2-4 nights.
If you just want to see town, and see a few of the highlights out of town like the fossils, having 1 night and a day and half is ok. However, if you want to see more of the other stuff outside of town, you need another day or 2.
We stayed 3 nights, and I while we don't feel like we missed anything, we left feeling like 1 more night would have been better and let us see a couple more things we would have liked, and that was with some things we wanted to see still closed.
Still, I understand people visiting from abroad might be pressed for time to include everything the want to see in Colombia.
Can You Do a Day Trip to Villa de Leyva?
Yes, you can do a day trip to Villa de Leyva from Bogotá
But I wouldn't recommend it.
It's 5-6 hours just travel time. I think you'll get much more by staying for at least 2 nights. If you are very pressed for time and want to still see Villa de Leyva via only a day trip though, I recommend doing a tour with private transportation like this one that will give you a bit more freedom for the stops you make, since there are so many neat attractions outside of town.
My partners at BnB Colombia Tours also offer a private day trip to Villa de Leyva from Bogotá. It's a full day that includes a stop at the Puente de Boyacá (site of a famous battle) and some of the main sites in and around Villa de Leyva. Check it out here.
The also offer a number of packages that include Villa de Levya:
Where to Stay in Villa de Leyva
Villa de Leyva isn't very large.
You can walk from one edge of town to the other in half an hour. So, there isn't any really any bad place to stay in Villa de Leyva. Of course you will find most of the restaurants around the main plaza and the streets behind the church.
This is also where many of the hotels are located, but don't feel like you have to stay right by the plaza, because you can easily walk there no matter where you stay in Villa de Leyva.
Places We Stayed in Villa de Leyva
We stayed at 2 places in Villa de Leyva, one a bit cheaper and one nicer. Read about them here before I give you some other options for places to stay in Villa de Leyva.
Hotel Antonio Nariño – Nice Colonial Style Hotel Close to Plaza
We spent our last night in one of the suites at Hotel Antonio Nariño as a romantic night at a nicer place. The hotel is in a historic mansion, and the rooms have a neat, rustic decor. It is located just a block from the main plaza. Bed was very comfortable, and you can even ask them to light a fire in the fireplace for you. The price is on the higher end, but not outrageous.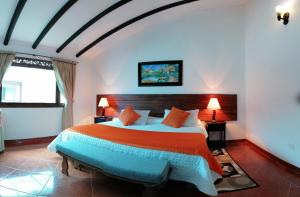 This is where we stayed our other two nights. The Hotel Casa Roma is located about a 10 minute walk from the center of town, so it's not quite as central, but we thought it was comfortable and a good value. The included breakfast was simple but good and nice to not have to worry about getting it on the go.
Other Places to Stay in Villa de Leyva
Here are some other options for where to stay in Villa de Leyva, with one other higher end hotel, a midrange value choice, and a hostel in Villa de Leyva.
La Casa del Arbol is the place to pamper yourself a bit in Villa de Leyva. The rooms are pretty and well furnished, and some come with a terrace. There are also family rooms. The location is great, located just a block away from the Plaza Mayor and near lots of restaurants.
Maria Bonita Hotel has a pretty decor that blends perfectly the colonial atmosphere of Villa de Leyva and modern comfort. It's just a few blocks from the Plaza Mayor and prices are fair for the quality. There are also family rooms available, making this a good choice for groups and families for where to stay in Villa de Leyva.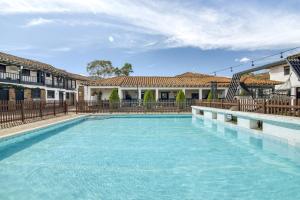 Selina has a chain of boutique hostels around Colombia and Latin America. There aren't really any other hostels in Villa de Leyva, so if you would like a hostel, Selina is the place. It doesn't disappoint. Located in an old mansion about 5 blocks from the center of town, it is also one of the few places to stay in Villa de Leyva with a pool. There is a dorm here as well as private rooms. It is the ultimate blend of trendy and colonial.
What to Do in Villa de Leyva
The obvious attraction here is exploring the pretty town itself and taking in the neat atmosphere.
However, there are lots of things to see near Villa de Leyva as well. Here I'll go over the best things to do in Villa de Leyva itself as well as all the many things to do near Villa de Leyva.
Is it worth it to do a tour in Villa de Leyva?
Actually, this is one of the few times I would say, yes, you are better off doing a tour to see the many things located outside of town.
I'm sure it's possible to get to and from most of the places via public transportation, and I've also heard of people renting bikes, which if you are ok with some inclines on the hills outside of town would also be a good way to get around. This is one of the few places in Colombia where I might consider renting a car as well.
However, doing tours is also a good way to have transportation to and from the places to see outside of Villa de Leyva.
We did a tour with Touristiando con Jorge. He had a package that included the Pozos Azules with an ATV rental + 4 stops of our choice + horseback riding. He let us substitute going by the Casa Terracota in place of the horseback riding. He also took us by this neat little church outside of town. Supposedly the smallest church in Colombia, it was built by a man that lives nearby after promising his wife he would build her a church if she recovered from cancer.
The tour was just the two of us in Jorge's jeep, perfect for taking in the views from the road, and we went to Centro de Investigaciones Paleontológicos, El Fósil, Granja Avestruces, and the Vineyard in addition to the Pozos Azules (more on all of them below).
We got small discounts of a couple thousand pesos at several of the places as well. If you would like to get in touch with Jorge, you can via the email Jorgetangarifeguia@gmail.com or via phone at 318 817-0306. He had a post just inside the restaurants on the corner of the left side of the Plaza Mayor too.
Another option would be to contact Johan Sierra who took us on a tour of towns close by (more on that also below). He can be reached by phone or Whatsapp at 300 306-6628. I'm sure he would be willing to take you around to other places you'd like to see.
I understand it's also pretty easy to just arrange with a taxi to take you around.
Ok, now on to what to do in Villa de Leyva, tour or no tour.
Take in the Plaza Mayor
The 14,000 square meter plaza at the center of Villa de Leyva is one of the largest in all of the Americas.
It is the largest in Colombia, slightly edging out the Plaza de Bolívar in Bogotá. I had to double check that because Bogotá's feels bigger. I guess that is because of all the people usually there and larger buildings around it. Granted the Plaza Mayor in Villa de Leyva is only about 100 square meters larger, but still, it's impressive.
It remains covered with cobblestones today, and it is believed to be the largest cobblestone plaza remaining in the Americas. In the center, you'll find a fountain, and overlooking the plaza the church of Nuestra Señora del Rosario.
Surrounding the plaza, you'll find a number of cafés, restaurants, and hotels. Enjoying a coffee here while people watching is one of the absolute best things to do in Villa de Leyva.
We also tried the beers from the Bruder Mircrobrewery based out of nearby Tunja. They had a great imperial stout and chocolate stout, both perfect for hanging out in the plaza in the chilly evening, especially if you're a craft beer nut like me.
*See some of the best craft beer to try in Colombia here.
Explore the Rest of Town
Be sure to walk around the rest of Villa de Leyva off the main plaza.
Especially the streets behind the church are pretty and have lots of little shops and cafes. Of course the streets themselves are charming just to walk.
There's another little brewery we tried named Hissa that had a cool little courtyard and live music.
There are several museums in town.
The Casa Museo Antonio Nariño is located just a block off the main plaza. Nariño was an early advocate for independence and translated the "Declaration of the Rights of Man" to Spanish. Nariño did 4 stints in prison, escaping twice. He retired to this house where he died in December 1823.
It's a pretty house and has some neat artifacts, not to mention it is free to tour. You can also hang out in the nearby park that bears Nariño's name.
On the main plaza itself, opposite the church, there is the Museo Luis Alberto Acuña, a painter. It had an $8,000 pesos entry fee and there are some neat works from Acuña and his collection here.
Also, make sure you go by the Iglesia de El Carmen just a block from the main plaza. Inside, there is a religious art and relics museum, although we didn't see that ourselves.
Finally, the Casa Museo Antonio Ricaurte is located near the northeastern edge of town. Ricaurte is famous for committing suicide by blowing up a barrel of gunpowder, killing a number of royalist troops in the process at the Battle of San Mateo in 1814.
This is the house where he was born and a museum today. We tried to visit but it was closed. The park in front is also pretty and has a small little church overlooking it.
See the Fossils Found in the Area
I was a huge dinosaur nerd when I was a little kid, like obsessed with them. The first movie I saw in the theater was Jurassic Park. So naturally, I insisted on dragging Susana to all of the fossil museums in Villa de Leyva.
Some very significant paleontological discoveries have been made near Villa de Leyva. The area was covered in water and was a shallow coastal sea during prehistoric times. There have been lots of fossils of prehistoric marine reptiles found here as well as tons of Ammonites, prehistoric underwater animals sort of like squids with snail shells.
There are a number of places to see fossils on display, and seeing at least one (or all) of them is undoubtedly one of the can't miss things to do in Villa de Leyva.
Museo Paleontológico
Just out of town proper, you can find the Museo Paleontológico.
Run by the Universidad Nacional, it is about a 15 minute walk out of town. You can get there by continuing past the Antonio Ricaurte Park. There are some neat houses just out of town on the walk as well.
There was an $8,000 peso entry fee, and there are some decent examples of fossils on display here. The building itself is also a historic mill, and you can still see the watermill that turned the mill today. Behind the building there is a neat garden of different trees.
The other two places here have more impressive collections of fossils, but if you have some extra time and are a nerd like me, this makes for a decent thing to do in Villa de Leyva.
Centro de Investigaciones Paleontólogos
This is the place with the most impressive collection of fossils.
It's located a bit outside of town. If you are only going to go to one of the fossil museums in Villa de Leyva, this is the one to go to.
There was a $12,000 peso entry fee and it included a half hour guided tour that explained many of the fossils on display.
There are tons of fossils on display here too.
You can see near complete examples of Ichthyosaurus and Plesiosaurus. There is also a giant vertebrae bone of a Padillasaurus (a Little Foot relative), a prehistoric turtle fossil, and even a sabertooth tiger skull. There are dozens of examples of the Ammonites and even a couple examples of Trilobites, over 500 million years old.
Very cool as well, there are glass windows where you can see paleontologists at work, cleaning and preserving other samples. It is one of the best paleontology labs in Latin America and has helped to keep many of these specimens from going abroad.
In sum, there is a really nice collection here and it is absolutely a must include on your list of what to do to in Villa de Leyva.
El Fósil
In 1977, a campesino tripped on a rock at this site where locals had long noticed an odd rock formation. Realizing it was more than just rocks, the site turned out to be a nearly complete skeleton of a Kronosaurus, a giant marine dinosaur.
Rather than have the bones removed and taken abroad, the locals built a museum around it, and you can see the bones right where they were found.
It's neat, and while some people told us visiting the Centro de Investigaciones would suffice since there is more on display there, I was glad we visited here too, and it is basically just across the street.
There are some other fossils on display as well, including some neat examples of fish and leaves as well as plenty of ammonites. The museum is also community run.
There was an $18,000 peso entry fee. Again, if you're only going to do on fossil site, see the CIP above, but this is one of the most unique fossil specimens in the world. That makes it a great addition to your list of Villa de Leyva things to see too.
See the Pozos Azules (and go for an ATV ride)
Located a bit out of town, the Pozos Azules are a series of ponds that have algae in them that turn the ponds a bluish-green color. When the light hits them right, they are really pretty.
There is also a Pozo Rojo that is a more reddish color. Built around the ponds is a 4 wheeler track in the desert.
A guide will ride ahead of you, and you'll be able to stop at each of the ponds for photos. Our guide was great and took lots of pictures and chatted with us.
There was a $10,000 peso entry fee. Our ATV rental was included with the tour we did with Jorge but it would have cost $40,000 pesos for an additional one, so I imagine around that is how much it should cost if you go on your own.
For what it is worth, I had read somewhere online you could walk to the Pozos Azules. In theory you probably could, but it would be quite a walk, so don't try to do it in the late afternoon like we did and then gave up when we realized it was pretty far.
See an Ostrich Farm
I had no idea that ostrich is considered by some to be a delicacy and that there were farms that raised them for their meat. Nor can I say that this is one of those things that stood out to me when researching what to do in Villa de Leyva, but Susana convinced me to go.
I did drag her to every fossil museum after all. It was actually pretty neat.
There was a $19,000 peso entry fee. In addition to the ostriches, there are a number of other animals you can see here, including bison, horses, goats, giant Ethiopian cows, and llamas.
The tour is actually pretty informative about all the animals. For example, I had no idea the differences between llamas and alpacas. You can buy little bags of food for $2,000 pesos before hand to feed the animals as you go. The ostriches are especially odd eating out of your hand.
You can also try ostrich meat here (the meat is not from any of those cultivated here, they are sent elsewhere for slaughter). We didn't do that, but if you ever wanted to try an ostrich steak or an ostrich empanada, this is the place to do it.
You can buy a ticket ahead of time here (although it is slightly more expensive than buying there).
Visit a Vineyard
The temperate climate and rich soil around Villa de Leyva make it a good place for growing the grapes for wine.
In fact, the few vineyards around Villa de Leyva are the only ones I know of anywhere in Colombia. Neither Susana nor I had ever done a winery tour before, so we jumped at the chance.
We went to the Vineyard Ali Karim, where the wine Marques de Villa de Leyva is produced.
They offer a number of different plans for different prices. We chose the Plan Bronce which came with a big plate of tapas paired with 2 glasses of wine each. It cost $89,000 pesos per person, but there were cheaper as well as more expensive plans available. It seemed like the best bang for your buck.
It includes a tour of the vineyard, the winery, and the cellar with an explanation of the process as well as tips on tasting. Our tasting included a Cabernet Sauvignon Rose and Merlot. We also sampled glasses of the Sauvignon Blanc and Cabernet Reserva.
All were great, although I would have probably preferred something else in place of the Rose in the tasting (the wines are chosen for you to pair with the food).
The additional glasses weren't badly priced though at $13,000 pesos and there are nice picnic tables out by the vineyards with views of the surrounding mountains.
I'm sure this isn't as nice as Napa Valley or other famous places for wine tours, but if, like us, you have never done a proper wine tour and tasting or you just want to spend a couple hours hanging out, drinking wine and enjoying the pretty views, it's worth including on your list of what to do near Villa de Leyva.
See the Casa Terracota
Located not far outside of Villa de Leyva is the Terracota House aka the Casa del Barro or Mud House. It's a giant mud house.
Interestingly enough, it was built by a guy who just wanted to live in a mud house, but since people kept coming to see it and ask for tours, he gave up on just living a peaceful life in his unique house and started charging people to come see it as the tourist attraction it was becoming anyway.
It had actually not reopened yet when we visited in December 2020, but we did go by and see it from a distance.
Pre-pandemic, there was a $15,000 pesos entry fee to tour the 3 story house all made from dried mud. It's another unique thing to include on your list of what to do close to Villa de Leyva.
Do a Nightime Mini-Chiva
Going on a Chiva party bus is one of the most popular things to do in Cartagena, but you can also do one in Villa de Leyva.
Ok, it is a good bit different. It's a smaller chiva and a lot less rowdy.
It will take you around to some of the main sites in town and has a recorded audio tour. It was nice doing it around Christmas time as we got to see all the lights up around town. It also goes out of town to a mirador where you can see the town below and the stars above.
When arriving back in town, you get a Canelazo, a hot drink of aguardiente and cinnamon, a tradition in the mountainous interior of Colombia and a good drink to warm the insides on a chilly evening.
The Chiva cost $25,000 pesos and can be booked from the tour agency directly across from the church on the Plaza Mayor. It leaves from there as well.
Hike to Mirador El Santo and Take in the View
Mirador El Santo is up one of the mountains at the back of town. It is also sometimes called El Sagrado Corazón, and you get an incredible panoramic view of town below surrounded by the mountains.
To do the hike, head up the road to the left of the church on the Plaza Mayor.
You'll head up a hill to the edge of town, where you'll see a park with an enclosed soccer field. Go through the gates, and on the far side of the field, you'll see a path up into the woods heading up. That's the path to El Santo. It is approximately 1.75 km (about 1 mile) to the top.
Neither Susana nor I are avid hikers, and while we aren't in horrible shape, we don't exercise nearly as much as we probably should. We found ourselves out of breath a few times and took little breaks. There are a few sections of fairly steep inclines, but overall the hike isn't too awfully difficult.
You will definitely want good, comfortable shoes though and some water, as well as sunscreen, as some of the hike is through woods but some sections are also exposed to the sun. There's also a pretty steep section up rocky terrain, so good shoes with some grip are crucial.
When you get to the top, you'll find the statue of El Santo looking down over the valley below. Take some time to get a well deserved longer rest and enjoy the view!
It took us about an hour and 20 minutes to get up with 4 or 5 short breaks. It took 40 minutes going back down.
I recommend doing this first thing in the morning after breakfast as it shouldn't be too hot yet, and starting the day with some strain will have you feeling fresh the rest of the day.
See the Waterfalls at La Periquera
Located about 40 minutes outside of town by car, La Periquera is a natural reserve where you can do a short and fairly easy hike to see 3 waterfalls on the Cebada River.
There was a $20,000 peso entry fee to the park. The paths are well maintained, and there are restrooms available at the trail head.
You'll go through a forest, then a pretty clearing, then back into the forest to see the falls. The hike in is mostly downhill. Coming back uphill is a tad tough, especially the final stretch which is up steps cut into the hill.
Overall though, it's not too bad.
The first fall is the largest and there is a nice little mirador along the path. You can only just barely get a glimpse of the top of the second fall. The third fall at the bottom of the path has a nice little area with some places to sit and enjoy the view before doing the uphill hike back out.
The hike should take you between an hour and an hour and a half, depending on how long you stop at the falls.
There was a little bit of mud as there had been some rain, so you'll want proper shoes, and some bug spray isn't a bad thing to bring along either.
Go Puebleando in the Nearby Towns
While Villa de Leyva is the largest and most well known of the nearby towns in Boyacá, there are several other, smaller towns nearby that also have their own charms.
We had booked the driver to La Periquera via the same tour agency as we had done the Chiva. Afterwards, the driver offered to do a separate tour to some of the nearby towns.
We had not planned on doing that. In fact, we were leaving that afternoon. However, he convinced us and stopped by our hotel to get our things so he could leave us directly at the bus station afterwards to catch a later bus.
I was hesitant at first just to make sure we didn't miss the bus, but I'm glad we did this. It was absolutely worth it.
The tour took us to Sáchica, where there is a small museum on the indigenous Chibcha, Sutamarchán, famous for their longaniza sausages that are similar to chorizo and where we stopped for lunch, Tinjacá, named the town with the best climate in Colombia, and Ráquira, famous for pottery and ceramic crafts.
All the towns have pretty central plazas with colonial churches. Sáchica, where many of the residents rely on the surrounding onion fields, has a giant onion in its plaza.
On our tour, we also stopped at a neat little workshop outside of Tinjacá named the Taler Tagua. The owner and his wife sell handmade statues from the dried seeds of a palm tree. They show you the whole process. It's really neat, and they even have these tiny chessboards he has carved.
In Ráquira we also stopped at a ceramic shop and learned a bit from the father and son who run it. We even got to try our hand on the pottery wheel, which is harder than it looks.
Our driver's name was Johan Sierra and you can contact him via Whatsapp at 300 306-6628. He was great.
For some reason I didn't write down what we paid for this tour, but I thought it was more than fairly priced. I also thought it was a really cool touch he included the stops at the two workshops.
I'm sure it is also possible to do this on your own by hopping buses to each town, or by renting a car as well, but not sure if you would get those unique experiences.
If you do this, I recommend trying to devote a whole day to it if you can. We did it in a few hours since we were leaving that afternoon, but it was very whistle stop. Basically, we snapped a few photos in the plaza and then drove on to the next town. It would be nice to take some more time to see more of the towns.
If you have lots of time, spending a night or two in one or more of them might also be nice (See places to stay in Sáchica, in Sutamarchán, Tinjacá, and Ráquira). However, even if you only have a half day like we did, I still recommend doing it.
Other Things to Do in Villa de Leyva (that we didn't do)
There are a few other things to do in Villa de Leyva that we didn't do. Some were not open yet and some we just didn't have time to do or weren't our cup of tea.
Visit El Infiernito Archeological Site
This area was not just home to important ancient animals, but also pre-colonial culture. The Muisca people inhabited these plateaus.
El Infiernito is an astronomical rock formation built by the Muisca.
It helped them determine the changing of the seasons. I would have liked to have seen this, but unfortunately it had not reopened when we visited in December 2020. I did read there was an $8,000 peso entry fee but can't confirm if that is up to date.
See Muisca Pictograms
I had also read about this. There are some pictograms located on a rock face off the road between Villa de Leyva and Sáchica. It was also closed when we were there.
Parque Gondova
This is a big park with lots of life size dinosaur models. It could be a good option to include on your list of places to see in Villa de Leyva if you are traveling with kids. You can buy a ticket ahead of time here.
Visit the Convento Santo Ecce Homo
About 13 km outside of town, this 17th century Dominican convent has pretty architecture and gardens. It had also not reopened yet.
Go to the Saturday Market
We weren't there on a Saturday morning, but I had read the market on Saturday mornings is a neat experience with farmers from around the area bringing in fresh fruits and vegetables.
Hike to the Paramo Iguaque
The Iguaque National Park is located on the plateau of the hills higher up above town.
El Santo actually is located on the edge of the park but you are not meant to enter there. I'm not sure why, perhaps due to there being no safe path.
The actual entrance to the park is a ways outside of town. In the park, you can hike to the Lake of Iguaque that the Muisca considered sacred.
I had read online it is a 3 hour hike each way, but I'm not entirely sure if that is from the trail head or from town itself. For those looking for a longer hike than el Santo and Periquera, it could be worth including on your list of places to go hiking near Villa de Leyva.
Visit the Thermal Springs
We saw this offered by several tour agencies. It is an evening plan and is presented as a romantic thing.
It includes a glass of wine or canelazo. It wasn't high on our list of things to do in Villa de Leyva but it might be worth doing if you have the time.
Visit Aventura Park
This park is located near La Periquera and has adventure style attractions.
They have bicycles suspended on rope tracks in the air, plank bridges, and zip lines. If you ever wanted to be on one of those TV challenge shows, it's kind of like that.
We considered doing this but thought the prices were a little high and we wouldn't have the time.
If you do want to do it, there is a little office in town where you can buy packages that include different activities. Most tour agencies offer transportation here as well, but you likely get a better deal buying several activities in a package rather than buying them separately.
This can be done the same day as La Periquera if you want include it on your list of what to do in Villa de Leyva.
Packing List for Villa de Leyva – What to Pack for Villa de Leyva
Villa de Leyva has a similar climate to elsewhere in Colombia's interior. During the day it's generally a comfortable temperature when the sun is out. I wore pants every day and was fine most days in short sleeves.
You'll want comfortable shoes for the cobblestone streets and hiking. In the evening it is a bit chilly, especially if it's windy or rainy, so definitely bring along a light jacket too.
General Travel Gear
Clothes to Pack for Her in Villa de Leyva
Clothes to Pack for Him in Villa de Leyva
Columbia's polos are comfortable and good in any weather. Their tees are too.
Their button ups are also good for being on the go.
Ive got several pairs of these Wrangler All Terrain pants and they are super comfortable and good for exploring town or hiking. These Columbia pants are as well.
I wore pants everyday we were in Villa de Leyva, but during the day shorts would be comfortable. These light shorts would be good.
Finally, once again, you'll want good shoes. These New Balance brown sneakers are good for hiking and walking around town but look nice enough to wear to dinner too.
How to Get to Villa de Leyva
Here, I'll go over the transportation options for how to get to Villa de Leyva.
Where is Villa de Leyva in Colombia?
Villa de Leyva is located northeast of Bogotá on the plateau of the eastern cordillera or mountain range that runs through central Colombia and makes up one of the 3 roots of the mighty Andes that run through Colombia.
Can You Fly to Villa de Leyva?
No.
There is no airport in Villa de Leyva. The closest airport is in Bogotá, and if you are flying from elsewhere in Colombia, you should plan to fly into Bogotá where you can travel easily by bus or car to Villa de Leyva.
It is also possible to reach Villa de Leyva from other major cities in Colombia, although in many cases, you will have to route through Bogotá (coming from the interior) or Bucaramanga (coming from the Caribbean coast). Below you can find notes on how to get to Villa de Leyva from various parts of Colombia.
*Looking for flights? Check prices on Colombia's flagship airline Avianca, look for a package deal on Expedia or Orbitz, try to score a deal at CheapOair, or compare prices across airlines at Skyscanner.
How to Get to Villa de Leyva from Bogotá
Here are some options for traveling from Bogotá to Villa de Leyva.
Private Transportation to Villa de Leyva from Bogotá
If you'd prefer the schedule flexibility and peace of mind of private transportation, consider booking private transportation from Bogotá to Villa de Leyva with our partners BnB Colombia. They offer our readers a 10% discount when entering the code ExploreColombia10 when reserving.
You could also consider renting a car, especially if you would like to see some of the other small towns in the area. Check rental car prices here.
How to Get the Bus to Villa de Leyva from Bogotá
You can get direct buses from Bogotá to Villa de Leyva.
It is also possible to get a bus from Bogotá to Tunja and then a bus to Villa de Leyva. This takes roughly 45 minutes longer, but there are more frequent buses to Tunja from Bogotá, so depending on your and direct bus schedules, this may be the quickest transportation to Villa de Leyva.
In our case, we had missed the earlier direct bus to Villa de Leyva and would have needed to wait until noon to get the next one but were able to get a bus to Tunja at 10:20, so we saved considerable time going via the slightly longer route.
The bus to Tunja from Bogotá cost $20,000 pesos and took around 2 hours, and from Tunja to Villa de Leyva $11,000 pesos and took around an hour.
The direct bus Bogotá to Villa de Leyva cost $42,000 pesos (so actually more expensive in addition to fewer departure times). It's possible other companies' prices may be different, and these were the prices in December 2020. Usually, prices go up slightly year to year. Usually there are many more options (and better prices) at the terminals, but you can check bus prices and reserve ahead online at Busbud.
It is best to get buses from the Terminal del Norte since you won't have to travel through Bogotá itself, although if you're staying more centrally it may be easier to just get a bus from one of the other terminals.
If you're looking for a good place to stay not too far from the Terminal del Norte, we spent a night at Hotel Santa Barbara Real between arriving to Bogotá via flight and heading to Villa de Leyva early the next morning. It was nice, a pretty decent price, and a fairly easy taxi ride to the terminal.
Of course if you plan to explore Bogotá a bit first, you may want to stay more centrally (see a guide to where to stay in Bogotá here) as well as check out these things to do in Bogotá.
How to Get to Villa de Leyva from Medellín
It may be possible to find direct buses from Medellín to Villa de Leyva or Tunja. They may be less frequent, however, so you may need to route through Bogotá. If so, follow the instructions above to get the bus from Bogotá to Villa de Leyva.
How to Get to Villa de Leyva from Salento (or elsewhere in the coffee region)
You will most likely need to route through Medellín or Bogotá (even if you find direct buses, you'll be doing that).
If you are planning on traveling from the coffee region to Villa de Leyva, I'd recommend including a stop in Bogotá or Medellín (or both) in between. Be sure to also check out my travel guide to Salento.
How to Get to Villa de Leyva from San Gil or Barichara
Including a visit to the equally charming Barichara (see a travel guide to it here) before or after your visit to Villa de Leyva is well worth it as well.
To get to Villa de Leyva from Barichara (or to get to Barichara from Villa de Leyva), you'll want to bus to San Gil first.
If you do want to include a visit to Barichara and San Gil, flying into Bucaramanga makes for a good alternative. You can bus from Bucaramanga to San Gil/Barichara and then on to Villa de Leyva.
You can also book private transportation to Villa de Leyva from Barichara or vice versa via our partners BnB Colombia.
How to Get to Villa de Leyva from Cartagena
Busing from Cartagena to Villa de Leyva is quite a long trip.
If you're pressed for time, it is best to fly into Bogotá, or Bucaramanga if you want to include San Gil/Barichara. If you can find a good deal, you may not even pay much more than the bus.
San Gil is a popular stop over spot when busing from the coast to Bogotá as well, so if you do want to bus from Cartagena to Villa de Leyva, you may want to plan to bus here first, then on to Tunja or Villa de Leyva. I'd again strongly encourage spending some time in Barichara. You can also opt to travel to San Gil via the lesser known colonial gem of Mompox as well.
Is Villa de Leyva safe?
Yes. It is a popular tourist destination for Colombians and a weekend escape spot for many Bogotanos. We never felt the least bit unsafe walking around town, even at night. While you should always take normal precautions, Villa de Leyva is perfectly safe.
Practical Tips for Visiting Villa de Leyva
There are ATMs in Villa de Leyva, although not a ton of them. At the attractions out of town, you should make sure you have cash.
It wasn't clear to us if the tap water was drinkable or not. We stuck to bottled water.
Villa de Leyva normally has several festivals throughout the year, including a food festival in November, a jazz festival in July, a kite festival in August and a light festival in December.
It's a popular weekend escape for people living in Bogotá, so you may see larger crowds on weekends, especially those with Monday holidays.
Be sure to try a Picada Boyacenese (grilled platter) or if you want to try something very local a Cocida Boyacense (which includes meat, vegetables, several types of local tubers and beans.
Ready to Plan Your Trip to Villa de Leyva?
There you have it, a complete practical travel guide to Villa de Leyva, Colombia.
It's a great stop to include on a trip through Colombia or as a weekend escape on a trip to Bogotá. I hope you found this guide helpful, and most importantly, if you do go, that you enjoy Villa de Leyva.
Cheers and Happy Exploring!
Did you like this post?
Check out these other posts:
Guide to Salento, Mountain Town in the Coffee Region
Guide to Barichara, Colombia's Prettiest Town
Guide to Mompox, Colombia's Hidden Colonial Gem
Guide to Punta Gallinas, the Northernmost Point in S. America
Guide to the Colombia's Rainbow River of Caño Cristales

Planning a trip to Cartagena too?
Check out these top resources to plan your trip:
Best Areas to Stay
Top Things to Do
Complete Packing List
Best Beaches in Cartagena