Located about 6 hours to the southeast of Cartagena, Mompox is a pretty colonial town that was a favorite of Gabriel García Marquez. Once the main colonial river port and vital link between the interior and the coast, Mompox is most well known for its impressive colonial churches and architecture. It's a great place to visit a bit off the beaten path, where you can almost imagine you are still in the 1700s. Read on for a complete travel guide to Mompox, Colombia, where you'll learn how to get there, what to do, where to stay, and what to pack for a visit to Mompox, Colombia.
*Disclosure: This post contains affiliate links. I am a participant in the Amazon Associates Program as well as other affiliate programs and may earn a commission on qualifying purchases made after clicking links from this site. There is never any additional cost to you. For more information, please consult my Disclosure Policy.
Travel Guide to Mompox, Colombia – Contents
Why You Should Visit Mompox
How to Get to Mompox
What to Do in Mompox
Where to Stay in Mompox
Practical Travel Tips for Mompox
Packing List for Mompox
Why Visit Mompox?
Located among the mangrove swamps along the Magdalena River, Mompox, also sometimes called Mompos, is slightly off the beaten traveler's path in Colombia. It is a tad difficult to get to, and is kind of out of the way of many of the traditional treks through Colombia. However, this historic gem is absolutely worth visiting!
Officially named Santa Cruz de Mompox, the town was founded in 1537, making it among the oldest Spanish settlements in Colombia. It was used as the main river port along the Magdalena River throughout the colonial era. Nearly everything moving in or out from the interior of the colony passed through Mompox on its way to or from Cartagena and abroad.
That made the town fabulously wealthy, and it was famed for its gold work. It also helped fund the impressive mansions and gorgeous churches that make Mompox one of the most picturesque towns in all of Colombia. It is like a more colorful version of Barichara. It was declared a UNESCO World Heritage Site in 1995.
Besides seeing that architecture and imagining your are in a Gabriel García Marquez novel, the surrounding mangroves and the river can be seen on a tour, and the town is famous for its annual Jazz Festival and celebration of Semana Santa.
Susana and I visited Mompox back in December 2016, and thought it was absolutely worth the trip!
If you're convinced to visit Santa Cruz de Mompox, Colombia yourself, then read on where I'll give you lowdown on how to get there, what to do, where to stay, as well as provide you with a packing list and some practical tips for planning your visit to Mompox, Colombia.
How to Get to Mompox
So when we went, we took a private van service recommended by a friend. I've lost that contact. There is unfortunately scant information online on bus routes to Mompox, although there are at least two daily from Cartagena now.
My experience is lots of routes aren't listed online, so you can always try heading to the nearest bus terminal and asking. Even if there is not a direct bus to Mompox, you can probably find out how to get to Mompox via multiple buses. I'm going to do my best to summarize the info I've found below about arriving from elsewhere than Cartagena.
How to Get to Mompox from Cartagena
To travel from Cartagena to Mompox, the easiest thing to do now is to take a direct bus from the terminal. The company that runs buses from Cartagena to Mompox is Unitransco (owned by Brasilia). There is one that leaves in the morning and one that goes over night. You can see their times and prices and even make reservations at their website (search for Mompos) or at redbus.co.
You can also ask your hotel or hostel in Mompox about private door to door transportation that can bring you from Cartagena to Mompox.
How to Get to Mompox from Elsewhere
By Direct Bus
According to Redbus.co, there are also direct buses to Mompox from Barranquilla. According to other sources I've found online, there are also direct buses to Mompox from Santa Marta, Bucaramanga, and Bogotá, although I've been unable to confirm those. Again, I recommend going to the terminal in the city where you are and asking since Redbus usually only has a fraction of available routes listed online.
By Bus and Public Transportation
If you're coming from Medellín or elsewhere in the interior where there are not direct buses, you'll want to arrive to Magangué, just down river from Mompox. (Note, if coming from San Gil, go to Bucaramanga and take the direct bus from there).
You should be able to get a bus to Sincelejo from Medellín or Bogotá. From there you can get a bus to Magangué.
Once in Magangué, you'll want to take a boat taxi known as a chalupa to Bodega. From Bodega, you can take a collective taxi to Mompox.
Can You Fly to Mompox?
No, but you can fly relatively close. The closest airport is named Las Brujas located about 20 minutes outside of Sincelejo. From Sincelejo, you can easily get to Magangué and then to Mompox.
A smaller airport, Avianca recently inaugurated a direct flight from Bogotá to Las Brujas. (Search flights here). You can also get flights on the smaller airlines Satena and ADA.
For more info on how to get to Mompox, check out this great page from La Casa Amarrilla (which is actually where we stayed). I also would again highly recommend asking wherever you make your reservations what they recommend for transportation from where you are coming from, as that will guarantee you have the most up to date information on how to get to Mompox.
What to Do in Mompox – Top Things to Do in Mompox, Colombia
See the Beautiful Colonial Churches
This is probably the highlight of the town. There are several gorgeous churches in town.
Our favorite was the Santa Barbara Church (pictured at the top) with its neat and colorful bell tower to the side. It was built in 1613, and sits on a large plaza near the end of town right outside of La Casa Amarilla. It is very pretty during the day time as well as when it's lit up at night.
On the town's main plaza, you'll find the Church of the Immaculate Conception. The original church here was built by Pedro de Heredia not long after the town's founding and had a thatch roof. It was later expanded and rebuilt several times until being demolished in 1839 when a new church was built on the site to be the highlight of the historic centre of Santa Cruz de Mompox. The red and yellow squarish design is quite pretty.
The red colored San Francisco Church is located just off the waterfront a couple blocks past the main plaza, and is also very pretty lit up at night. It dates to 1564.
The other churches of note include the San Agustín, the Santo Domingo, and the San Juan de Dios.
Do a Sunset River Cruise and Mangrove Tour
This was really cool and totally worth it. Since we did this trip before this website was even an idea in my head, I don't have detailed notes on it, but if memory serves me correctly, we set this up once there from the waterfront near the old market.
So ask around, because this was cool. It left in the late afternoon and headed into the mangrove swamps about 20 minutes downriver where you'll get to see lots of birds fishing for their dinner along the way and the guide explains a bit about the ecosystem. Then you head back out to the Magdalena to watch the sunset over the river on the way back to town.
There is also a bigger restaurant/bar boat that does a sunset cruise. We stopped and had a beer there one afternoon but didn't do the tour, although I imagine it's plenty fun and will get you the beautiful view as well.
See the Religious Artwork in Casa de los Apóstoles
In this former mansion, there is a collection of artwork and sculptures of the 12 Apostles and Jesus. It is a neat little place to check out and there are some examples of gold and silver smith work as well.
See the San Juan de Dios Hospital
This hospital was founded in 1550 and is the oldest hospital in the Americas that still operates in its original building.
See the Plaza de la Libertad
While Cartagena's declaration of independence on November 11, 1811 created the first fully independent functioning state in what became Colombia, Mompox was actually the site of the first declaration of absolute independence from Spain on August 6, 1810.
Under the jurisdiction of the still moderately conservative colonial government in Cartagena, it was brought back under control of the regional capital in early 1811. However, some of the radicals that were part of Mompox's declaration, notably the Guiterrez Piñeres family, helped to push Cartagena to its own declaration later that year.
The city also provided Simón Bolívar with 400 recruits in 1812 which he used to help temporarily free Caracas.
In the Plaza de la Libertad, there is a statue in honor of independence and the Momposinos that fought with Bolívar. And of course, there is a statue of Bolívar himself.
See the Old Market
Located along the waterfront in front of the central plaza where the Church of the Immaculate Conception is, the old market building would have been the center of colonial Mompox.
A neat two story building, its fun to imagine all the goods that would have passed through here in its heyday. The city was made fabulously wealthy from the tax and customs revenue from the boats that passed through here, and after Cartagena, the designated port, and Bogotá, the capital, Mompox was likely the 3rd most important and wealthiest commercial center of the colonial era.
Later sediment build up in the river in the late 19th and early 20th centuries helped reduce the river port's importance, but the market and the impressive churches the money funded stand as testaments to its legacy. Today, you can find artisan crafts for sale in the market as well as wine made from the fruit Corozo, which is a semi-famous regional favorite.
Marvel at the Architecture
Almost everything in Mompox, especially around the center of the town is old, and much of the architecture is very neat.
Besides funding the construction of so many churches, all the trade income made some of the town's residents extremely wealthy. All along the waterfront promenade there are big mansions. Some are hotels or restaurants today, but many remain private residences. Be sure to walk along the waterfront and check them out in addition to seeing all the churches and other neat colonial architecture.
See the Annual Jazz Festival
Every September, there is a Jazz Music Festival in Mompox. A major event, it draws artists and visitors from around Colombia and the world. If you happen to be in Colombia at the start of September, you should definitely try to include it!
See the Semana Santa Celebrations
Mompox is also very well known for its celebration of Semana Santa during the Easter season. With elaborate processions and decorations in all the major old churches, it is also worth passing through here if you happen to be traveling through Colombia during Easter Week.
Where to Eat in Mompox
Bar and Grill on the Waterfront
I can't recall the name of this place, but there was a great little restaurant along the waterfront between Santa Barbara and the town's center. They served up great big portions of beef, chicken, pork, and fish for pretty cheap.
With the grill out front giving off delicious smells, you can't miss it, and we ended up eating lunch here both days we were in Mompox.
El Fuerte – Great Brick Oven Pizza
Opened by an Austrian, this neat little place near the end of town close to La Casa Amarilla, had terrific pizza. I remember also being excited that they had a tasty Moscow Mule. The homemade Austrian sausage pizza was terrific. With wooden tables, the place also has a neat rustic vibe.
The Main Plaza
Around the Plaza of the Church of the Immaculate Conception, there are several places with outdoor seating serving up Colombian fast food like mazorcas, salchipapas, and pizzas. We had dinner and a beer one night here too.
There are a number of other little cafes and restaurants along the waterfront near the San Francisco Church.
Where to Stay in Mompox
Located just next to the Santa Barbara Church, we were very happy with La Casa Amarilla. The room was nice, the price was fair, the staff helpful, and they had comfy rocking chairs. It's about 10-15 minute walk from the central plaza, and while there was not a whole lot open at night besides El Fuerte nearby, we were also fine with the location. In all, I would definitely recommend it, especially for couples or families traveling to Mompox.
Check Availability and Book Here via Booking.com
Set in one of the mansions along the riverfront, Hotel Portal de la Marquesa makes for a great option as well. It is also located very centrally and will make you feel like you truly have traveled back in time. There is also a small pool here, great for cooling off after exploring in the blazing hot sun!
Check Availability and Book Here via Booking.com
Café Mompox – Great Colonial Home for Families or Groups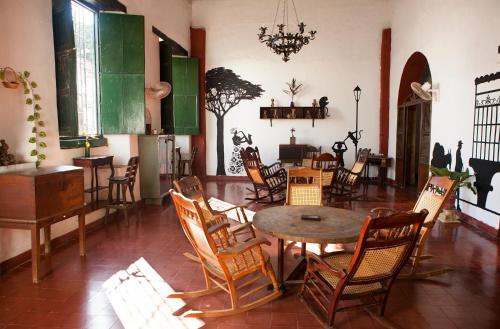 A family run, bed and breakfast style guest house, Café Mompox has two family rooms that can sleep up to 5 people each. The more exclusive vibe and large rooms would make it a perfect Mompox hotel for those traveling with children, groups, or even couples who want peace and quiet.
Check Availability and Book Here via Booking.com
Casa Isabelita – Great Value Hotel in Mompox
Located just behind the Santa Barbara Church, Casa Isabelita has to be one of the best valued priced hotels in Mompox. Although newer, it has great reviews and pretty rooms. I think if we went back to Mompox I would strongly consider staying here as it looks like a great bang for your peso. In addition to a standard double room, there are also a suite and deluxe that each can sleep up to 3.
Check Availability and Book Here via Booking.com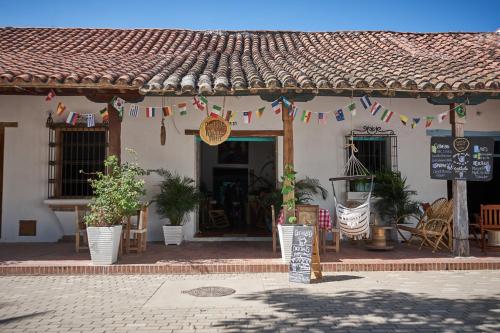 With a private as well as dorms (not to mention a cool name), Pueblito Magico makes a great option for where to stay in Mompox on a budget. It is also located right across from the river and offers easy access to the main sites to see in Mompox.
Check Availability and Book Here via Booking.com
See Other Places to Stay in Mompox via Booking.com
Travel Tips for Mompox
First things first, it is hot! Like ghost town everyone hiding in their homes after midday from the blazing hot sun hot. Do make sure you bring along sunscreen, a good hat, and keep hydrated.
There are ATMs in Mompox.
I don't remember for sure, but from what I recall the water was not drinkable in Mompox, so it's best to be on the safe side and stick to bottled or bagged water.
The alternative spelling Mompos is quite common (and there is some debate about what the official spelling is or should be) so keep that in mind if you are searching for information or hotels.
This site made by a local tour guide has lots of good information (in Spanish) and better photos than mine, as well as his contact info if you'd like a tour.
If you are planning to go during Semana Santa or the Jazz Festival, be sure to book your hotel in Mompox well in advance as the town often fills up entirely during those dates.
Packing List for Mompox
Useful Travel Gear
Clothes to Pack for Her
Separates:
Outfits:
Clothes to Pack for Him
There you have it, a complete travel guide to Mompox, Colombia's colonial river port stuck in time. If you do decide to go yourself, I hope this guide helped you plan your visit to Mompox, and more importantly I hope you enjoy it!
Cheers and Happy Exploring!
Did you like this post?
Share it with your friends!
Share on Facebook Share on Twitter
And don't forget to like and follow us!
Like us on Facebook Follow us on Instragram Follow us on Twitter
You may also be interested in the following posts:
Travel Guide to Palomino, Colombia's Hippest Beach Town
Travel Guide to the Lush Mountain Town of Minca
Travel Guide to Leticia, Colombia's Amazon
Travel Guide to Whale Watching on Deserted Beaches in Nuquí
Planning your trip to explore Cartagena?
Check out the following posts to help plan:
Insider's Guide to the Best Areas to Stay in Cartagena
Complete Packing List for Cartagena
Top Things to Do in Cartagena