With the colonial charm of its gorgeous architecture, it's no surprise there are some absolutely lovely boutique hotels in Cartagena, Colombia.
Many of the best Cartagena boutique hotels are located in the former mansions that were the homes of the colonial era rich and powerful inside the city's iconic city walls, offering easy access to many of the city's top sights, restaurants, shopping, and nightlife.
Quite simply put, staying in one of the best boutique hotels in Cartagena really allows you to capture the magic of the city's fascinating history and charm. It's enough to just fall in love!
If you close your eyes, you may very well be able to imagine yourself back in the 17th or 18th century!
I lived in Cartagena for over a decade, and if you want my honest advice on where to stay, I'd say staying in a boutique hotel in Cartagena's Walled City is my top recommendation without a doubt. Not only is this by far the best area to stay in my experience, but there's just something so special about staying in a Cartagena boutique hotel that just goes with the rest of the experience.
Luckily, there is no shortage of Cartagena boutique hotels to choose from to get that full, immersive experience in the charm and romance of Colombia's historic Caribbean gem.
While we haven't stayed in all of the Cartagena boutique hotels ourselves, we have stayed in some and been to the restaurants or bars in several others. I also put in lots of research and reading over reviews to decide just which of the Cartagena boutique hotels to include on this best boutique hotels in Cartagena list.
So, if you want to enjoy a truly charming stay during your visit, read on to see this list of the 11 best Cartagena boutique hotels to learn which is the best boutique hotel in Cartagena, Colombia for you!
*Disclosure: This post contains affiliate links. I am a member of Amazon Associates, LLC and other affiliate programs and earn from qualifying purchases made after clicking those links. There is never any additional cost to you. To learn more please consult our Disclosure Policy.
Best Cartagena Boutique Hotels – Contents
Introduction – Why Pick a Boutique Hotel in Cartagena?
Some Words on Location and Price
11 Best Boutique Hotels in Cartagena
Too long; can't read it all overview
*Want to take the hassle out of planning your Cartagena trip? Let the experts at our partner BnB Colombia Tours help you! Fill out this form and they will get back to you with an initial, personalized itinerary based on your interests, then work with you to design a truly unforgettable trip, charm included. Their packages start at $250 USD a day per person.
Best Boutique Hotels in Cartagena – Introduction
If you're currently planning a trip here, stop and ask yourself why you were drawn to this gem on Colombia's Caribbean coast?
Perhaps it was the lovely beaches of Cartagena or the even more lovely Rosario Islands nearby. Perhaps it was some combination of the vibrant culture, the tasty food, the many terrific restaurants, and the fun Cartagena nightlife.
However, surely the lovely and charming colonial era atmosphere was at least a part of why you chose to visit Cartagena!
The city's walls and clocktower, flower draped balconies hanging over its narrow streets, and the lovely wooden doors and trim around the windows are all iconic images of the city that have been drawing visitors from all around Colombia and the world for years. That charm is a big reason why Cartagena is without a doubt one of the best cities in Colombia for travelers.
All that historic charm is also best complemented by a stay at one of the best Cartagena, Colombia boutique hotels.
Cartagena was an important seat of Spanish commercial and military power, as the massive Castillo San Felipe Fort, the city's walls, and the gorgeous churches like that of San Pedro Claver attest.
Just strolling it's narrow, historic, and flower draped balcony streets will make you feel like you've gone back in time. If you have every visited Old Havana in Cuba or Old San Juan in Puerto Rico, two of Cartagena's sister colonial cities, you have a good idea of what to expect.
Picturesque, flower covered balconies, colorful exteriors, incredibly high ceilings, and lovely tall wooden doors with elaborate knockers characterize the former mansions of the colonial era aristocracy and merchants.
Their former homes are where you'll find many of the best boutique hotels in Cartagena, and staying in one of the lovely Cartagena boutique hotels is truly the best way to capture the essence of Cartagena.
What's better after a day wandering those narrow, flower lined historic streets than to plop down on a comfy bed in a gorgeous room with vaulted ceilings in a historic home?
I don't hesitate for a second to recommend that most travelers will be happiest staying in one of these Cartagena boutique hotels during their stay, and not only for the charm, but also the location.
Some Words on Location and Price
Most of the best boutique hotels in Cartagena are in the historic city center. Lots of times this is referred to as the Walled City.
It stands in contrast to the more modern buildings, including plenty of nice hotels in the beachfront Bocagrande area. While I can't fault anyone for wanting to have 30th+ floor views of the Caribbean, I just think most travelers will get more out of being in Cartagena historic downtown where it's easy to walk to almost everything.
I also think most travelers will benefit so much more from heading out to the Rosario Islands than bumming around the beaches in Bocagrande, which tend to get crowded. Please do check out my picks for the best Rosario Islands resorts and hotels if you think you might spend the night out there or see my picks for the best Rosario Islands day tours if your time is more limited.
For these reasons, I've chosen to limit the places on this list of best Cartagena boutique hotels to places inside the historic Walled City.
If you're looking for some ideas in Bocagrande to compare, you could also check out my list of the best Cartagena luxury hotels, which includes some modern high rises there. The first three hotels on this list of the best boutique hotels in Cartagena are actually also on that list.
Now let's just briefly discuss price.
This is a best of list after all, so most of the Cartagena boutique hotels I've included here are on the higher end price range wise.
In fact, some of them are downright opulent.
You'll find on this list of the best Cartagena boutique hotels the former mansion of a count and one owned by an archbishop.
Nearly every place on this list also has a nice rooftop or courtyard pool, and most have nice other amenities like spas and restaurants.
Some have a bit more of a modern touch, while others have more of a classic look where you'll feel transported back to the 18th century.
They all offer an intimate feeling and great, personalized service.
I did include on more budget friendly Cartagena boutique hotel at the bottom of this list. You can find some more budget friendly boutique hotels in Cartagena's Getsemaní neighborhood, adjacent to the Walled City, a few of which I've mentioned below.
11 Best Boutique Hotels in Cartagena
This is a top 11 because, well, everyone does top 10s, 11 has a special significance for Cartagena since it declared its independence on November 11, 1811 (11/11/11), and I think you deserve just a bit more.
While I've presented this as a numbered list, it shouldn't be seen as a strict countdown. The best Cartagena boutique hotel for you may depend a bit on the type of traveler you are, so be sure to read over the descriptions and click the links to check them out in more detail.
The truth is there are not bad options here though!
So, without further ado, let's get to this list of the top 11 best boutique hotels in Cartagena, Colombia!
2. Sofitel Santa Clara – Located in a Gorgeous Former Convent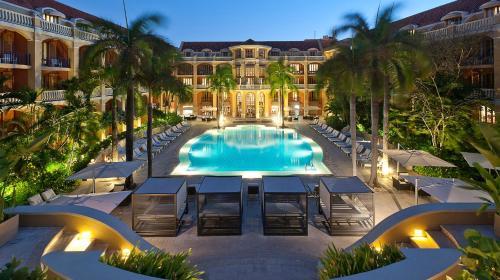 I debated whether the Sofitel Legend Santa Clara truly fits on this list as a best boutique hotel in Cartagena. It is the largest hotel on this list.
However, it is just stunning!
After the San Agustín would be my pick for the second best overall hotel in Cartagena, period.
Rooms are absolutely lovely, and the setting in a former convent still gives it an elegant, intimate, and charming colonial vibe even if it is larger than the other Cartagena boutique hotels on this list.
The pool and courtyard are stunning, and the restaurant here is also terrific (it's actually where I proposed to Susana!). The little bar and newish rooftop bar are also great with some of the better crafted cocktails in town, and it's in a terrific location right on the Plaza de San Diego.
In short, I think it more than qualifies as a great boutique hotel in Cartagena. If you want to take a look at a few other properties that are also on the slightly larger side but have the charm of a boutique like this one, the Charleston Santa Teresa, also in a former convent, the Capellán, and the Bastión Luxury Hotel are more good options.
4. Casa Claver Loft – Apartment Rooms Here Best Fit for Families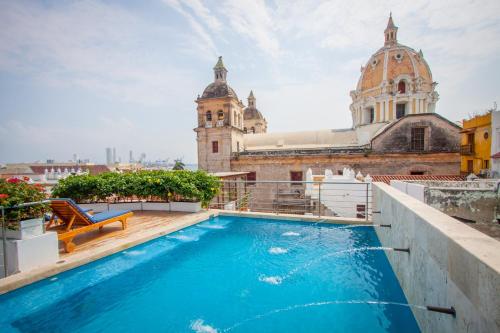 The Casa Claver Loft has one of the best backdrops for any rooftop pool in Cartagena!
It is located just beside the San Pedro Claver Church, and you can take in the pretty towers, rooftop, and dome of the cathedral up close from the pool.
The rooms are also pretty and cozily furnished. All the rooms here make it a very solid choice for a boutique hotel in Cartagena.
However, what lands it fourth on this list and above some other places that have nicer rooms are the loft style apartment lodgings on offer here.
That makes it my top recommendation for a Cartagena boutique hotel for families. There are full kitchens in all of them, some have 1 bedroom plus a sleeper sofa, and others have multiple bedrooms and the sleeper sofa. For those looking for the intimate feel of a boutique hotel in Cartagena but not wanting to put children in a separate room all together, it really is the best of all worlds.
If you are coming as a couple and don't care much about having the kitchen, I would probably suggest one other places on this list that are a bit nicer, but you would also be happy in the standard room here, and that view is pretty darn enticing!
You can't beat the location of this boutique hotel in Cartagena either. So, especially for those traveling as a family or group, this makes a terrific choice for the best boutique hotel in Cartagena for your stay.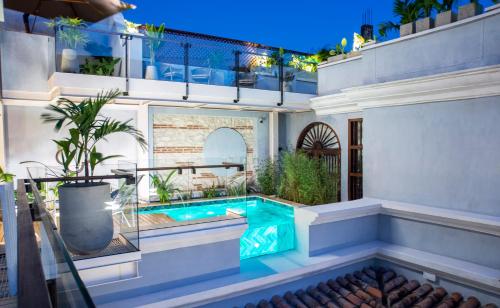 Like the Casa La Merced, Casona del Porvenir is also one of the newer boutique hotels in Cartagena, and it also has among the highest review score of any place in the city.
It's located right in the heart of the Walled City, giving you easy access to everything.
While the exterior and the lovely balconies and terrace have that classic charm like so many of the other Cartagena boutique hotels, the interior of the hotel and the decor in the rooms has a modern, sophisticated look. Many of them also have neat, almost even eclectic decorations.
Honestly, the rooms here are among the slickest in Cartagena in my opinion.
There is a small pool, and those high reviews consistently mention the great service and hospitality of the staff.
So, really, it's got absolutely everything you could ask for in a best boutique hotel in Cartagena, Colombia!
Ready to book your stay at a boutique hotel in Cartagena?
There you have it, a guide to the top 11 boutique hotels in Cartagena.
You really can't go wrong regardless of which of these Cartagena boutique hotels you choose!
I hope it helped you plan your stay, and, most importantly, you do in fact fall in love with whatever Cartagena boutique hotel you do end choosing and that your entire trip is aweseome!
Cheers and Happy Exploring!
Did you like this post?
You might also want to check out my guide to the best places for sunset drinks in Cartagena. If you're traveling elsewhere in Colombia, you might want to check out my picks for the best luxury hotels in Bogotá or the best hotels and hostels in Minca. If you love the historic charm of Cartagena's boutique hotels, you'll also love the quaint towns of Villa de Leyva and Barichara.